Olympus Spa and Trans rights supporters face off at Event Center
LYNNWOOD, Wash., June 18, 2023—The highly anticipated rally surrounding the controversial court order against the Olympus Spa policy surronding biological women took place Saturday afternoon at the Lynnwood Event Center. The rally was marked by a significant police presence, as fears of physical confrontation ran high among both protesters and counter-protesters.
LYNNWOOD CONFRONTATION: Antifa militants and transgender activists clashed with Olympus Spa supporters Saturday afternoon. Lots of in your face name calling and verbal sparring. But no violence or destruction thanks to a crush of Lynnwood Police(@LynnwoodPD) and volunteers with… pic.twitter.com/YaviuV2aq5

— Jonathan Choe Journalist (Seattle) (@choeshow) June 18, 2023
Nearly 100 pro-female only space demonstrators, led by Sovereign Women Speak activists, began gathering at approximately 1:30 pm in support of the Olympus Spa. They voiced their dissent through protest songs, speeches, and the display of cardboard signs. Supporters of the spa, including men and gay rights activists, held signs with messages that read, "Save women spaces," "Sex change is a fantasy," and "Trans 'women' are men," further stoking the flames of the ongoing debate.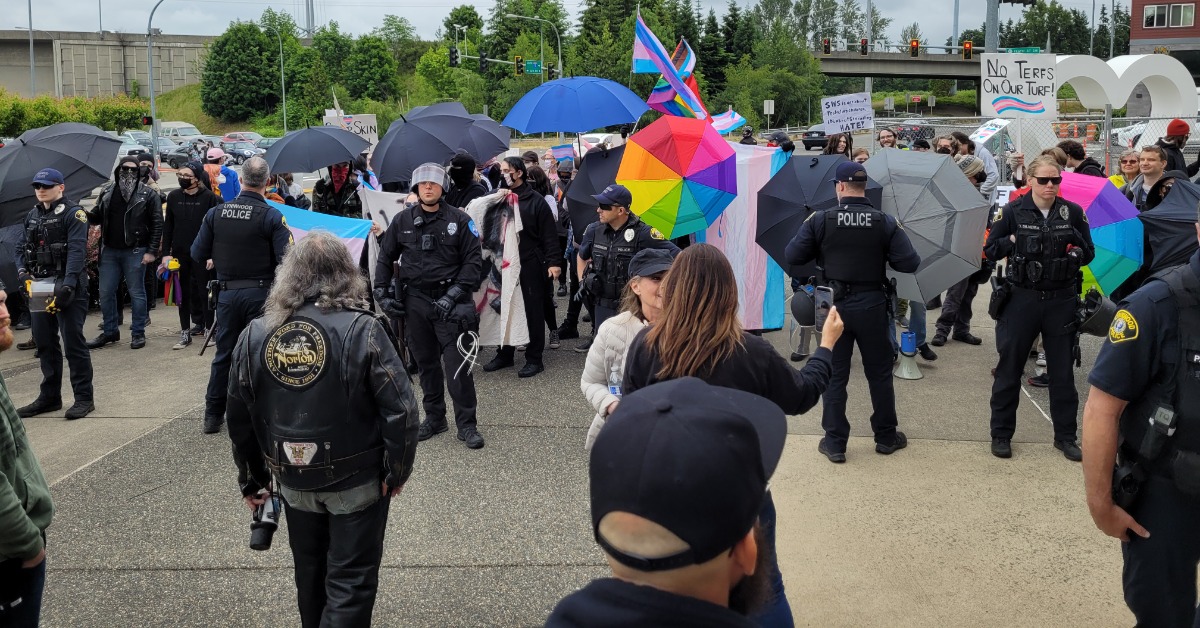 In response, 75 counter-protesters held umbrellas in their hands to cover their identity and displayed signs stating "Transwomen are women" and "Defend trans lives." Pro-antifa posts on social media called for physical confrontation against pro-female only space demonstrators.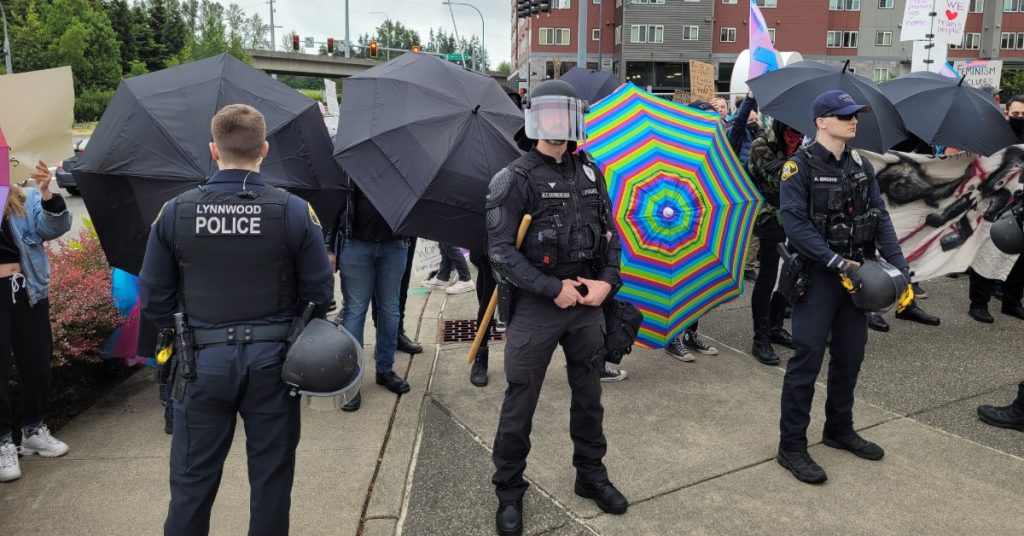 The Lynnwood Police force with support from Mukilteo and Bothell agencies were deployed between and around the two groups, blocking roads leading to the Lynnwood Event Center parking lot where the Olympus Spa is located.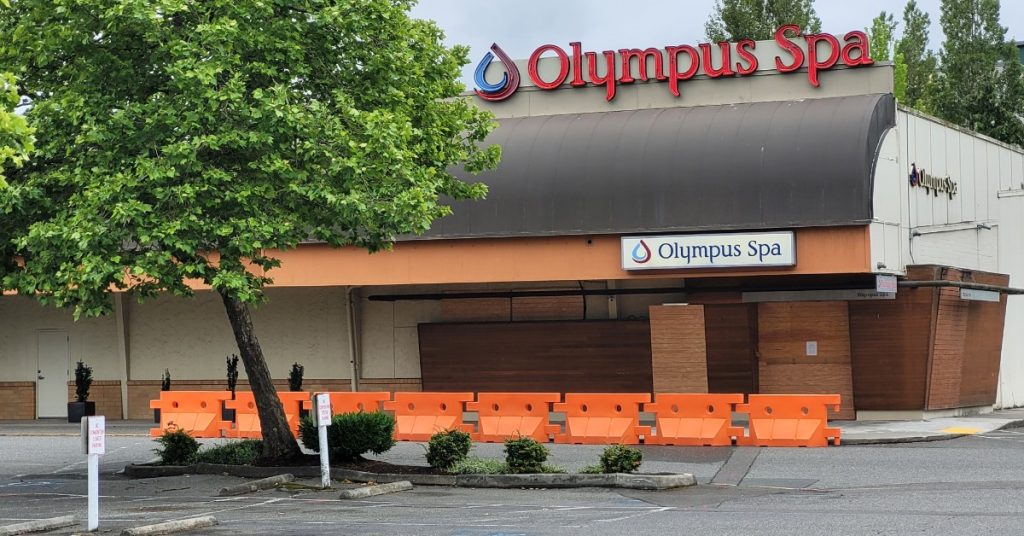 Barricades were placed in front of the spa, while a line of uniformed police officers separated the opposing sides. Additional police officers wearing helmets and holding shields stood ready to intervene in case of violence. A police drone scanned the area from above, and agents were stationed on the roof of the nearby City Center apartment building. The scene was reminiscent of a major motion picture.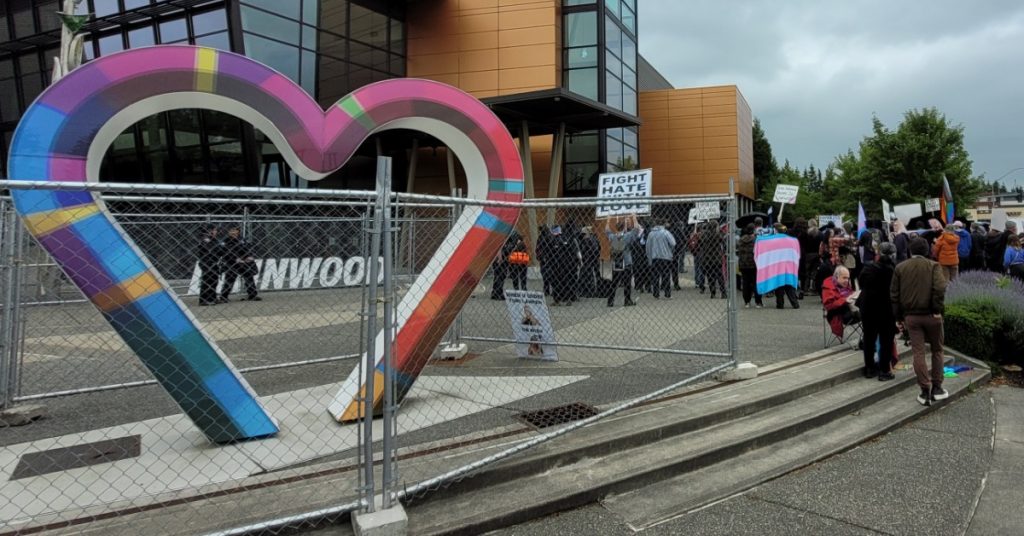 Women protested through their previously prepared speeches; however, they were frequently interrupted by Antifa chants, such as "Fascists go home." During her speech, April Morrow, the founder of Sovereign Women Speak, expressed frustration with the court decision against the Olympus Spa.
"My mother, my aunt, my sisters, my daughters, my nieces, my women friends—we have been enjoying the Olympus Spa for almost three decades," said Morrow. "And now, the State of Washington is mandating that we allow men inside our women's space."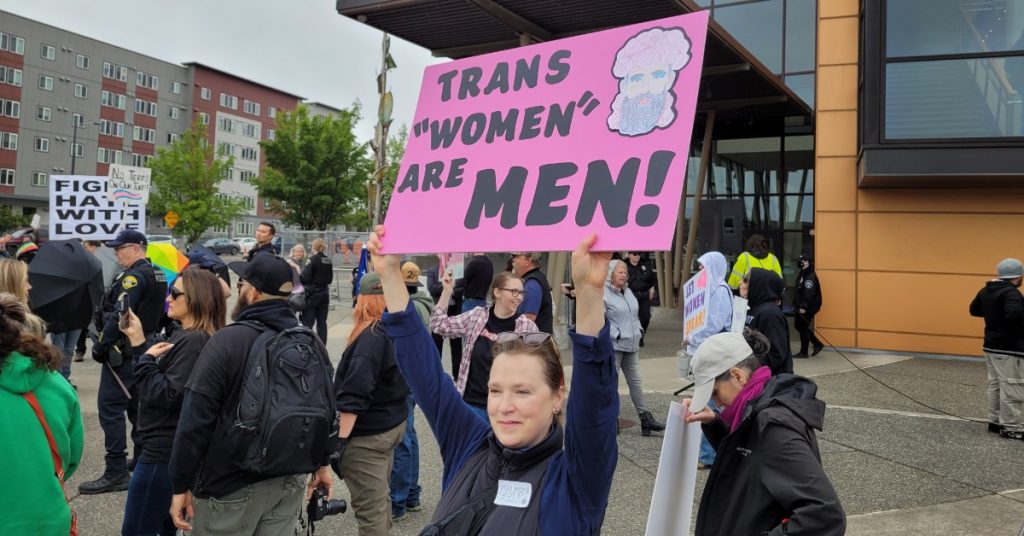 She continued, amid attempts to interrupt her speech, "The women who work there, can you imagine having to choose between quitting your job or providing body scrubs, massages, and moisturization to men from head to toe, naked?! That is not what these women signed up for when they took a job at the Olympus Spa."
The protest drew the attention of various state and city representatives. Lynnwood City Council member Jim Smith and Washington State House of Representatives member Jim Walsh (R) were both present at the event.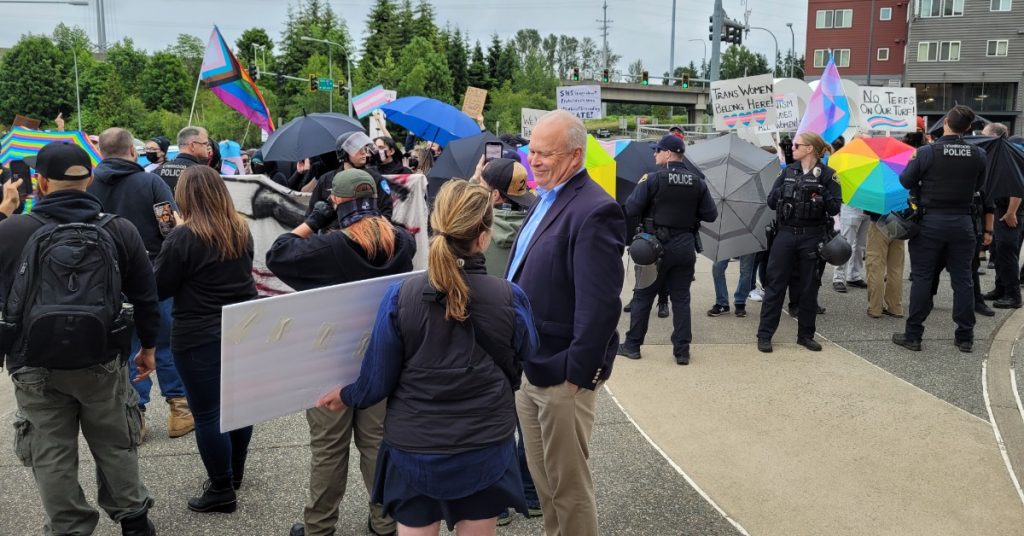 "What we are here for is what is good," Representative Walsh said addressing the crowd. "We want to support Olympus Spa, and what we want to support is something that our state constitution recognizes in Article 1, Section 11 of the Washington State Constitution. The problem with this court decision against Olympus Spa is that the court is trying to force someone else's beliefs on the spa and the family that runs this business. That is unconstitutional, immoral, and illegal. Although this decision currently favors one group, it must ultimately be overturned."
Lynnwood council member Jim Smith, when asked about his presence at the protest, told the Lynnwood Times, "In these kind of situations, it's better to roll up the sleeves and get to work."
Antifa protesters and their supporters declined to comment to the multiple requests by the Lynnwood Times.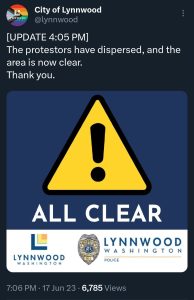 Protesters began to disperse around 3:50 pm, with the pro-women supporters leaving first. After a few more chants, the Antifa counter-protestors also dispersed. Despite the initial fears of violence and the mobilization of the police department, the protest concluded without any significant incidents.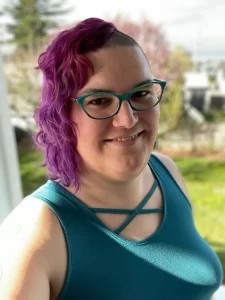 The controversy surrounding the Olympus Spa started when Western Washington District Court Judge Barbara Jacobs Rothstein ordered the Lynnwood-based spa to allow pre-op trans women access to its female-exclusive facilities following a complaint filed with the Washington State Human Rights Commission (WSHRC).
Haven Wilvich, a transwoman, sought access to the Lynnwood spa in 2020 but was allegedly denied due to not having undergone bottom surgery. At the time, Wilvich still had male genitalia. She subsequently underwent vaginoplasty on August 3, 2020, according to her blog, Finding Haven.
Olympus Spa, located on 196th Street near the Lynnwood Event Center, is inspired by the Korean tradition of "Jjimjilbang," a health and wellness facility where nudity is required for certain procedures. Throughout its 20 years of operation, the spa has maintained the requirement that its members have female genitalia. Transgender women are admitted to Olympus Spa only if they have undergone post-operative sex confirmation surgery.
The attorney representing Olympus Spa, Tracy Tribbet of Pacific Justice Institute, told journalist and Senior Fellow Jonathan Choe of Discovery Institute that her client intends to appeal the court decision all the way up to the U.S. Supreme Court.
REAL TALK: This was arguably one of the most informative interviews I've had the privilege of conducting all year. Alex Chrostowski and David Kitsak with Gays Against Groomers WA(@GAG_Washington) are straight up self proclaimed "OG's" in the gay community. Two of the most real… pic.twitter.com/b6VcOhH5hx

— Jonathan Choe Journalist (Seattle) (@choeshow) June 18, 2023