Public outcry as Binda sexually promotes Love Conquers All to minors
LYNNWOOD, Wash., March 21, 2023—More controversy surrounds Lynnwood City Councilman Josh Binda as social media users condemn his recent "Love Conquers All" tour promotional Instagram post to middle and high school students calling it, "sexualized advertisement."
According to Binda's tour schedule, he was to visit Everett High School, Olympic View High School, Lake Stevens High School, Cavelero Mid High School, Bothell High School, Woodinville High School, Edmonds Woodway High School, Lynnwood High School, Glacier Peak High School, Ridgecrest Elementary School, Marysville Getchell High School, and Marysville Middle School in January and February of this year—see Editor's Note at the end of article. Sunday's post reveals, he is expanding his tour to other middle and high schools throughout Washington state and the country.

"Might want to alert local school boards who might be foolish enough to pay his expensive speaking fees," one Facebook user said.

"Certainly unbecoming for a council member, but an even worse sexualized advertisement for his Jr high and H. School tours," another Facebook user wrote. "Just who is hiring this guy?"
The Instagram post's picture, depicts the 23-year-old Lynnwood City Councilman turned to the left clasping his left buttock, shirtless revealing his abs, wearing black unbuckled pants fashioned slightly under his beltline, with the words, "Love conquers All tour tribute 2023."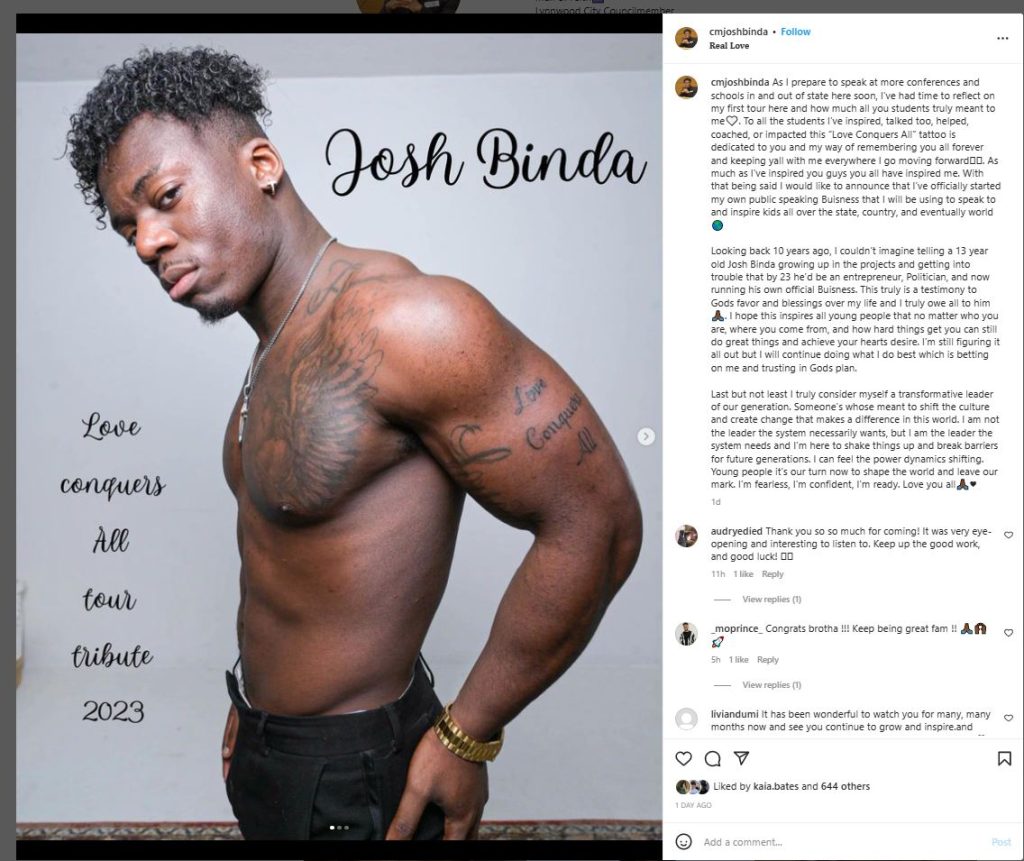 Binda, who professes to be a devote Christian, is donning his signature silver cross on his bare chest, the picture posted on Sunday, March 19, shows.
"As I prepare to speak at more conferences and schools in and out of state here soon, I've had time to reflect on my first tour here and how much all you students truly meant to me," Binda writes in his post to his political Instagram account, cmjoshbinda.
The post is dedicating a "Love Conquers All" tattoo that is on his left tricep and announces his public speaking business, Josh Binda Speaks, LLC. According to the Secretary of State's website, the company filed and was approved on February 23, 2023, and lists Binda as the sole owner.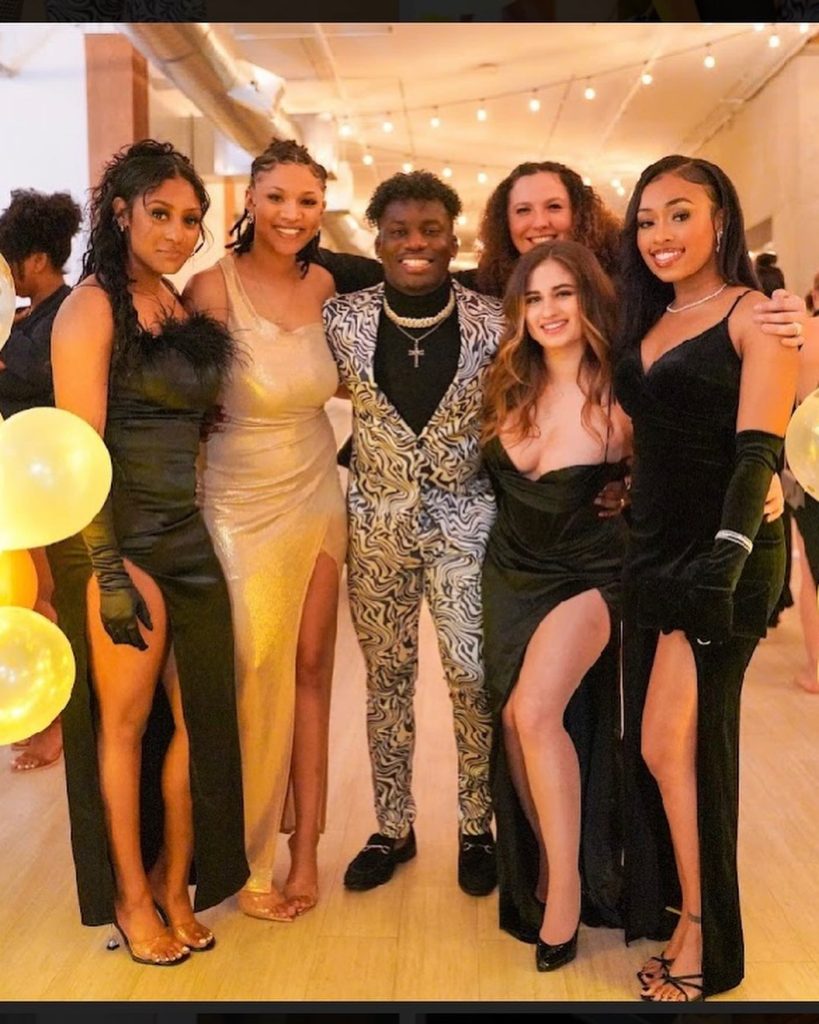 Binda reflects on how it is testament "to Gods favor and blessings" that he made it from the projects to "an entrepreneur, Politician, and now running his own official Business," according to the post.
"I hope this inspires all young people that no matter who you are, where you come from, and how hard things get you can still do great things and achieve your hearts desire."
A second picture accompanying the same Instagram post reads, "Tattoo my name so I know its real."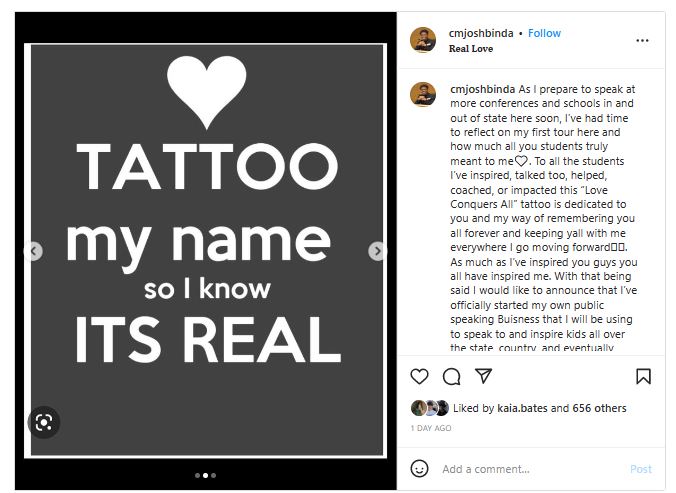 Binda, who considers himself a "transformative leader" of his generation, was found guilty in January of two separate PDC violations—using thousands of dollars of campaign funds for personal use and for filing a post-election report 280 days late—for which a $1,000 fine was imposed at his public hearing. He is currently under an ethics investigation by the City of Lynnwood for recording a promotional video for his "Love Conquers All" Tour at the city council chambers and for which the Everett Herald revealed, received compensation for several public speaking events at local schools totaling around $14,000.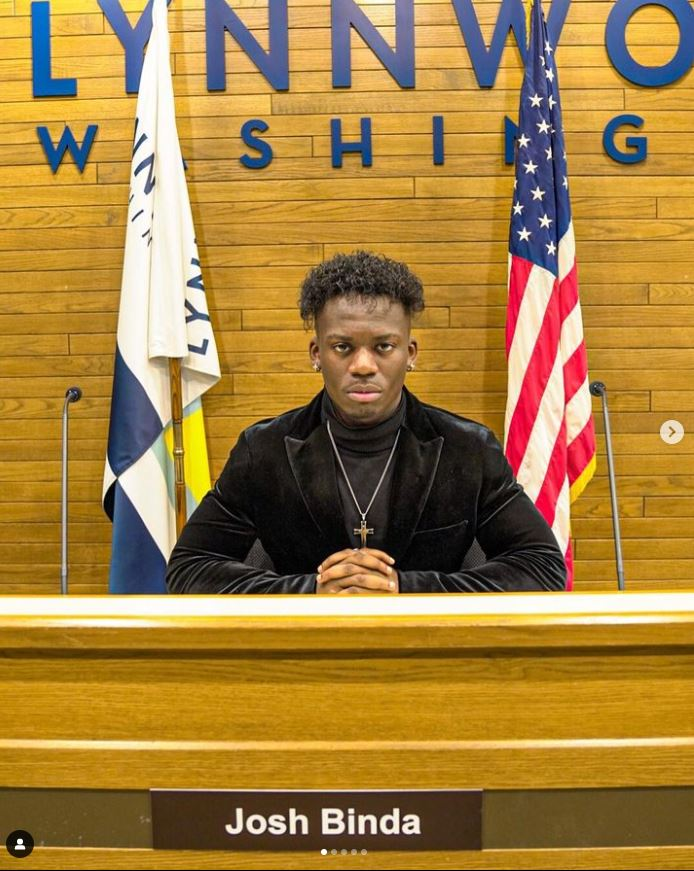 The ongoing Lynnwood Times investigation has recently discovered emails, contract negotiations, and compensation agreements signed by Binda using his City of Lynnwood email address. We will be releasing this and emails showing how concerns raised by school faculty for Binda to speak at MLK Day because of a pending state investigation for campaign fraud were dismissed and downplayed by a local school district DEI Director.
"If this were a teacher posing shirtless and sexually provocative to appeal to students, he would be fired immediately," Kathy, a Lynnwood parent who has a daughter in the Edmonds School District told the Lynnwood Times. "This is beyond acceptable. He is promoting that sex sells to impressionable kids, especially young girls."
Another mother whose son attends Meadowdale High School told the Lynnwood Times that she will be addressing the City Council on Monday, March 27, on Councilman Binda's "inappropriate behavior."
"He knows what he is doing, he is a smart man," the Meadowdale mother said who would like to remain anonymous. "He commands a position of authority. He's coming across as a sex object to young girls. Pure misogyny."
The Lynnwood Times has reached out to Councilman Binda for comment and to respond to the criticism of his recent Instagram post but has yet to receive a response.
Other sexually provocative Instagram posts on Binda's political social media account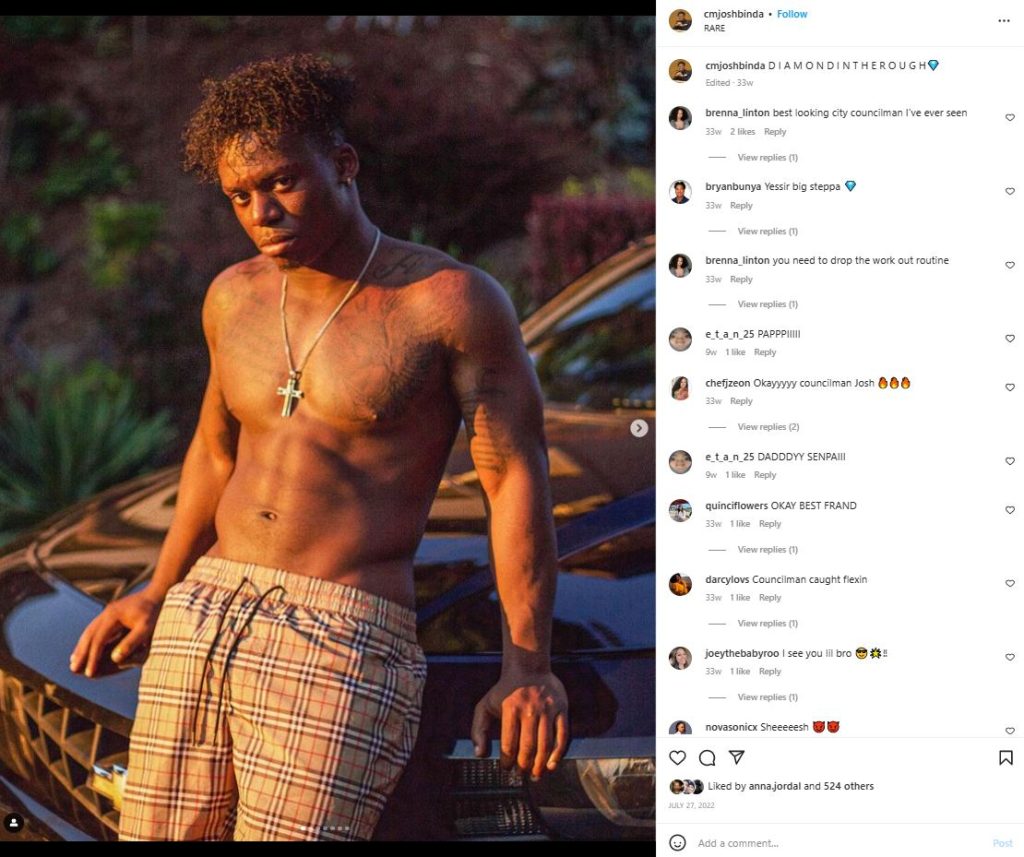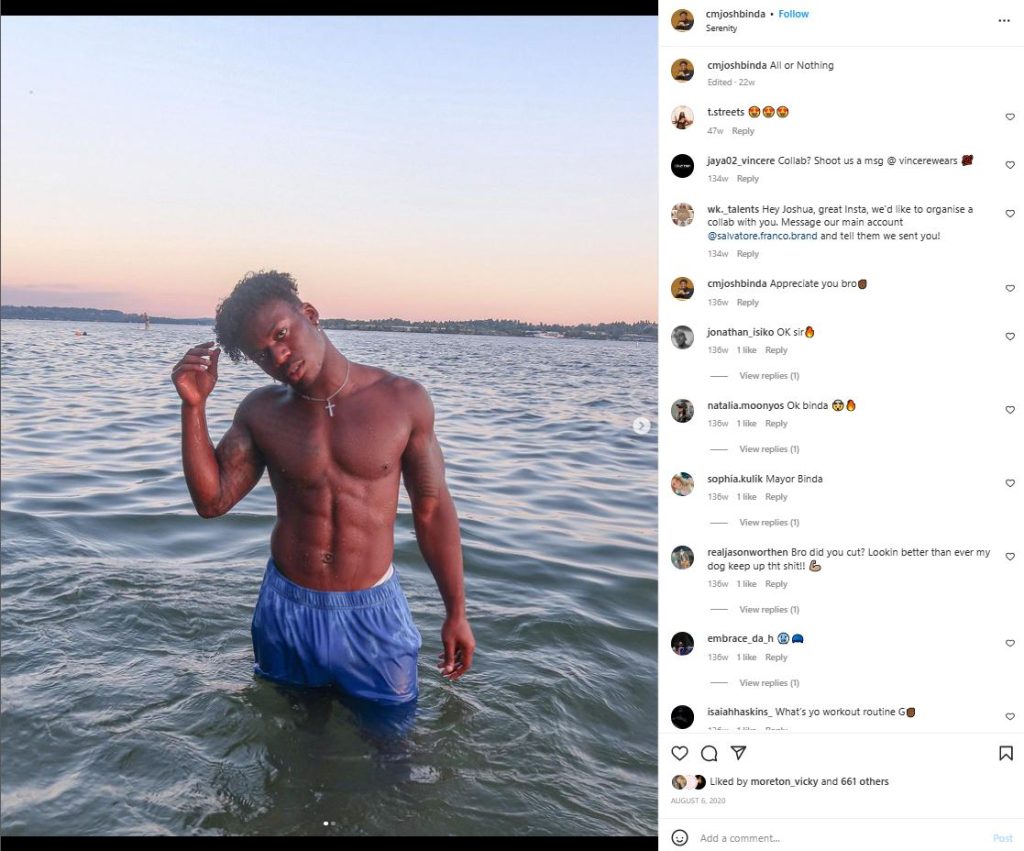 ---
Editor's Note: The Snohomish School District has confirmed with the Lynnwood Times on April 14, 2023, that the Glacier Peak High School stop of the Love Conquers All Tour advertised by Joshua Binda never took place and that the District was never under contract with Councilman Binda nor the Love Conquers All Tour. [Added 12:03 p.m., April 17, 2023]