Calls for Binda to resign mount as Council echoes residents' concerns
LYNNWOOD, Wash., March 28, 2023—Resident after resident approached the podium at Monday's city council meeting requesting that Councilmember Josh Binda resign following sexually suggestive pictures of him discovered on his political Instagram account, cmjoshbinda, to promote his "Love Conquers All" tour to middle and high school students.
"Is sexual marketing to inspire kids as a city councilman acceptable to this chamber?" eight-year Lynnwood resident Diodato Boucsieguez asked during public comments at Monday's business meeting.
He added, "It is evident that this and other documented behavior by this councilmember neither represent the best of this chamber nor of our city. I call on Councilmember Joshua Binda to resign and for this council to take immediate action."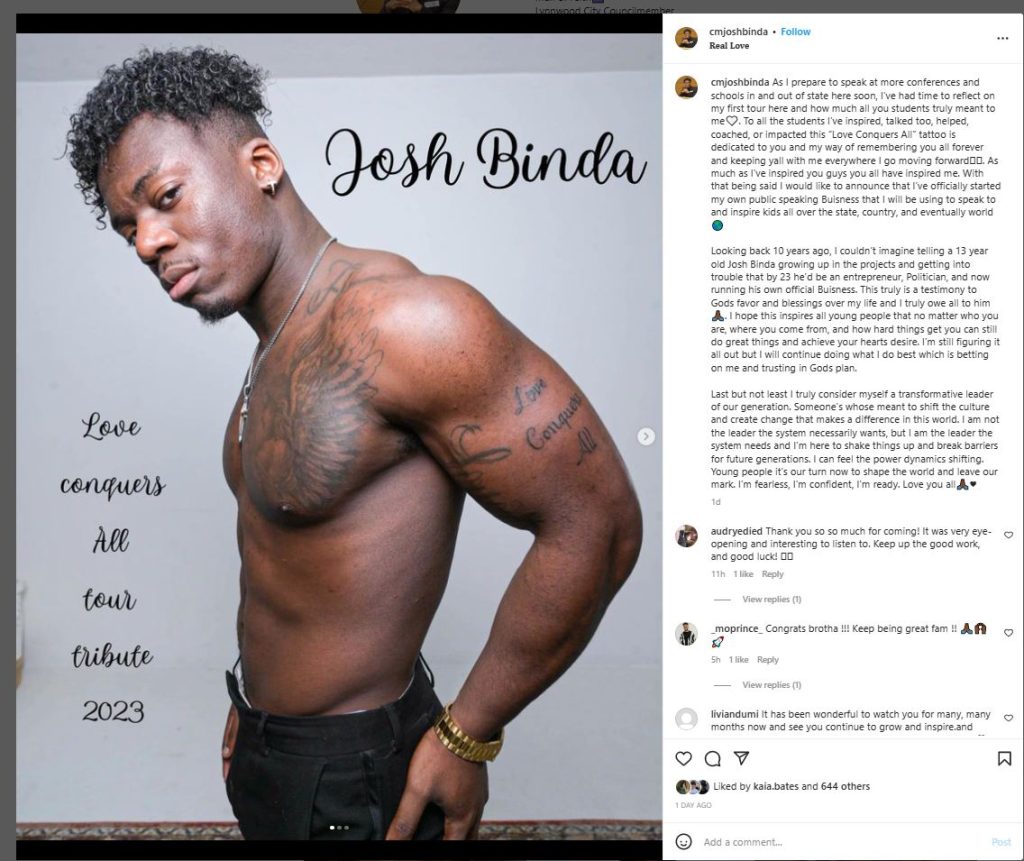 Council Vice President Julieta Altamirano-Crosby was unable to attend the Business Meeting as she was officially representing Lynnwood at the National League of the Cities in Washington, D.C.
Binda, who considers himself a "transformative leader" of his generation, was found guilty in January of two separate PDC violations—using thousands of dollars of campaign funds for personal use and for filing a post-election report 280 days late—for which a $1,000 fine was imposed. He is currently under an ethics investigation by the City of Lynnwood for recording a promotional video for his "Love Conquers All" Tour at the city council chambers and for which he received compensation for several public speaking events at local schools totaling approximately $14,000, according to the Everett Herald.
During the meeting It was revealed that Councilman Binda's building access has been revoked, and his city council email is currently suspended for failing to complete required training earlier this year.
"I think it is important for you [the public] to know that currently, Councilman Binda, doesn't have access to the building because he had a security violation and also, he doesn't have access to his city email; also because of a security violation," Council President Shannon Session said. "Both of these can be resolved with the training he needs to take which was offered to him and the rest of the council which the rest of the council did; the only person who didn't on both of those things is Councilmember Binda."
With a heavy heart, Sessions shared that the city isn't taking the actions, or lack thereof, by Councilman Binda lightly and that he has ignored their attempts and that of members of the community to work with him.
"It is important to state that this council's leadership, the last council's leadership, the mayor, the mayor's office, and many other mentors in the community have tried to teach him, to advise him, to warn him, and all of those things have gone ignored," Council President Sessions disclosed to the public.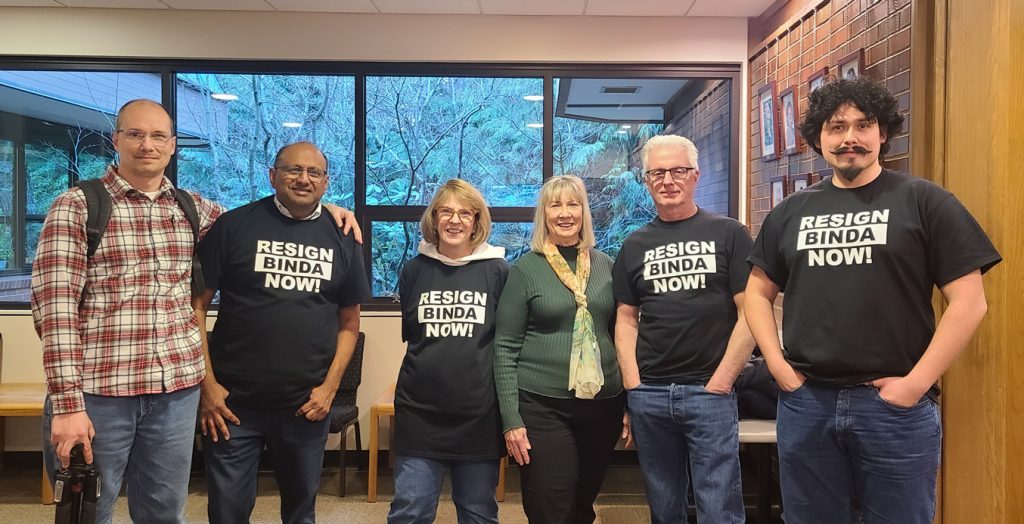 All councilmembers echoed the concerns of roughly a half a dozen residents of whom wore "Resign Binda Now!" t-shirts.
"Even though it is really hard, I have to agree with everybody, I have to agree," distinguished NAACP award recipient and Councilwoman Shirley Sutton said. "My mom didn't teach me this, and I know she is rolling over in her grave."
Councilman Binda denied that he directed anyone to tattoo their body with his name and for his defense said, "it's a generational thing" that is being "misinterpreted."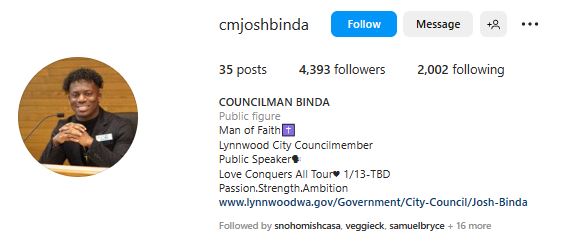 "I fully am a positive role model to youth and continue doing work being a positive role model," Binda said. "I think it is easy to sexualize something that was not meant to be sexual at all… So, it anyone misinterpreted or took it in that way that is a complete misinterpretation of anything I am doing or would do at all."
The original post on Sunday, March 19, shows three pictures—one of 23-year-old Councilman Binda shirtless in a what residents are calling a "sexually suggestive" pose, the other with the words, "Tattoo my name so I know its real," and the third picture of a copy of his Josh Binda Speaks LLC business license. As of the date of our original article on March 21, his post had 665 likes.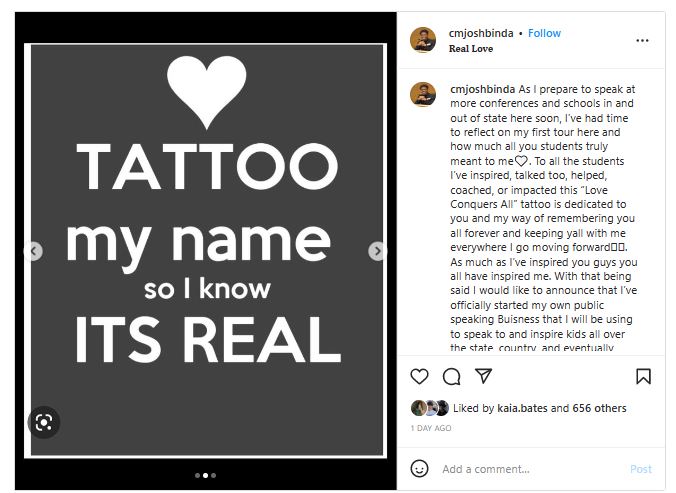 In what may constitute a violation of the Public Records Act, the picture with the words, "Tattoo my name so I know its real," has been removed from Councilman Binda's original post. Councilman Binda as not responded to the Lynnwood Times' request inquiring why this picture within his original post was removed sometime between March 21 and March 28.
Therefore, Councilman Binda lied to the public and his fellow councilmembers on Monday stating he did not tell youth to tattoo his name on their body.
"I sought office on the city council in order to help bring positive change to the community," Councilman Patrick Decker said. "We cannot bring positive change to the community without the community's support. We can't really have broad community support unless we have proper dignity and decorum for the office we hold."
Councilman George Hurst agreed with Councilman Decker that, "as far as a council we do need to present ourselves in a certain manner."
"I do believe councilman Binda has good intentions," Councilman Hurst said. "In his heart he wants to affect the generation in middle and high school… I know that Councilman Binda's intent is to be transformational but I think he needs to know that some of the things he does is not just generational, it is in fact defeating."
Lynnwood resident Elizabeth Lunsford supports Councilman Binda's approach to reach out and inspire youth.
"The problem isn't with our skin, it is with those perceptions who fetishize and sexualize our body," she said. "Our bodies are beautiful. Black Bodies are beautiful. And it is a shame to villainized and sexualize a young man who is inspiring our youth to have love conquer all.
Councilman Binda, who did not attend the meeting in person, was in Washington, D.C., for the National League of the Cities conference. It was disclosed during the meeting by council that Binda took it upon himself to attend the meeting without approval from the council.
In other council business, four of seven applicants were selected to be interviewed on April 17 to fill the vacancy left by Shawn Walker on the Public Facilities District (PFD), now called The District. The four finalist are: Vivian Dong, Nick Coelho, Angelina Armstrong, and Teresa Bitner.
🚨#BREAKING Lynnwood Councilman @JoshBinda claims racism, mocks the media, and gaslights the public in denying he directed minors in an Instagram post to tattoo his name on their body. However, we have the receipts! Below is the picture that was removed from the original post in… pic.twitter.com/vinxqEaOkT

— Lynnwood Times (@LynnwoodTimes) March 28, 2023
---
ARTICLE UPDATES: 2:00 p.m., March 28, 2023 – Added the Twitter post showing Councilman Binda mocking the press and claiming racism.