Lynnwood Council considering resolution supporting assault weapons ban
LYNNWOOD, Wash., April 4, 2023—Lynnwood Councilman George Hurst plans to bring forward a resolution supporting HB-1240, the state-level legislation prohibiting the sale of assault weapons, much to the disagreement of Councilman Patrick Decker who questioned whether the decision was constitutional. 
The announcement was made at council's Work Session on Monday, April 3, during the meeting's Council Comments section after Council President Hurst recognized Lynnwood Aquatics Director, Bill Haugen, for retiring after 23 years. 
Last week Lynnwood resident and former City Council member Ted Hickel called upon council to put forth a resolution condemning the sale of guns in the city, referencing a recent school shooting in Nashville in which three students, and three teachers were killed.
"There comes a point where you have to say 'I have to stand up' and even if this is non constitutional I will not allow this to continue in our community," said Hickel at council's last meeting. "We have to do something about gun violence in this country." 
Last night, Councilman Decker spoke against the idea of bringing forward Hurst's resolution stating that "taking guns away from law-abiding citizens does not lower crime", "it reduces the ability of families, women, minorities, and those of lower income to defend themselves," "it's unconstitutional," and "a violation of our City Council oath of office to uphold the constitution," an example of an "urban-centric law that fails to contemplate the diversity of needs of Washington State residents," and another example of a "woke, extreme leftist agenda from Olympia." 
Council President Hurst who called a point of order, after Decker alleged Washington state has the ninth highest gun control rates in the nation yet is sixth in the nation for mass shootings. 
Both Council Vice President Julieta Altamirano-Crosby and Mayor Christine Frizzell reminded Councilman Decker that he would have the opportunity to debate Hurst's resolution once it is added to the agenda of council's next Business Meeting on April 10.
Also during Council Comments, Councilman Joshua Binda first shared his condolences for Elijah Lewis' family—a young Black activist who was tragically shot in Seattle's Capitol Hill neighborhood over the weekend. Lewis' 9-year-old nephew was also in the car at the time of the shooting and was injured. Lewis died shortly after at Harborview Medical Center. He was well known for his work with Africatown Community Land Trust, being an active voice against gun violence. 
Binda then said "I just want to make it loud and clear that I'm not going anywhere" concerning recent public calls for him to resign following a pending ethics violation, the Public Disclosure Committee's finding him guilty of mis-using campaign funds for personal items, and most recently posing shirtless to promote his Love Conquers All Tour to mainly minors. 
"The people chose me to be here and represent a voice in our community, and represent the people, and I'm gonna to continue doing that. I'm gonna continue showing that no matter what and no matter who says what," said Binda. "There will be no resignation of any sort, so get used to it!" 
Work Session Items
Council was also introduced to Anthony Angel, who is applying for Position 6 of the Tourism Advisory Committee (TAC), and manages the Dave & Busters Lynnwood location. Angel has been with Dave & Busters for 12 years with the Lynnwood location beings his third, and latest, location opened. He previously sat on the Tourism Board for Memphis, Tennessee. 
Will Cena, the City's IT Director, then briefed council on a Information Technology Update on Council Meeting records, informing council that 36 recorded video minutes of council sessions in 2020 have been lost due to a technology fluke. Additionally, another six videos are missing from 2021. Cena added that the City does not have a legal requirement to keep these videos and are still within its Open Public Meetings Act requirements by posting the meeting's agendas and written minutes. 
Next, Bill Franz, Public Works Director, and Ehsan Shirkhani, Civil Engineer, briefed the City Council on the Sewer Comprehensive Plan update before recommending a resolution to approve the $300 million plan at the council's April 10 meeting.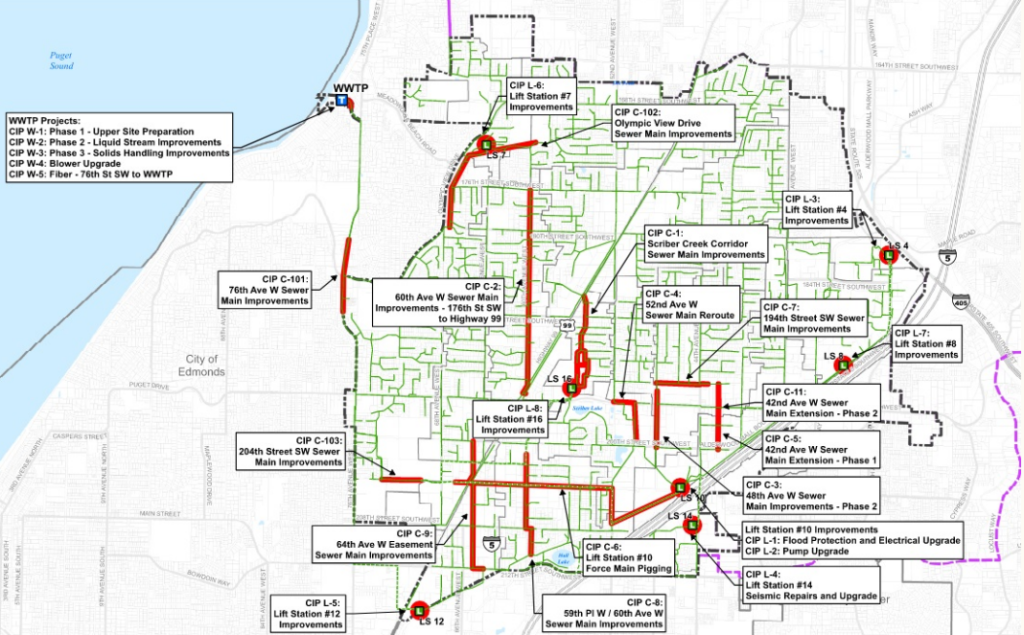 Concluding the Work Session, Karl Almgren, Development and Business Services provided a briefing on recommendations that support implementation of the City's Housing Action Plan.