Ethics investigation launched against Lynnwood Councilman Josh Binda
LYNNWOOD, Wash., January 25, 2023—Lynnwood residents again brought up concerns with the proposed opioid treatment center during public comments, but Councilmember Josh Binda was a major focus during the council meeting on January 23 for alleged ethics violations.
After a long discussion of possible ethics violations by fellow Councilman Josh Binda that recently came to light, the council passed a motion to move the matter to the ethics board with Binda abstaining.
🚨#breakingnews: @Lynnwood Council unanimously approves official Ethics Investigation into Councilman @joshBinda for alleged uses of public facilities for personal gain/profit. Binda abstained from the vote. @SnoCoScannerRep @snocounty @jasonrantz @KVIJohnCarlson @thehoffather pic.twitter.com/hf8M227BfP

— Lynnwood Times (@LynnwoodTimes) January 24, 2023
As the Lynnwood Times previously reported, it was revealed that Councilman Josh Binda recorded a promotional video for his "Love Conquers All" Tour at the city council chambers and the Everett Herald revealed he received payment for several public speaking events at local schools.
Binda defended his compensation from public speaking, stating that as he has been a public speaker for three years, it "had nothing to do with me being a council member."
"I don't consider myself just a city council member of Lynnwood," Binda said during the meeting. "I'm an activist. I'm a public speaker. I'm a community organizer. I'm a voice of a generation — I consider myself. I'm a community changer. I want to be a world changer. I will continue to use my platform to inspire a generation through change and through love and to be the next generation of leaders. I'm hoping I can continue to do so and that's my purpose for the community here in Lynnwood and for any community I step foot in."
Binda also stated that his speaking arrangements were agreed upon before he filmed and released his promotional video.
"It was already set-in-stone. The contracts were already signed and there's documents to prove that," Binda said. "Way before any video came out. There was nothing signed after any video came out, so there was no profit from city/public use or no personal gain."
After his initial comments, Council President Shannon Sessions asked Binda a couple questions.
Sessions: "Can you tell us what your public speaking tour was called?"
Binda: "The 'Love Conquers All Tour.'"
Sessions: "OK. And you said you'd continue using your platform. Your platform as an elected official of Lynnwood city council?"
Binda: "No. No. My platform just as a public speaker."
Sessions: "OK. And so if you're not using your platform as an elected official — as a Lynnwood city council member — why is it that you'd need to have had those 'Love Conquers All' videos taped in the council chambers?"
Binda: "There was — That's the whole purpose of anything being filmed: to engage the youth to let them know I'm coming to school. It was not-"
Something said off-microphone.
Binda: "No. I said the only filming that was done here was just a social media way to engage the youth to let them know I was coming to speak at their school."
Sessions: "Right. But still, you're in the city hall, sitting in the city council chambers."
Binda: "But there were no profit or personal gain from that video."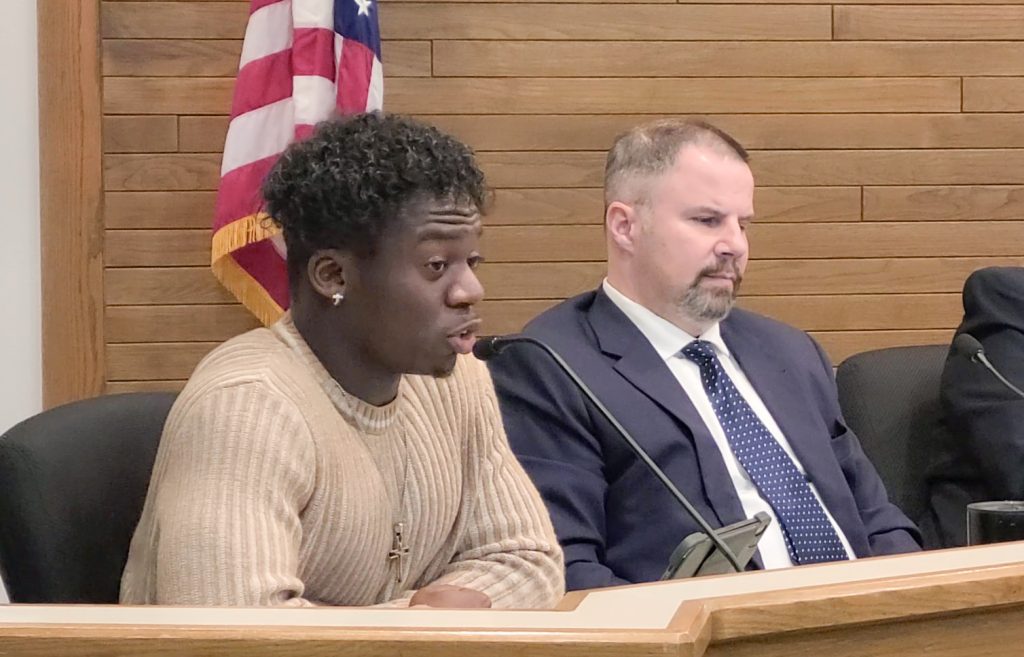 It was revealed during the meeting that two similar incidents previously occurred with Binda in the council chambers. The first was in April with Binda bringing in lighting and filming equipment into the chambers. The second incident occurred on June 28, 2022, in which Binda entered the council chambers from 8-9 p.m. and ate food and took videos and selfies. According to Councilmember George Hurst, who was council president at the time, Binda had conversations with himself, Mayor Christine Frizzell, and City Attorney Lisa Marshall about the incident.
"It was a gray [area] before — when we thought you were doing this out of the goodness of your heart," Sessions said. "And that's why before, we didn't think it was illegal because we didn't know about your compensation. That has changed everything."
Frizzell said that after "three or four conversations" with Binda about the usage of the council chambers, she concluded that "it didn't seem we were getting very far" on the issue.
"So actually, through conversations through the city attorney and the mayor, like the mayor had said, we didn't really come to an agreement point because… at least to my knowledge, there was nothing in our rules about filming in the chambers or saying that it was wrong or in the code of conduct in that aspect," Binda said. "I had a conversation with the mayor and she brought up the whole 'personal gain' thing and there wasn't a personal gain incident in that aspect."
During the designated portion of their meeting to "Use of Public Property by elected officials," Sessions opened the floor for Binda to speak. Binda declined, choosing to hold his comments until after the city attorney spoke.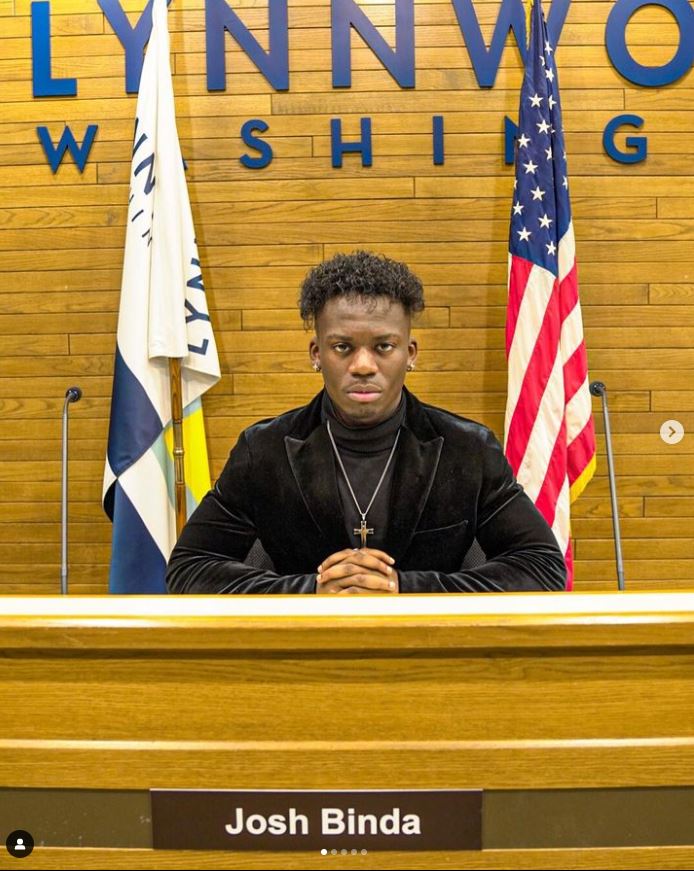 City Attorney Marshall stated that Revised Code of Washington (RCW) 42.17A.555, which prohibits the use of public resources to assist a campaign, is not applicable as Binda is not currently campaigning. The next regulatory framework mentioned by Marshall was RCW 42.30, which "generally prohibits interests in contracts," stating that this too does not apply to Binda.
The final piece of regulations Marshall mentioned was the city municipal code. She stated that Lynnwood Municipal Code 2.94 prohibits "the acceptance of money for engagements," "remuneration for speaking," and using the position for any purpose other than… the role that's set forth by state law."
"[LMC 2.94] provides a framework for the council, if you wish to, to engage the board of ethics and retain that body to investigate or provide an advisory opinion on conduct that you have questions about," Marshall said. "That's done through the board of ethics and its attorney, and that person is not me — it's an attorney retained by the board of ethics. That investigation or advisory recommendation would follow the outline that's in the municipal code."
Sessions again opened up the floor for Binda, who again declined.
"Actually, I want to hear opinions," Binda said. "I'll go last."
Binda then leans back in his chair and puts a lollipop in his mouth.
Councilmember Patrick Decker was the first to comment and read from Lynnwood Municipal Code 2.94.030 stating that "to me, this is very clear."
LMC 2.94.030 Personal gain or profit – Use of persons, money or property: A. An official or employee shall not knowingly use his or her office or position for personal or family benefit gain or profit, or use his or her position to secure special privileges or exceptions for himself, herself, or for the benefit, gain, or profits of any other persons.
"This is equitability," Decker said during the meeting. "This is to make sure that the public has same access to the resources that the members of the city council have. That members of the city council do not take advantage of their position to be able to access resources that would benefit them, or causes that they're involved with, or their family."
Decker then commented that the code was "too tightly defined" and needs to be addressed, but stated that he believed it still applies to Binda.
"Last week, I was under the impression… that Councilmember Binda, his conduct, did not fall under this definition because there was no… financial benefit," Councilman Decker said. "However, if in fact it is established, as the media has reported, that Councilmember Binda profited from the speeches which he has given at local high schools and he used council chambers, which are public resources, in order to create videos which were used to promote or advertise an activity which he then benefitted from financially, it clearly falls under the definition of benefit, gain, or profit."
Hurst gave a timeline of the events. According to Hurst, Binda's filming in the council chamber occurred on December 19, 2022. Hurst spoke to Binda the next day, December 20th, about the incident and informed Binda that he and Mayor Frizzell agreed to temporarily disable Binda's security badge. Hurst stated that at the time, he did not believe a violation had occurred as he was unaware of financial compensation and that Binda was not currently campaigning.
"I don't like any of our council members using our city property for their own personal use," Councilmember Jim Smith said.
It was after these comments that Binda spoke.
The recent incidents are not the only time Binda has been suspected of ethics violations. Last year, the Public Disclosure Commission opened a formal investigation into allegations that Binda improperly used thousands of dollars of campaign funds. The case is still listed as "Scheduled for Full Commission Hearing" on the PDC website. Another listing with the PDC found a "Violation of RCW 42.17A.700 for failure to timely file annually required Personal Financial Affairs Statement (F-1 report) for CY2021." Binda was fined $250, suspending $125 if paid and filed within 30 days and no further violations occur within 4 years.
Instagram post of promotional video for Binda's Love Conquers All Tour