The fallout from Binda's "Love Conquers All" Tour fiasco continues
LYNNWOOD, Wash., February 5, 2023—Fallout from what should have been an altruistic speaking tour, has been marred in scandal for Lynnwood Councilman Joshua Binda, with the latest coming from the Lake Washington School District confirming that the councilman failed to follow protocols violating scores of students' privacy rights and safety.
"We were not aware the photos and video taken by Mr. Binda and/or his friend were going to be given to KING 5 News for use during their broadcast," wrote Shannon Parthemer, Director of Communications for the Lake Washington School District in an emailed statement to the Lynnwood Times. "When we saw the story on KING 5 that night, we worked to identify the students in the photos and have verified their permission."
Following up on its report of the ethics investigation for allegedly using public facilities—specifically the Council Chambers—to film a promotional video for his paid Love Conquers All Tour, the Lynnwood Times discovered an email from a Renton High School staff member to Snohomish County school districts warning of the "self-promotional purposes" of Councilman Binda's speaking event.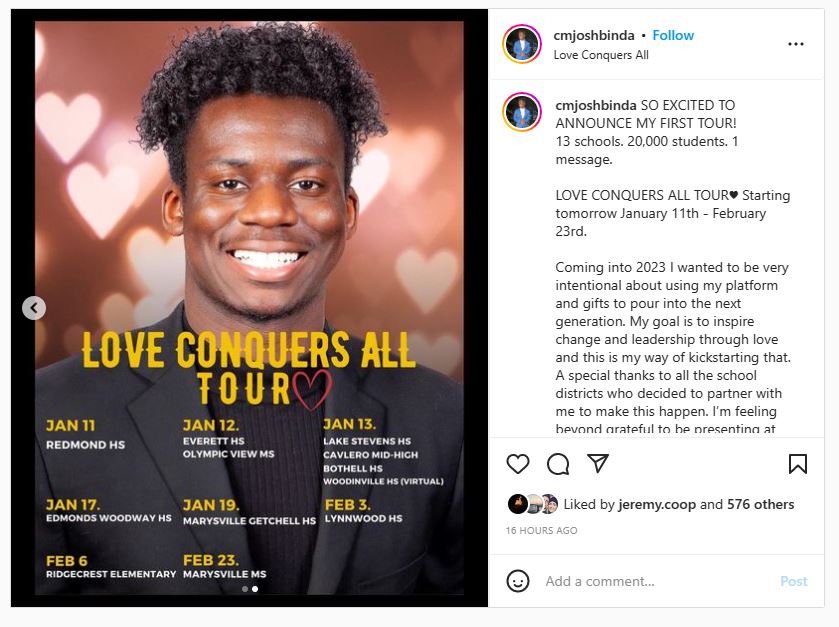 "I am reaching out to give some feedback regarding our experience having Josh Binda at Redmond High School yesterday as our MLK speaker," the email opens. "Our assembly went smoothly and his message was positive, however, our school community was surprised to see ourselves and our students on King 5 News last night with no forewarning or permissions granted," the staff member wrote to others of the Edmonds, Lake Stevens, and Northshore school districts.
On January 11, King 5 aired a segment during its evening newscast of Councilman Binda's Love Conquers All Tour kickoff at Redmond High School. During the segment, it opens with the reporter stating that "students got rather excited from a visit from a city council member; he is a special guy and he is breaking barriers and he is on tour spreading a very special message."
"I was elected as an elected official for the City of Lynnwood at the age of 21," said Councilman Binda in his opening remarks of the roughly 90-second King 5 News segment kicking off his Love Conquers All Tour. "The youngest African American in state history to get elected, so I am really prideful about that; I love that."
WATCH KING 5 NEWS VIDEO: 'Love conquers all': Lynnwood City Councilmember embarks on speaking tour to inspire local students
The video shows Councilman Binda speaking to an auditorium filled with hundreds of students. According to the email, Councilman Binda was invited to the school as its guest speaker for the MLK assembly not as part of a Love Conquers All speaking tour.
"While Josh was invited to be our speaker, he did not inform us of his plan to label us as part of his "Love Conquers All" tour… it would have been good to know that we were being included as part of a larger 'tour' that we were unaware of."
The Lake Washington School District informed the Lynnwood Times that "the total cost for Mr. Binda's presentation at the Redmond High School assembly and the Q&A session was $1,250." We were told it would take the district six months to provide its contract with Councilman Binda and related emails due to "an unusually high volume of extensive and complex public records requests."
The King 5 News segment also aired photos of Binda with scores students and two amateur videos of Councilman Binda—one of him autographing something and the other of him speaking in a class room.
Parthemer informed the Lynnwood Times that the Lake Washington School District "values the privacy rights of our students and their families."
Under the federal Family Educational Rights and Privacy Act (FERPA), a parent/guardian has certain rights concerning how Lake Washington School District releases educational records. A parent has the right to file a written complaint with Student Privacy Policy Office of the U.S. Department of Education within 180 days of the alleged violation or within 180 days after the parent is aware of the alleged violation of his or her rights under FERPA.
Each year, families at Lake Washington School District—frankly any school district receiving federal funds—have the opportunity to opt-out of photos being released to the public as part of the district's Directory Information Withhold process. When media attends any campus event, the district verifies who can/cannot be photographed. In addition, media works directly with the district's Communications Department to ensure that FERPA steps are being followed.
However, in Binda's case, he informed the staff member of Redmond High School that his intention for filming was "for personal" and not for use in his Love Conquers All Tour kickoff.
"When he told me he was bringing a friend to film, I asked the purpose and he told me the film would be of him and used for personal use on Instagram," wrote the Redmond High School staffer in his email out of concern for student's privacy and safety. "The news broadcast was never mentioned, and we certainly did not grant permission for the still photos taken of Josh and students to appear on King5."
King 5 News has not responded to the Lynnwood Times' request for comment if they were informed by Binda or anyone associated with Binda's Love Conquers All Tour of permission to use footage from the school.
"It felt very much like our students/staff's identifiable faces were used for self-promotional purposes," wrote the Redmond High School staffer expressing his concern.
Councilman Binda's Martin Luther King Jr. Assembly visit was arranged by the Lake Washington School District Equity Department, staff at Redmond High School and leadership students; and according to Parthemer, the arrangements were made directly with Binda.
Redmond High School has been working with the district to identify the scores of students in photos and video to verify their photo release status and inform families that their child appeared on television. There have been no complaints or concerns from parents regarding the photos/videos used as part of Councilman Binda's Love Conquers All Tour kickoff.
#BREAKING: @JoshBinda DELETES promo video filmed at @Lynnwood Chamber for paid Love Conquers All Tour after ethics investigation launched for misusing city facilities for gain/profit. Below is video he's hiding from the public. @WashingtonCOG @KIRONewsdesk @choeshow @komonews pic.twitter.com/zKSoA2wive

— Lynnwood Times (@LynnwoodTimes) January 26, 2023