Lynnwood Councilman tells PDC he doesn't know how to write checks to pay fines
OLYMPIA, Wash., July 9, 2023—During a Brief Adjudicative Proceeding on Thursday, July 6, with the Washington State Public Disclosure Commission (PDC), Lynnwood Councilman Josh Binda was found in violation of failing to file his Personal Financial Affairs Statement (F-1) timely and fined $300 that will be suspended with the condition that he pays $1,250 (and all additional collection fees) in fines from two previous violations — one as recent as January of 2023 — and that he not commit another violation within four years.
"The deadline is the deadline and there are thousands of people in the state of Washington who also have to file F-1s, and it is incumbent upon you to make sure you observe the proper deadlines," Washington State Public Disclosure Commission Chair Nancy Isserlis told Councilmember Binda during her ruling. "This is a second [F-1] violation."
A case was opened on May 3 against Councilman Binda by the PDC after Recall Binda Committee spokesman Diodato Boucsieguez and investigative citizen journalist Glen Morgan officially filed two separate complaints against the councilman who is currently facing a recall effort.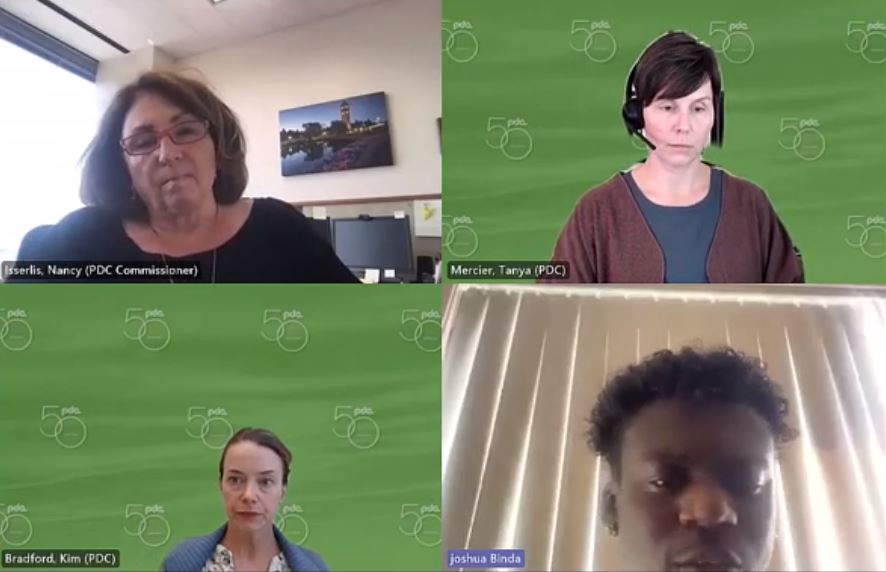 Councilman Binda was sworn in under the laws of perjury to provide his defense to the allegations he violated RCW 42.17A.700 by failing to timely file a Personal Financial Affairs Statement (F-1 report) for calendar year 2022, due not later than April 17, 2023, the enforcement hearing memorandum reads.
For his defense, Councilman Binda, under oath, stated he didn't see any of the nine reminder notices sent to both his personal and city council email accounts by the PDC regarding the missing F-1 report.
"I get a lot of emails in my mail," Binda told the PDC panel. "I had seen this mail about the F-1 report until about two weeks or so of the filing [unintelligible] once I saw it I meant to go in and file for the F-1 which was, I think May 6th or so was the day, and that was a little after the deadline."
Councilman Binda then shared that he didn't realize filing his F-1 would be so "heavily scrutinized."
"It is common I think for other politicians to or other people to have late F-1 filings. I didn't think it was something as severe as in the case of [unintelligible] especially if it was two weeks or so," Binda said.
During the hearing it was disclosed that Councilman Binda has yet to pay any of the $1,250 in mandatory fines imposed by the State of Washington for his numerous campaign finance law violations —a fine of $250 for failing to file his F-1 statement in 2021 that was due in April of 2022, and a $1,000 violation imposed on January 26, 2023, associated with previous cases 100589 (inspection of books) and 100348 (illegally using thousands of dollars in campaign funds for personal expenses).
"This might sound young of me," Binda told the PDC panel, "I have never written a check or done a check before. I don't have a checkbook or any of that sorts. So, the whole checking process is fairly new to me. I usually do electronic or one of the sorts."
Binda, under oath, explained that when he attempted to pay a $1,000 violation associated with previous cases 100589 and 100348 in person back in early March of 2023, he was told by a "gentleman" at the front counter that the PDC only accepted payments for fines in check form and not electronic – e.g. not credit/debit card or other electronic funds transfer medium. The physical office for the PDC is located at Evergreen Plaza, 711 Capitol Way S #206 in Olympia, which is 77 miles or a one-hour-and-16-minute drive from Lynnwood.
Kim Bradford, Deputy Director of the PDC, under sworn testimony, confirmed that on all invoices for fines, it clearly states that the only forms of payment are a check or cashier's check.
"Right now, I don't have a checkbook with a bank or any of that sorts," Binda told the PDC panel during Thursday's hearing.
He further testified that although he has an active bank account, he never made any further attempts after his March in-person encounter with a "gentleman" at the PDC, to pay the fines he owes to the State of Washington.
"I recently got my car stolen and there's a bunch of other financial burdens I have been put under that I have not been able to pay that since," Binda told the PDC panel during Thursday's hearing.
PDC Board Chair Isserlis informed Binda that he can speak with his bank regarding issuing a cashier's check drawn from his bank account to pay his fines to the state.
Between the months of January through February of 2023, Councilman Binda received at least $14,000 from local schools for his Love Conquers All Tour. According to emails reviewed by the Lynnwood Times from a public records request, Councilman Binda expensed $2,009.70 on January 30, 2023, to secure the venue for his Black History Month Gala in February. The expense was just four days after his PDC hearing where he was fined for illegally using campaign funds for personal expenses, and under oath, promised to pay the fine and not violate any further PDC laws for up to four years.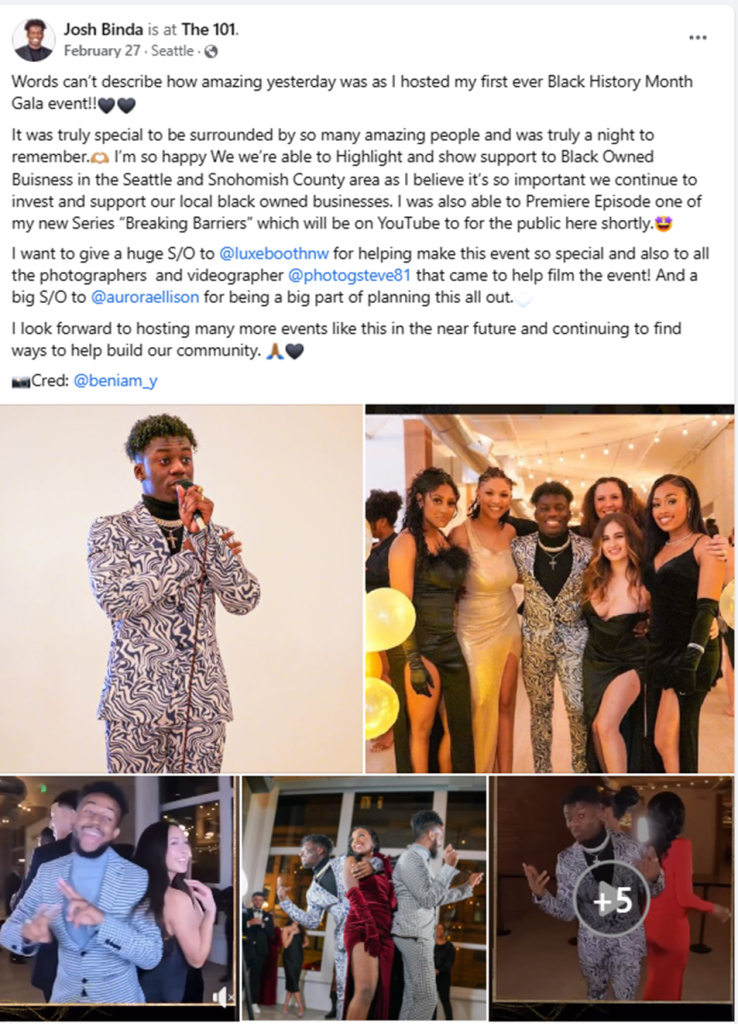 Councilman Binda was recently reimbursed $1,190.80 by the residents of Lynnwood for his travel to Washington D.C. to attend the National League of Cities Conference. It was discovered by city staff that all councilmembers have a $2,500 budget for city-related travel to use as they see fit.
During the Lynnwood Times investigation in 2021 into potential illegal campaign related activities associated with then-candidate Josh Binda, Andy Lo, listed as treasurer for the Binda campaign, confirmed with the Lynnwood Times that he separated with Binda just after the Primary Election in September of 2021. Lo, an experienced and prominent campaign Treasurer within the state of Washington, told the Lynnwood Times that he is aware of the questionable campaign expenses and did not want to share why he abruptly ended Treasurer services with the Binda campaign.
From September through November, Binda was listed as the Treasurer for his campaign. During this period, thousands of dollars were expensed, and thousands of dollars were received and recorded by then-candidate Binda in the form of checks.
Recall Binda approved by county judge
On June 27, Snohomish County Superior Court Judge Marybeth Dingledy found sufficient reason to recall Lynnwood City Councilman Josh Binda for misfeasance, malfeasance, and violation of oath of office.
The approved counts to be on the official recall petition are as follows:
From December 2022 to January 2023, Councilmember Binda violated Lynnwood Municipal Code 2.94.030.B by using the City of Lynnwood's email system to send and receive numerous emails on behalf of his private business arranging speaking engagements with school districts and entering City Council Chambers after hours to film a video promoting a speaking engagement.
In 2021 and 2022, Councilmember Binda failed to timely file a required Personal Financial Affairs Statements with the Public Disclosure Commission in violation of RCW 42.17A.700.
Councilmember Binda violated RCW 42.17A.235 and RCW 42.17A.240 by failing to timely file a Post-General Election Summary Full Campaign Contribution and Expenditure report disclosing contribution and expenditure activities undertaken during his 2021 campaign. Between November 2021 and April 2023, Councilmember Binda improperly used $2,742.49 in campaign funds for non-campaign related expenditures in violation of RCW 42.17A.445.
On January 23, 2023, Councilmember Binda knowingly lied to the City of Lynnwood Council and the public by stating his private business contracts for speaking tours and appearances had been signed prior to December 2022. In March 2023, Councilmember Binda attended the National League of Cities Conference in Washington, D.C. without prior notice to the City Council. Councilmember Binda falsely claimed he was representing the City of Lynnwood at the conference. On April 24, 2023, when confronted, Councilmember Binda falsely claimed he was "keynote speaker" at the conference.
Democratic Party backs Binda
During its Monthly Business Meeting on May 3, 2023, the 32nd Legislative District Democratic Organization, voted unanimously without objection, 25-0, to support a motion brought forward by Elizabeth Lunsford and seconded by Rosamaria Graziani to "Oppose the recall efforts against Lynnwood Councilman Josh Binda."
Lynnwood Councilman George Hurst, Edmonds City Councilwoman Susan Paine, Edmonds School District Director Carin Chase, and her mother former Senator and now candidate for Olympic View Water District Maralyn Chase spoke in favor of the motion.
"We need to just oppose this and let him continue to grow as a councilmember," Councilman Hurst said during the 32nd LD Democratic Party meeting.
"This is all 'code,'" Councilwoman Paine said after commending Hurst's statement. "This is going to be discouraging younger candidates and candidates of color, [be]cause they are going to be seen as in ways that they don't know how to behave and that is the decorum false argument."
After the vote of the organization taking an official stance opposing the recall effort against Councilman Binda, Chair for the 32nd LD Democratic Party, Chris Roberts, shared that he believes the recall is an effort to silence Black voices.
"I am very pleased that the district passed this motion to oppose the recall efforts of Josh Binda," Roberts said. "To me this is just another attack on many of our democratic elected officials including, especially those of democratic elected officials, who happen to be of color."
Earlier in the meeting, Hurst, who is running unopposed for Lynnwood Council seat was endorsed without objection by the 32nd LD Democrats.
"I need your help in changing the direction of this city council," Hurst told his fellow Democrats. "Lynnwood would soon become the major city in south Snohomish County. I need fellow councilmembers who will join me so we can make real progress on affordable housing and will seriously address homelessness and the crisis of substance abuse and mental health and who will make sure to create policies to protect our environment.
"Your endorsement for my reelection to the Lynnwood City Council and your support for progressive candidates to the other Lynnwood City Council positions up for election will make a difference. It is time to make good trouble."