Potential illegal use of city resources by lawmaker to make promotional video
LYNNWOOD, Wash., January 17, 2023—Councilman Joshua Binda uses city facilities to make promotional video for his Love Conquers All Tour potentially violating several city laws. When asked for video recordings of the incident, the City says it has "no records," yet a snapshot from surveillance footage showing Binda in Council Chambers with a cameraman surface from a public records request made by the Lynnwood Times.
🚨#breakingnews: @Lynnwood Council unanimously approves official Ethics Investigation into Councilman @joshBinda for alleged uses of public facilities for personal gain/profit. Binda abstained from the vote. @SnoCoScannerRep @snocounty @jasonrantz @KVIJohnCarlson @thehoffather pic.twitter.com/hf8M227BfP

— Lynnwood Times (@LynnwoodTimes) January 24, 2023
The promotional video with Binda in the Council Chambers sitting in the mayor's seat has been posted to his campaign social media account on Instagram.
Councilman Binda entered Lynnwood City Hall at 6:20 p.m. on Monday, December 19, 2022, during winter break when offices were closed. According to an email from a city employee alerting Assistant City Administrator Julie Moore of the incident, this raised several "security concerns" for the City.
Councilman Binda was accompanied by an unidentified male who was acting as a cameraman to take video in the lobby, before moving to the Lynnwood Council Chambers. Binda then gave the cameraman his city of Lynnwood ID badge so that the unidentified cameraman could go in and out of the building unaccompanied. Councilman Binda stayed in the council chambers while the cameraman went in and out, according to the city employee.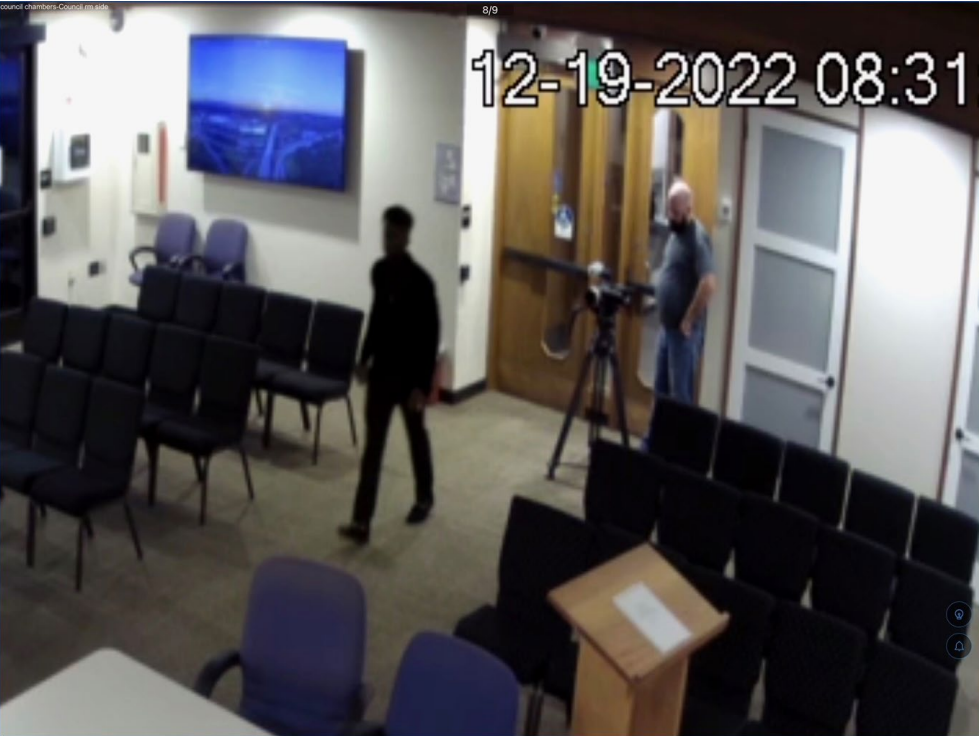 After three hours, Binda and the unidentified cameraman left City Hall without setting the security alarm "leaving City Hall unarmed all night."
Because of Binda's potentially unlawful use of City Hall outside of normal business hours, janitors were not able to clean the council chambers.
"Also a scheduling concern as the janitors were not able to clean the council chambers without interrupting, and without advanced notice they were unable to schedule around for cleaning," the email documenting the security breach states.
Assistant City Administrator Julie Moore confirmed with the Lynnwood Times that the City Administration was made aware of the security breach through its Building and Maintenance team and suspended councilman Binda's city ID badge.
"Mayor Frizzell reached out to Council President Hurst to relay the information, and the Council President stated he would speak to Council Member Binda," Moore wrote to the Lynnwood Times. "After discussion with Council President Hurst, Mayor Frizzell directed IT to temporarily suspend Council Member Binda's ID badge access to City Hall until further training was conducted."
As of the date of this article, there has been no response from Councilman Binda to multiple inquiries by the Lynnwood Times regarding this incident.
According to Moore, the City Administration has not written an official incident report of the security breach and unauthorized use of City Hall and the Council Chamber by Councilman Binda.
The City informed the Lynnwood Times that there is "no record" of surveillance footage of Binda's use of city facilities to make his promotional Love Conquers All Tour video. However, through a separate public records request, the Lynnwood Times was able to obtain an email with a snapshot from surveillance footage that evening which shows Binda in Council Chambers with a cameraman.
The Lynnwood Times will be following up with the City for the "missing" three hours of surveillance footage.
"Love Conquers All" tour video
On January 10, 2023, Joshua Binda posted on his political Instagram account, "cmjoshbinda," a promotional video launching his "Love Conquers All" tour. In the video, Councilman Binda is seen using an ID Badge, presumably his, to enter City Hall.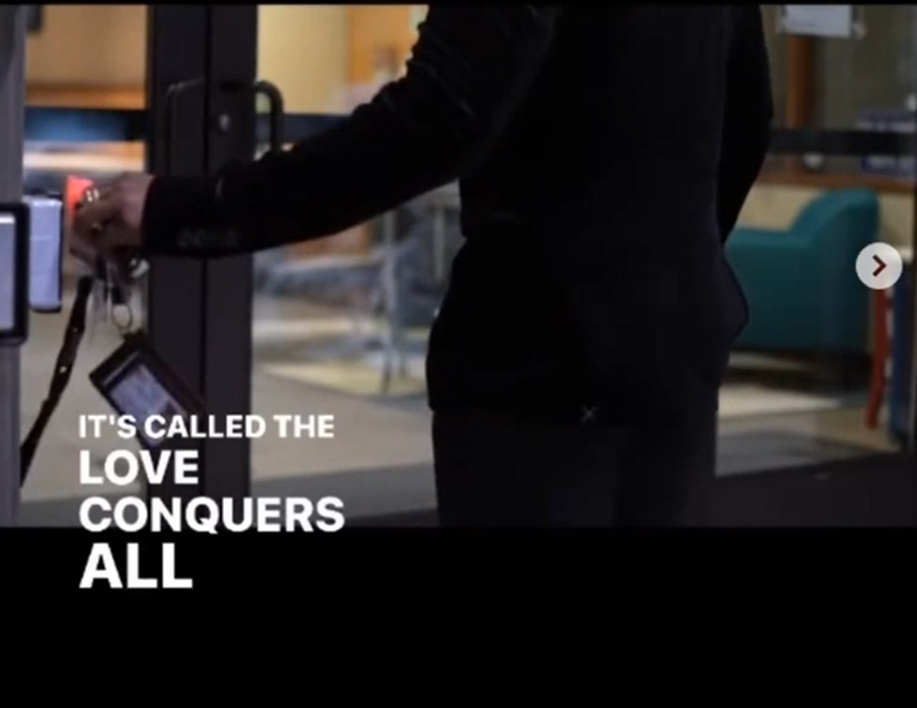 Binda then enters Lynnwood Council Chambers. It appears from the video that the name plates from council members were removed, and Councilman Binda's name plate replaced that of Mayor Christine Frizzell. The Lynnwood City and U.S. flags were moved to the center of the Dias and the logo of the City is visible.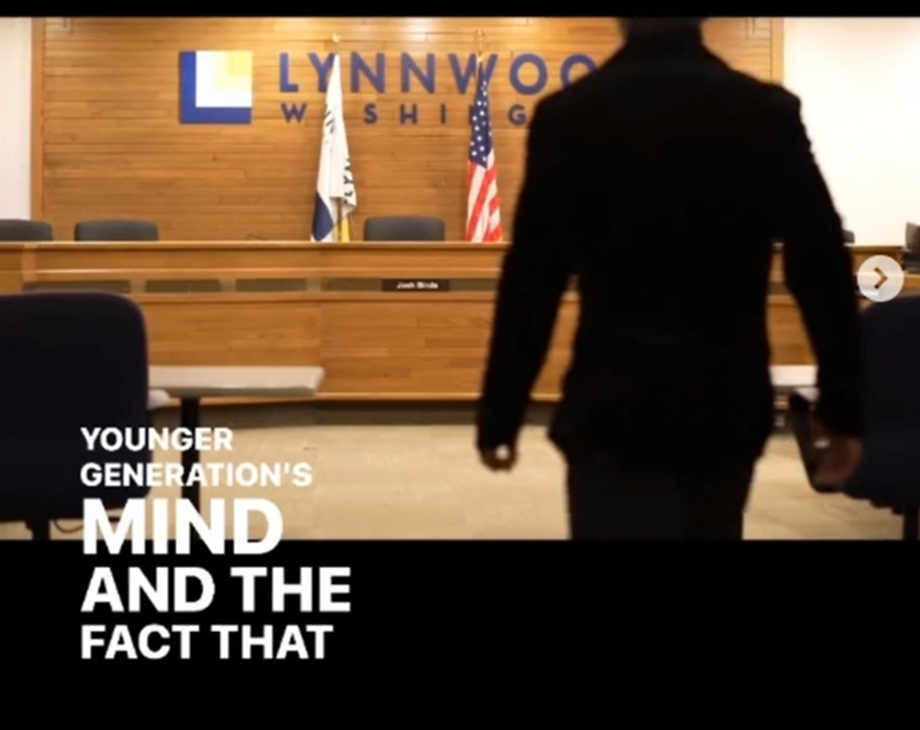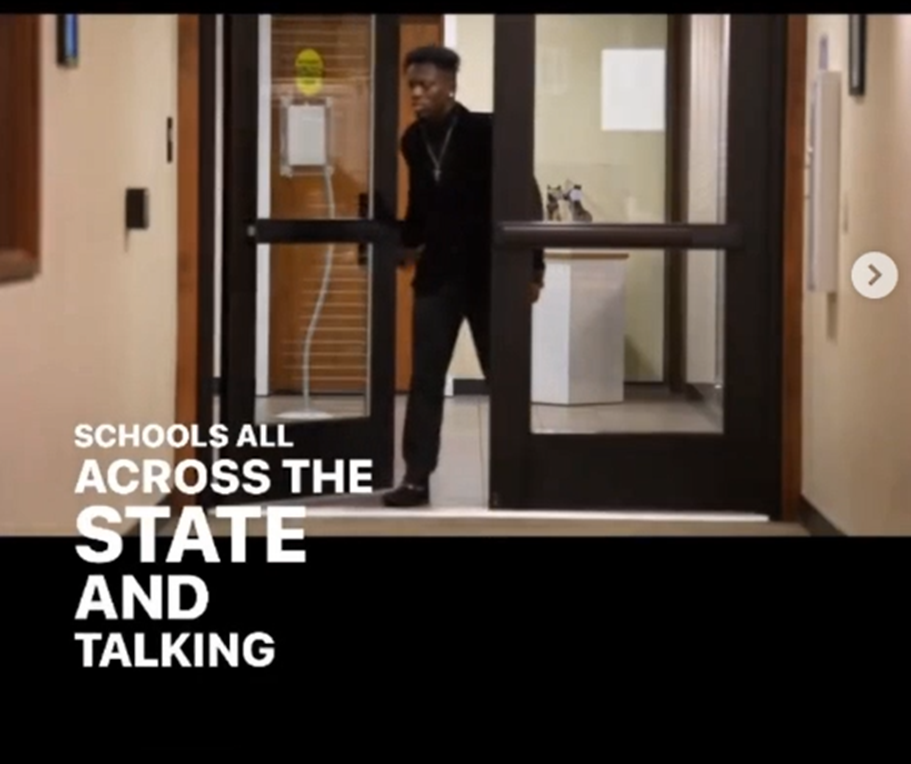 Binda is then seen seated in the mayor's seat at the Dias promoting his Love Conquers All Tour.
"I will be going on tour here this coming January," Binda says in the video. "It's called the Love Conquers All Tour."
He continues, "So, what I will be doing is I'll be going to different schools all across the state and talking to the entire student body and giving them a message of why leading with love and being themselves and continue to push in that direction."
According to a January 11interview with King 5 News kicking off his tour at Redmond High School, Binda's goal is to speak with 20,000 students by February 23, 2023, to inspire "the next generation to lead with love."
"It's all about building a relationship with these students and we gotta keep showing them that love wins, and they can be the change we need," said Binda in his King 5 interview.
According to Binda's tour schedule, he has visited Everett High School, Olympic View High School, Lake Stevens High School, Cavelero Mid High School, Bothell High School, and Woodinville High School. He is scheduled to visit Edmonds Woodway High School, Lynnwood High School, Glacier Peak High School, Ridgecrest Elementary School, Marysville Getchell High School, and Marysville Middle School.
Meadowdale High School, the only high school within the city limits of Lynnwood, is not on his list.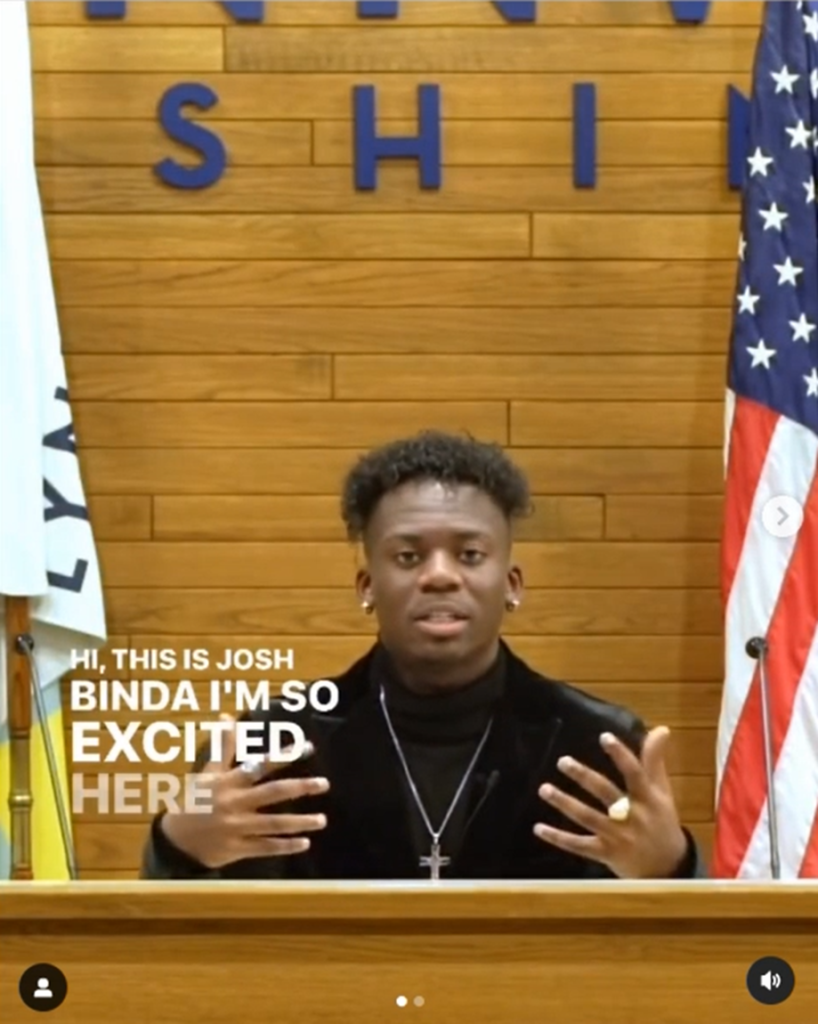 Possible legal troubles for Binda
By using city resources to promote his Love Conquers All Tour video that was posted to his political campaign Instagram account on January 10, Councilman Binda may be in violation of several city laws according to Lynnwood's Code of Ethics.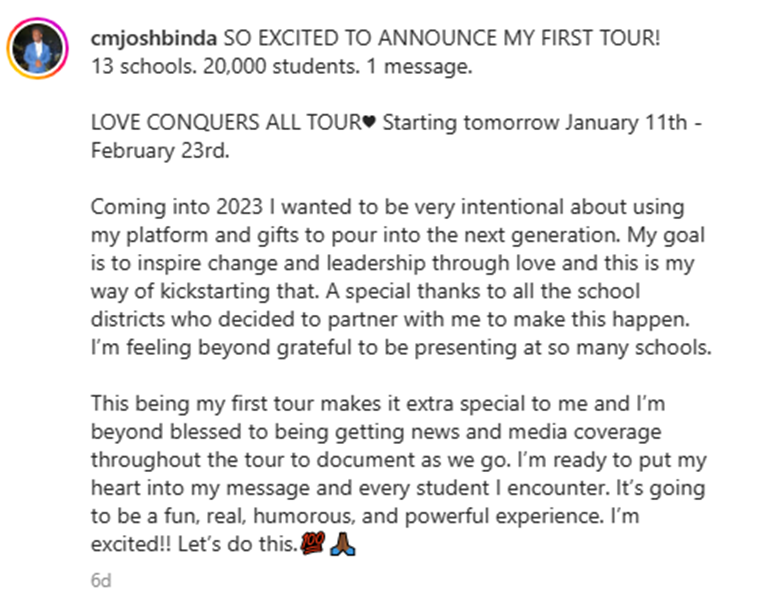 Below are the violations listed that may be submitted to the Board of Ethics for an investigation against a public official or city employee:
2.94.030 Using position for personal gain or profit
2.94.040 Conflict of interest
2.94.050 Acceptance of gifts
2.94.060 Prohibited campaign activities
2.94.070 Unauthorized disclosure of confidential information
According to Lynnwood Municipal Code 2.94.030 A and B:
A. An official or employee shall not knowingly use his or her office or position for personal or family benefit gain or profit…
B. No official or employee may employ or use any person, money, or property under the officer's or employee's official control or direction, or in his or her official custody, for the personal or family benefit, gain, or profit of the officer or employee, or another.
According to Lynnwood Municipal Code 2.94.050 A and B:
A. … an official or employee may not accept gifts of cash in any amount that has any connection whatsoever with city employment or the performance of duties.
B. …an official or employee may not, directly or indirectly, give or receive or agree to receive, or ask for any compensation, gift, reward, or gratuity from a source for performing or omitting or deferring the performance of any official duty, except from the city.
According to Lynnwood Municipal Code 2.94.060 B:
B. Officials and employees shall not use or authorize the use of the facilities or resources of the city for the purpose of assisting a campaign for the election of any person to any office, or for the promotion or opposition to any ballot proposition, except as may be authorized by law under the provisions of Chapter 42.17.130 RCW.
Mayor Frizzell has already suspended Binda's ID Badge access to City Hall because he willfully gave his city ID Badge to an unaccompanied person for unauthorized access into City Hall.
The Lynnwood Times is further investigating the monetary benefits and financial disclosure aspects of Binda's Love Conquers All Tour campaign.