Settlement identifies two counts of Binda misusing his public office for monetary gain
UPDATE [2:02 p.m., April 27, 2023]: After further investigation by the Lynnwood Times, the Ethics Attorney has not issued a final determination nor finding in the investigation against Councilman Joshua Binda. A settlement agreement of guilt has been proposed to Councilman Binda.
LYNNWOOD, Wash., April 26, 2023 — In a settlement agreement issued from the Ethics Attorney investigating alleged misuse of public facilities for personal gain by Lynnwood Councilman Joshua Binda, it identifies to two types of Ethics Violations by the councilman. Each count had multiple instances of violation that include "recording promotional videos in council chambers for his monetized speaking tour" and "using city servers and email tools to advertise and promote his monetized speaking tour."
The Ethics Attorney has proposed a settlement and is currently working with Binda on a date to review that potential settlement with him. If Binda accepts the proposal, which involves a public admittance and apology as well as committing to no further ethics violations, the Ethics Attorney will present the proposal to the City Council for its acceptance. If neither party is willing to accept the proposal then the Ethics Attorney will present their findings to the Ethics Board for further action. As of the publication of this article, Binda has not replied to the Ethics Attorney's request to meet.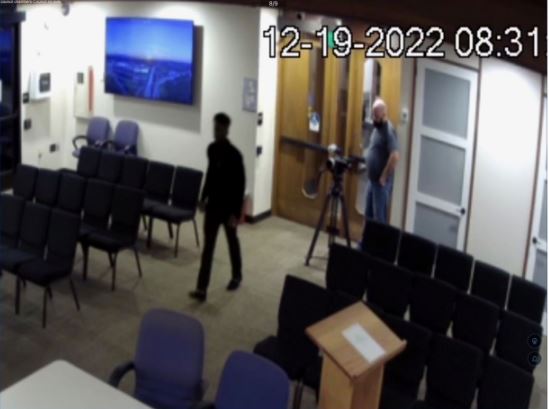 Councilman Joshua Binda used city facilities to make a promotional video for his Love Conquers All Tour on December 19, 2022, in which he profited approximately $14,000. Binda was accompanied by an unidentified male who was acting as a cameraman to take video in the lobby, before moving to the Lynnwood Council Chambers. Binda then gave the cameraman his City of Lynnwood ID badge so that the unidentified cameraman could go in and out of the building unaccompanied. Councilman Binda stayed in the council chambers while the cameraman went in and out, according to the city employee.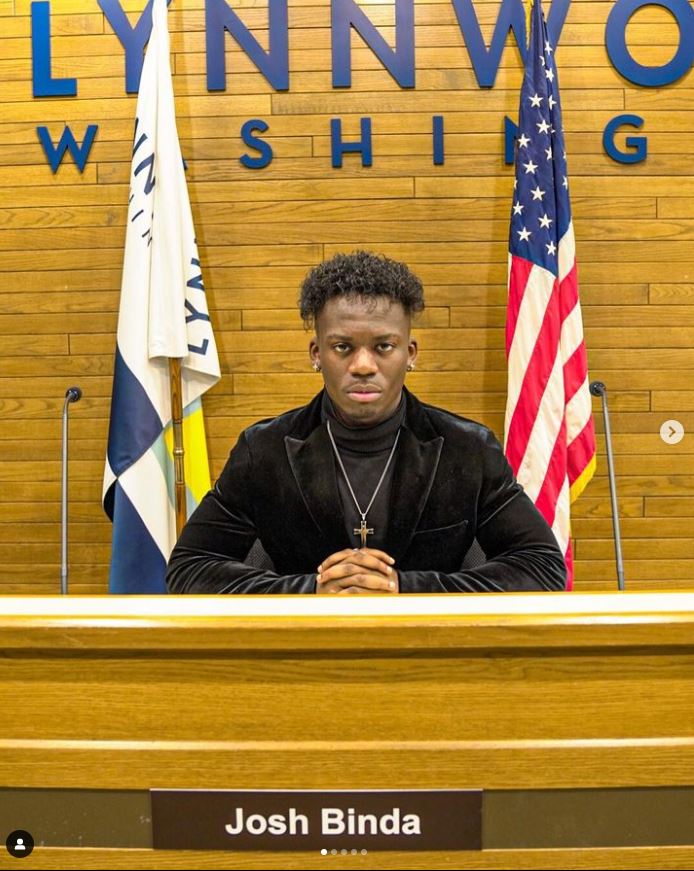 As a result, Binda lost access to council chambers and subsequently lost access to his email when he did not complete IT Security training. Investigations found that Binda was also using council email servers to solicit his tour to schools around the region.
The findings are just one of four separate ethics complaints against the councilman, who's platform revolves around "inspiring youth." The other complaints involve merging his personal Instagram page with council business – where he recently, controversially, posed shirtless to promote his "Love Conquers All" speaking tour to mostly minors – charging "struggling [public] schools" $1,500 a day to speak, and his mishandling of campaign funds.
Earlier this year, the Washington State Public Disclosure Commission (PDC) found Lynnwood City Councilman Joshua Binda guilty of two separate PDC violations and imposed a $1,000 fine at a public hearing. The violations include using $2,742 of campaign funds for personal use (RCW 42.17A.445 and WAC 390-16-238) related expenditures as well as submitting a Post-General election C4 report 280 days late (RCW 42.17.235 and .240).
In another Instagram post, Binda posed half-nude and posted a picture in which he told students to "Tattoo My Name So I Know It's Real" to promote his "Love Conquers All" tour. Binda later deleted the latter picture. The post caused an uproar in the community, with many calling for his resignation during city council meetings and officially filing with the PDC to recall the council member.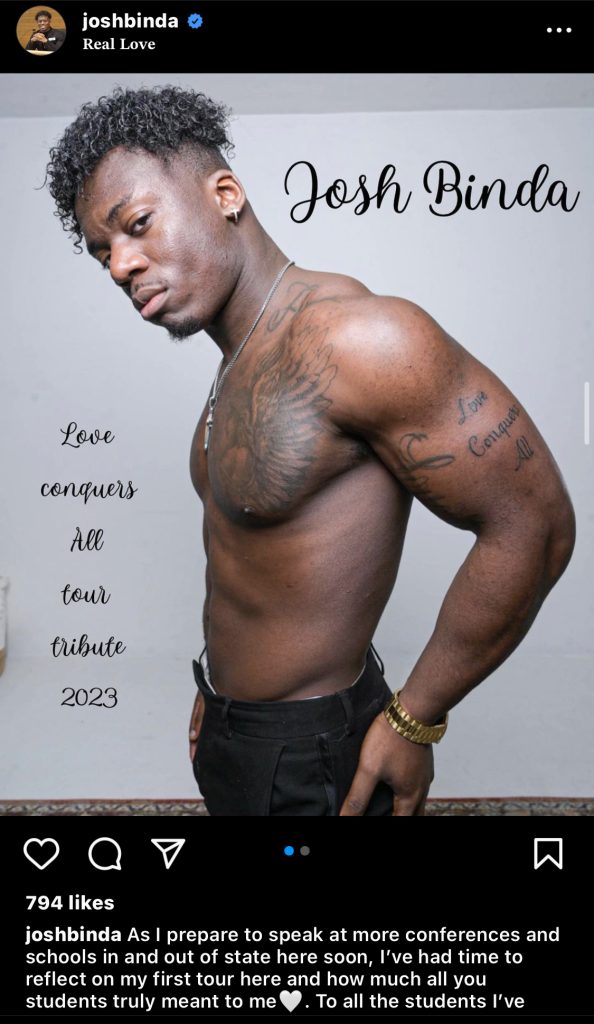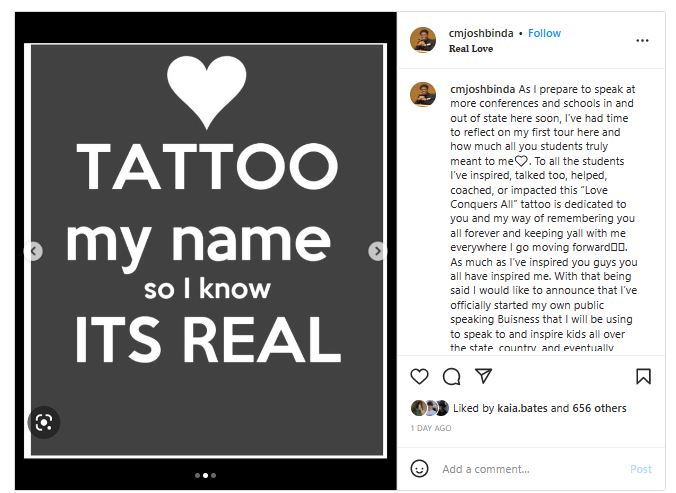 The public had the opinion that they did not think the photos were appropriate, considering the nature his speaking tours are directed toward mostly minors, but mainly that it did not align with an expected decorum a public official should maintain. Binda believed otherwise, defending his photos as "not meant to be sexual at all." He then proceeded to accuse media outlets, fellow council members, and the public as being "racist" on social media.
State Senator John Lovick (D-Mill Creek), who endorsed Binda's campaign, also agreed that Binda should resign during an interview with journalist Brandi Kruse Wednesday, April 26, refuting Binda's claims of racism.
Senator John Lovick (D-Mil Creek) says he is "embarrassed" by the actions of @Lynnwood Councilman Josh Binda, rejects Binda's claims that the criticism is racist. #unDivided pic.twitter.com/jtgHBzn2n6

— Brandi Kruse (@BrandiKruse) April 26, 2023
"If you're not going to listen you're not going to be successful in this business," said Sen. Lovick. "There has been and there always will be racial issues – this is not one of them. People elected them and when you are elected, your obligation is to serve the public that you represent and I do not think, in this posture that he's in, that he's appropriately serving the public."
Sen. Lovick mentioned that he and others tried to mentor Binda countless times, but it became increasingly clear that he "was not going to listen." Lynnwood City Council members echoed this testament during council meetings, where many of them shared they have done everything to attempt to mentor Binda, but he declined each of their offers.
"I'm totally embarrassed by the guy…When he posted the picture of half of his face and half of the face of John Lewis that was over the line for me," said Sen. Lovick of an Instagram post by Binda. "I had the great, great, honor of meeting Congressman John Lewis – a man who came within an inch of his life being beaten after crossing the Edmund Pettus Bridge on Bloody Sunday. And when he tried to compare what he is doing to what John Lewis is doing, that's just over the line."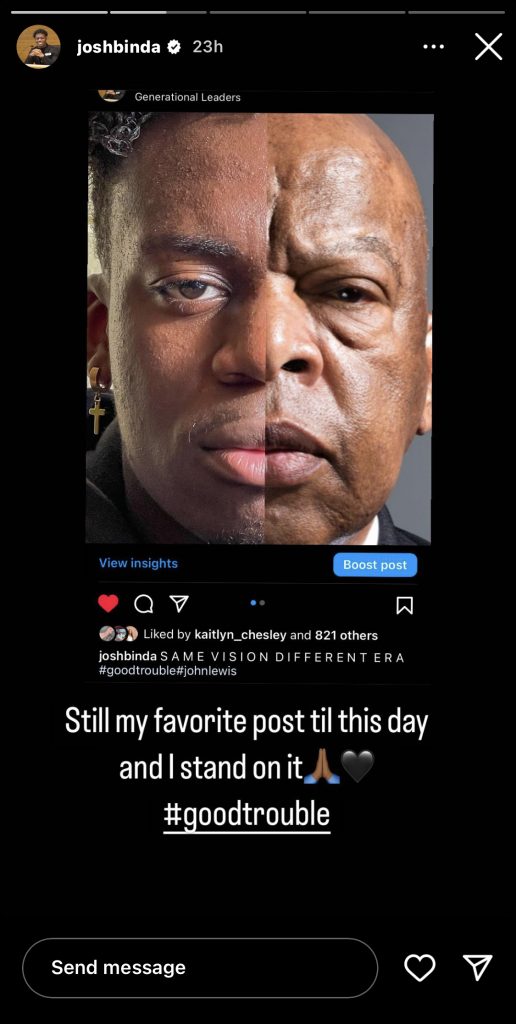 Recently Binda attended the National League of Cities event in Washington D.C. without council approval. He's now asking that the council reimburse his travel expenses of $1,190.80. He alleges that he was a keynote speaker at the event in another Instagram post yet Council President Sessions revealed that she confirmed with a senior specialist involved with the conference that Councilman Binda was not a keynote speaker.
During the April 10 City Council business meeting, City Attorney Marshall shared that Councilman Binda never contacted her regarding any travel to Washington D.C. for the NLC conference. Binda said that he "attended on his own merit" because, as the conference was a week away, he felt there wasn't enough time for the attorney to respond to his questions.
"Even though it is really hard, I have to agree with everybody, I have to agree," distinguished NAACP award recipient and Councilwoman Shirley Sutton said regarding the public's call for Binda to resign at a March 27 City Council business meeting. "My mom didn't teach me this, and I know she is rolling over in her grave."
Despite council members, elected officials, and the public's demands for Binda to resign he said, "I'm not going anywhere."
"The people chose me to be here and represent a voice in our community, and represent the people, and I'm gonna to continue doing that. I'm gonna continue showing that no matter what and no matter who says what," said Binda. "There will be no resignation of any sort, so get used to it!" The Lynnwood Times has continually attempted to contact Binda, but he has not responded to our request for statement.
Summary of Facts Provided to the Lynnwood Times from Investigation
Around the end of January of this year, the City Council determined there was sufficient cause in reviewing Councilmember Binda's recent actions to file a formal Ethics Complaint regarding Councilmember Binda's actions
The City Council by way of motion asked me to act on behalf of the City Council in filing an Ethics complaint against Councilmember Binda, which I did in late January or early February of this year
Subsequent to that, the Ethics Attorney, an independent lawyer supporting the Ethics Board, was asked to conduct an investigation of those activities for potential Ethics violations, specifically use by Councilmember Binda of Public Resources and Public Facilities for Personal Gain
As part of the investigation, the Ethics Attorney reviewed publicly available information, including social media, public comments, etc.,
As part of the investigation, the Ethics attorney requested Councilmember Binda provide copies of emails or messages he sent or received using City resources related to his speaking tour
Councilmember Binda did not produce those records in a timely manner
The Ethics Attorney subsequently filed a request of the city for those records, a request which was filled by the City
The Ethics Attorney investigated the complaint related to two types of Ethics Violations by Councilmember Binda, and multiple instances of each:

Use of Public facilities, namely City Council Chambers, to record promotional material for a speaking tour, for which he was paid, which was not official City or Council business
Use of Public resources, namely City Servers and emails, to promote and conduct business for a speaking tour, for which he was paid, which was not official City or Council business

The Ethics Attorney reviewed the facts of the matter as well as related materials and records and completed his investigation on or around April 17th
The Ethics Attorney has contacted both Councilmember Binda and me to discuss a potential settlement regarding the violations listed in the complaint
The Ethics Attorney and Councilmember Binda have agreed on a time to meet and discuss the potential settlement
The proposed settlement as it was presented to me has three points:

Councilmember Binda will publicly agree with the Ethics complaint that he did violate City Ethics standards
Councilmember Binda will commit to not violate City Ethics standards going forward
The Ethics Attorney and the City Council will not request action or review of the matter by the Ethics Board
I related to the Ethics Attorney that I do not know if City Council will agree to a proposed Settlement, but would ask their view on the matter if Councilmember Binda indicated he is willing to accept and abide by the terms of a proposed settlement.
If the Ethics Attorney, Councilmember Binda, and the City Council are unable to agree on a settlement, the Ethics Attorney will remand the issue to the City Ethics Board for review and action
From a process perspective, the role of the Ethics Attorney is to make a formal determination if the complaint is sufficient under the Ethics Code, which he has not yet done, although he has completed his investigation. Before that determination is made, the Code requires discussion between both parties of a possible settlement. If a settlement is not agreed to or determined not to be appropriate, the Attorney then enters a written administrative order including the sufficiency determination. If the Attorney deems the complaint sufficient, the matter then proceeds to a hearing before the Ethics Board. It is then the Ethics Board which would make any determination regarding a violation.
---
UPDATED [4:00 p.m., May 4, 2023]: Article updated to reflect that Councilman Binda lost access to his email when he did not complete IT Security training after multiple warnings by the City. It was originally reported that he lost his email access because investigation found the councilman soliciting his tour to schools around the region. Email evidence obtained by the Lynnwood Times did have emails from Councilman Binda's city account was used in soliciting his tour to schools, including contract negotiations, this was not the reason his email was suspended.