For Senator Lovick, the legislative session may be over but summer is just around the corner!
MILL CREEK, Wash., April 25, 2023—On the night of Sunday, April 23, after the state of Washington's 2023 legislative session came to a close, Senator John Lovick made his rounds shaking hands, wishing everyone a happy interim, then returned to his office to clear out his desk before driving home. Now that session is ended, Senator Lovick (D-Mill Creek) is looking forward to working on projects around the house, attending his grandson's high school graduation in California, and flying family up to Washington this summer for some gatherings. But but mostly, Lovick told the Lynnwood Times, he is looking forward to "catching [his] breath."
"It was a busy 105 days," said Sen. Lovick.
Considering Senator Lovick's schedule this session, sponsoring 21 bills, and co-sponsoring an incredible 118 all while sitting on three committees — Business, Financial Services, and Trade, Environment, Energy, and Technology, and Transportation — the sigh of relief is well-deserved. But aside from these extra curriculars, the job of Senator is far from over for Lovick who also plans to spend his summer knocking on 250 doors a day, passing out fliers that update the public on recent legislation passed into law.
"It saves on postage and I get out and get to talk to people," Senator Lovick told the Lynnwood Times. "I love visiting people at their homes…I've never been a big fan of visiting people just when you're running for office."
Lovick's love for engaging with the public face-to-face seeps into most everything he does. He added that when he attends his local gym (L.A. Fitness) he rarely touches the equipment because he enjoys standing around and talking to people about the politics he cares so passionately about. Spending his gym sessions like this hasn't held him back from a life of fitness. During session each morning he walked five miles around Capitol Lake before beginning his day in the office.
"It keeps me in shape and I love walking," said Sen. Lovick.
He also gets his exercise playing Pickleball, leading the effort to codify the beloved paddle ball activity as the state's official sport in 2022.
Lovick was appointed to fill the vacant Senate seat after Steve Hobbs was elected to Secretary of State in December 2021. Senator Lovick retained his Senate seat with 58.77% of the vote last November. Prior to joining the Senate, he served in the House of Representatives from 1998 to 2007 and 2016 to 2021, was elected Snohomish County Sheriff in 2007, and served as Snohomish County Executive from 2013 to 2015.
He joked that the Senate is "the exact same thing, it's just different" from the House, dealing with a lot of similar issues but with a different perspective. With the smaller chamber — 98 members of the House as opposed to just 49 in the Senate — one can work with members a lot more closely he shared.
"One of the things I noticed that's different is debates are a little bit different; you deal with the issue and then it's done," said Lovick. "I've had disagreements with some things knowing my colleagues would not support it and next thing you know they're walking over to your desk and would say 'I'm going to be with you on this one'. It was the same thing in the house, it was just a different temperament."
Of Lovick's 21 bills in which he was the primary sponsor, four passed both chambers — SB5003, increasing the number of district court judges in Snohomish County, SB5041, concerning compliance with federal motor carrier safety administration requirements for the drug and alcohol clearinghouse, SB5352, concerning vehicular pursuits of Police Officers, and SB5606, deterring illegal street racing.
Many of the bills that died in committee, he said, became companion bills such as SB5469, creating the covenant homeownership account and program to address the history of housing discrimination due to racially restrictive real estate covenants in Washington state, which Representative Jamila Taylor (WA-30)'s bill, HB1474, became the primary vehicle for.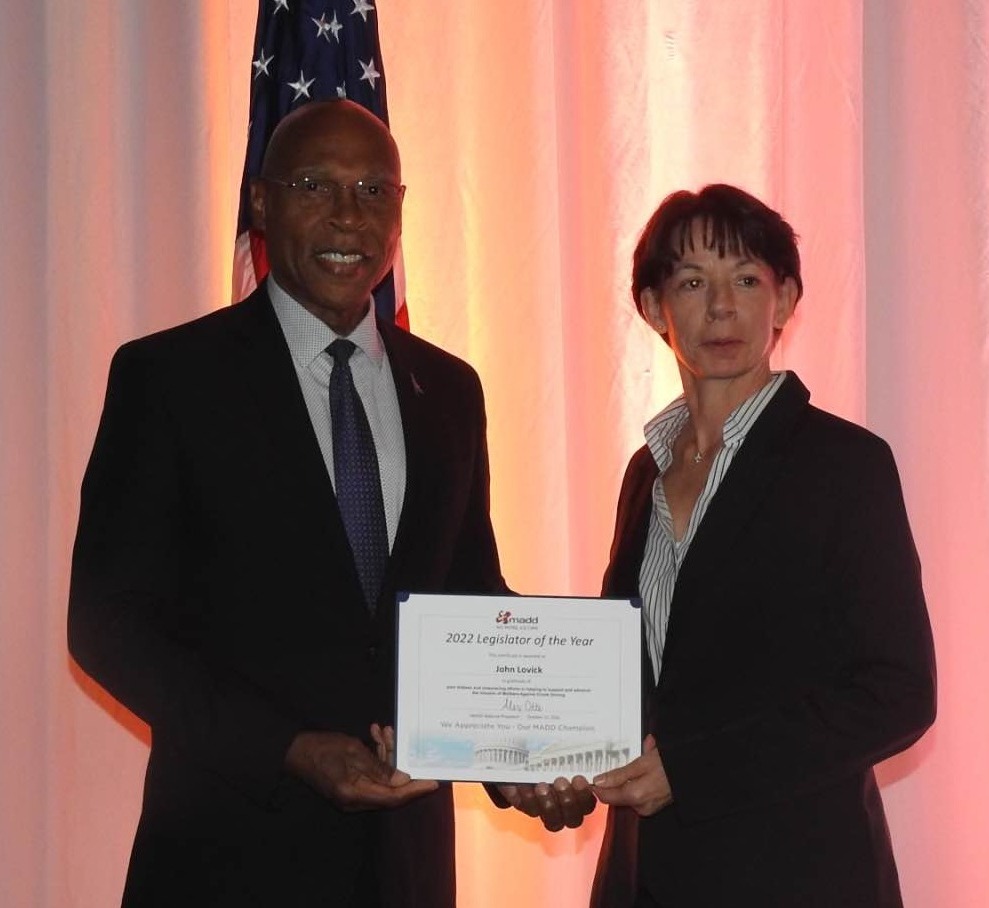 Some of Lovick's bills did not move forward such as SB5002, lowering the Blood Alcohol Content of drivers to 0.05, and SSB5424, concerning flexible schedules for law enforcement, but he said that's just "the nature of what we do."
"I think if you get 25% of your bills signed by the Governor, that's not that bad," said Sen. Lovick. "I'm pleased with the process."
While many of his bills were agency requested, stemming from the "relationships you build with people," Lovick brings with him a specific insight from his time as State Trooper and Sheriff holding public safety as his number one priority going into this 2023 legislative session. The police pursuit laws, which may have been the most talked about legislation in Olympia since police reform laws went into effect in 2021, for example, Senator Lovick worked closely with Senator Manka Dingha (D-Redmond) and local law enforcement agencies on.
"We're pleased with where we are. We might have some adjustment to do later on but it's a good start," said Lovick.
Of all the bills that passed this session, Senator Lovick is most proud of the passing of HB1240, banning the sale of assault-style weapons, which he said is going to "make a huge impact in our state and with our citizens."
"What I believe is we're going to give our kids the opportunity to hear the laughter, to know the sound of laughter before the sound of gun fire," said Lovick.
When Lovick isn't representing his district in Olympia, walking, working out, or playing Pickleball, he enjoys cooking, priding himself on his Thanksgiving deep-fried turkey recipe and "the best fried chicken you will probably ever eat!" He often makes his fried chicken with homemade corned bread, which he delivers to all four caucuses across Washington State. 
While his fried chicken recipe may be a family secret, he shared his cornbread recipe with the Lynnwood Times which we are including as an exclusive bonus to this article courtesy of Senator Lovick!
The ingredients are:
Two cups of Bisquick
1/4 teaspoon of baking soda
1/3 cup of sugar
two rounded tablespoons of corn meal
Mix the ingredients together well, add two beaten eggs with one cup of milk, fold together with 1/3 a stick of melted butter. Add to a sprayed baking dish and pop in a preheated oven at 360 degrees Fahrenheit. Bake 25-30 minutes.
"I've delivered this to every single caucus and everyone who's tasted it loves it," Lovick shared.