NAACP investigation targets Sessions and media in Binda discrimination case
LYNNWOOD, Wash., July 21, 2023—The Snohomish County National Association for the Advancement of Colored People (NAACP) released their initial findings of its ongoing investigation of alleged discrimination toward Lynnwood City Councilman Joshua Binda on Thursday, July 20, in front of Lynnwood City Hall.
In its findings, the organization alleged that fellow Lynnwood City Council President Shannon Sessions targeted Binda discriminatorily and several media outlets published false information about the 23-year-old city council member. Their evidence was allegedly gathered using public records requests, internet searches, and interviews. NAACP just received a second installation of public records it plans to review.
NAACP alleged that Council President Sessions created a hostile work environment for Binda by reestablishing the Board of Ethics in response to his campaign controversy, obstructed city staff from fulfilling their responsibilities when Binda sought travel plans to D.C. for the National League of Cities conference and led an effort to politicize a city process outside of the control or influence of the Lynnwood City Council.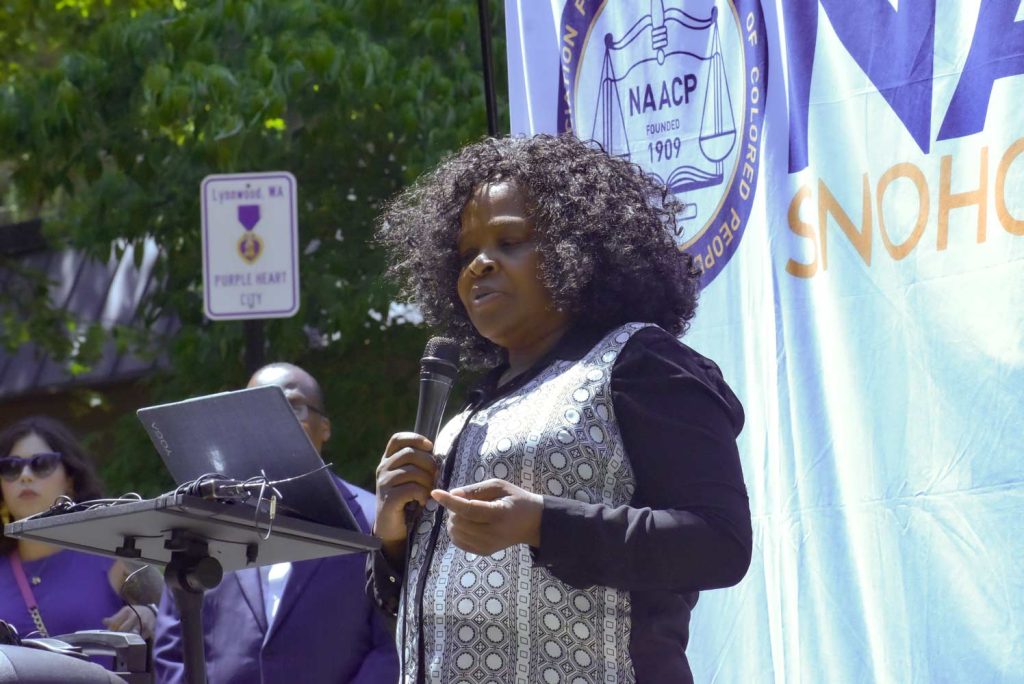 The City of Lynnwood Board of Ethics for which the NAACP is accusing President Sessions of "reestablishing" in both its handout and during the presser, shows minutes dating back to October of 2020 and meeting almost monthly ever since. The email thread provided by the NAACP to justify its accusation against the council President states her concern to exercise "due diligence" as it was revealed by media that then-candidate Binda may have "thousands of dollars in fraudulent campaign uses of monies and more."
In a November 8, 2021, follow up email to the Lynnwood City Council, Sessions requested guidance from the city attorney and/or city staff on educating the council on how to move forward, including involving the Board of Ethics.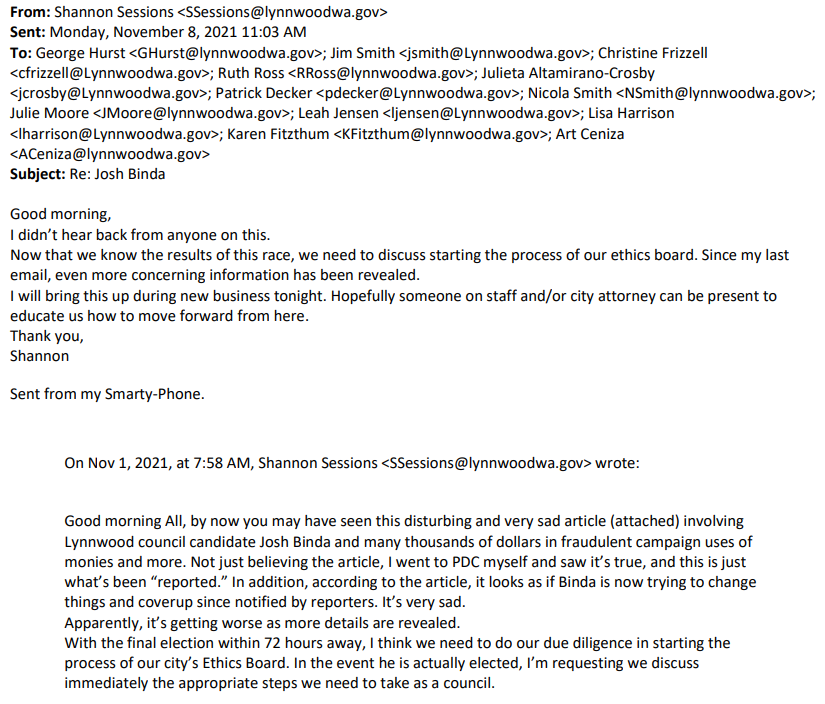 Furthermore, the NAACP alleges that media outlets had been "fed misinformation" and some had "published misinformation." These allegations refer to an email exchange between Councilwoman Sessions and a local newspaper on March 28 in which Sessions stated Binda had not been approved for travel to the National League of Conferences in Washington, D.C.
On April 24, the Lynnwood City Council voted 5-2 requesting the City's Finance Director, Michelle Myer, not approve a travel reimbursement request of $1,190.80 for Binda's trip. The two votes in favor of approving the reimbursement were councilmen George Hurst and Josh Binda. According to Binda, prior to going on the trip he was told to seek legal advice on the rules for approved travel to the NLC conference for which President Sessions informed him he may contact the City's attorney for clarification.
During the April 10 City Council meeting, City Attorney Marshall shared that Councilman Binda never contacted her regarding any travel to Washington D.C. for the NLC conference. Binda said that he "attended on his own merit" because, as the conference was a week away, he felt there wasn't enough time for the attorney to respond to his questions.
Council later discovered, in May, that council members were allowed $2,500 in expenses for travel and Binda was reimbursed from this fund.
NAACP's allegations involving published "misinformation," references to an opinion piece authored by Jason Rantz, two "Letters to the Editor" not authored by, but published by, the Lynnwood Times, and two separate issues of the Lynnwood Times – the first covering a Lynnwood City Council meeting on April 10, when Councilman Binda requested reimbursement for his D.C. trip, and another covering an Ethics Attorney finding sufficiency, on two counts, concerning the councilman using public facilities for personal monetary gain. The NAACP did not mention the Letter to the Editor the Lynnwood Times published in defense of Binda.
It should be noted that, as with any publication, editorials and letters to the editor are opinion pieces that in no way reflect the views of the Lynnwood Times.
The NAACP also did not mention other publications in its evidence handout that reported on the same topics and similar content, however a link to a general Google search of Council member Binda is included in the NAACP's online SharePoint of compiled evidence. According to the NAACP SharePoint metadata, it is administered by Mukilteo Councilman Louis Harris who, according to his LinkedIn account was the Vice President of the NAACP Snohomish County chapter and served as the Chair of the Snohomish County Young Democrats.

Upon further clarification issued by the City of Lynnwood, the Lynnwood Times issued a correction of the latter coverage to omit the word "guilt" from its initial reporting, the city clarifying that the Ethics Attorney had not made an official determination of guilt, only finding sufficiency to the ethics complaint. This correction was issued immediately following the city's clarification and is still addressed in the Lynnwood Times' Editor's Notes at the beginning of the article online.
Binda signed a settlement agreement on May 8 regarding this finding, of which one of the bullet points admit that he did, in fact, use his government email to promote his public speaking tour, and used council chambers, without permission, to shoot a promotional video for these events. However, a clause was added that Binda was "not aware at the time his activities violated the Ethics code."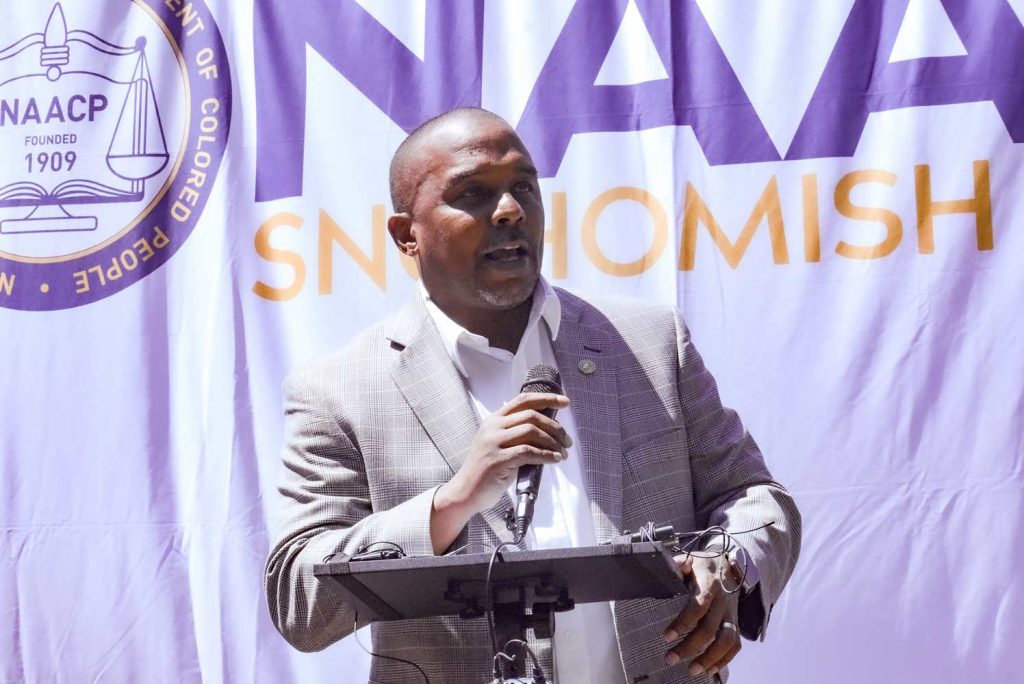 Gerald Hankerson, State Conference President for the NAACP who spoke during Thursday's presser on behalf of the organization, shrugged off Binda's controversies as "rookie errors" and accused the media's reporting of Binda as an extension of Council President Sessions' message of "false allegations." Hankerson continuously referred to Council President Sessions as a "Karen" — a derogatory slang term used to refer to an entitled middle class White woman.
"It is your job, if you find out he's doing something wrong, to school him," said Hankerson. "He may have made a rookie mistake — we all do, but give that man a chance to do his job that the people sent him here for."
Many Lynnwood City Council members expressed that they have attempted to mentor Binda including Dr. Julieta Altamirano-Crosby, Shannon Sessions, and George Hurst. State Senator John Lovick (D-Mill Creek), who endorsed Binda's campaign, also shared that he attempted to mentor Binda several times but "it became increasingly clear that he [Binda] wasn't going to listen," he said. Lovick is now calling for Binda's resignation.
Senator John Lovick (D-Mil Creek) says he is "embarrassed" by the actions of @Lynnwood Councilman Josh Binda, rejects Binda's claims that the criticism is racist. #unDivided pic.twitter.com/jtgHBzn2n6

— Brandi Kruse (@BrandiKruse) April 26, 2023
When Hankerson was asked about Binda being found guilty of violations by the Washington State Public Disclosure Commission (PDC) he replied: "If I had a dollar for every politician that do that I'd be rich right now" then continued to argue it was a "rookie mistake."
The Washington State Public Disclosure Commission (PDC) found Lynnwood Councilman Joshua Binda guilty of two separate PDC violations and imposed a $1,000 fine at its public hearing Thursday, January 26. The violations include using $2,742 of campaign funds for personal use (RCW 42.17A.445 and WAC 390-16-238) related expenditures as well as submitting a Post-General election C4 report 280 days late (RCW 42.17.235 and .240). According to the PDC website, as of July 20, 2023, Councilman Binda has yet to pay the state of Washington the outstanding fines.
Hankerson did not address reporters' questions if the PDC's finding of guilt, and the Ethics Attorney's settlement finding of sufficiency, were included in his claims that media had spread "misinformation."
While Hankerson took the brunt of questions, Councilman Binda concluded the presser breaking his silence to the press about his controversies. Several media outlets have attempted to reach out to Binda to hear his side of the story. Binda explained that his silence was due to not wanting to interfere with the NAACP's investigation.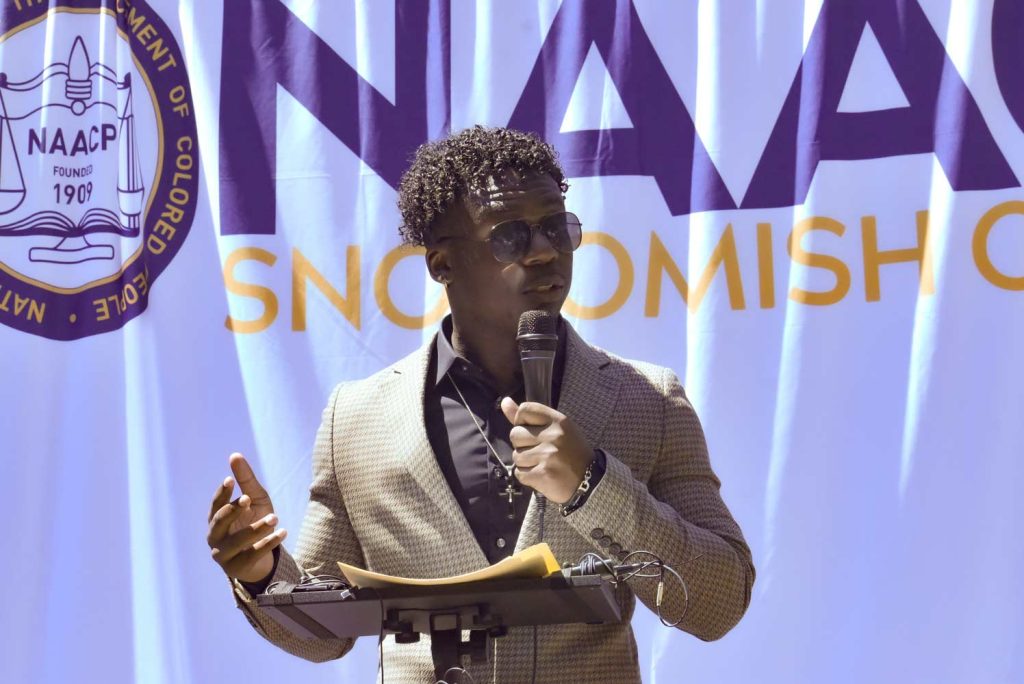 "I'm here to break barriers, I'm here to fight for change, and I'm here to do so being unapologetically myself baby," said Binda. "It's leaders like myself, we need leaders like this in the world right now…I urge you to remember that name, Josh Binda, because you're going to remember it for a long time."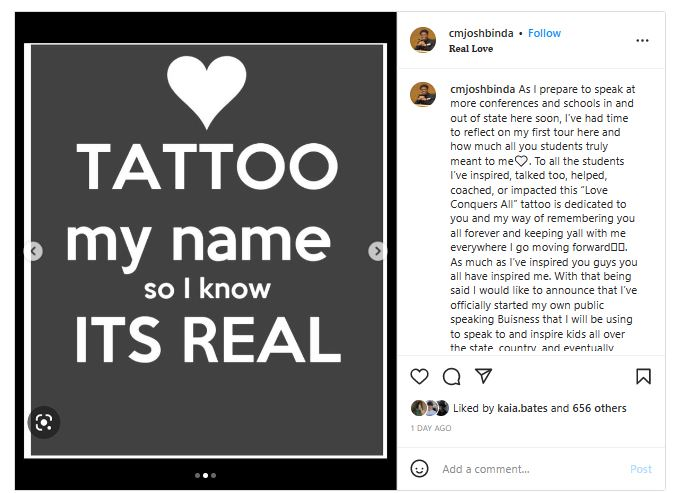 When asked why he feels the media is targeting him, Councilman Binda accused Lynnwood Times Publisher, Mario Lotmore, of stalking his ex-girlfriend.
"This egregious lie is false, slanderous, and defamatory," Lotmore told the Lynnwood Times in response to Councilman Binda's stalking allegation.
Renton City Councilwoman Carmen Rivera spoke in defense of Binda sharing she underwent similar experiences to Councilman Binda, but her fellow council members took her under her wing and showed her the way.
"He is a very special and incredibly powerful young man and I think that threatens a lot of people," said Rivera. "I'm here to support Josh and every young elected who has been unfairly targeted, who has not been looked out for, who has not been mentored, but talked at and talked down to."
When Renton and Tacoma show up to support our friend in Lynnwood. We are young, blessed, and not going anywhere, despite the falsities and misinformation campaigns. Better get use to the name @JoshBinda
Thank you @NAACP @NAACPSnoCo pic.twitter.com/A7EulEaZIF

— Carmen Rivera (@riveraforrenton) July 20, 2023
At the entrance of the parking lot a group of Recall Binda supporters watched the press release from afar. The group's organizer, Diodato Boucsieguez, sought petition signatures from the public to support his effort to recall the council member.
"This has nothing to do about race it has to do with him and his violations," Paula Lapham told the Lynnwood Times. "He's wrong for the council, he's wrong for the city of Lynnwood. We need people who want to represent us and work for the city and the people, he doesn't. Our council is outstanding. We have an excellent council and he should not be there."
Sharon Happel, another Recall Binda member shared she voted for Binda, seeing his qualifications in the ballot, but quickly changed her mind telling the Lynnwood Times "I don't want to be represented by someone who doesn't want to work for me as a taxpayer."
Council President Sessions, when asked about the NAACP's allegations against her, issued the following statement to the Lynnwood Times:
"We all want councilmember Binda to succeed, and many people have tried to help him," Councilwoman Sessions wrote to the Lynnwood Times. "As council president, it is my responsibility the city council is following its own rules. I don't do this in a vacuum, other council members, attorneys, staff and community members have all weighed in on best ways to address ongoing concerns regarding CM Binda."
"All of the rules and regulations that are on the books and that have been updated by a major majority of the city council, are applicable to all of us, and the rest of us have no problem complying with them."
"Sadly, this is another example of Councilmember Binda deflecting and not taking responsibility for his own poor decisions, and thinking he is above everyone else and that the rules all other elected officials are required to follow don't apply to him."
"I'm glad the NAACP is finally coming alongside Councilmember Binda. Hopefully they can help mentor him."