Seattle University, Snohomish County Public Works project wins national award
EVERETT, Wash., July 21, 2023 – For more than 15 years, Snohomish County Public Works has been working with Seattle University to collaborate with graduating seniors on real-world engineering projects. The collaboration earned the university a 2023 National Engineering Education Award from the National Council of Examiners for Engineering and Surveying (NCEES) for its submission Traffic and Safety Improvement for a Busy T-Intersection. This is the fourth award received for a project sponsored by Snohomish County Public Works.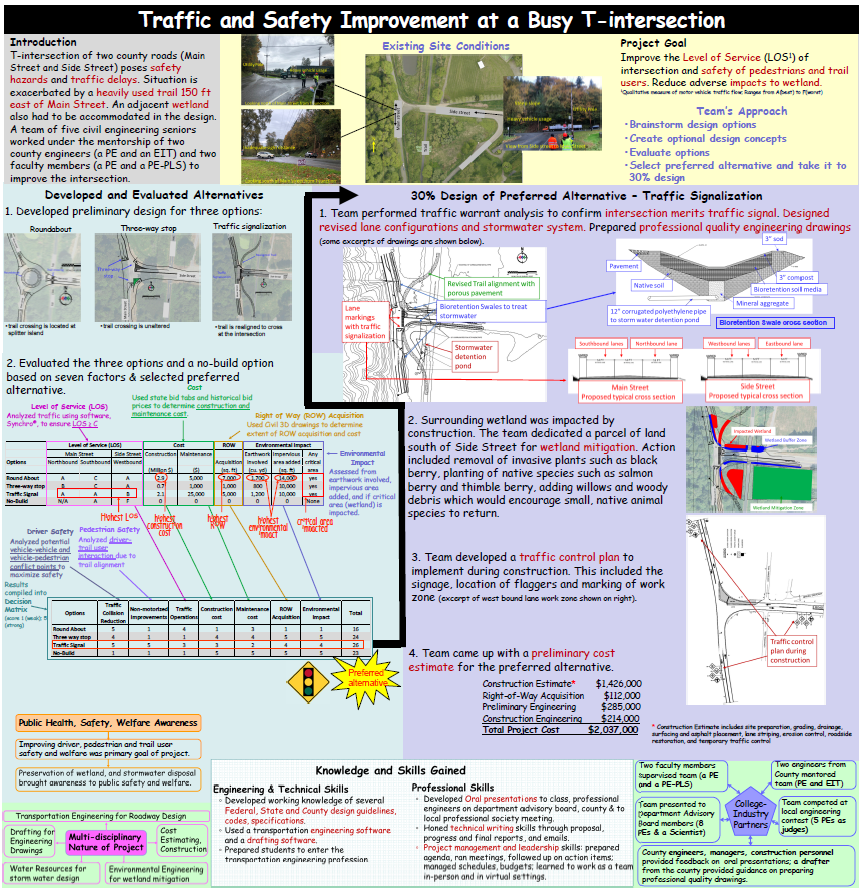 "Students developed and evaluated design options to improve traffic operations and increase protection for trail users at a busy county intersection," said Snohomish County Public Works Director Kelly Snyder. "The project was especially complex because students had to design a solution that would accommodate heavy vehicle traffic, surrounding wetlands and a well-traveled pedestrian and bike trail. The students did a fantastic job overcoming obstacles and creating three viable alternatives."
Seattle University students Tyler Lam, Allyssa Manlapaz, Camryn Okada, Dorin Russu, and Andre Shigetomi worked on the project with Snohomish County engineer Oscar Fuentes and other county engineering and environmental services staff. Seattle University instructor and advisor Mark Siegenthaler also guided the students. Nirmala Gnanapragasam worked as the project coordinator for the school.
The 2023 NCEES awards were chosen from a total of 24 blind entries nationwide. The award program honors the integration of engineering practice and education, and earned Seattle University $10,000 for its winning submission. Award winning submittals can be viewed at ncees.org/outreach/education-awards.
For more information about the Seattle University College of Science and Engineering, visit www.seattleu.edu/scieng. 
SOURCE: Snohomish County Public Works Department
FEATURED IMAGE: Pictured are Seattle University seniors from 2021-2022 and some of our engineering team at the project site. The winning design project proposed alternatives for the intersection of S. Machias Rd and Three Lakes Rd. Centennial Trail is nearby. Student contributions will influence future improvements.