NAACP of Snohomish County defends Binda and calls for investigation
SNOHOMISH COUNTY, Wash., May 4, 2023—The National Association for the Advancement of Colored People (NAACP) of Snohomish County announced today that it is investigating alleged "misinformation" surrounding Lynnwood City Councilmember Josh Binda.
"Given the current climate in the Country, we are deeply concerned that young black voices are being targeted and suppressed. Having recently witnessed the attempt to silence Representatives Justin Pearson and Justin Jones in Tennessee, we realize this may be endemic nationwide. Discriminatory behavior has no place in our County, and we plan to expose it if it exists," said NAACP Snohomish County President Dr. Janice R. Greene.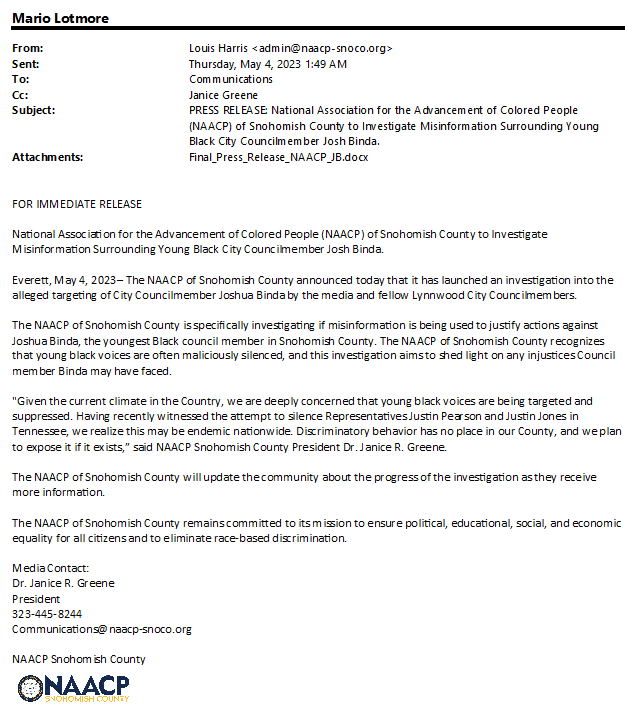 The NAACP of Snohomish County accuses media outlets and Lynnwood City Councilmembers of "targeting" the 23-year-old Black councilman who is expected to sign a settlement agreement on Monday, May 8, admitting to violating Lynnwood Municipal Codes. According to the settlement agreement reached between the City and Councilman Binda:
Binda violated ethics code in his business use of council chambers and city email.
The agreement would provide a "high-level overview" of these violations.
Binda was unaware at the time that his conduct violated ethics code.
Binda would not use city facilities this way again and would do all he could to avoid ethics violations in the future.
The ethics board, its attorney, the council and the city would take no further actions against Binda for these complaints.
The settlement agreement reviewed by the council and Councilman Binda at Monday's Work Session on May 1, was in response to an Ethics Investigation launched by the City of Lynnwood for alleged misuse of public facilities for personal gain by Councilman Binda.
Councilman Joshua Binda was accused of using city facilities to make a promotional video for his Love Conquers All Tour on December 19, 2022, in which he profited at least $14,000. Binda was accompanied by an unidentified male who was acting as a cameraman to take video in the lobby, before moving to the Lynnwood Council Chambers. Binda then gave the cameraman his City of Lynnwood ID badge so that the unidentified cameraman could go in and out of the building unaccompanied. Councilman Binda stayed in the council chambers while the cameraman went in and out, according to the city employee.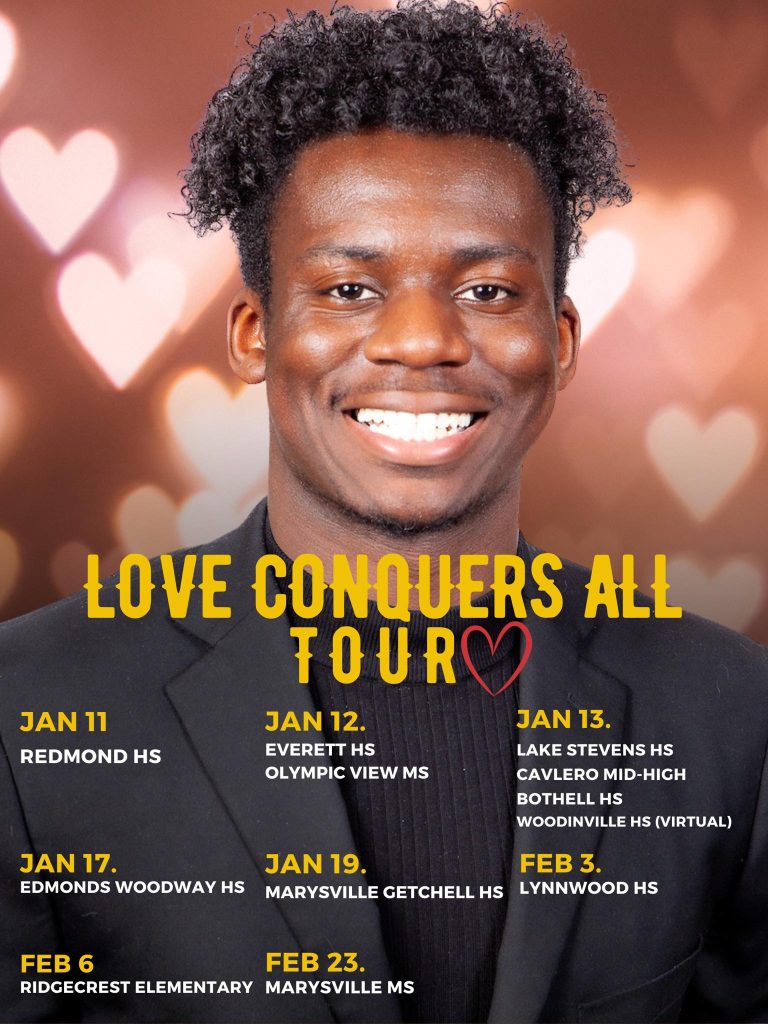 As a result, Binda lost access to council chambers and subsequently lost access to his email when he did not complete IT Security training after multiple warnings from the City. Investigations found that Binda was also using council email servers to solicit his tour to schools around the region.
The findings are just one of four separate ethics complaints against the councilman, who's platform revolves around "inspiring youth." The other complaints involve merging his personal Instagram page with council business – where he recently, controversially, posed shirtless to promote his "Love Conquers All" speaking tour to mostly minors – charging "struggling [public] schools" $1,500 a day to speak, and his mishandling of campaign funds. One contract obtained by the Lynnwood Times, shows that Binda charged a Black Student Union at a local school upwards of $1,000 for a speaking engagement, which Binda denied in a video comment to the Lynnwood Times back in February when confronted.
Prominent Black elected officials including Representative April Berg (D-Mill Creek) and Lynnwood Councilwoman Shirley Sutton have condemned Councilman Binda's actions, along with Senator John Lovick (D-Mill Creek) who is calling for the councilman to step down.
Senator John Lovick (D-Mil Creek) says he is "embarrassed" by the actions of @Lynnwood Councilman Josh Binda, rejects Binda's claims that the criticism is racist. #unDivided pic.twitter.com/jtgHBzn2n6

— Brandi Kruse (@BrandiKruse) April 26, 2023
---
UPDATED [4:10 p.m., May 4, 2023]: Article updated to reflect that Councilman Binda lost access to his email when he did not complete IT Security training after multiple warnings by the City. It was originally reported that he lost his email access because the investigation found the councilman soliciting his tour to schools around the region. Email evidence obtained by the Lynnwood Times did have emails from Councilman Binda's city account that was used in soliciting his tour to schools, including contract negotiations, this was not the reason his email was suspended.