South County Fire hosts Emergency Preparedness Expo November 4
South County Fire invites you to learn how to prepare and care for your family in different types of emergencies at an Emergency Preparedness Expo on Saturday, November 4, 11 a.m. to 2 p.m. at Northwest Church, 19820 Scriber Lake Rd, Lynnwood.
This free event will include activities for all ages to learn lifesaving skills including response to fires, earthquakes and other disasters. Emergency professionals from across Snohomish County will be there to answer your preparedness questions. Visitors can also enter to win one of several prize drawings.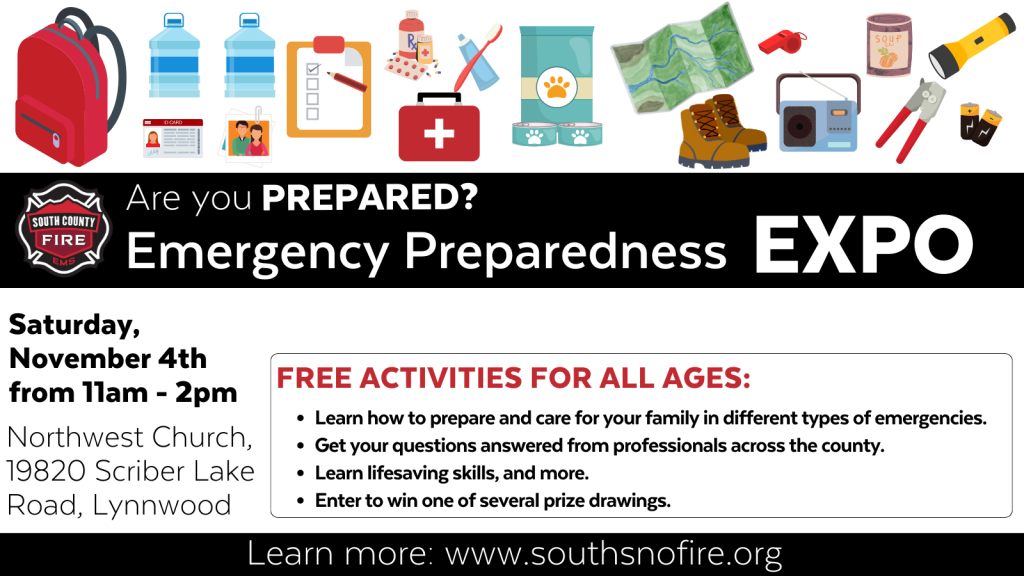 "Preparing for emergencies before they happen gives your family a better chance of escaping safely in an event like a house fire," said South County Fire Community Outreach Manager Shawneri Guzman. "These tools can also help you and your loved ones navigate after a larger disaster like an earthquake, that would likely overwhelm emergency services."
The Emergency Preparedness Expo is presented by South County Fire in partnership with the City of Brier, City of Edmonds, City of Lynnwood, City of Mill Creek and City of Mountlake Terrace.
South County Fire provides fire and emergency medical services to nearly 300,000 residents of Brier, Edmonds, Lynnwood, Mill Creek, Mountlake Terrace and unincorporated southwest Snohomish County.
---
SOURCE: South County Fire