Congressman pleads not guilty to campaign fraud, money laundering, and theft of public funds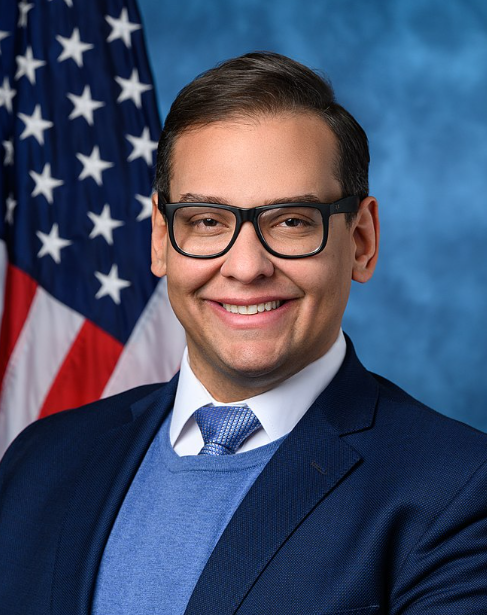 CENTRAL ISLIP, NY, May 11, 2023—A 13-count indictment was unsealed yesterday in the United States District Court for the Eastern District of New York charging George Anthony Devolder Santos, better known as "George Santos," a Republican United States Congressman representing the Third District of New York, with seven counts of wire fraud, three counts of money laundering, one count of theft of public funds for personal expenses, and two counts of making materially false statements to the House of Representatives.
Appearing before U.S. Magistrate Judge Arlene R. Lindsay at the federal courthouse in Central Islip on Wednesday, Representative Santos, 34, pleaded not guilty on all 13 federal charges. He was arrested earlier in the morning by the authorities and was released on a $500,000 bond. Santos is scheduled to appear in court again on June 30, 2023.
"I'm going to fight my battle, I'm going to deliver," said Santos to reporters outside the courthouse after his arraignment.
I will fight to defend myself!
I'm humbled by the support of my colleague & fellow freedom fighter Rep. Gaetz for reminding the American people that I too have rights.

Donate to keep me fighting for you!https://t.co/BH2nGK54vp#StopTheCCP #FightForFreedom #FreeMilesGuo 🇺🇸🇺🇸🇺🇸 pic.twitter.com/qCp7sAGZuz

— George Santos (@Santos4Congress) May 11, 2023
As alleged in the 20-page indictment, George Santos, who was elected to Congress last November and sworn-in on January 7, 2023, engaged in multiple fraudulent schemes.
"At the height of the pandemic in 2020, George Santos allegedly applied for and received unemployment benefits while he was employed and running for Congress," stated Nassau County District Attorney Anne Donnelly in the DOJ press release.  "As charged in the indictment, the defendant's alleged behavior continued during his second run for Congress when he pocketed campaign contributions and used that money to pay down personal debts and buy designer clothing. This indictment is the result of a lengthy collaboration between law enforcement agencies, and I thank our partners at the U.S. Attorney's Office, the Department of Justice and the Federal Bureau of Investigation for their dedication to rooting out public corruption." 
In an interview with reporters on Wednesday, Donnelly told reporters that she was dumbfounded by the degree of "brazen" lack of respect for the law.
"What it demonstrates to me is a complete lack of respect for our election laws," District Attorney Donnelly told reporters on Wednesday. "It is important to me that I am a prosecutor first; but anyone who runs for office has rules we have to follow and when you brazenly say, 'I am not going to follow those rules,' that's when you get into trouble."
According to the federal indictment against Representative Santos, prosecutors allege the following:
Fraudulent Political Contribution Solicitation Scheme
Beginning in September 2022, during his successful campaign for Congress, Santos operated a limited liability company (Company #1) through which he allegedly defrauded prospective political supporters. Santos enlisted a Queens-based political consultant (Person #1) to communicate with prospective donors on Santos's behalf. Santos allegedly directed Person #1 to falsely tell donors that, among other things, their money would be used to help elect Santos to the House, including by purchasing television advertisements. In reliance on these false statements, two donors (Contributor #1 and Contributor #2) each transferred $25,000 to Company #1's bank account, which Santos controlled.
As alleged in the indictment, shortly after the funds were received into Company #1's bank account, the money was transferred into Santos's personal bank accounts—in one instance laundered through two of Santos's personal accounts. Santos allegedly then used much of that money for personal expenses. Among other things, Santos allegedly used the funds to make personal purchases (including of designer clothing), to withdraw cash, to discharge personal debts, and to transfer money to his associates.
Unemployment Insurance Fraud Scheme
Beginning in approximately February 2020, Santos was employed as a Regional Director of a Florida-based investment firm (Investment Firm #1), where he earned an annual salary of approximately $120,000. By late-March 2020, in response to the outbreak of COVID-19 in the United States, new legislation was signed into law that provided additional federal funding to assist out-of-work Americans during the pandemic.
In mid-June 2020, although he was employed and was not eligible for unemployment benefits, Santos applied for government assistance through the New York State Department of Labor, allegedly claiming falsely to have been unemployed since March 2020. From that point until April 2021—when Santos was working and receiving a salary on a near-continuous basis and during his unsuccessful run for Congress—he falsely affirmed each week that he was eligible for unemployment benefits when he was not. As a result, Santos allegedly fraudulently received more than $24,000 in unemployment insurance benefits.
False Statements to the House of Representatives
Finally, the indictment describes Santos's alleged efforts to mislead the House of Representatives and the public about his financial condition in connection with each of his two Congressional campaigns.
Santos, like all candidates for the House, had a legal duty to file with the Clerk of the House of Representatives a Financial Disclosure Statement (House Disclosures) before each election. In each of his House Disclosures, Santos was personally required to give a full and complete accounting of his assets, income, and liabilities, among other things. He certified that his House Disclosures were true, complete, and correct.
In May 2020, in connection with his first campaign for election to the House, Santos filed two House Disclosures in which he allegedly falsely certified that, during the reporting period, his only earned income consisted of salary, commission, and bonuses totaling $55,000 from another company (Company #2), and that the only compensation exceeding $5,000 he received from a single source was an unspecified commission bonus from Company #2. In actuality, Santos allegedly overstated the income he received from Company #2 and altogether failed to disclose the salary he received from Investment Firm #1.
In September 2022, in connection with his second campaign for election to the House, Santos filed another House Disclosure, in which he allegedly overstated his income and assets. In this House Disclosure, he falsely certified that during the reporting period:
He had earned $750,000 in salary from the Devolder Organization LLC, a Florida‑based entity of which Santos was the sole beneficial owner;
He had received between $1,000,001 and $5,000,000 in dividends from the Devolder Organization LLC;
He had a checking account with deposits of between $100,001 and $250,000; and
He had a savings account with deposits of between $1,000,001 and $5,000,000.
As alleged in the indictment, these assertions, according to prosecutors, were false: Santos had not received from the Devolder Organization LLC the reported amounts of salary or dividends and did not maintain checking or savings accounts with deposits in the reported amounts. Further, Santos allegedly failed to disclose that, in 2021, he received approximately $28,000 in income from Investment Firm #1 and more than $20,000 in unemployment insurance benefits from the NYS DOL.
If convicted of the charges, Santos faces a maximum penalty of 20 years in prison for the top counts. A federal district court judge will determine any sentence after considering the U.S. Sentencing Guidelines and other statutory factors.
The FBI is investigating the case with assistance from the Nassau County District Attorney's Office, the IRS-Criminal Investigation, and the U.S. Department of Labor, Office of Inspector General.
According to Associated Press, Republican leaders in the House will let the legal process play out before taking steps to expel Representative George Santos from Congress.
---
SOURCE: DOJ press release with additions from Mario Lotmore