Two arrested in drug bust, thousands of fentanyl pills seized
SNOHOMISH COUNTY, Wash., May 25, 2023—Seattle Police Department announces its narcotics detectives, along with agents from the Drug Enforcement Administration and Homeland Security Investigations, arrested two suspects and seized both fentanyl and heroin in Everett on Tuesday morning.
Over the course of last few months, detectives worked in conjunction with federal partners regarding a large supplier of narcotics in the northern King County and southern Snohomish County area.
Narcotics detectives identified two suspects and served a warrant on their residence. Detectives seized more than three pounds of heroin, three pounds of fentanyl pills, four pounds of fentanyl powder and $3,400 of cash. The estimated street value of the seized narcotics is more than $200,000 dollars.
Police booked the two suspects – ages 46 and 24 – to the Snohomish County Jail for investigation of Violation of the Uniform Controlled Substances Act and charged with Manufacturing and Delivery of Methamphetamine Other, Manufacturing and Delivery of Heroin Other, and Manufacturing and Delivery of Synthetic Narcotic Other — each a Class B Felony.
According to Snohomish County Jail Roster, Juan P Loya Soto posted bail against his $50,000 bond; whereas Jose Jesus Morales is still in custody on a $100,000 bond.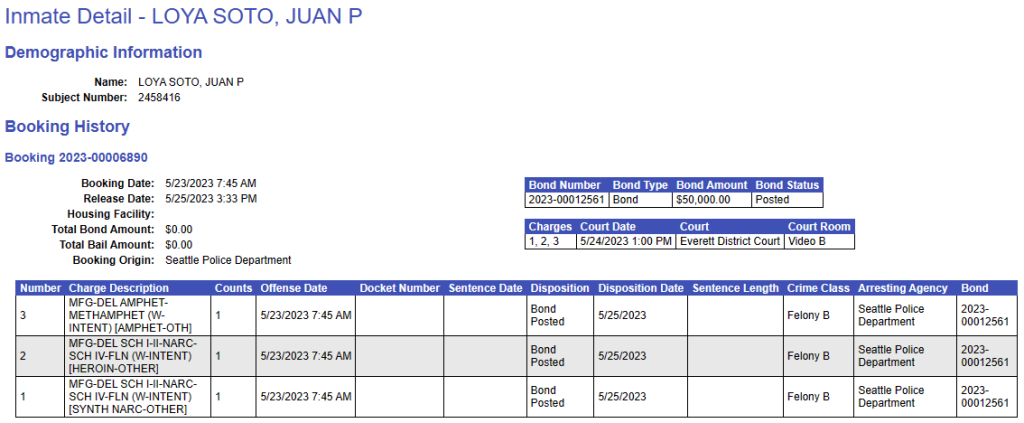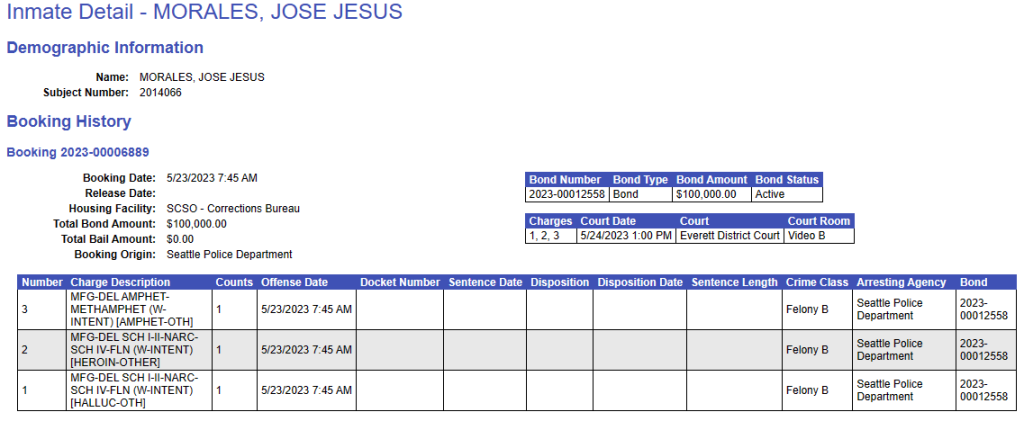 ---
SOURCE: SPD Blotter