Where to celebrate Memorial Day in Snohomish County for 2023
Below are Memorial Day ceremonies and/or parades throughout Snohomish County. If you know any other events, please mention it in the comment section below.
All city and county government buildings and services throughout Snohomish County will be closed on Monday, May 29, in recognition of Memorial Day.
All Community Transit service and Sound Transit buses to and from Snohomish County will operate on a Sunday schedule on Memorial Day, Monday, May 29. There will be no bus service to/from downtown Seattle.
MARYSVILLE
Memorial Day Ceremony, 11 a.m., May 29, Marysville Cemetery, 8801 State Ave.
Memorial Day Basketball Tournament at Marysville Pilchuck High School, all day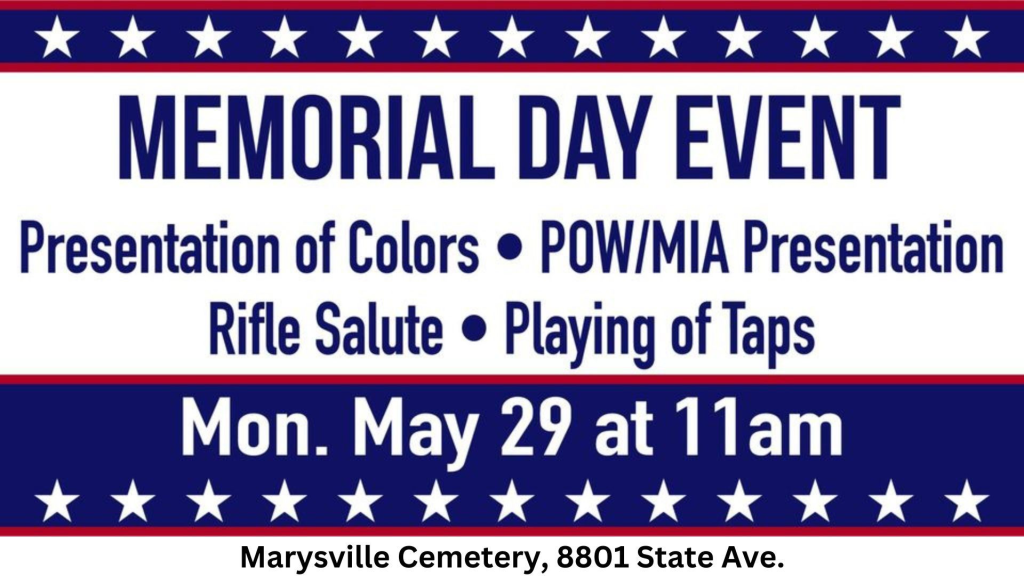 MILL CREEK
Memorial Day Commemorative Ceremony, 9 a.m. May 29, Library Park, 15429 Bothell Everett Hwy, Mill Creek.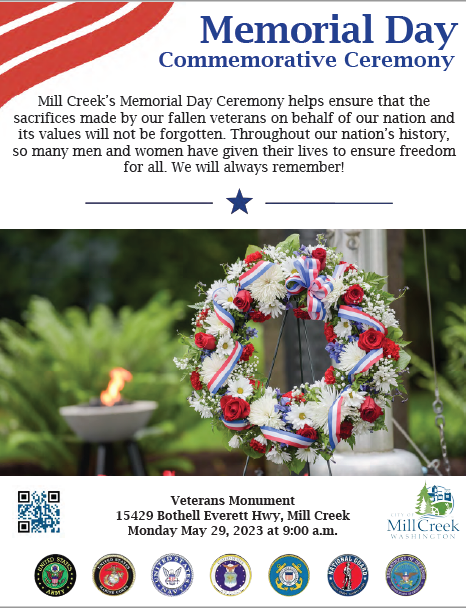 MONROE
Memorial Day Service, 10 a.m., May 29, IOOF Cemetery, 21714 Old Owen Rd. Hosted by VFW Post 7511 and it's Auxiliary.
ARLINGTON
Memorial Day Parade: 10 a.m. May 29, Olympic Ave. The parade is hosted by American Legion Post 76.
Raising of Flags: The installation of flags at Arlington Cemetery by the American Legion and Boy Scouts begins at 5:30 a.m., May 29. Volunteers from the community are welcome to help and are asked to arrive at 5:00 a.m. to disperse flags.
Pancake Breakfast: May 29th, at 7:00 a.m. to 10 a.m. at the American Legion, 115 N. Olympic Ave. (free breakfast for the volunteers and a $5 fee for the public).
Resting of Flags: Monday, May 29th, at 5:00 p.m. at Arlington Cemetery, 20310 67th Avenue NE Hotdogs, chips, and drinks are provided following the resting of the flags for volunteers at 6:00 p.m.
EDMONDS
Edmonds Memorial Day Ceremony, 11 a.m. May 29, Edmonds Memorial Cemetery and Columbarium located at 100th Avenue W and 15th Street SW. The event will take place rain or shine and is approximately one hour long. This year's speaker is Retired Marine Corporal Robert Oliverez Jr., National Junior Vice Commander of the Military Order of the Purple Heart.
LYNNWOOD
Memorial Day Ceremony at Veterans Park, 11 a.m. Monday, May 29, Veterans Park, 44th Avenue West and Veterans Way, Lynnwood 98036. Lynnwood American Legion Post 37 and Lynnwood Veterans of Foreign Wars Post 1040 will sponsor the ceremony that includes music, laying of a wreath, and a rifle salute. Please join us for an in-person ceremony honoring our fallen Veterans.
Purdy & Walters at Floral Hills Cemetery Memorial Day Celebration, 11 a.m. May 29, Purdy & Walters at Floral Hills Funeral Home & Cemetery, 409 Filbert Rd, Lynnwood, WA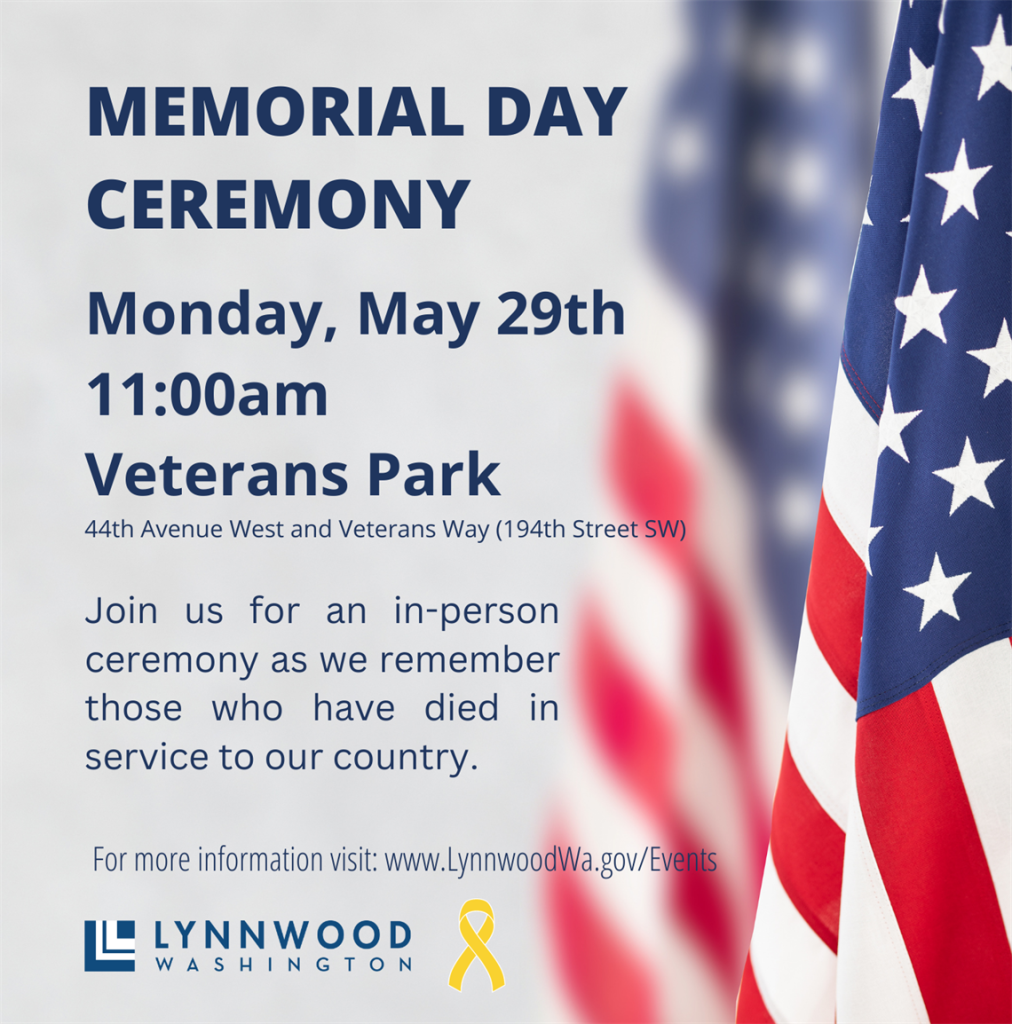 MUKILTEO
The Mukilteo Historical Society will host ts annual Memorial Day event on May 29 at Pioneer Cemetery located at 513 Webster St. Patriotic music starts at 10:30 a.m. and is followed by the program at 11 a.m.
SNOHOMISH (CITY)
Please join the Sheriff's Office for a Memorial Day Weekend Ceremony and BBQ on Saturday, May 27 from 11 a.m. to 2 p.m. to remember and honor our nation's heroes. This is a family friendly event at American Legion Park located at 11611 3 Lakes Rd in Snohomish, WA.
BBQ food will be provided for free, while supplies last.
During the first hour, there will be remarks by Captain Menzel of Naval Station Everett, Sheriff Adam Fortney, Honor Guard, Navy Commander Clint Blankenship, Chief Pilot Bill Quistorf and Four Season Fighters, a local nonprofit supporting veterans.
The Sheriff's Office new helicopter, SnoHawk 5, will be flying over and retiring helicopter, SnoHawk 1, a 1966 Army surplus Hughes 500-P will be on site for the very last time. The Hughes has been in operation for over 57 years and the Sheriff's Office has operated it since 1993. This aircraft has a unique history having flown in combat during the Vietnam War and at the Army's Night Vision Laboratory in Virginia. It started out as a Hughes OH-6A and was heavily modified for special operations. After modifications it was renamed "The Quiet One". This is the only Hughes 500-P that is currently flying in the world. SnoHawk 1 will be officially retired when SnoHawk 5 is fully mission capable. This will be the community's last opportunity to see a piece of aviation history in Snohawk 1.