The end of an era: Mukilteo's most unconventional mailbox
MUKILTEO, Wash., May 31, 2023—Since moving into their Mukilteo home 46 years ago, residents Ron Shaw and his wife Christy's mailbox has been hit, run over by cars, and demolished by teenagers with baseball bats at least 50 times. His unique solution, to save time and money with repairs, has become somewhat of a Mukilteo icon over the years; but now due to the construction of a warehouse, Mukilteo's most unconventional mailbox is coming down.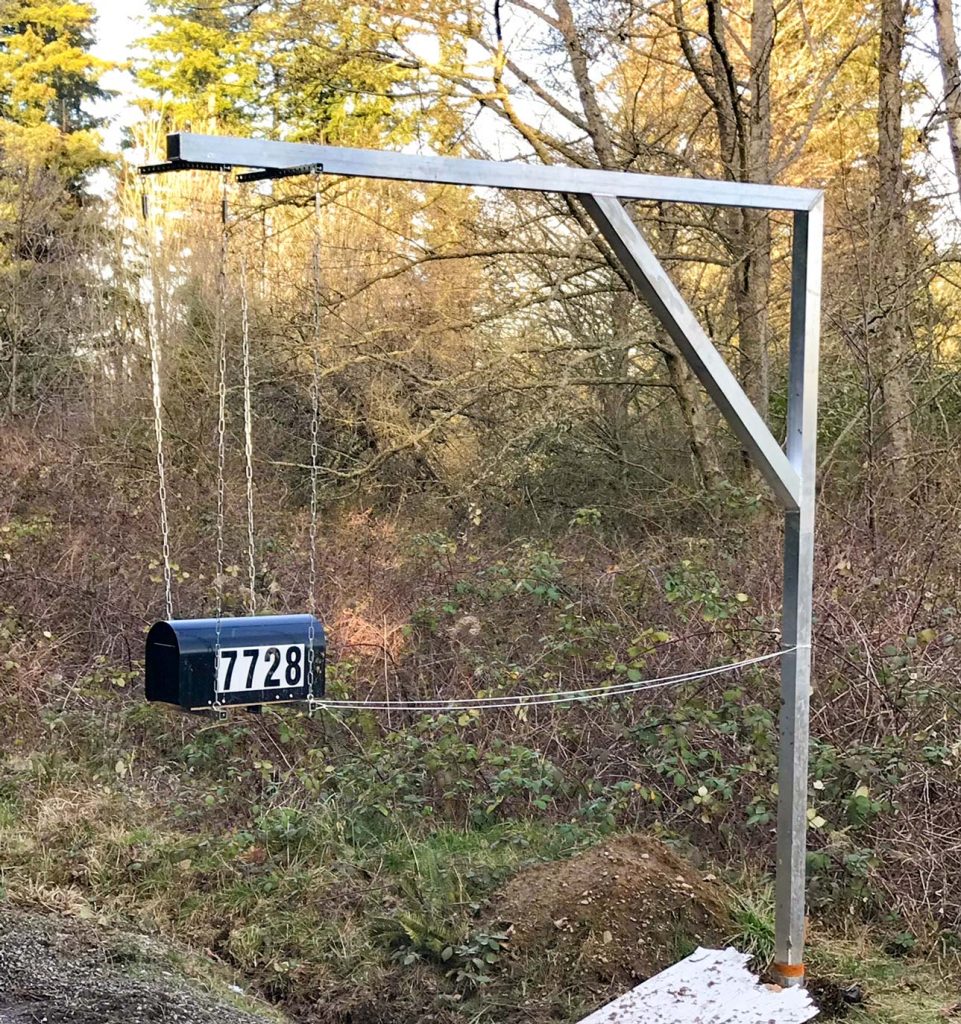 The mailbox swings in midair, suspended by four chains and springs connected to a handmade structure that resembles a "hangman" post from the titular word guessing game. The pole rotates allowing the mailbox to pivot as it gets hit to absorb the force.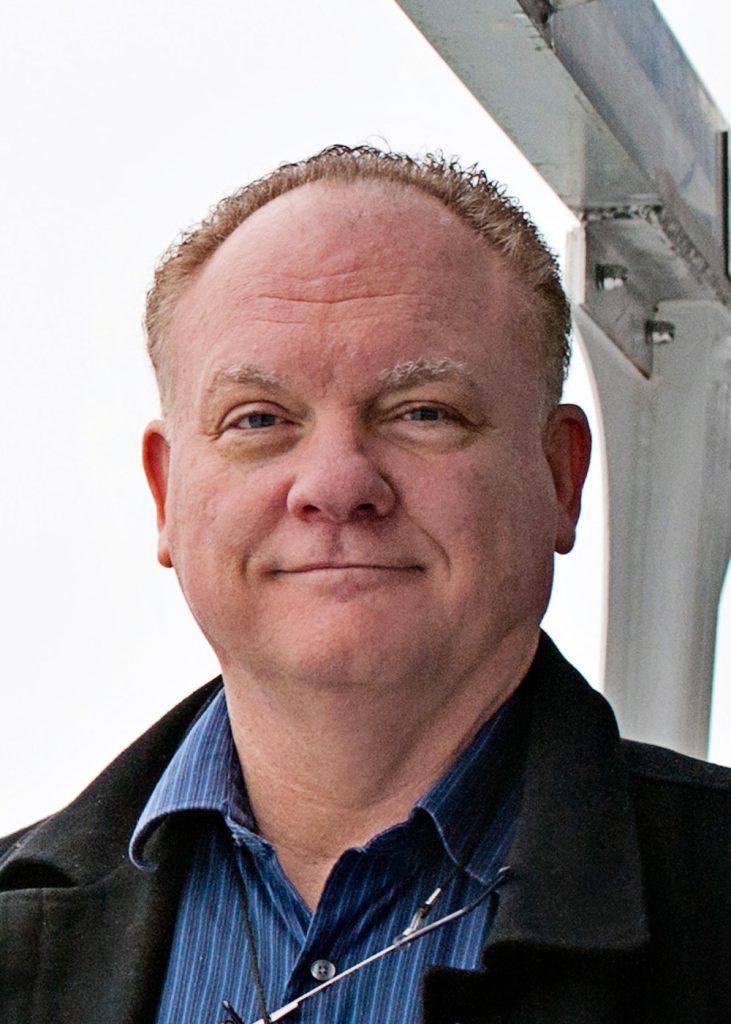 It took about two months to complete and approximately $2,000 in materials — a simple price to pay considering Shaw would spend a full day of labor, and countless dollars in repairs whenever his mailbox would be damaged.
"I'm getting older and I just got sick and tired of digging holes," Shaw told the Lynnwood Times.
Shaw is no stranger to offbeat mailbox contraptions. When he first bought his Mukilteo home on 44th Avenue West in 1977, he operated an upholstery business from his garage. To make it easier for clients to locate his residence, he propped his mailbox on the head of a vintage treadle sewing machine. This acted as his mailbox and business' advertisement for seven years until he opened his own shop, Christy and Ron's Upholstery, on Casino Road and Evergreen Way.
That business has since closed and Shaw now makes batteries for CPAP machines in his basement, which are sold to fund his independent relationship counseling ministry.
Even back in the late 70's and early 80's his unique mailbox design was the target of frequent destruction though.
"The funny thing with the road here is people will be coming down 44th Avenue West who just kind of get distracted. When it gets to 78th street, the street just does a little bit of a lean. If people aren't paying attention they'll overcorrect and clip the mailbox,"Said Shaw.
But that's not the biggest problem, Shaw added. The biggest problem is when people speed down the backroads they usually "fishtail", "spin out" then completely take out the mailbox facing the opposite direction. For the first few years Shaw simply repaired his mailbox using baling wire and duct tape but after a while it became "beyond repair." He was able to track down a new vintage treadle sewing machine to reconstruct his design but within a few years it was in the same boat.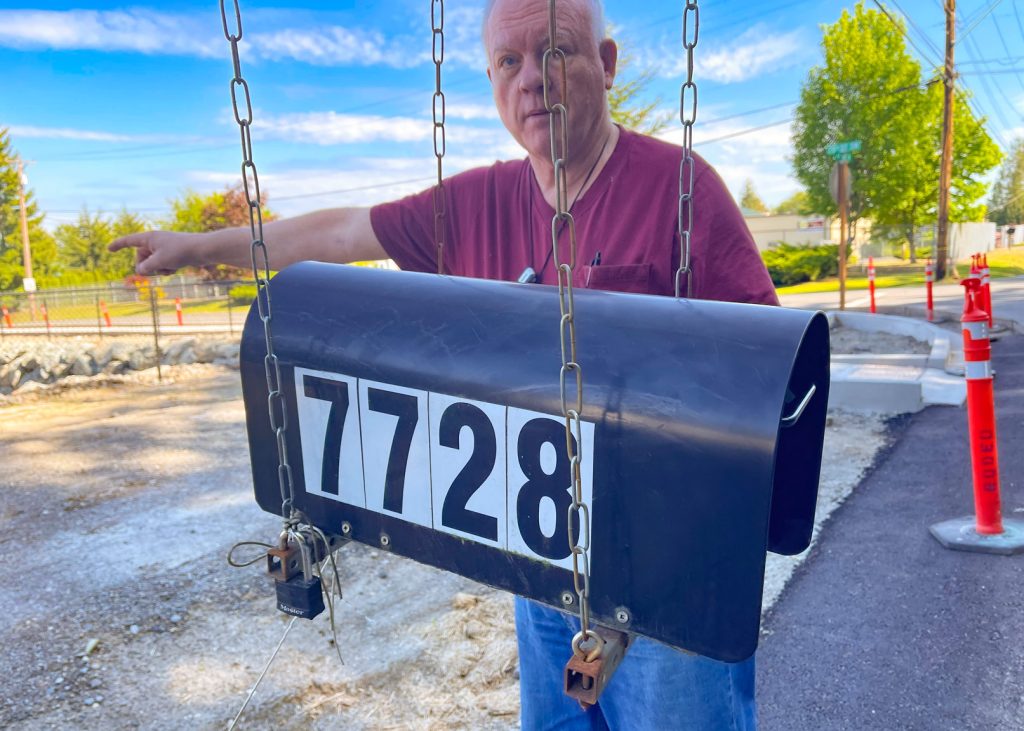 When Shaw opened his own business there was less of a need to advertise where he would do business, so he began exploring different options to defend his mailbox from regular assaults. He settled on securing his mailbox on a post protected by several cinder blocks.
"The good thing about that one was [the drivers] couldn't just drive away because they would usually flatten a tire on the cinder blocks," said Shaw. "So they'd be stuck out there for a while and I could go out there and we'd have a nice chat, then their insurance would pay me to repair my mailbox."
Even with the newly fortified design, cars continued to "obliterate" Shaw's mailbox, often knocking it clean off the post and requiring him to have to manually bend it back into shape. He tried adding more and more cinder blocks, and more and more reflectors but, for whatever reason, the reflectors seemed to attract more and more drivers.
The cinder blocks were tied together with baling wire instead of being cemented together, Shaw added, so it would not cause driver's physical harm when they struck it.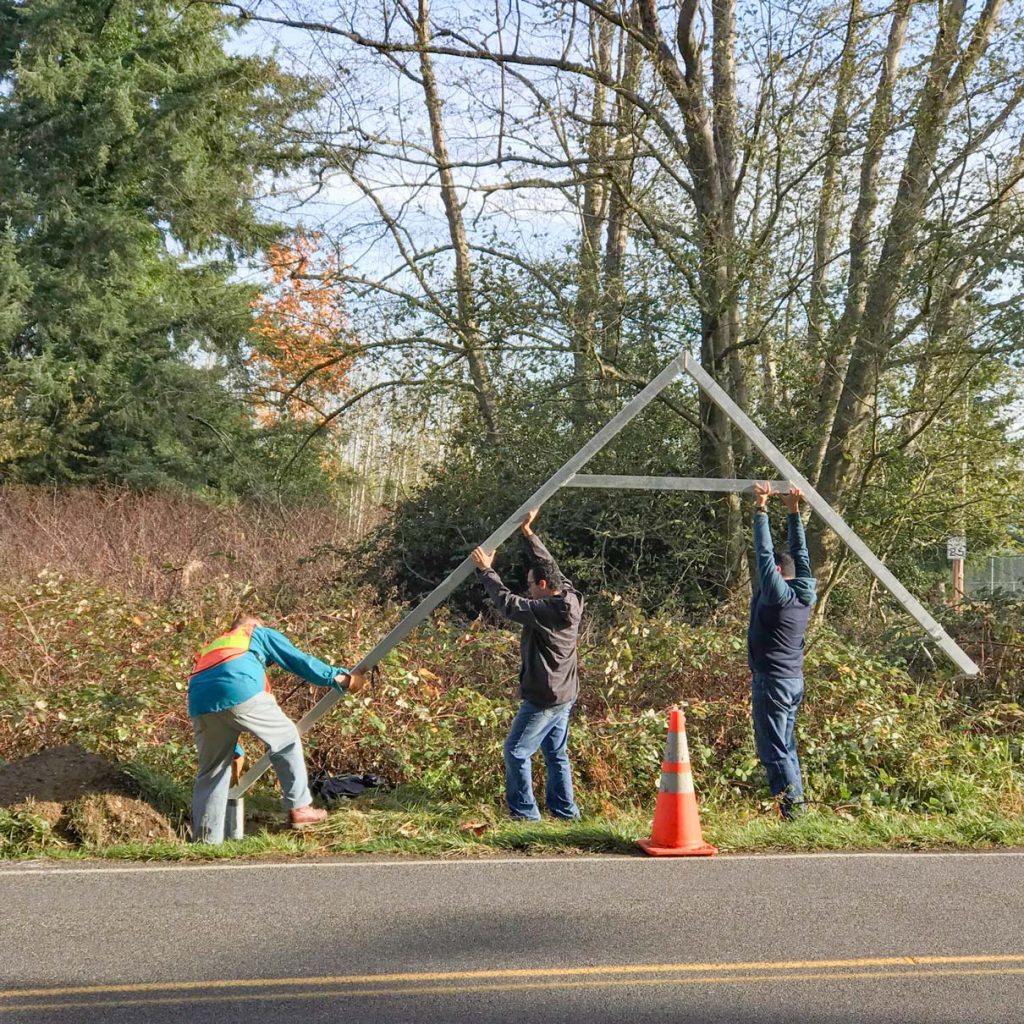 On November 11, 2018, Shaw installed the current "hangman"-type contraption he's had since. However, while its design, paired with a new practically "indestructible" mailbox, saved him from performing yearly mailbox maintenance repairs, he now had a different battle: with neighbors and the city of Mukilteo.
Although Shaw was meticulous when adhering to federal postal regulations, which require all mailboxes to be installed nine inches away from a road's fog line, neighbors grew worried that his mailbox was a safety hazard.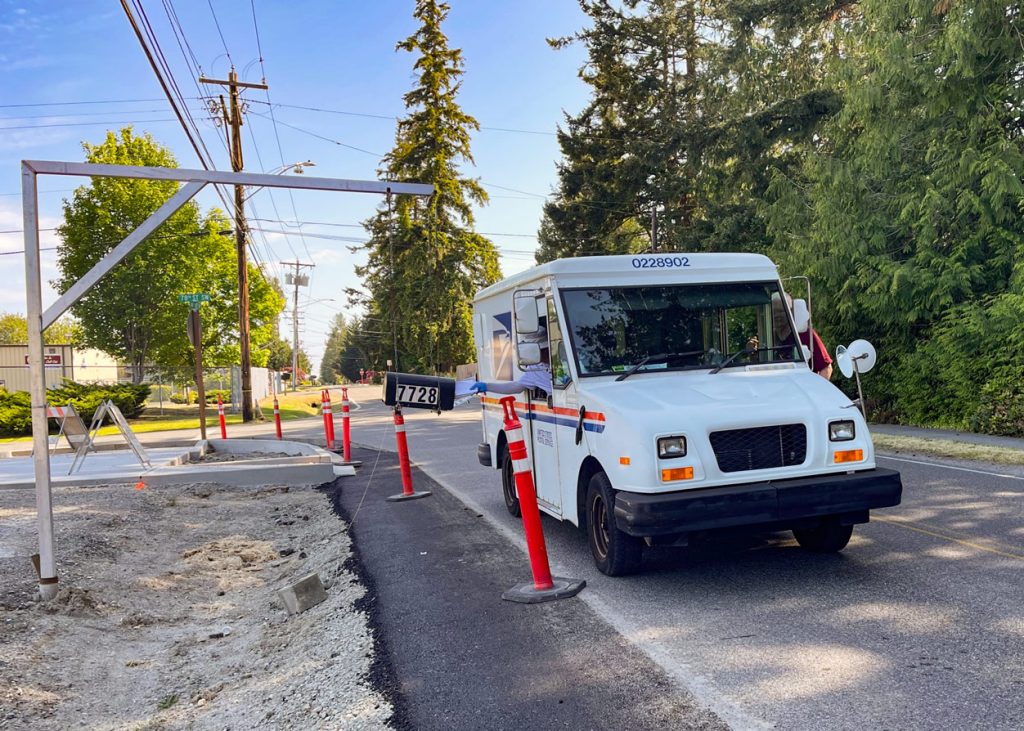 After receiving several complaints from residents, the city of Mukilteo asked Shaw to take it down but rescinded their order once Shaw was able to prove the construct adhered to federal regulations. Its existence for the last seven years since, has become a Mukilteo staple, but the construction of a new business district across the street is deeming it insignificant.
The developer worked with USPS to relocated Shaw's mailbox across the street, which works in his favor — not having to cross a busy road to fetch the mail. He was struck once when a driver clipped him with the vehicle's sideview mirror.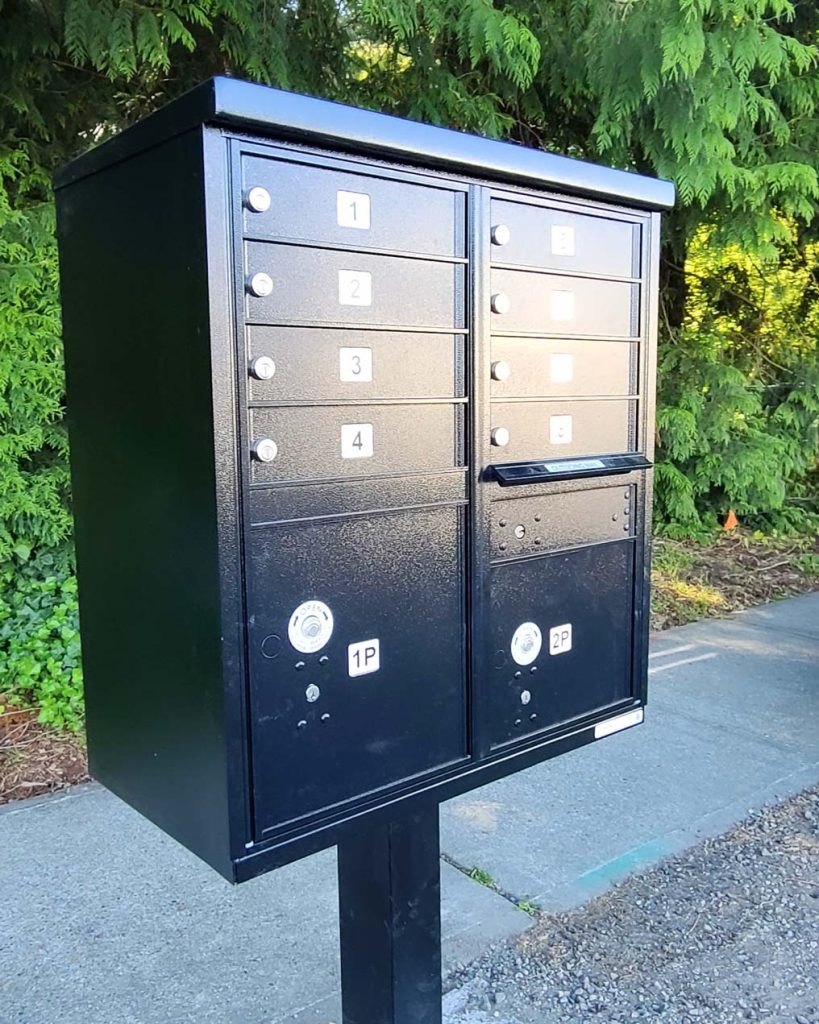 While the mailbox still stands, it will soon be taken down when the Postal Service activates the new community mailbox in its route, as part of an agreement between USPS and the developer to make way for a new shallow swale along the existing roadway surface.
Shaw plans to still display his "hangman" mailbox in his yard when that time comes and may even consider donating it to the Mukilteo Historical Society.
Shaw and his wife Christy moved up to Mukilteo from the San Francisco Bay Area 46 years ago. The two met at a bible college when Christy offered him a stick of gum. Interested, but awkward and not knowing what to say, Shaw replied, "I only chew bubble gum." When Christy returned the next day with a stick of bubble gum, he knew she was the woman for him.
"We're really happy living here in Mukilteo," said Shaw. "We've seen a lot of changes in the city since we first moved in. The City's staff is very approachable, the school district is great! However, there's a lot fewer trees and a lot more other things."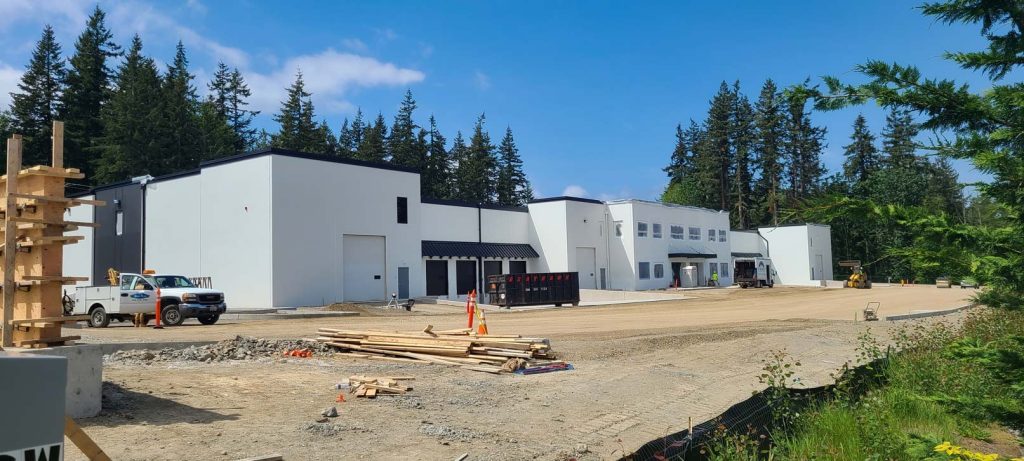 Under construction is a 57,000-square-foot 380′ long x 150′ wide x 28′ tall single story industrial warehouse building on the northwest corner of 44th Avenue West and 78th Street SW. The developer, Nelson 43, LLC, originally applied for permits in June of 2018 and reapplied in November of 2019, which was approved on April 20, 2022, after submitting all of the required paperwork.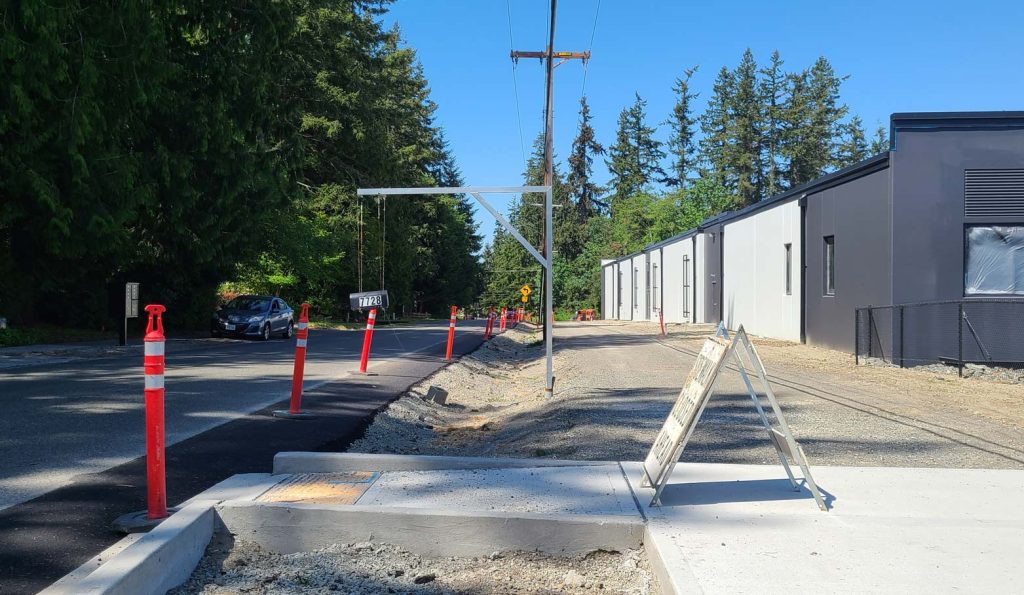 Proposed on the four acres of land with a preconstruction assessed value of $1.2 million, is a warehouse on the west portion of the property with a truck court and building access on the east side of the warehouse facing Paine Field. There will likely be small office areas on the NW and SW corners of the building. To minimize noise impacts to the residential areas on 44th Avenue, the site will have all the trucks on the east side of the building and the passenger vehicles will be on the north and south sides of the building with the warehouse acting as a natural sound barrier.