Titanic claims five more souls 111 years after it sinks
CAPE COD, Mass., June 22, 2023—Nearly 111 years after the infamous sinking of the RMS Titanic claimed the lives of over 1,500 people, five more passengers aboard an OceanGate submersible on course to tour the wreck are believed to be dead after debris was found 1,600 feet from the Titanic's bow Thursday afternoon.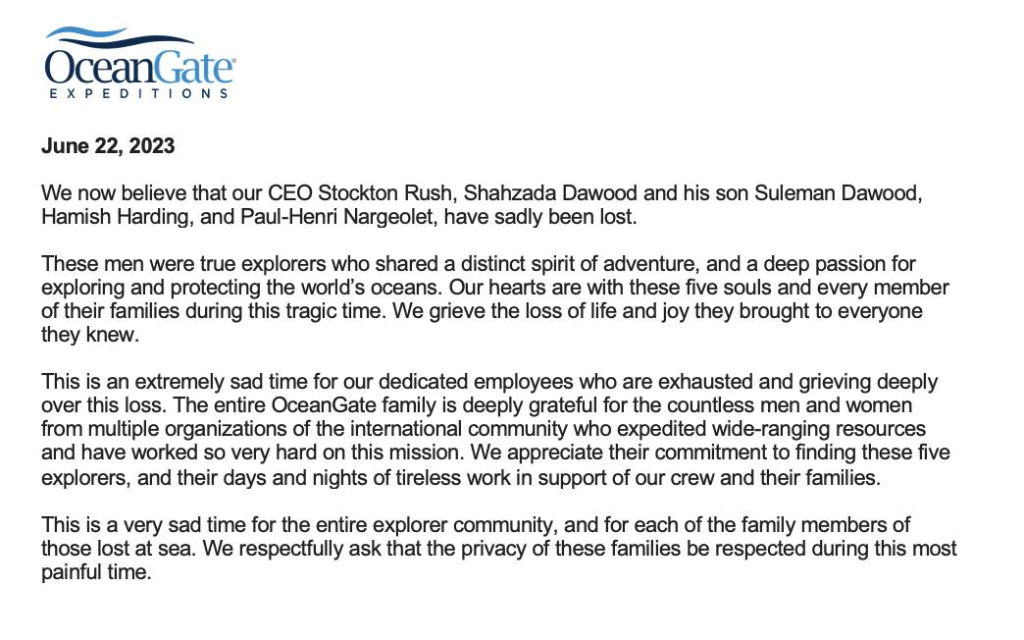 The debris indicates the submersible experienced a "catastrophic implosion" after a breach of its hull, the U.S. Coast Guard said. The water pressure at the depths of the Titanic wreck site are at around 6,000 PSI, Florida-based senior research scientist Steve Somlyody told the DailyMail, which is 400 times that of what most people are used to. The water pressure at that depth is equivalent to being crushed by 5,500 pounds of weight per square inch, he added, making a recovery of the bodies and vessel extremely unlikely.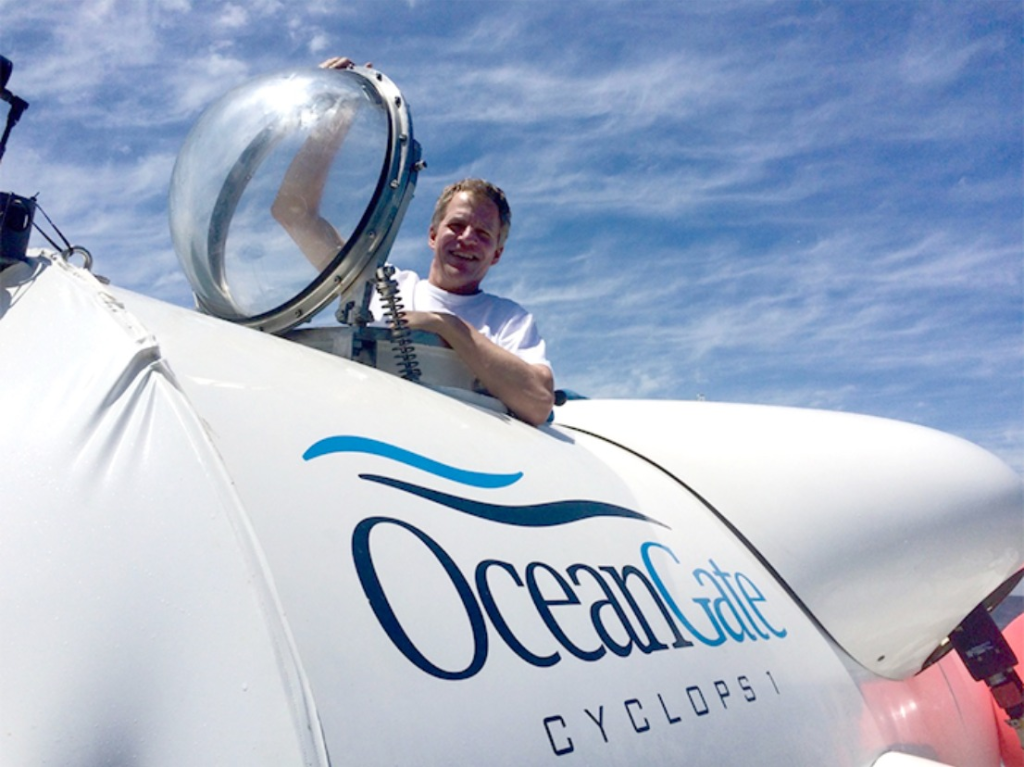 The excursion was hosted by Everett-based company OceanGate, which offers a "Titanic Expedition" tour on its website – an 8 day excursion leaving from Newfoundland, Canada, and diving to the famous shipwreck, 12,500 feet beneath the surface, on days three through seven.
OceanGate has been running these Titanic trips since 2021 costing passengers $250,000 a ticket.
The 21-foot submersible, named the Titan, made its underwater descent on Sunday morning, June 18, about 900 miles off the coast of Cape Cod, Massachusetts. It lost connection with its host vessel, the Polar Prince, approximately two hours after submerging. By Monday, June 19, the Coast Guard announced it had conducted a search and rescue mission for the missing vessel and its five passengers on board. At that time it was reported the submersible had only about 40 hours left of oxygen.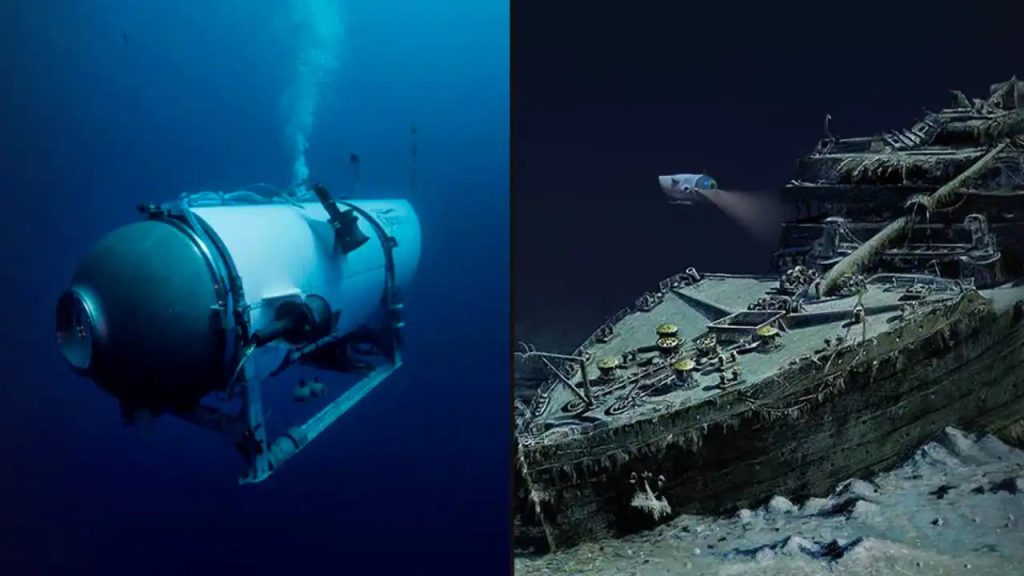 In addition to the dwindling oxygen supply the passengers, in their final days, likely experienced hypothermia-inducing temperatures (the ocean averages around 35 degrees Fahrenheit at this depth), pitch-blackness, and had likely passed out due to carbon dioxide poisoning, experts stated, if the vessel experienced a power failure which is likely considering it did not make its way to the surface once signal was lost.
On Tuesday, June 20, sonobuoys equipped with hydrophones to record noise underwater, detected "banging noises" from the vicinity last known by the divers and again on Wednesday.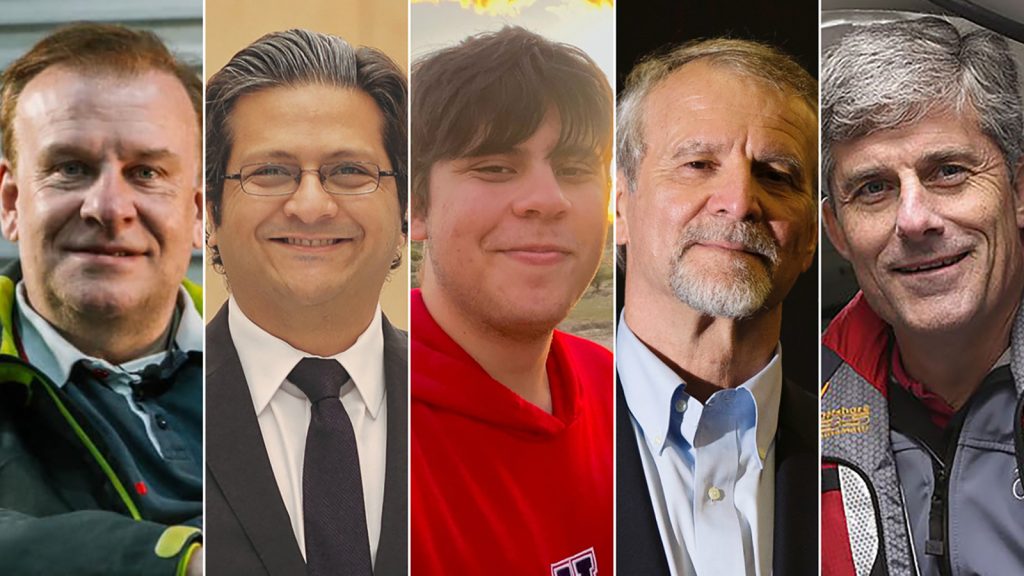 The Titan's five passengers were Hamish Harding, a British billionaire and chairman of Action Aviation, Shazada Dawood, Vice Chairman of Engro Corporation and a member of the World Economic Forum, and his son Suleman, Paul-Henri Nargeolet, an underwater researcher for the company who owns the rights to the Titanic wreck site (RMS Titanic Inc.), and Stockton Rush, the CEO for OceanGate.
"We now believe that our CEO Stockton Rush, Shahzada Dawood and his son Suleman Dawood, Hamish Harding, and Paul-Henri Nargeolet, have sadly been lost," OceanGate said following the Coast Guard's announcement. "These men were true explorers who shared a distinct spirit of adventure, and a deep passion for exploring and protecting the world's oceans. Our hearts are with these five souls and every member of their families during this tragic time. We grieve the loss of life and joy they brought to everyone they knew."
Harding's stepson, Brian Szasz, coped with the news of his father's disappearance by attending a Blink-182 concert shortly after it was announced the submersible was missing stating: "It might be distasteful being here, but my family would want me to be at the Blink-182 show as it's my favorite band and music helps me in difficult times."
Similar to the Titanic in which it sought to survey, there were several safety concerns leading up to the Titan's ill-fated voyage, the Los Angeles Times reported Wednesday.
In 2018 the Manned Underwater Vehicles Committee at the Marine Technology Society expressed safety concerns for OceanGate's submersibles writing: "Our apprehension is that the current experimental approach adopted by OceanGate could result in negative outcomes (from minor to catastrophic) that would have serious consequences for everyone in the industry," in a private letter addressed to CEO Stockton Rush who was onboard.
That same year a former OceanGate employee, David Lochridge, a submersible hired to conduct safety inspects of OceanGate's vessels, was laid off from OceanGate after allegedly disagreeing with Rush's decision to "subject passengers to potential extreme danger in an experimental submersible," the LA Times reported.
Multi-millionaire Chris Brown had placed a $10,000 deposit to join Harding on the OceanGate excursion but backed out last minute due to "safety concerns," the Merced Sun-Star reported.
"I found out they used old scaffolding poles for the sub's ballast — and its controls were based on computer game-style controllers," Brown told The Sun. "If you're trying to build your own submarine you could probably use old scaffold poles. But this was a commercial craft."
This clip from the OceanGate CEO is wild.

"I've broken some rules to make this"

— Stop Cop City (@JoshuaPHilll) June 22, 2023
The Titan also had multiple failed attempts to launch, missed launch deadlines, and was controlled by a $40 video game console controller; all reasons Brown decided to back out.
Old video from inside the Titan sub with OceanGate CEO Stockton Rush shows the $33 Logitech game controller that was used to pilot the sub to depths of 12,500ft. pic.twitter.com/F8wHhsGUi7

— Oli London (@OliLondonTV) June 23, 2023
Several passengers previously reported there were several safety concerns for the Titan including malfunctions with the propulsion systems during test dives just two months before a Titanic excursion, issues with thruster controls, issues with the onboard computers, and issues with communication systems.
This was OceanGate's third excursion to the Titanic wreck site following two successful missions, one in 2021, and another in 2022.
One of Harding's last social media posts he wrote "Due to the worst winter in Newfoundland in 40 years, this mission is likely to be the first and only manned mission to the Titanic in 2023."