Whitehorse Campground with equestrian campsites now open
DARRINGTON, Wash., July 13, 2023 – The Whitehorse Campground near Darrington is officially open after completing Phases 1 and 2 of construction. This is Snohomish County's first campground with equestrian campsites. Phase 2 added 12 non-utility campsites, an ADA-shower-equipped restroom building, and native plantings around the campground. Reservations are now open. The campground is located off North Mountain Road, just past Whitehorse Park and ballfields.
The completed campground has 30 campsites, including three ADA sites, five equestrian sites, 13 full-utility sites that can accommodate all RVs with back-in and pull-through sites, and 12 non-utility sites. Other amenities include a timber-framed picnic shelter with a fireplace, a restroom building with four showers (two ADA showers), a dump station, and water spigots. The equestrian sites have corrals, a highline, and a compost bin.
This peaceful campground is surrounded by a forest and has a stunning view of Whitehorse Mountain. It is located close to the Whitehorse Trail (there is no direct connection currently), North Mountain bike trails, Washington State Department of Natural Resources (DNR) and Forest Service lands, hiking trails, fishing, the Mountain Loop Scenic Byway, and local restaurants and shops in Darrington.
"Snohomish County is defined by our natural resources. Protecting, preserving, and enjoying them is central to our way of life," said Snohomish County Executive Dave Somers. "The renovation and expansion of Whitehorse Campground will allow people to enjoy one of the most beautiful areas of our county in a more accessible, sustainable way."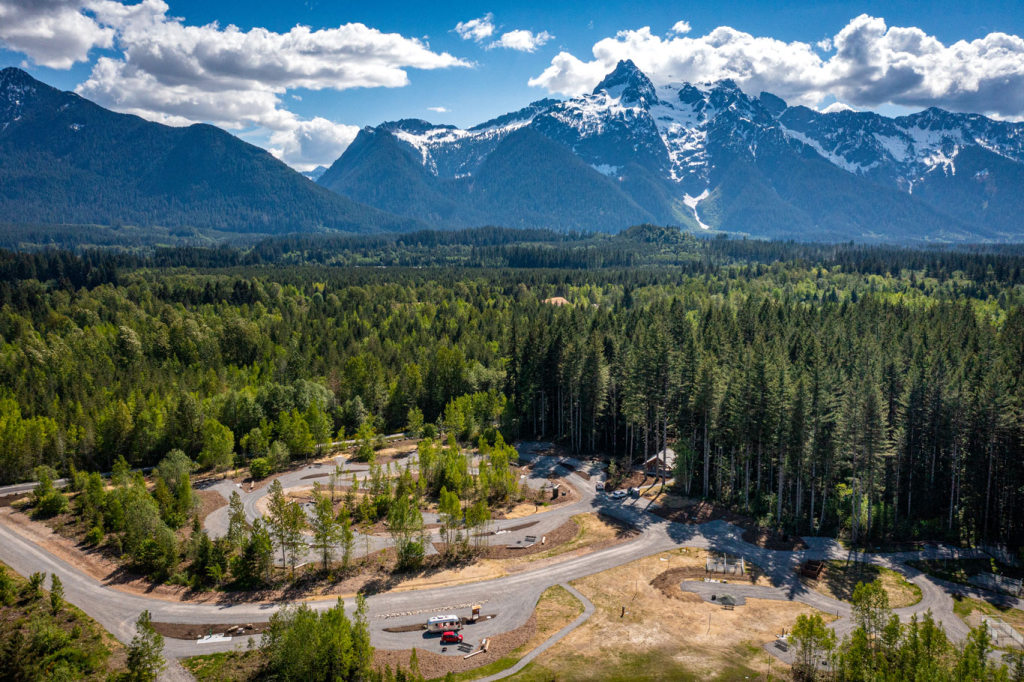 "The North Cascades are one of the shining examples of Snohomish County's natural beauty and people travel from all over the world to experience our backyard. These upgrades to the Whitehorse Campground will give opportunities for camping, recreation, and exploration to more people. I am excited to see this great asset re-opened better than ever," said Snohomish County Council Vice Chair Nate Nehring (District 1).
"We are excited to see this project completed after starting Phase 1 in 2020," said Sharon Swan, the director of Snohomish County Parks & Recreation. "Getting out in nature and spending time with friends and family is an important summer tradition, and we know these 30 new sites will be well used." 
"Thank you to the Snohomish County leadership and the Parks Division for their continued support and investment in the Whitehorse Community Park," said Darrington Mayor Dan Rankin. "The latest expansion and added amenities at the park elevate the camping experience in our region to new levels. It has become a portal to the North Cascades, and a hub for a wide variety of outdoor adventures. It is also a comfortable place to just sit back, relax, and enjoy some amazing views. Darrington welcomes you to come visit the latest addition to Snohomish County Parks."
To see photos, learn more and make reservations, visit: https://snohomishcountywa.gov/Facilities/Facility/Details/Whitehorse-Campground-190.
About Snohomish County Parks & Recreation
The Snohomish County Parks system is incredibly diverse and boasts almost 12,000 acres of parks and open space; over 120 park properties; 100s of miles of trails and access to fresh and saltwater shorelines. Major regional park assets such as the Evergreen State Fair Park, Kayak Point County Park, Lord Hill Regional Park and the Centennial and Interurban Trail systems host local, regional and national events that draw millions of visitors each year to Snohomish County.
About Snohomish County Conservation and Natural Resources
The Snohomish County Department of Conservation and Natural Resources (DCNR) includes the Division of Surface Water Management; the Division of Parks and Recreation; the Office of Energy and Sustainability and the Office of Agriculture. DCNR works in support of thriving communities; a clean and healthy environment to foster environmental stewardship; ensuring food security; supporting a green economy and strengthening communities by providing regional parks and infrastructure; protecting the region's water, air, land and natural habitats; enhancing agriculture and recreation; and reducing flooding. https://snohomishcountywa.gov/5758.