Hundreds of Meadowdale alums gather to sing for retired teacher's 90th birthday
EDMONDS, Wash., July 15, 2023—Approximately 250 Meadowdale High School alums gathered at the Edmonds Waterfront Center on June 24 to celebrate the 90th birthday of former music teacher Robert Burton; taking the risers one last time to sing songs Mr. Burton had taught them over 30 years ago.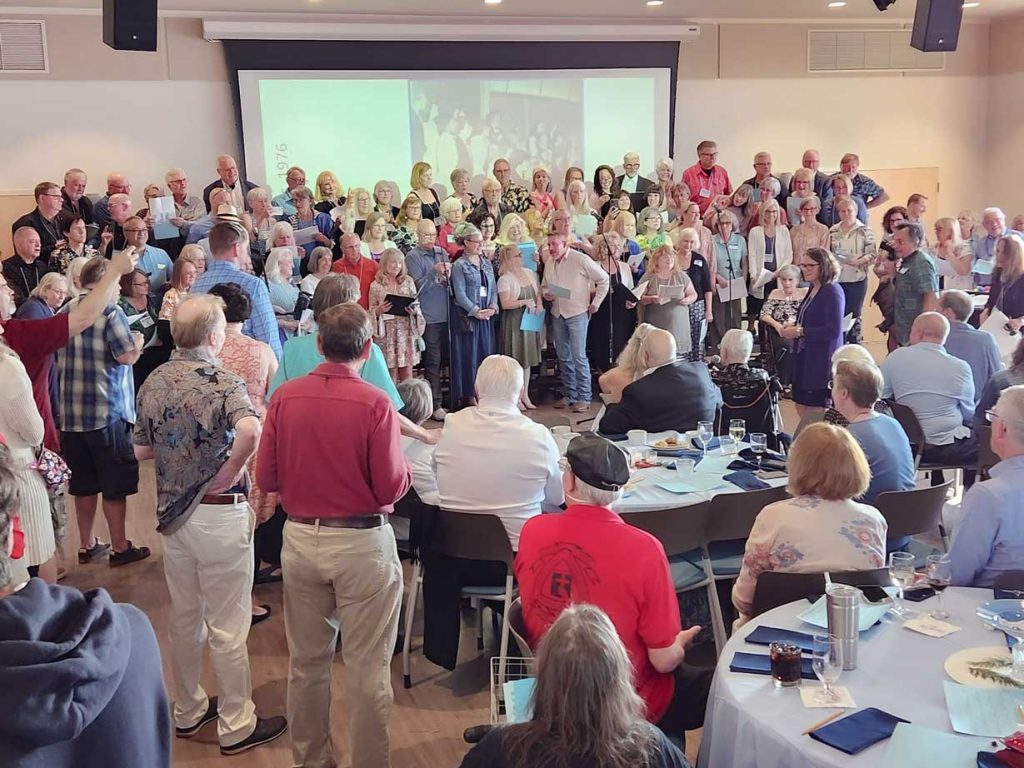 In many ways Robert Burton kickstarted the Meadowdale Music Department, as the school's first-ever music teacher when it opened in 1964. Until his retirement in 1989, Burton taught band, music theory, wrote the school's fight song, adapted the alma mater, formed the first MHS choir, and founded the jazz choral group, "The Impressions" – which is still active to this day and won a jazz competition in Gresham, Oregon, in 1969 under Burton's leadership. Burton also joined his fellow MHS faculty and staff in recognizing MHS's first graduating class in 1965.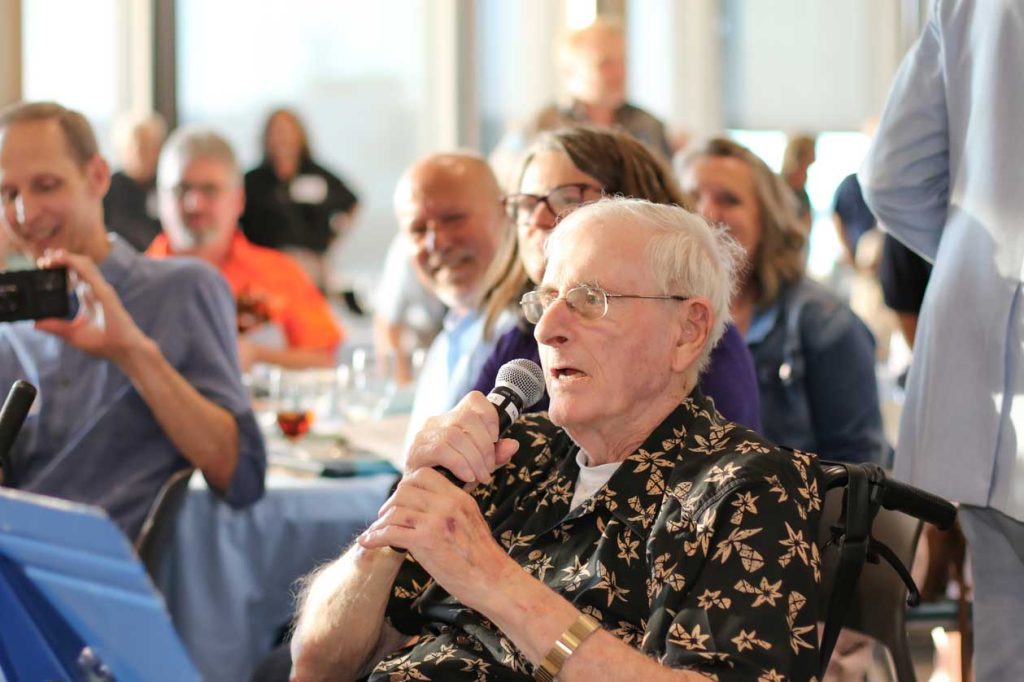 Choirs were a standard feature of many high school programs at the time Burton's career began but jazz ensembles weren't as popular. According to Burton's daughter, Barbara, the success of The Impressions' paved the way of inspiring and generating jazz vocal programs in other parts of the region for years to come. Meadowdale High School vocal music programs, led by Jeff Horenstein today are among the more highly regarded programs in the state, she added.
Burton's music class was beloved by many for his eccentric teaching style and memorable impressions he left with his, approximately, 2,700 students throughout his career. Circus Days, for example, were just one way he engaged with his students to enflame their creativity – which were spur-of-the-moment talent shows where students would perform a talent or skill over circus music during select Fridays.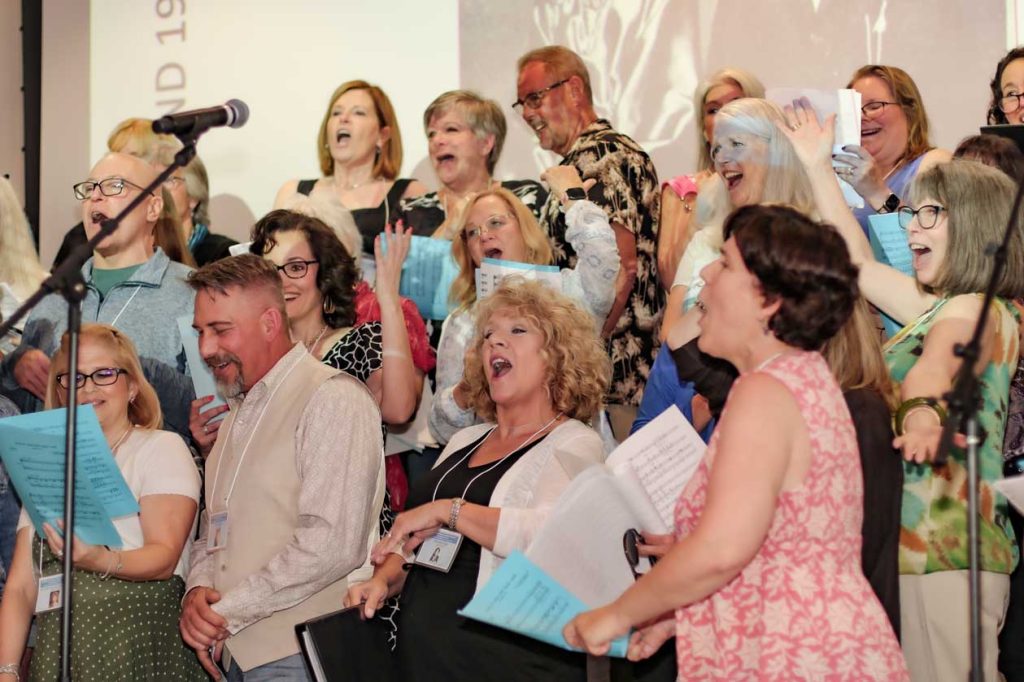 Last month's event was organized by Robert's children: Barbara, Richard, and Carol. Barbara Burton began to digitize her father's old choirs' recordings over the years – some dating back as early as 1964 and 1965. She created a Facebook page, tracking down a hand full of Meadowdale High School Choir alumni to share files with, and the idea to get together for a reunion blossomed from there. Barbara suggested her father's upcoming 90th birthday as a good excuse for the reunion.
Barbara, and around 250 to 270 former Meadowdale Choir students, from 26 graduating classes, rented out the Edmonds Waterfront Center for the occasion. Some traveled as far as Japan, North Carolina, and Texas to be there.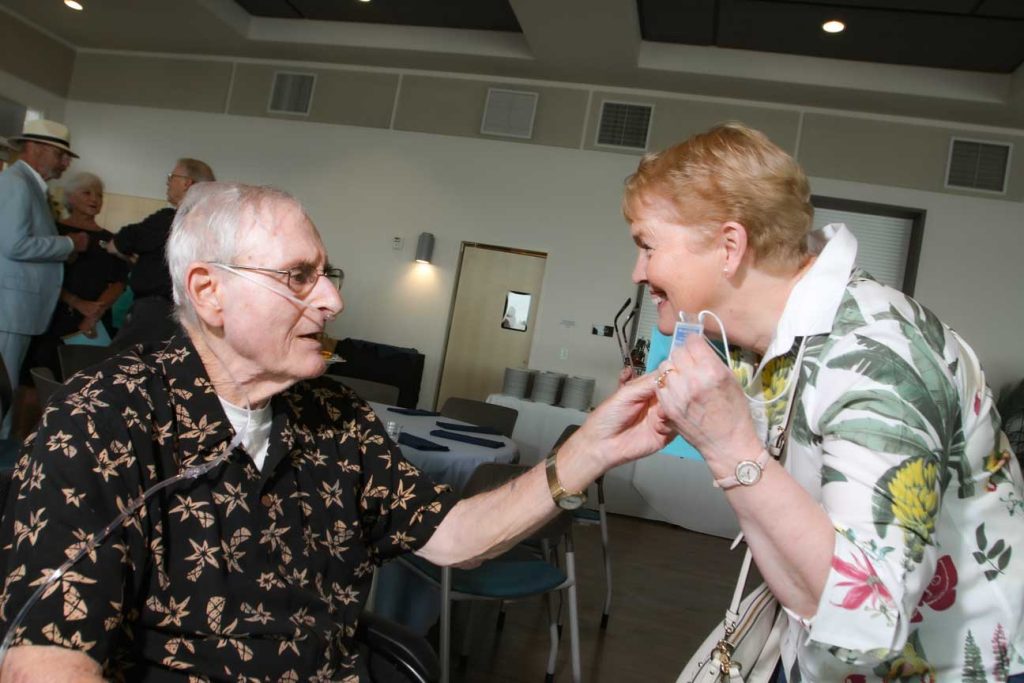 Leading up to the event, Barbara sent out sheet music of four different songs her father used to teach, which the alumnae performed from risers under Mr. Burton's conducting. Two of the songs performed were the MHS alma mater Burton adapted and his signature "goodbye song" which his choirs would perform to conclude their concerts.
"These were students I hadn't seen in 30 years," Robert Burton told the Lynnwood Times. "I saw some familiar faces and also some unfamiliar faces. With some, even if I looked at their old high school yearbook picture, I still didn't recognize them."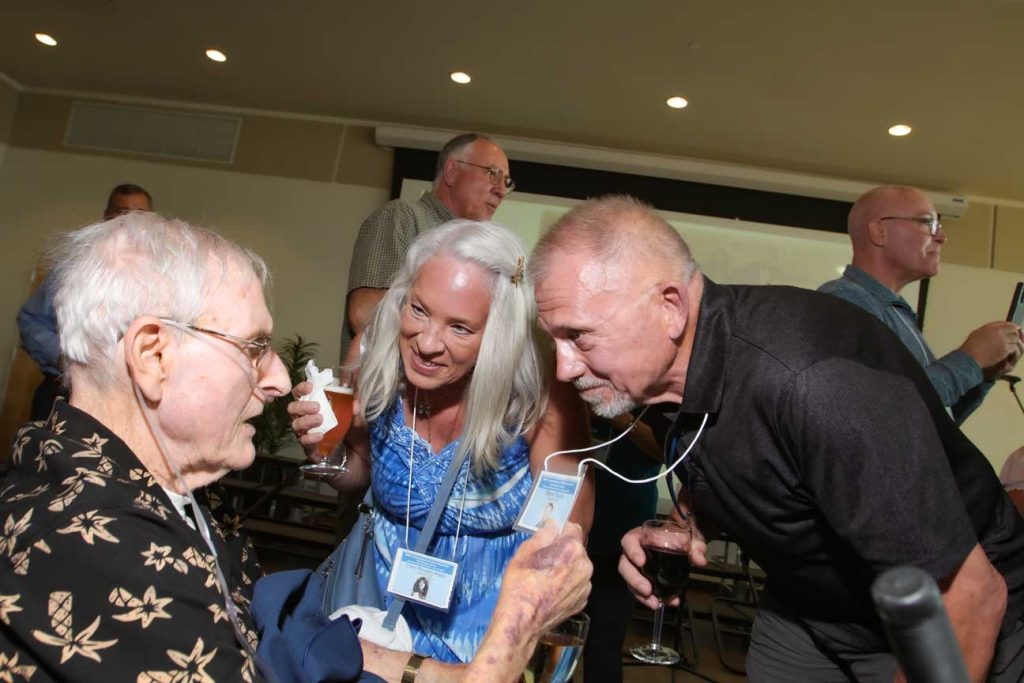 Burton's love for music took off while serving in the U.S. Army in 1956. While stationed in a war-torn Korea, three years after the Korean War ended, Burton played the trumpet in the seventh division band, which was used to play music for various military ceremonies. He also worked as a music librarian in the army to avoid being deployed in the infantry.
"I got to play music and didn't have to play guns," said Burton.
When Burton exited the military, he decided to become a school band director, beginning his career at Cleveland High School in Seattle before transferring to the Edmonds School District.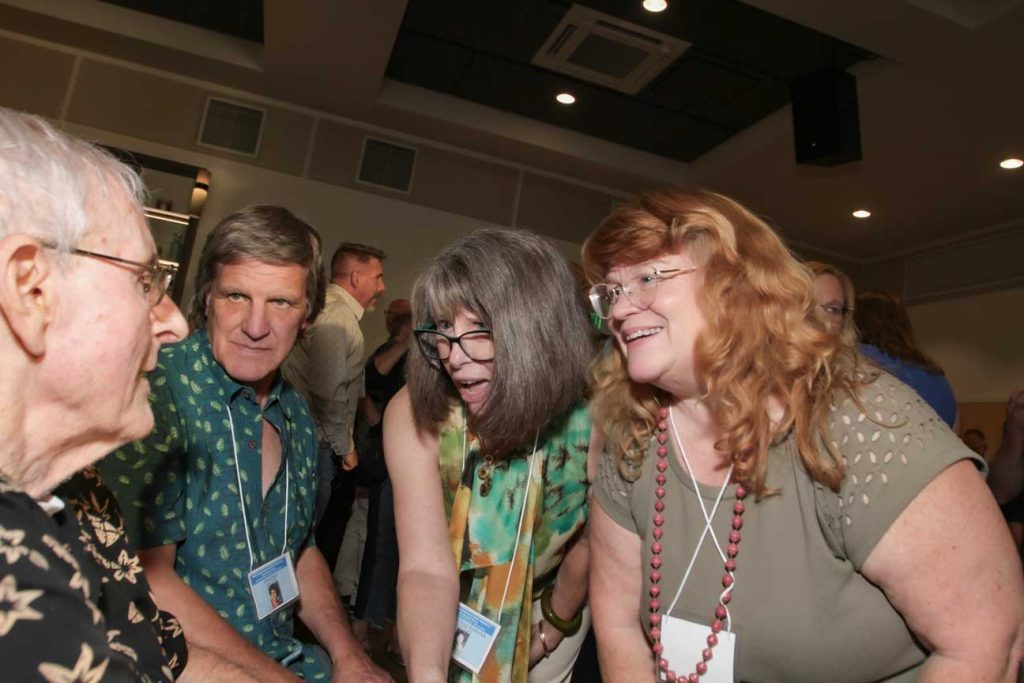 Burton has lived in Edmonds most of his life. Born in California, he followed his family up to Snohomish County during World War II in the 1940's. He attended Edmonds High School while working at the boat launch at the Edmonds Waterfront.
At Edmonds High School, Burton took music classes under Bob Anderson, who became superintendent of the Edmonds School District Music Department and eventually hired Burton as Meadowdale High School's first music instructor.
"My favorite part [of teaching] is hearing a finished production that came out well and teaching the kids how to sing," said Burton.
Like many school districts throughout the area and the country, the Edmonds School District is currently considering making significant cuts to the very arts programs that made such an impact on the hundreds that attended Burton's birthday celebration reunion.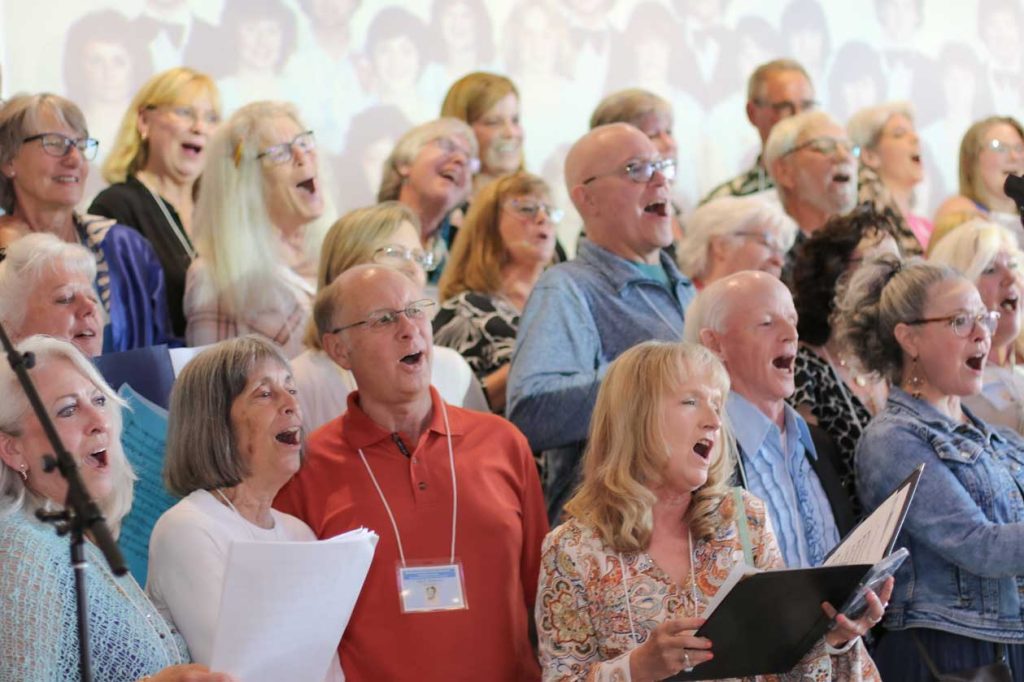 One of Burton's former students wrote: "I'm excited to celebrate a reunion of the best years of high school. Bob Burton made them great."" This was the most memorable time of my life. Enjoyed the songs, the leadership, camaraderie, and everyone who sang one note or thousands" says another.
For Barbara Burton, this event was about more than just celebrating her father's landmark 90th birthday. She, and her siblings, believe that their father created a program that built community, creativity, confidence, and joy.
"Music is a really important part of education and Edmonds School District is doing a lot of cuts right now of these programs, some of the very programs that were so strong during Bob's time," Barbara Burton told the Lynnwood Times. "People wouldn't respond this way to an old math class, or an old STEM class. It's not because they all became musicians, it's not about a job, it's about creating a certain kind of people who have had this experience in their life that isn't exactly tangible in terms of a job."