Edmonds Police removed over 70 unwanted firearms on Saturday
EDMONDS, Wash., July 23, 2023—Edmonds Police hosted their first Gift Cards for Guns event on Saturday, July 22. A total of forty-four rifles or shotguns and thirty-one handguns were collected. A handgun reported stolen in 1990 was also recovered. Participants could receive a maximum of $200 in Amazon.com gift cards but could turn in as many weapons as they wished.
"Thanks to our community and our police department, 75 firearms will no longer be available to harm anyone," Edmonds Mayor Mike Nelson said. "That is 75 less opportunities for a child to be injured or killed and 75 less firearms that could be stolen and used in a future crime. I greatly appreciate everyone's effort in supporting firearm safety and gun violence prevention."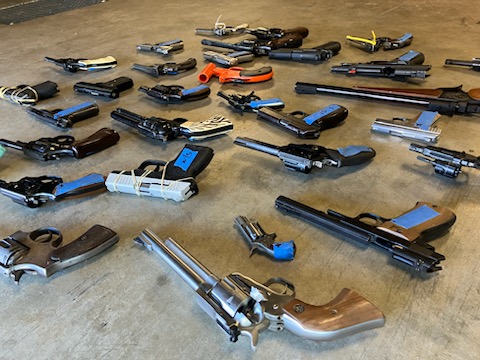 The event began at 9 a.m. and was held at the City of Edmonds Public Works property. This location was selected due to its central location, highlighting the support and partnership between city departments. By 11:15 AM, officers had dispersed $4500 in gift cards to Edmonds and Snohomish County residents.
Edmonds Police frequently have members of the public call or come to EPD wanting to turn in unwanted firearms. Often these weapons are inherited through family, or various changes in life circumstances, and the owner no longer wants the gun in their home. EPD also investigates multiple thefts of firearms from vehicles and residences. The goal of this event was to provide a safe, convenient resource for residents to turn in unwanted weapons so that they are not: Stolen & used to victimize others; Found by a child & tragically discharged; Used by a person in crisis; Lost; or Left unattended and unsecured.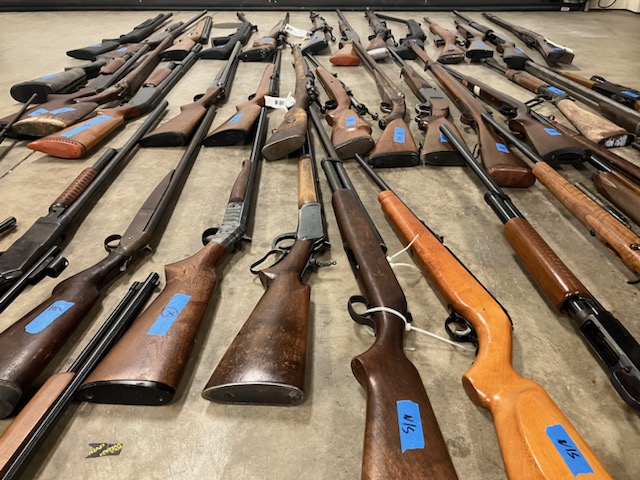 All weapons collected in this event were checked in state and national databases. Those not linked to a previous case will be transported to a regional facility for destruction. Edmonds PD does not sell or retain any weapons for department use. Chief Bennett will evaluate the outcome to determine if or when future exchanges will occur.
"I'm extremely proud of our staff for putting on such a well-organized event that furthered our community engagement," Edmonds Police Chief Michelle Bennett said. "Safely removing over seventy unwanted weapons from our community means that criminals won't have access to them, and potential tragedies may be avoided."
SOURCE: Edmonds Police Department