Legion Park transforms into a rainbow of pride in Arlington
ARLINGTON, July 24, 2023—Hundreds of LGBTQ+ supporters turned out to celebrate the 2nd annual Arlington Pride event on Saturday, blanketing Legion Memorial Park in a rainbow of colorful displays, performances and clothing intended to create a welcoming, loving space.
The mid-day event, dubbed Camp Pride, organized by Arlington, WA Pride, offered a lively, joyous calendar of activities that included performers, music, comedy, community resource and support groups, inter-denominational prayers, politicians lending support and free mom hugs, offset by a small band of in the park sign-waving counter-protesters – primarily evangelicals and protective parents – who opposed the event.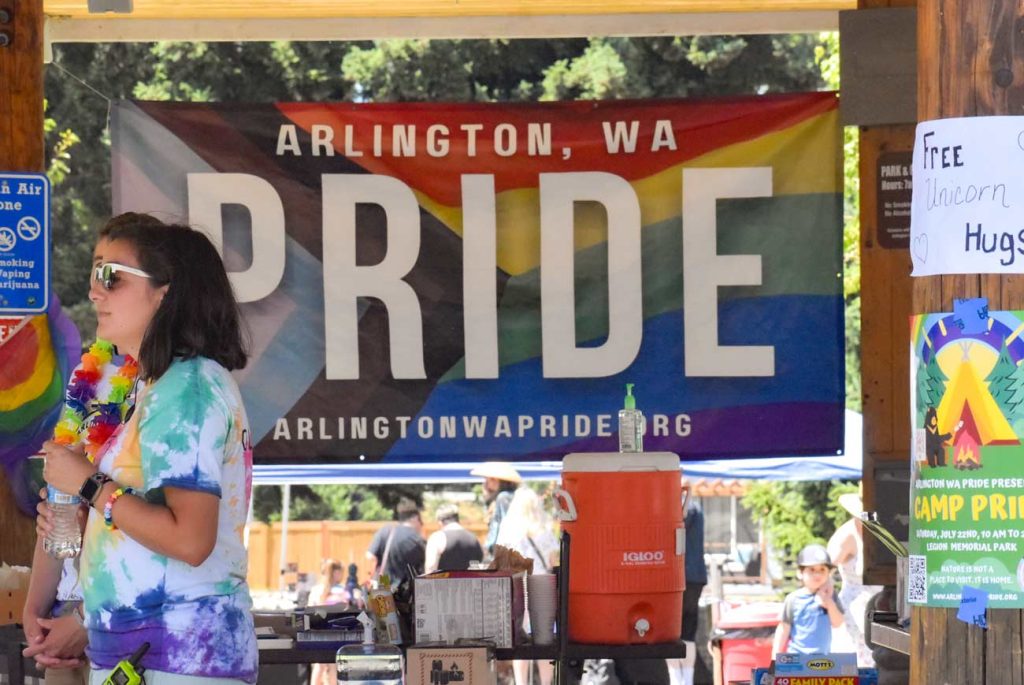 In the months leading up to the event, organizers were concerned about the hate speech on social media and plans to organize counter measures, which brought a more beefed-up police presence. However, rumored counter protests failed to materialize, and de-escalation techniques shared among supporters and participants, and last-minute changes to pro-march plans ensured that the 600 people who attended the Pride event were not intimidated by 60-some sign-waving opponents at the park.
It certainly wasn't enough to extinguish the spirit of the event.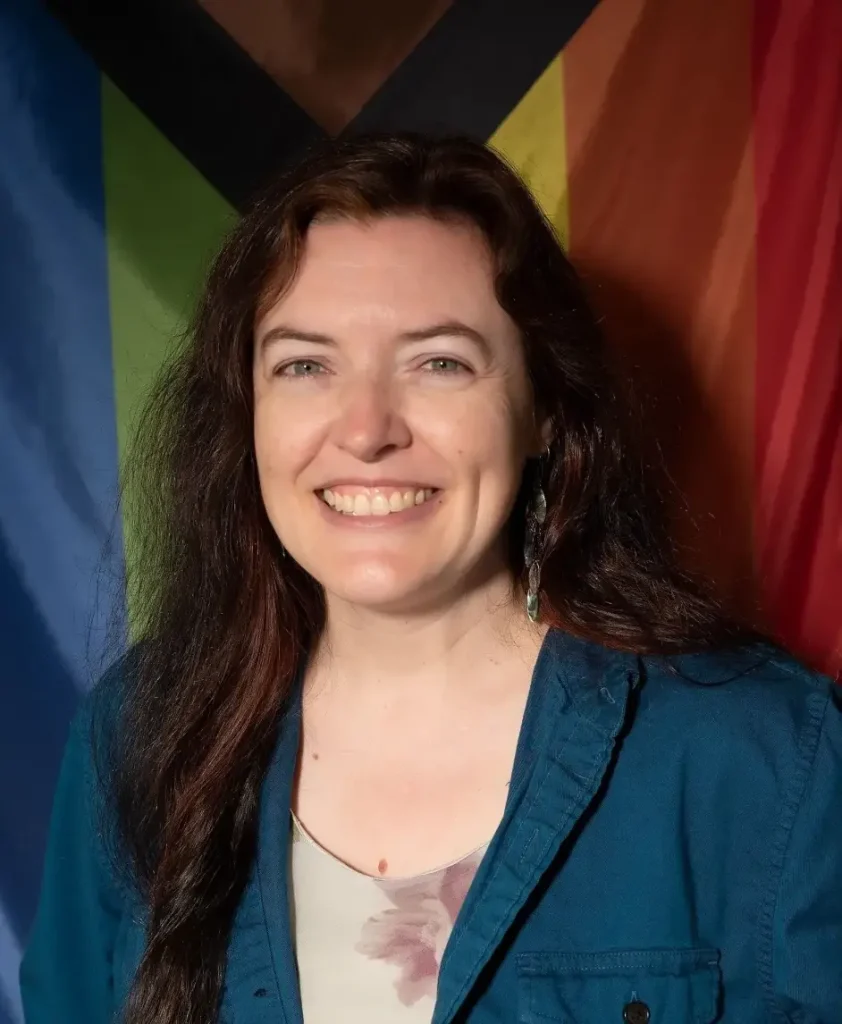 Lead organizer Caera Gramore said she was glad that the Pride event went forward, and happy with how the event itself went.
"I'm really impressed with how people came forward and came together to try to keep this a loving and safe event as much as possible, even in the face of the opposition that we were facing," Gramore said. "That was really heart-warming that we do have a lot of support, even though we had some real vocal opposition."
Gina Touche with Skagit Drag, and owner and operator of Simply Curious, emceed the event.
"Are you ready for a good day of love and entertainment?" he said. "Maybe you don't get into this. But you know, just showing up at these events in the light of love, makes you one at the forefront in the "'love wins movement.'"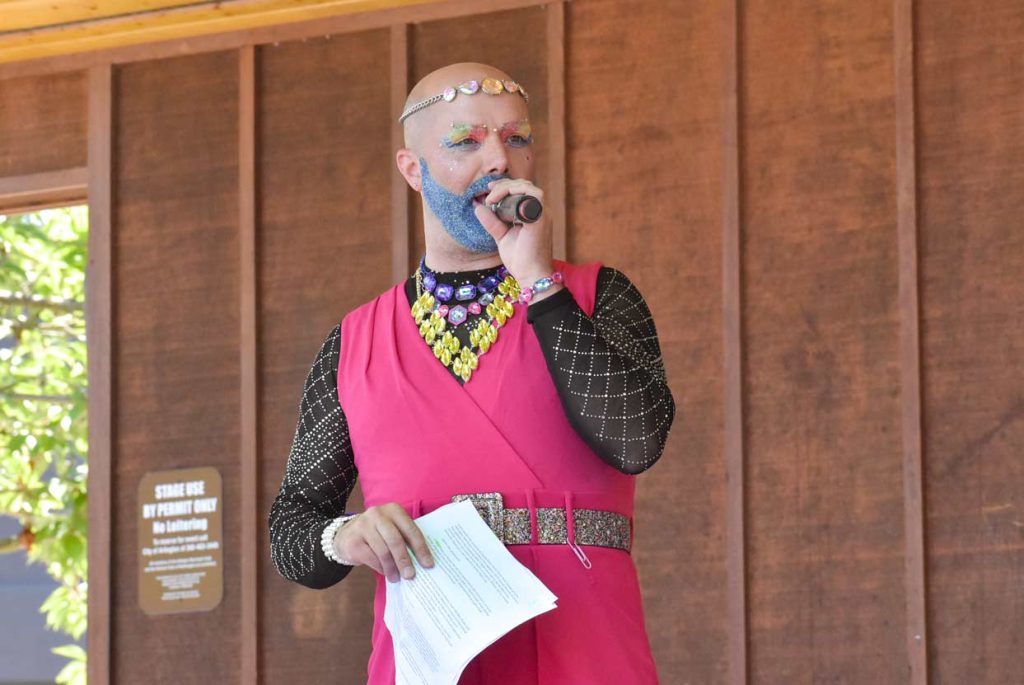 Rev. Carol Jensen, chairwoman of the governing board of the Faith Action Network, and a retired Lutheran pastor from Everett, marveled at the diverse and welcoming crowd. Her organization is a statewide multi-faith network of individual and faith communities who advocate for the human rights and dignity of all people.
"We advocate for public policies that protect the most vulnerable people in our community, and right now that certainly includes trans youth," Jensen said. "The faith network is proud to stand with Arlington today."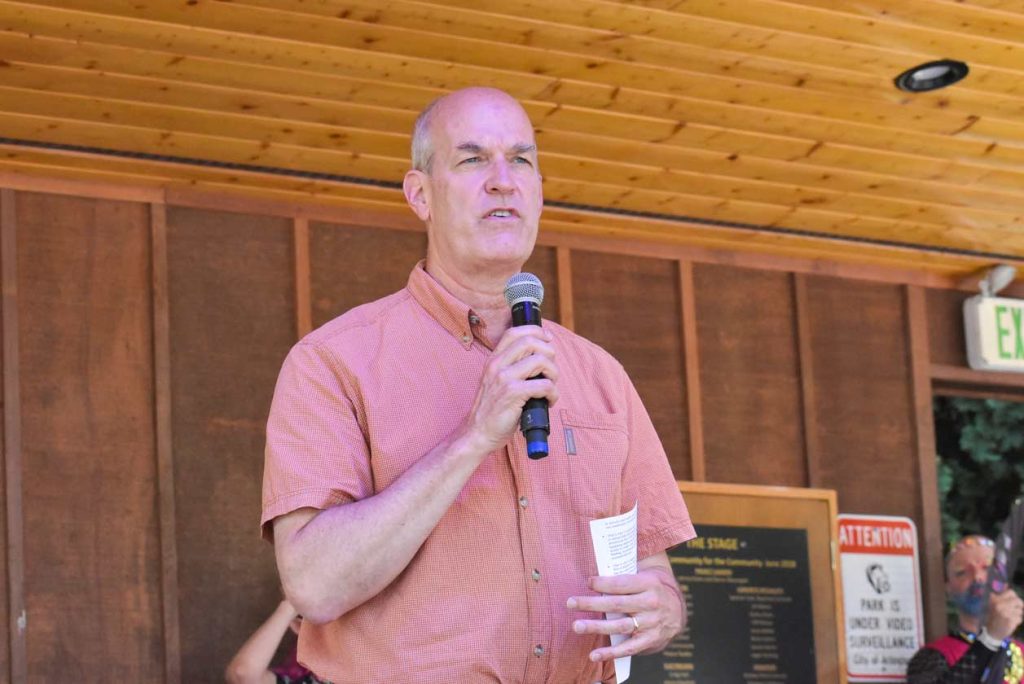 U.S. Rep. Congressman Rick Larsen was born and raised in Arlington. The 2nd District congressman told the crowd he supports the notion that LBGTQ+ are respected and guaranteed full protections under the law.
Speaking from Legion Park where he mowed the grass regularly in his youth, he said, "At that time, maybe Arlington Pride meant something else, and I'm so pleased that Arlington Pride means so many things today. I'm proud to be from Arlington, and proud to be here with you today."
Larsen said in order to advance civil rights, lawmakers need to pass the Equality Act in Congress, and send it to the President for signature. He also supports passage of the Transgender Bill of Rights, and has opposed every extreme effort by his congressional colleagues to limit rights.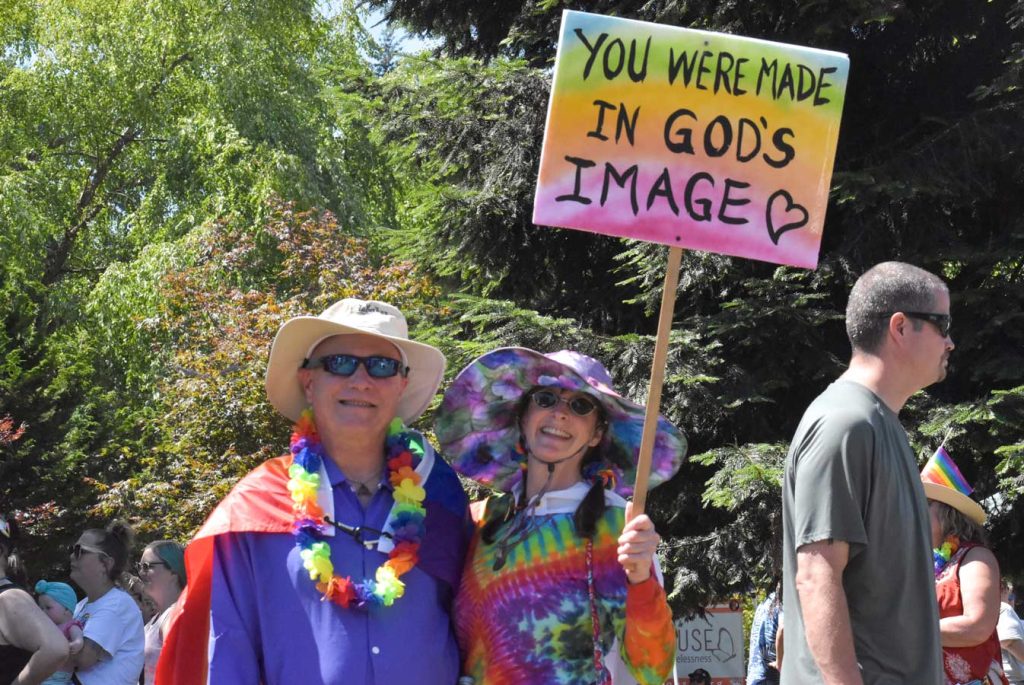 State Sen. Marko Liias, D-Mukilteo, told the crowd that he led the efforts to ban conversion therapy in Washington state, and worked to ensure insurers cover gender-affirming treatment for the trans-community.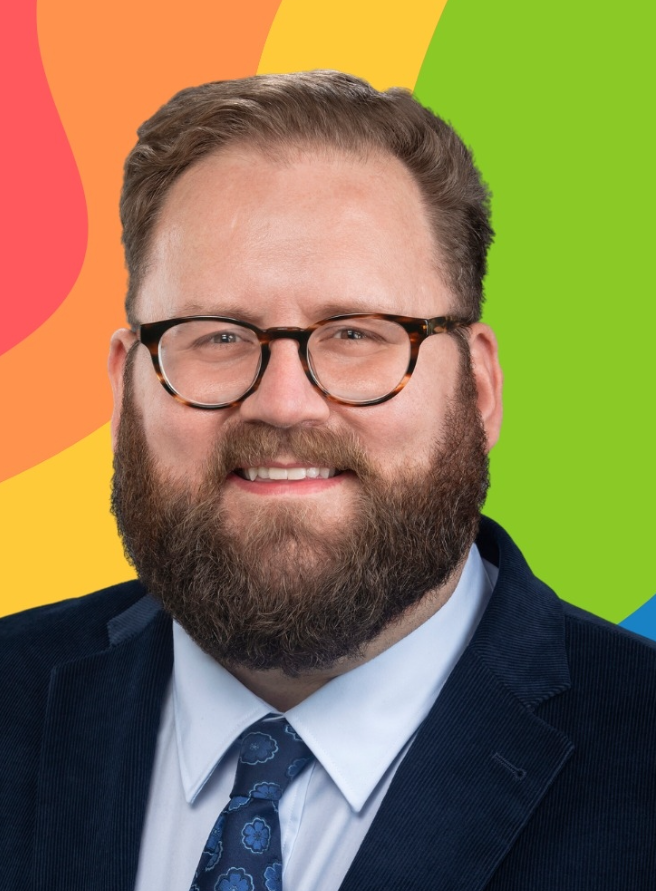 Liias co-chairs the LGBTQ+ caucus in the Legislature, which includes eight openly serving LGBTQ people leading the charge to make sure right are upheld. He mentioned Senate Bill 5599 that affirms that trans youth are protected in Washington state by removing barriers to safe shelter. A deadline to submit signature to try and overturn it just came and went.
"We need to make sure that in every community in our state, people have their basic rights, their basic dignity, and the opportunity to wear rainbow makeup whenever they want," Liias said.
"There's enough terrible stuff happening in the world that Pride is our time to be happy," he said. "Pride is our time to connect with our joy, reconnect with our community. Push all that crap out of your mind and just enjoy yourselves."
Arlington City Councilwoman Jan Schuette read a proclamation that declared June as Pride month, that LGBTQ+ rights are human rights.
Numerous Pride supporters staffed booths around Legion Park, groups that included Sherwood Community Services, NW WA Gender Alliance, Defense of Democracy, Save the Children Action Network, Sno-Isle Regional Libraries, Camp Fire and Red Curtain Theater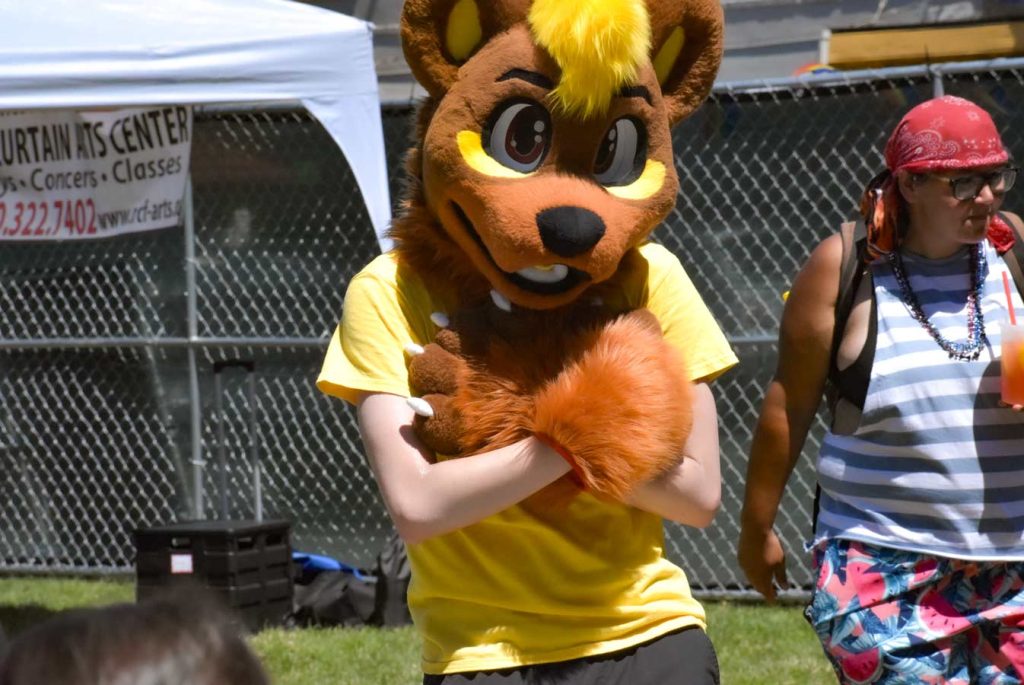 Scott Randall, board president and founder of Red Curtain Theater in Marysville, said the "Pride event is so much fun, I'm glad to return. We're thrilled to be back again this year to support the community."
The theater, through its summer stars teen theater program, will wrap with a full musical called "The Prom," which is about two girls that want to go to the prom together and the PTA doesn't want to let them. Spoiler alert: he said it has a happy ending.
Another group, PFLAG, or People for Loving and Gathering, attended as a vendor to support not only the community, but to remind trans-gender youth that they are not alone. While it's a transgender non-binary peer support group, members can also help identify resources that are available to them, such as finding doctors that are willing to work with them, finding therapists knowledgeable in gender issues, and learning how to access the health care system maze.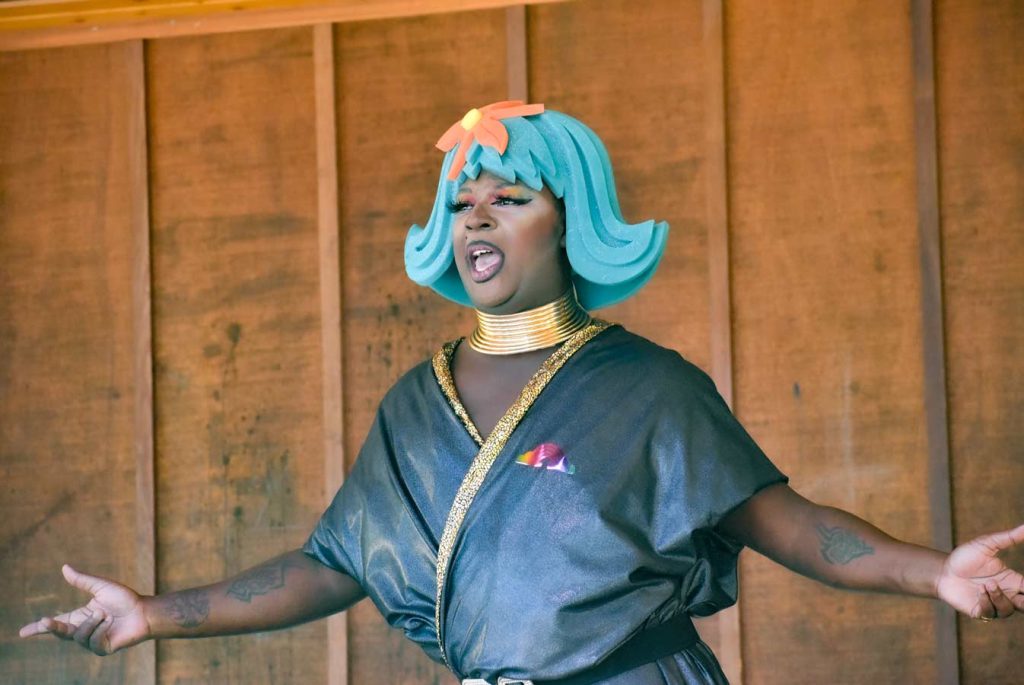 A colorful, dynamic and talented list of performers made sure that fun, music and dancing took center stage to entertain not only the pockets of eventgoers that squeezed in beneath the shaded trees, but the visitors who weren't put off by the sun and high heat.
Performers were led by Gina Touche and the Touche family of well-costumed performers, Red Curtain Theater, Kaylin Bosley, Ariyu Intuthis, Diesel BlazeHaze-Desire, Levi U. Wanton-Moore, AceCase, Banana Anesthesia, Ain't Kit'n Around, Fruity Tootie, Stephanie Pink Rose and Ava Delite.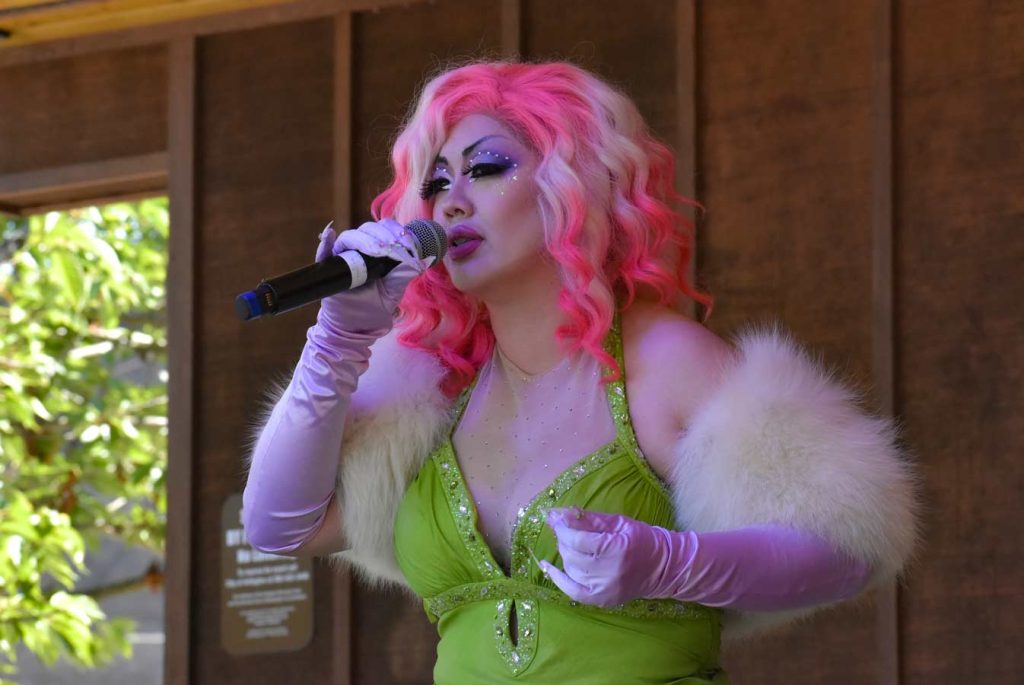 Kit Williams of Everett was one of several performers who added music and dance to the day's mix.
Williams, performing as Ain't Kit'n Around, said she thought the event was well planned, and a huge success overall.
What stood out most was the positive energy that everyone brought to the event.
"It was wonderful to see so much support, and everyone just living in the moment," she said.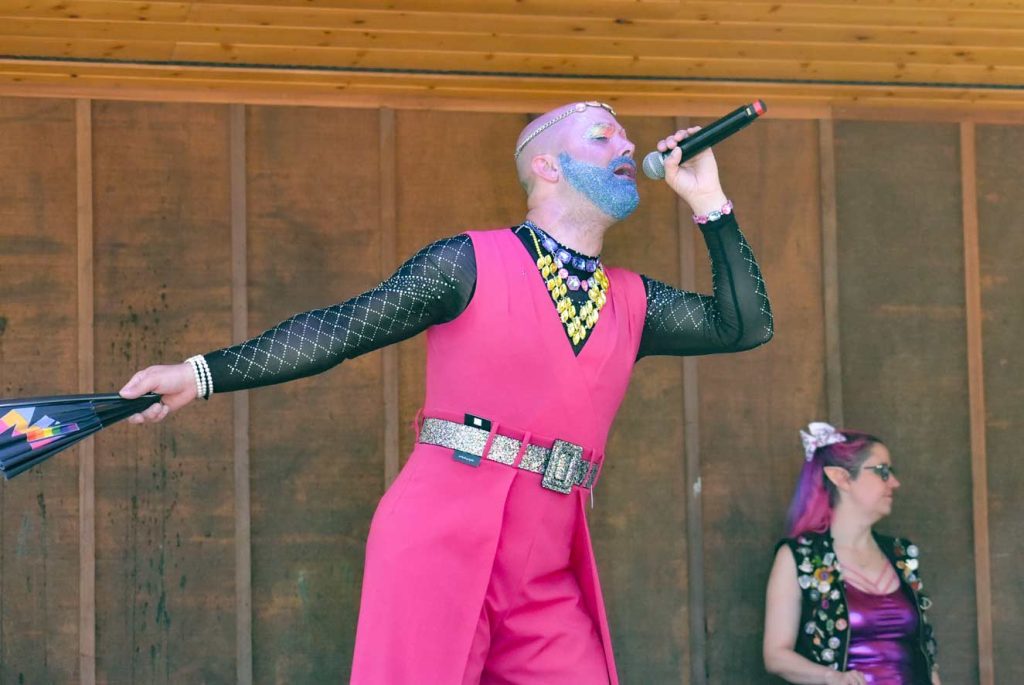 Stephanie Walker of Everett said she attended the Arlington event because "pride is an expression of what so many of us fought for. We deserve the same rights as everyone else, and this event is a reminder that we can be happy even when it seems like the country is moving backwards in progress sometimes."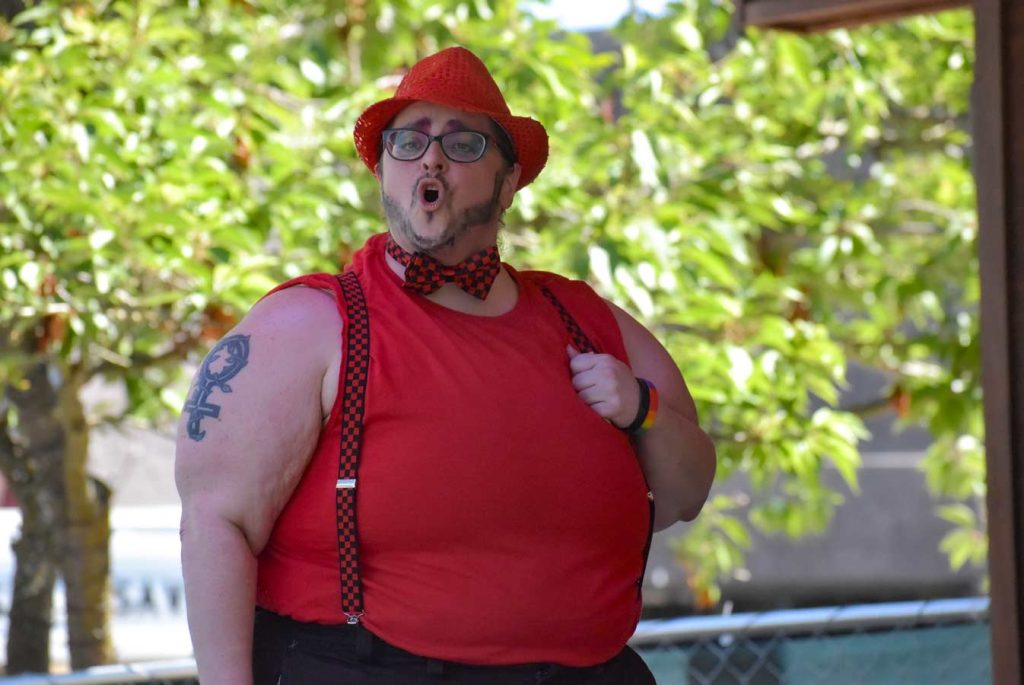 Another family who attended from Lake Stevens said they went to their first Pride event in that town. It was amazing, and it was lovely being part of the community, so we decided to come to Saturday's event and support the Arlington community.
Lake Stevens Cornerstone Bible Church Pastor Chris Green took a similar approach as other clergy present who were cordial and non-confrontational in their chats with Pride-goers. He handed out leaflets near the venue entrance that emphasized the Bible phrase "Put on the Lord Jesus Christ (Rom. 13:14).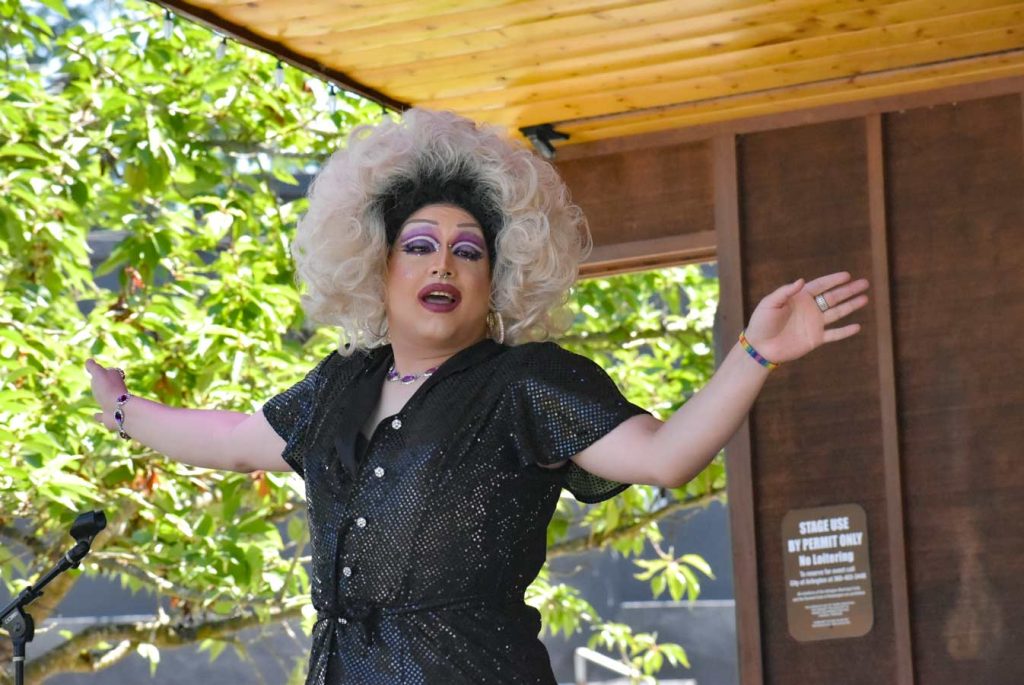 Gramore said one of the most heart-warming moments was seeing kids dancing in front of the stage, some who she recognized related to work that Arlington pride has done with high school students.
"That's why I put up with so much in the last few months to try to make this event happen was to let those kids know that there are adults who still love and support them with them being exactly who they are."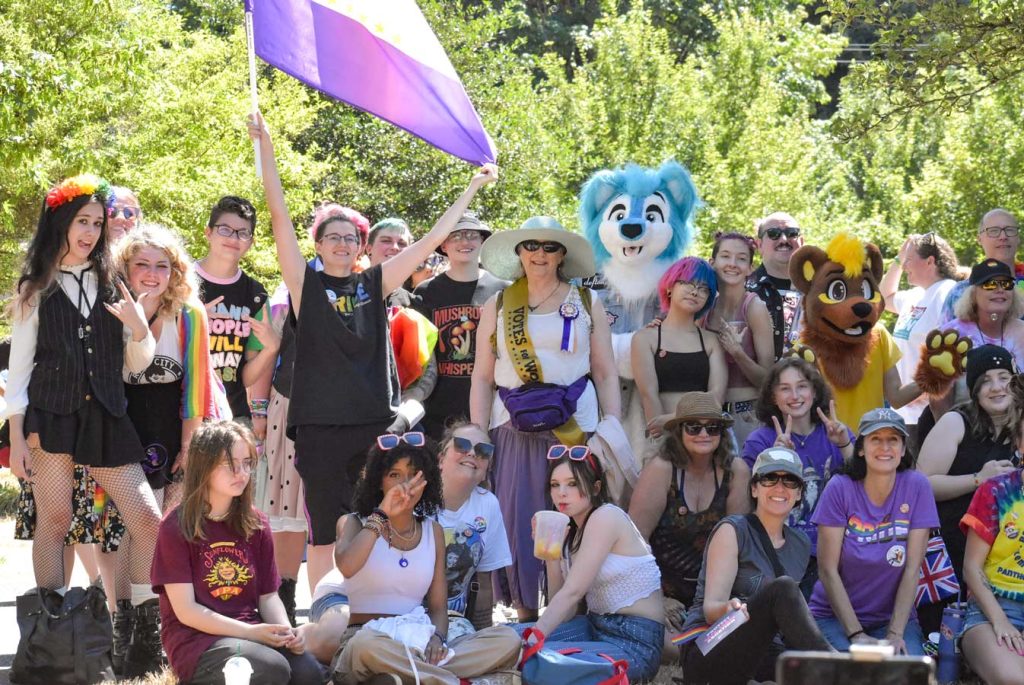 The first year, Arlington Pride had some counter-protestors, but organizers made sure that they used de-escalation techniques to reduce the chance of conflict when dissenters showed up. This year, police officers were onsite, and the city set up temporary fencing along Legion Memorial Park and Olympic Avenue to create more separation.
Compared to the first year's event, "Our message all along has been that we're here to make sure that people feel safe and loved and supported in their own community."
She can't wait for next year.