Homage senior services offering 5,000 FREE rides to qualifying adults 50+
Homage, a nearly 50-year-old organization that provides critical services to more than 25,000 Snohomish County seniors and adults with disabilities each year, is offering 5,000 free rides to qualifying older adults and people with disabilities.
Thanks to a Demonstration Grant for $12,000 from the 2023 AARP Community Challenge, a grant program that funds innovative, quick-action projects that inspire change in public places, 5,000 fare-free rides are now available to Homage's Transportation Assistance Program (TAP) riders.
Homage was one of 310 grantees chosen out of 3,600 applications to receive the grant from AARP with additional funding support from Toyota Motor North America.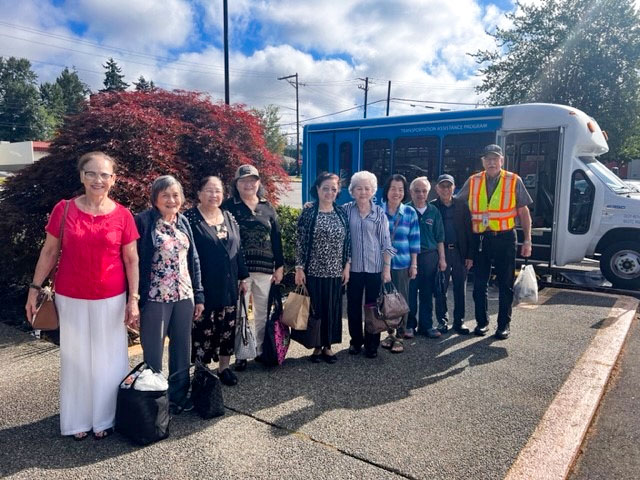 5,000 Fare-Free Rides Available Now | Call to Qualify
Older adults and people with a disability in Snohomish County can call 425.423.8517 to complete a quick application to determine if they qualify for the free-ride program.
Riders are notified immediately.
A link to learn more can be found here: https://homage.org/2023-aarp-community-challenge-grantee.
"When we learned that AARP was bolstering its investment in rural communities, mobility innovation, transportation options, and health and food access, we immediately threw Homage's hat in the ring for a chance to receive a grant to help make Snohomish County more livable for residents of all ages," said Juli Rose, Senior Director of Government Funded Programs. "We are honored to have been selected, and we are especially elated that they were able to see the tangible value this project will bring to Snohomish County." 
"The ability to offer more people access to reliable transportation is invaluable," said Homage CEO Keith Bell. "Study after study shows how when folks can easily get to medical appointments, supermarkets, and recreational activities, it decreases social isolation, reduces the risk of depression and dementia, and offers a whole host of significant benefits. We are immensely grateful to AARP for recognizing and helping to meet this critical need."