DelBene delivers Homage $250,000 to expand transportation to seniors
LYNNWOOD, Wash., August 14, 2023—Representative Suzan DelBene (WA-01) delivered a $250,000 ceremonial check to improve transportation for seniors across Snohomish County today, Monday, August 14, at Homage — a senior services center headquartered in Lynnwood.
The funding will be used to expand transportation options in rural eastern Snohomish County, specifically between Snohomish and Index along US-2 and Monroe to Bothell along US-522, by funding a brand-new bus, a driver, as well as marketing and outreach to get the word out. This route will serve more than 120 door-to-door trips per month.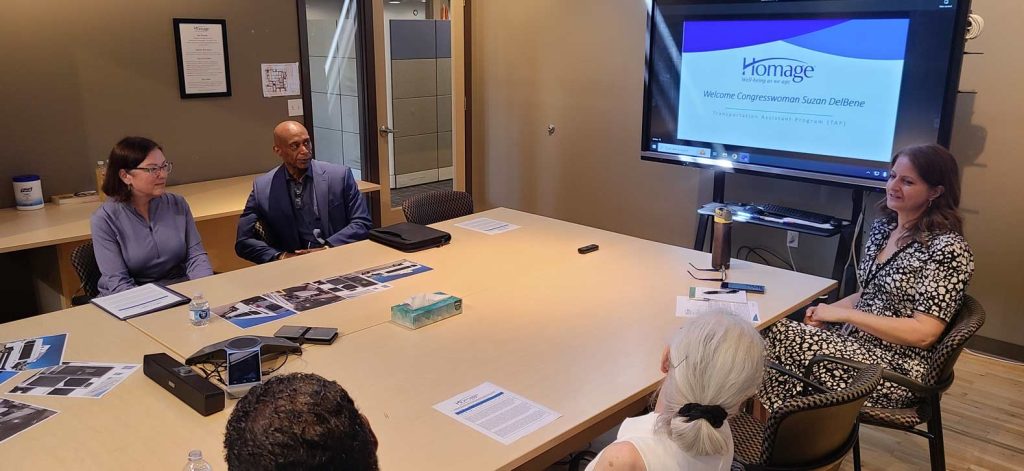 "This really makes a huge difference. We know how isolated some members of our community can be. If you look at a map of Snohomish County it's a big, big, area, but there's tons of areas where there aren't good transportation options. If you're in a wheelchair, or have a disability, or just can't drive a car it can be really difficult," DelBene told the Lynnwood Times. "This funding allows Homage to buy another bus and be able to serve, in particular the Highway 2 corridor as well as the 522 corridor in eastern Snohomish County."
"This is not possible without Representative DelBene's help. We're able to get out into rural areas and provide services, transportation, we otherwise would not be able to get around," said Keith Bell, Homage CEO. "We're excited about that and the response we've had from our community is really positive."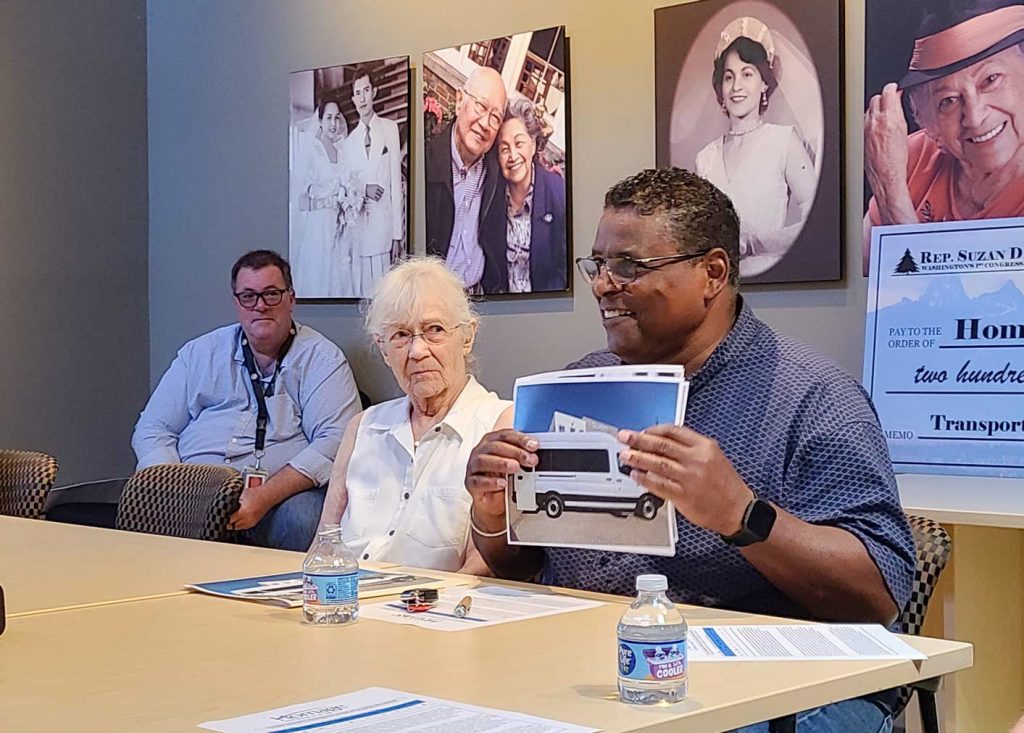 Homage's Transportation Assistance Program (TAP) is a transportation program that provides service to seniors and people with disabilities by picking them up at home and delivering them to their desired destination or, if needed, a connecting transportation network such as DART, Everett Paratransit, or ACCESS. By doing this, TAP connects its clients to essential services such as healthcare providers, dialysis appointments, congregate meal sites, shopping, schools, senior centers, recreation, jobs, and much more.
The underserved rural areas east of I-5 is where TAP specializes the most, where most transportation agencies find it too expensive to maintain service for thousands of people living east of Monroe along US2 to Index. Typically, transportation agencies don't service this area because it requires longer labor hours, more maintenance, and the additional gasoline needed to accommodate residents living in lower density population areas.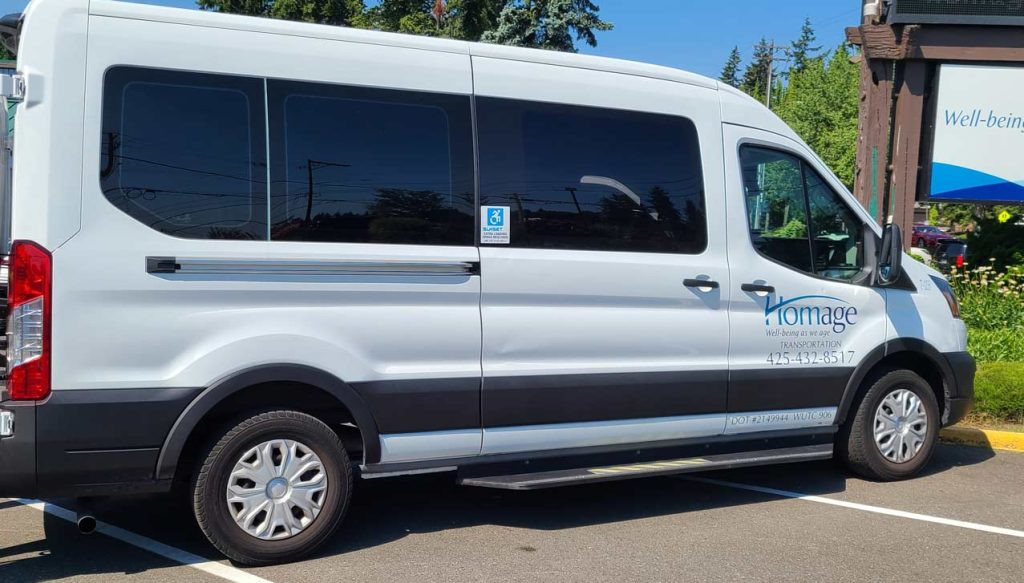 Community Transit does offer a fixed route in this area for ambulatory riders, but it does not serve residents outside a 3/4 mile of city limits. Currently there is also no public transportation between Gold Bar and Index in Snohomish County. Because of these, many residents in rural areas need a car to reach nearby public transportation but for seniors and people with disabilities this is not always an option. That's where Homage's TAP program comes in, presenting an opportunity for independence and a greater quality of life for residents living in these underserved areas whose needs are the same as others living in denser populated areas.
The recently awarded funding, which DelBene secured during the Fiscal Year 2023 government funding law, will support a new TAP pilot program that expands the TAP services with a new bus and expanded service routes. The new project will also help generate jobs, DelBene's office said, by adding a driver position, working 40 hours a week, supported by a dispatcher, scheduler, vehicle service supervisor, and program manager.
After the pilot program ends in 12 months, Homage can use the data gathered to leverage for additional funding, while demonstrating how regular and reliable transportation can benefit this area.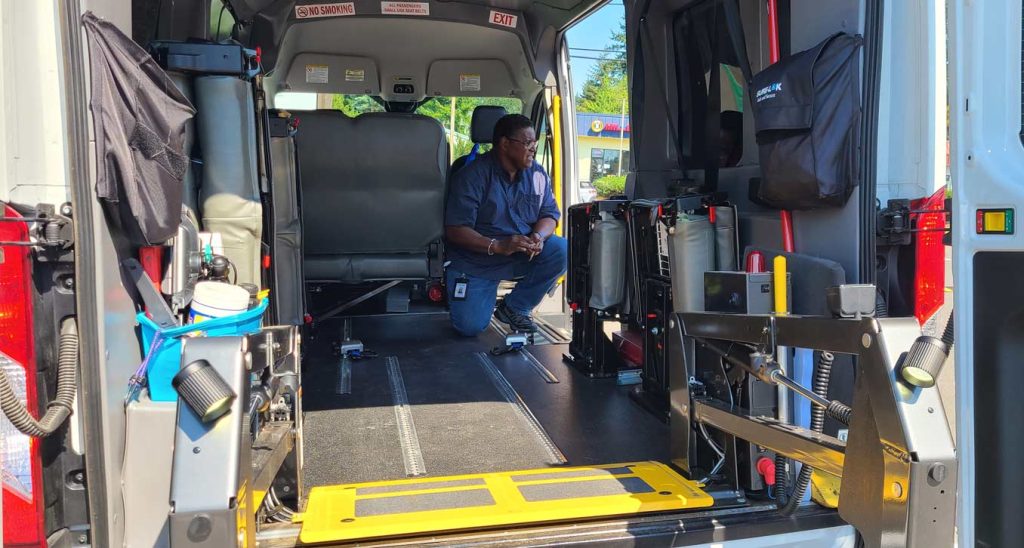 Homage began offering on-demand rides on July 6, 2023. Within their first month of service, they spent 138 hours transporting individuals through 98 one-way trips, traveling more than 2,300 miles. The nonprofit is currently shopping for its second bus with the goal of holding two wheelchairs and eight people that costs approximately $93,000.
In a 2022 TAP rider survey Homage conducted, 100% of users said the service decreased transportation barriers, 100% said it enabled their social contacts, 90% said it increased critical services, and 100% said they would recommend it.
"People have places to go and it's going to take a lot of miles to get them there," said Juli Rose, Senior Director of Government-Funded Programs at Homage. "I think one of the most rewarding things, in sitting in a front row of the transportation assistance program, is seeing us focusing and filling a gap."
Rose shared a story about an elderly gentleman TAP recently picked up who shared he was "thrilled" that the service could pick him up in Index, where even ride shares like Uber or Lyft sometimes won't even go, so he can now visit his granddaughter on a regular basis.
DelBene's office has just submitted $49 million for 15 community projects for Fiscal Year 2024 that will go into the appropriations packages which Congress will then need to pass before the fiscal year begins on October 1.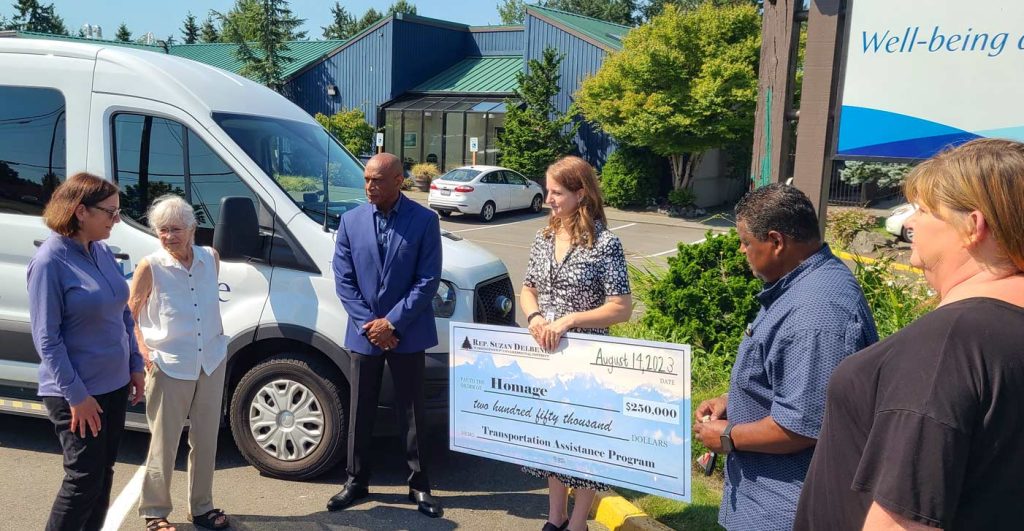 DelBene informed the Lynnwood Times she suspects a looming government shutdown because "Congress is definitely divided" and the House has become "very" partisan, making cuts to appropriation bills even going beyond the agreement with President Biden after the default crises was avoided.
There are twelve appropriations bills that need to pass to fully fund the government, which have to be passed by the House, the Senate, and signed by the President. Many of those bills have not passed and many House Republicans are even struggling to agree with one another, DelBene added using the example of the agriculture appropriations bill which was removed from the calendar at the end of July after House Republicans could not agree on the bill being bipartisan.
"I'm very concerned House Republicans are leading us to a shutdown," DelBene told the Lynnwood Times.
Homage is the largest provider of services for older adults and people with disabilities in Snohomish County. Each year more than 25,000 individuals benefit from Homage's core programs in food and nutrition, health and wellness, home repair, social services and transportation. The majority of people receiving its services live on limited incomes and are in need of services that help them maintain their health, independence, and quality of life.