Public invited to several events by the Snohomish County Sheriff's Office to strengthen community
Snohomish County, Wash., August 14, 2023—The community is invited to participate in several events over the next two weeks by the Snohomish County Sheriff's Office to build and strengthen communities.
The Snohomish County Sheriff's Office in partnership with Mukilteo Police Department, we will be hosting Coffee With a Cop from 9 a.m. to 11 a.m. at Starbucks located at 12502 Mukilteo Speedway in Mukilteo on Wednesday, August 16. Meet with local and county law enforcement to engage and share what is most important to you!
This is a kid friendly event, and the Sheriff's Office swag will be available for any "junior deputies" who stop by!
On Saturday, August 19, the community is invited for the second annual Sheriff's Office Community Street Fair! The 12600 block of 8th Ave W in south Everett will be closed off for a day of fun with our community.
You don't want to miss this event: bouncy house, foam party, touch-a-truck, FREE food – hotdogs, Subway, La Palmera, cotton candy, the kids' copter, SWAT bearcat, fire truck, music, on-site family resources and more!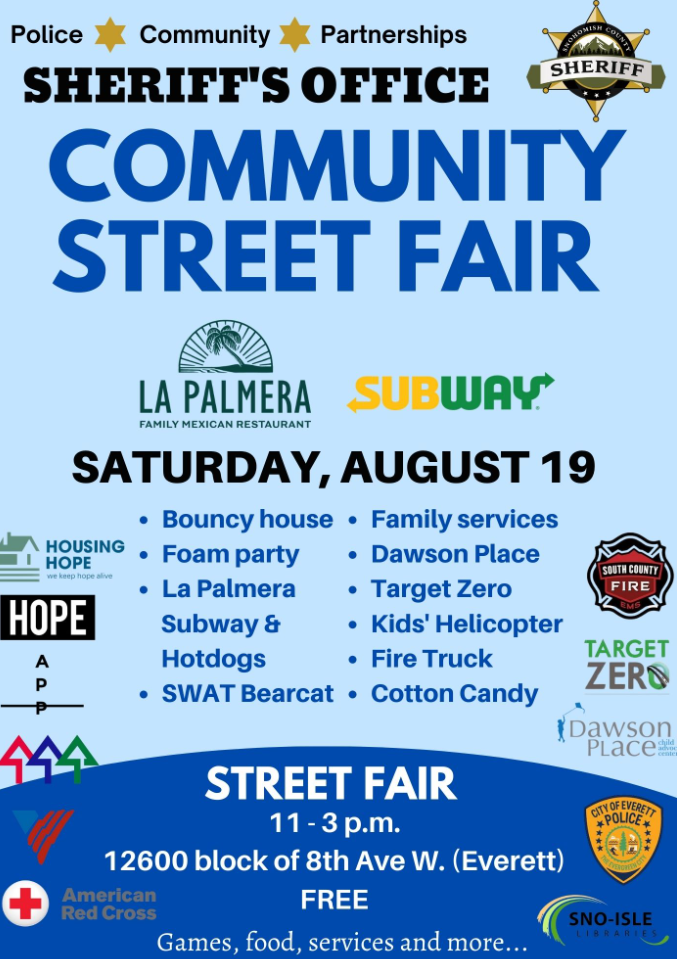 The Snohomish County Sheriff's Office is collecting Back-to-School supply donations for local families in need. Residents can drop off items at the Snohomish County Jail lobby (3025 Oakes Ave, Everett) Monday through Friday from 8 a.m. to 6 p.m. until Wednesday, August 23. The Sheriff's Office greatly appreciate your generosity!