Upcoming entertainment at this year's Mukilteo Lighthouse Festival
MUKILTEO, Wash., September 4, 2023—Delicious food, warm sunshine, laughter with friends, and bright fireworks…the Mukilteo Lighthouse Festival is back for 2023! The Lighthouse Festival is set to run for three days, from Friday, September 8 to Sunday, September 10.
The Mukilteo Lighthouse Festival — originally named the Mukilteo Pioneer Festival — was created to increase awareness of Mukilteo history while simultaneously earning money for a future museum. The first ever festival took place on September 10, 1966, and though it was a resounding success, was unable to meet fiscal expectations.
By 1971, the City was unable to continue the festival due to waning funds and lack of volunteers. But despite financial challenges, unwavering support from city leaders, businesses, and individual volunteers enabled the festival to continue for over 50 years with minimal disruptions.
As in previous years, the Mukilteo Lighthouse Festival will showcase its main attractions: the Mukilteo Lighthouse Parade on Saturday, September 9, starting at 10:30 a.m., Kiwanis Club of Mukilteo's annual Salmon Bake, Run A Muk 5k/10k, and Beer Garden.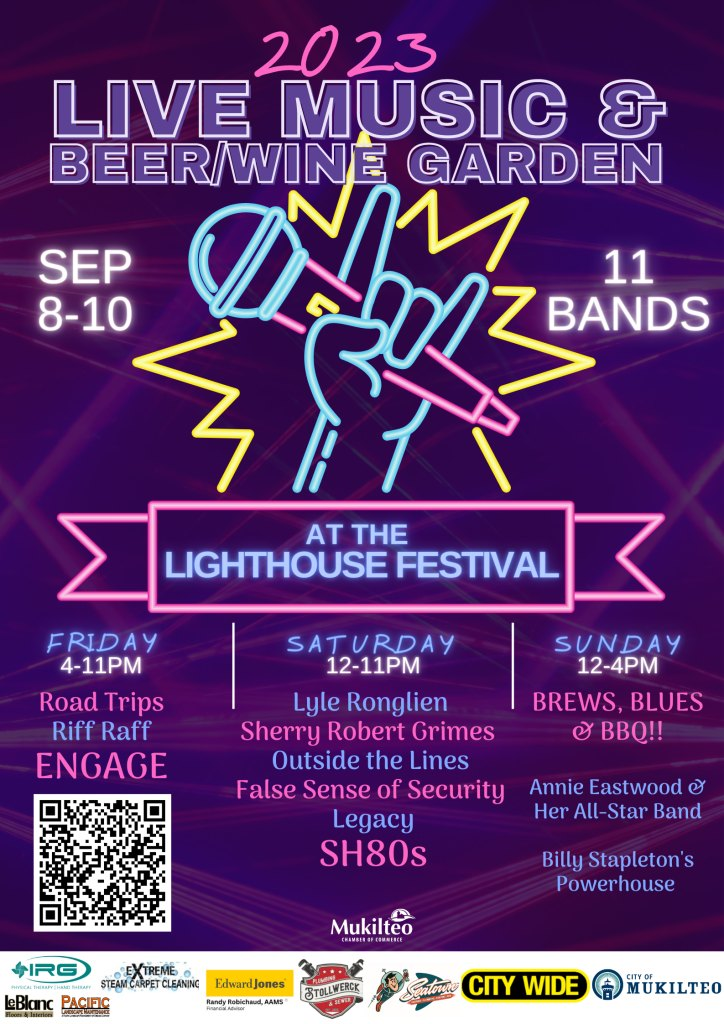 The Beer Garden is an event sponsored by the Mukilteo Chamber of Commerce and is a 21+ adults area only. Bands will be playing at the Beer Garden for all three days, and patrons are able to purchase beer and wine at the Garden.
The salmon bake remains a favorite among locals and has a large seating area for Mukilteo residents to enjoy freshly baked salmon.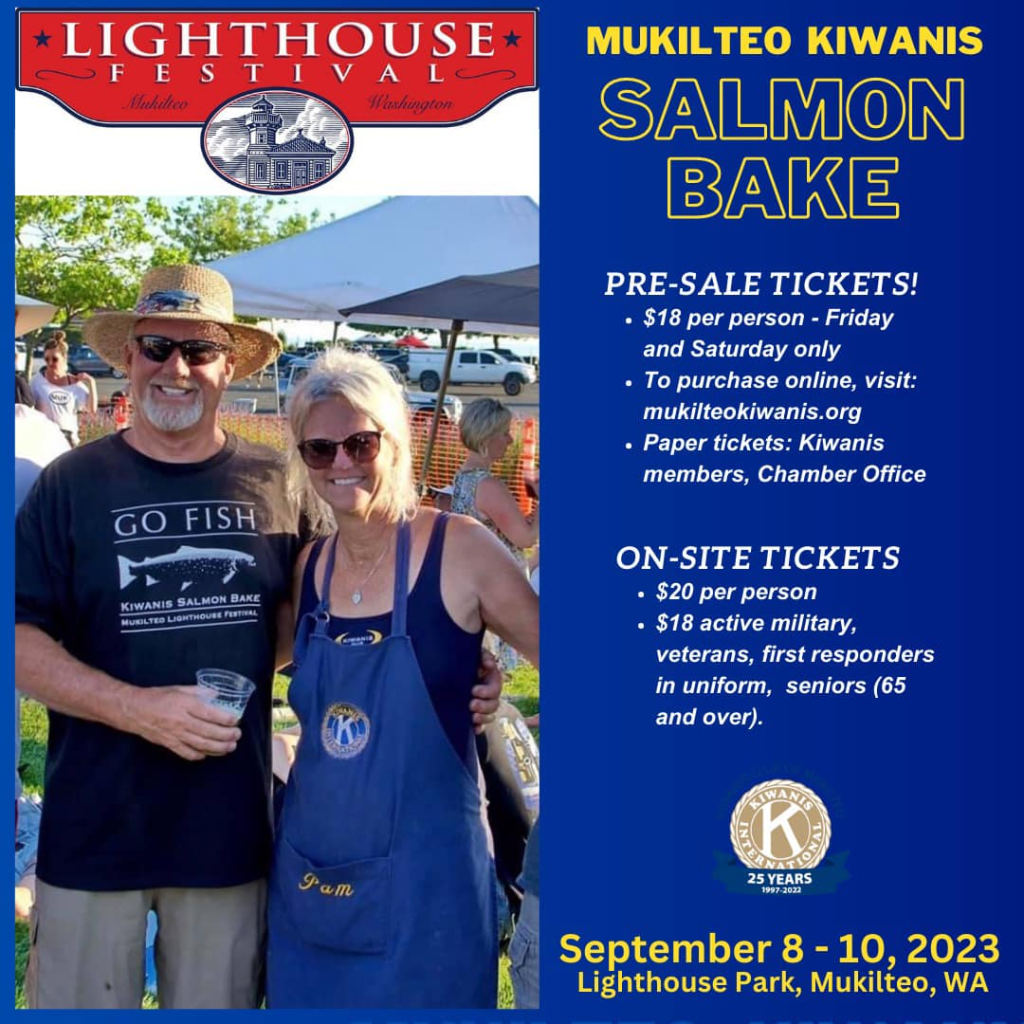 This year, the Mukilteo Lighthouse Festival will be hosting more vendors than ever before, with 20 food vendors and 64 marketplace vendors participating. The children's area currently includes four booths and five bouncing houses. Entertainment will also be different this year, from a Lion Dance to K-9s and K-pop to a Magician, the Family Stage is completely booked out during the festival. Also, McDonalds will be adding to the festivities by offering free French Fries during the Lighthouse parade.
"A lot to look at, a lot to see, Sit down and have a coffee, or a meal with your friends," Candance Felt, former president of Lighthouse Festival said. "There's plenty to do with your children, and with the entertainment stage, there's something for everybody all day long. It's a beautiful atmosphere. It really is."
With a bigger Mukilteo Lighthouse Festival comes enhancements to parking and traffic control for vendors with new a software called Community Boss that will assist with parking arrangements. The Volunteers will now escort the talent to the Family Stage providing a hassle free experience getting to and from the stage.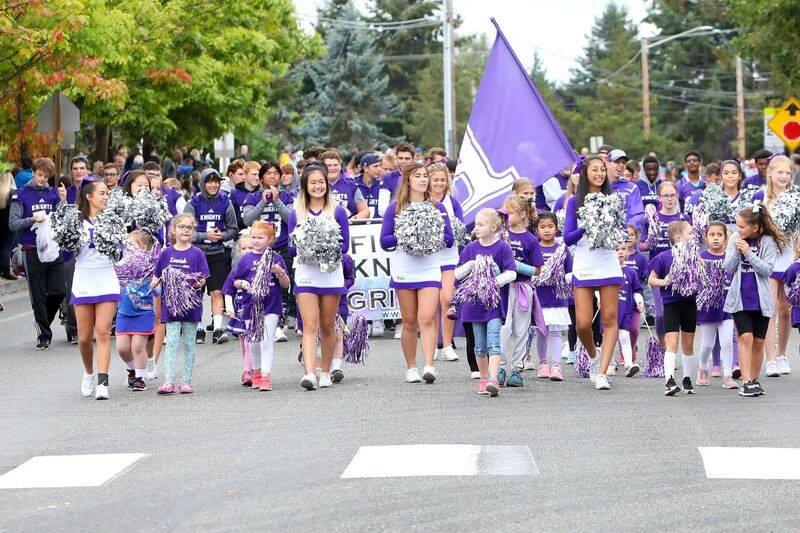 Because the Port of Everett purchased the old ferry terminal property and turned it into a parking lot, this allows for more parking near the festival. Though this parking is paid, it's an option for those who would rather not use the shuttle buses. Shuttle buses will still be available for those who prefer not to drive, offering transportation from locations such as Kamiak High School and Olympic View Middle School to/from the lighthouse.
Volunteers play a crucial role in making the event a success, and the festival is looking for community members willing to take action and assist. To learn more about volunteer opportunities, click here. One cannot have a festival without sponsors. To be a sponsor of the festival visit https://mukfest.com/sponsors/.
For the latest updates, news, and highlights, follow the Mukilteo Lighthouse Festival on Facebook and Instagram.
Upcoming entertainment at this year's Mukilteo Lighthouse Festival
Mukilteo Lighthouse Festival Main Stage: Friday, September 8
Kamiak Barbershop Singing, 6 to 7 p.m.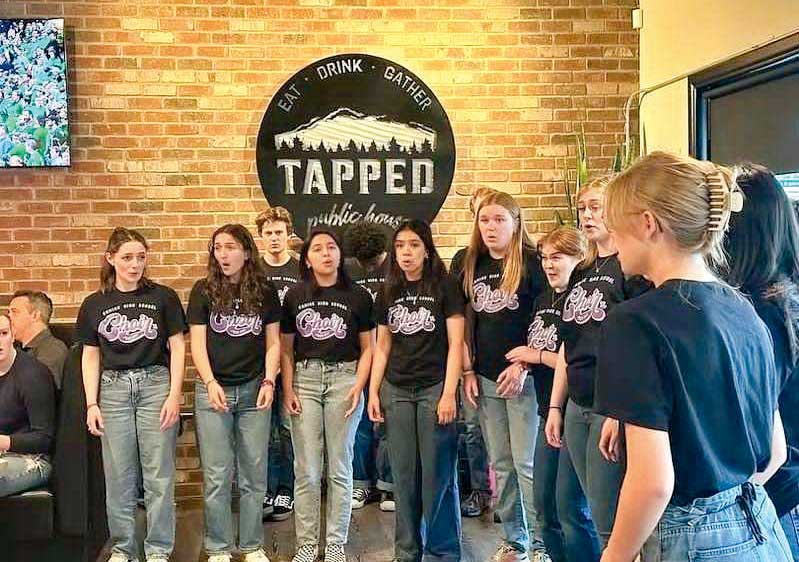 The Kamiak barbershop is a state ranked A Capella group that sings in a variety of community gatherings, in regional and state competitions, and hosts their own pops music concert every year. There are 20 members in the 2023-2024 school year, ranging from sophomores to seniors. The barbershop consists of three groups: one with all 20 members, named the MidKnights, another with 9 soprano-alto members, called the Starry Knights, and a tenor-bass group, with 11 members. The barbershop is lead by the Kamiak choir director Mrs. Duck, as well as by student leaders Kelsey Schaaf and Andrew Brown.
Mukilteo Lighthouse Festival Main Stage: Saturday, September 9
Reptile Man Scott Peterson, 12 to 1 p.m.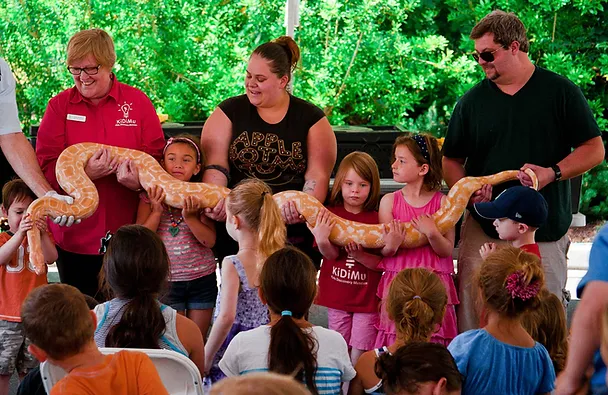 Zoologist, educator, and author, Scott Petersen, presents 12 live reptiles in a 40-minute show that teaches the importance of all animals in nature. Scott has been featured nationally on Disney's Bill Nye the Science Guy and on PBS' Biz Kids. He has appeared on Northwest Afternoon, Evening Magazine, and NPR Radio. Many corporations such as Microsoft, Boeing and Nintendo have used Scott to educate and entertain.
Square Dancing by Whirlybirds Square Dance Club, 1 to 1:45 p.m.
Dancing and Communing in Lynwood for over 40 years, the Whirlybirds Square Dance Club was started many years ago as a group of friends who wanted to have fun dancing and along the way. Come on by, join a square, and have fun!
K9's Meet and Greet with Police Dogs, Public Safety Message by Snohomish County Sheriff's Office, 2 to 3 p.m.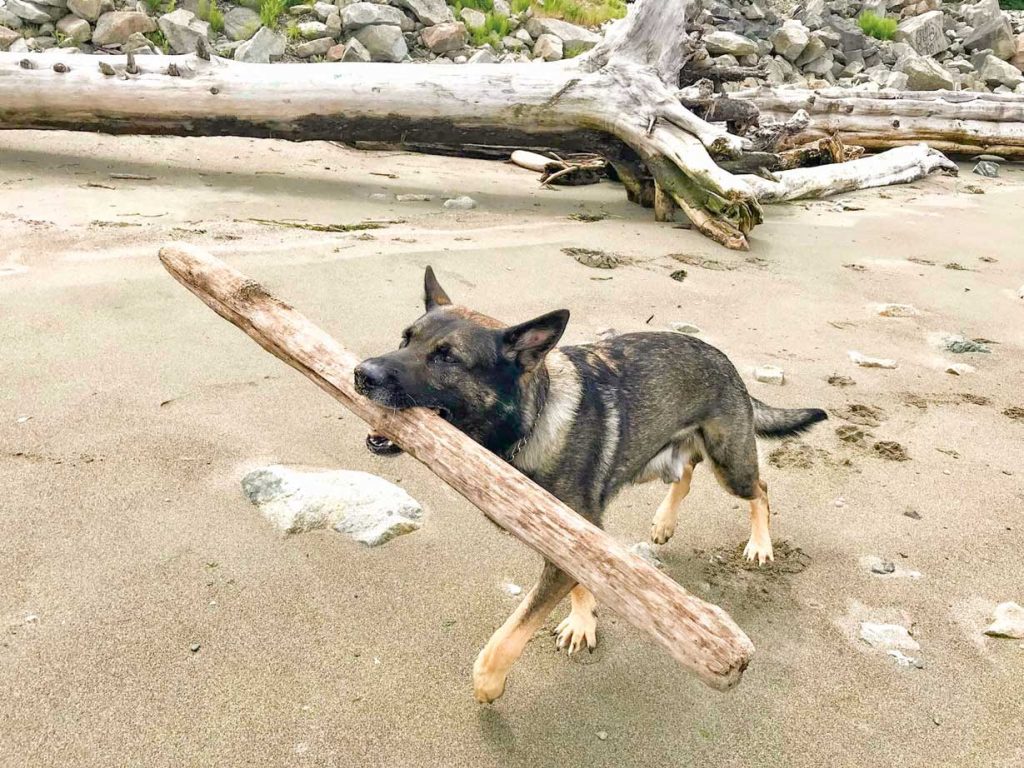 The men and women of the Snohomish County Sheriff's Office are committed to serving its community with dignity, integrity and pride. Sheriff Adam Fortney is proud to lead his uniformed deputies and dedicated civilian personnel as they work every day to provide professional and dedicated service to Snohomish County. The agency's motto is Lead the Way, which is reflected in everything they do to serve and protect communities.
Tae Kwon Do by Master Cho's Tae Kwon Do, 3 to 3:30 p.m.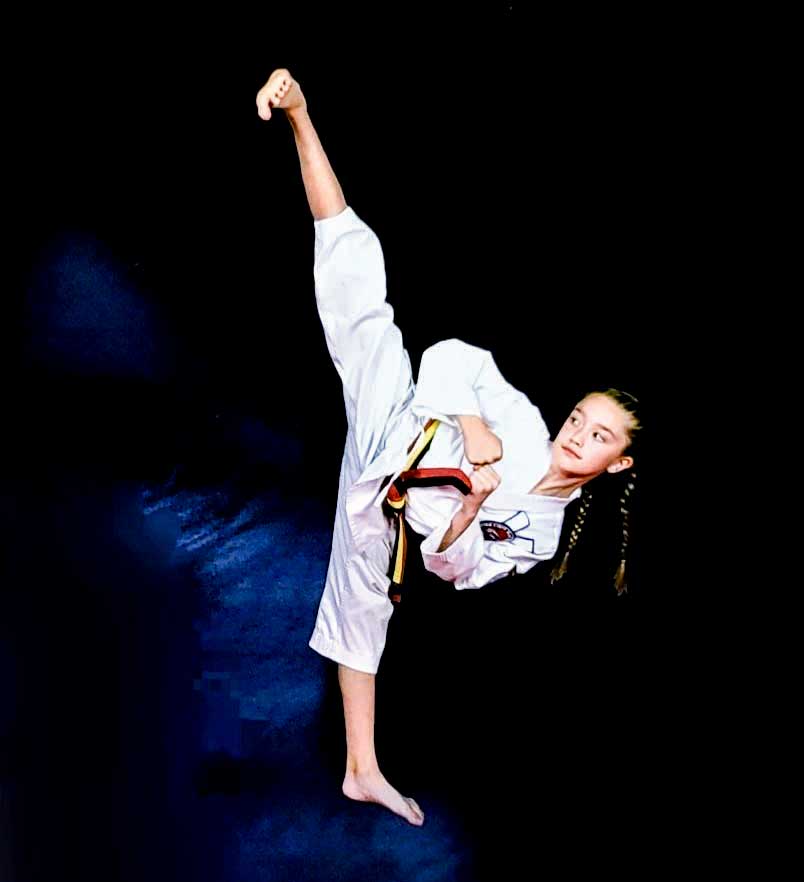 Master Cho's Taekwondo has been serving the greater Lynnwood area for over twenty years. Led by beloved Grand Master Cho Ki Seung, Ninth Degree Black Belt in Kukkiwon Taekwondo, the school focuses on providing its students with a balance of physical activity, mental discipline, and personal development through the study of traditional Taekwondo — helping to sharpen students' focus and discipline wherever they may go. Master Cho's Taekwondo has participated in the festival and parade for a number of years — and "the school is honored to be able to," says Grand Master Cho. Coming together to help bolster and foster community within the area is something the school takes pride in doing, and Grand Master Cho actively encourages students to be leaders and examples within the communities wherein they reside.
Website: masterchostaekwondo.com
Lion Dance and Martial Arts by NW Kung Fu, 3:30 to 4 p.m.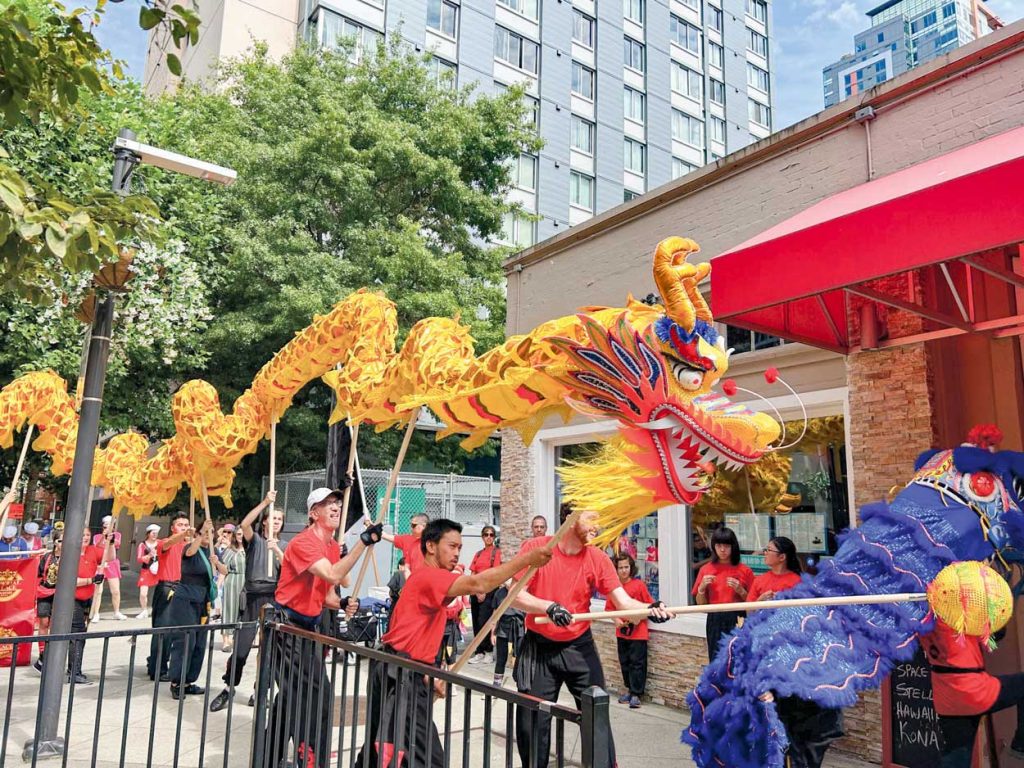 Performed by kung fu practitioners, traditional Lion Dance is a symbol of good luck, hope, happiness and celebration. Performed throughout the year for joyous events, the Chinese Lion Dance and Kung Fu in Seattle is most seen during Chinese New Year festivities. People from all over the world watch the lion dance in celebration of what is to come and delight in the sounds and beats of the drum.
Website: https://nwkungfuandfitness.com/
Modern Dance by Allegro Dance Studio, 3:30 to 4 p.m.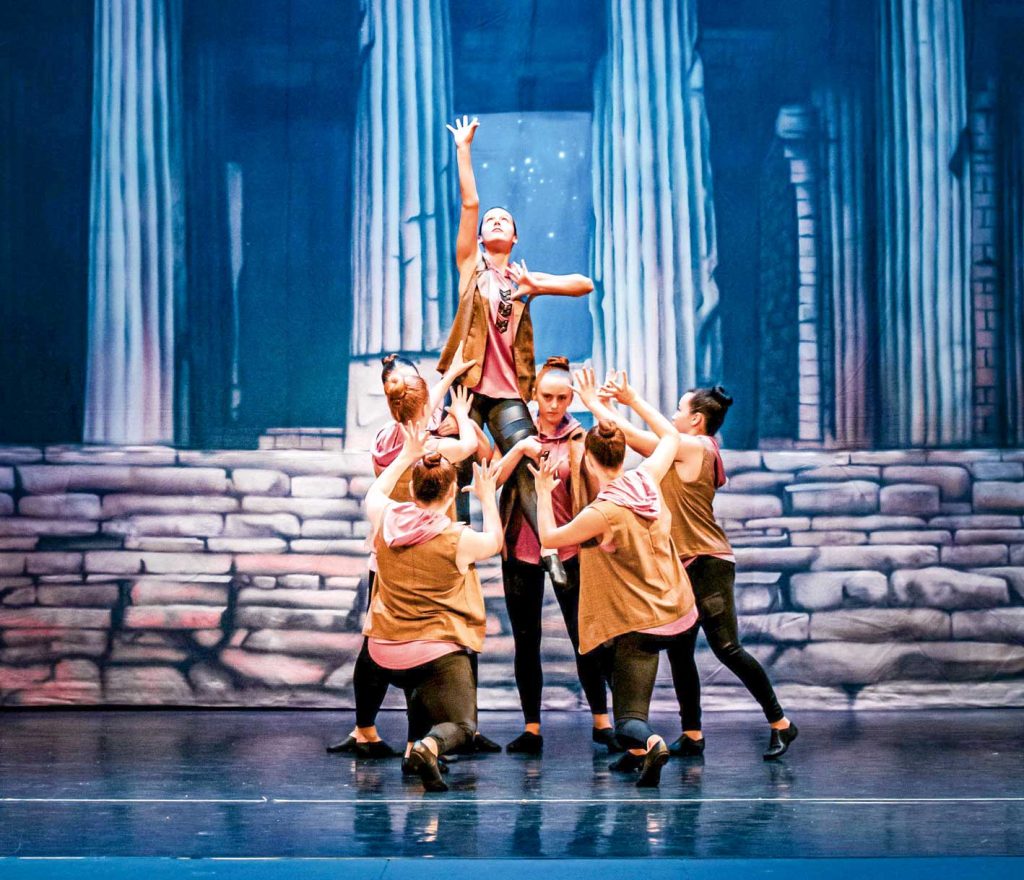 The Allegro Dance Studio's Dance Team in Mukilteo is a dynamic group of 29 talented dancers who have captivated audiences with their performances. Originally founded in Mukilteo in 1998, this exceptional dance team has grown into a local sensation.
Under the guidance of Shelley Etherington and numerous staff, the team has earned a reputation for their precision, creativity, and versatility in various dance styles, including contemporary, hip-hop, ballet, and jazz. They have consistently wowed audiences at regional competitions and community events, earning numerous accolades and awards along the way.
Beyond their impressive dance skills, this team embodies unity, discipline, and the joy of expression through movement. They are not just a team; they are a family, united by their love for dance. Allegro Dance owes it's future to a dedicated group of parents who have given their precious time and resources to the new location in Mukilteo!
Website: Allegro Dance Studios (danceallegro.com)
Tae Kwon Do by Taekwondo Way, 4:30 to 5 p.m.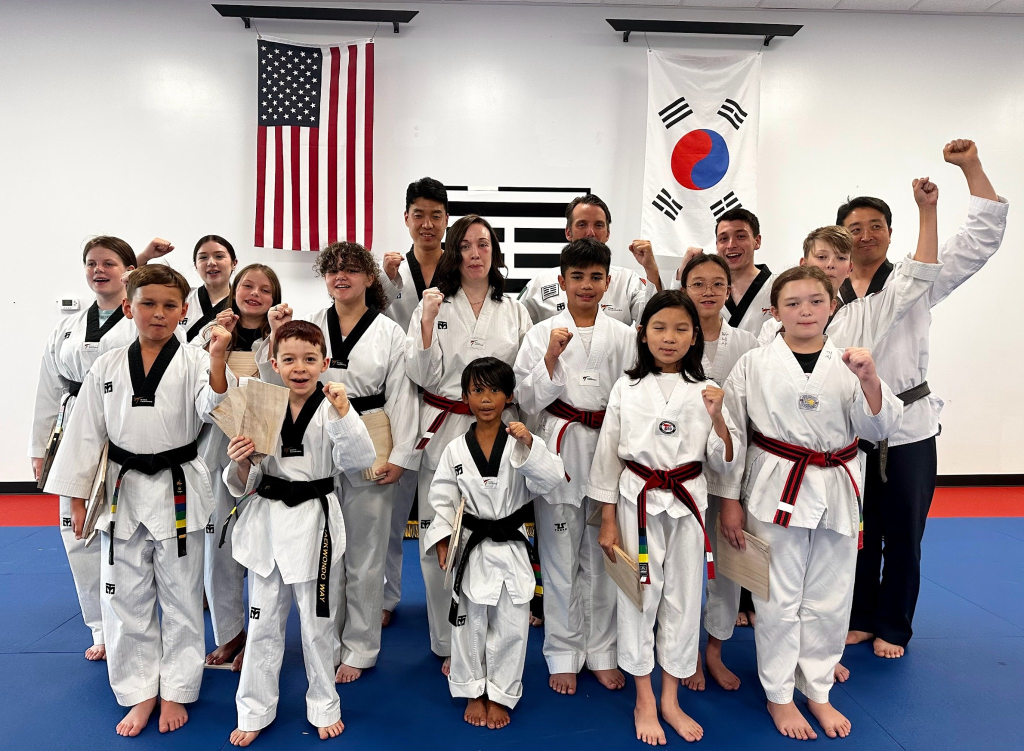 Taekwondo Way's mission is to empower students with the life skills of Taekwondo: Courtesy, perseverance, integrity, self-control, and indomitable spirit. Building these character traits through the rigors of Taekwondo training, students develop the confidence and responsibility needed to be leaders in their own lives and in their communities.
Taekwondo Way is staffed with a professional team of Black Belt instructors who receive ongoing education and training each week. All of our instructors are passionate about teaching the sport, art, and life skills of Taekwondo!
Website: Taekwondo Way | Martial Arts in Mukilteo & Snohomish
Belly Dancing by RakasaFit, 5 to 5:40 p.m.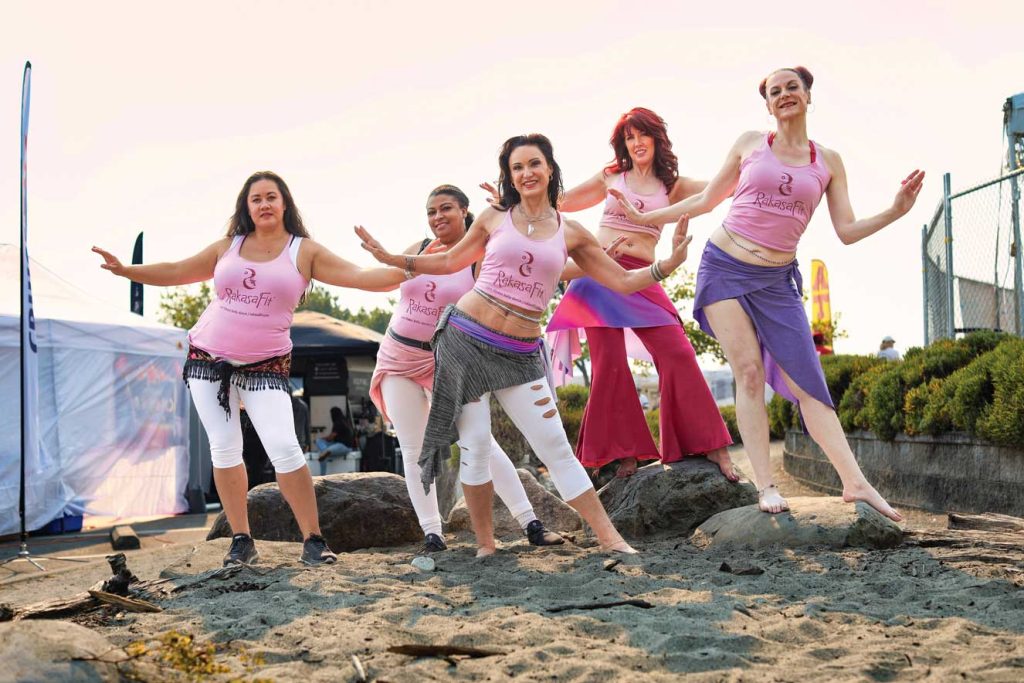 Belly Dance by Suzanna, RakasaFit, and Moon Sirens, presenting electrifying belly dance followed by an audience-participation workout on how to move like a belly dancer.
RakasaFit™ encompasses belly dance movement with strength-building cardio into one complete core workout — a truly feminine form of training that welcomes everyone and supports all levels. Classes and instruction are online and in-person, and there is also instructor training and certification.
Harnessing the benefits of belly dance in a fitness format that brings people of all walks of life together, Seattle-based belly dance professional and fitness devotee Suzanna Davis founded RakasaFit™ in 2017. The flowing structure allows participants to think less about choreography and focus on movement quality. It's an excellent way to stay in shape and regular practice leads to improved stamina, stability, range of motion, technique, posture, physical expression, and strength in all activities.
At 5pm on Saturday, September 9th at Mukilteo Lighthouse Festival, RakasaFit™ presents a variety of belly dance and invites everyone to participate in a mini-workout with several local instructors!
Website: http://www.rakasafit.com
Scandinavian Band music by Six Feet Back, 5:40 to 6:30 p.m.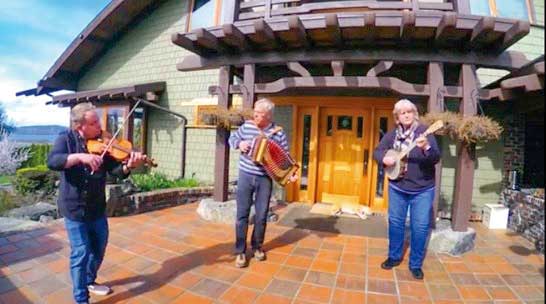 The Six Feet Back Band plays tunes from Norway, Denmark and Sweden. They began six feet back in Mukilteo in April 2020 with Nick Ericson on torader and Jared MacFarlane on fiddle, and currently features a flautist, Lyn Jackson on guitar and banjo as well as other local Scandinavian folk musicians. Check out the band's YouTube channel by searching for Six Feet Back Band.
Website: Six Feet Back Band
Mukilteo Lighthouse Festival Main Stage: Sunday, September 10
Indian Classical Performance, 12 to 12:30 p.m.
A cultural and educational performance in a classic Indian tradition.
Drum Circle by the Rumble Group, 12:30 to 1:15 p.m.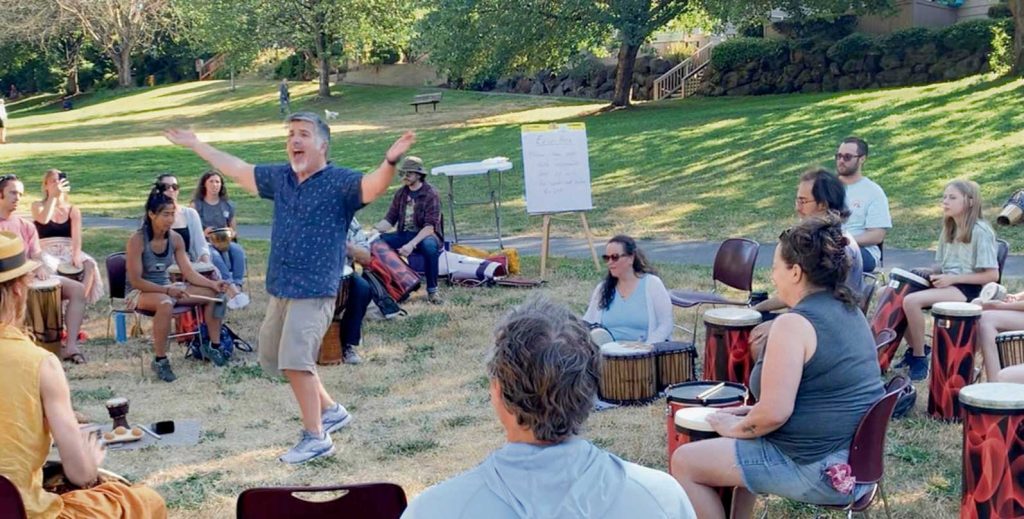 Come find your inner rhythm groove at the Drum Circle brought to you by Jim Boneau & The Rumble Group. Our family friendly, community drum circle is an opportunity for everyone to join the band. Jim and John Hayden from JamtownLive will help everyone connect around a common beat and explore their rhythmical potential. Jim and John lead rhythm events across the Northwest at schools, elder care centers, workplaces, and community events.
We supply the drums and percussion; you supply the spirit and willingness to share and connect with your community. Group drumming is something everyone can join and enjoy – no experience needed. And you'll leave energized and enjoying all the benefits of playing music with your friends.
For more information, check out therumblegroup.com or jamtownlive.com. Jim and John are both certified drum circle facilitators and trainers for Village Music Circle, the global leader in drum circle facilitator training.
K-Pop Victorious Dance Company, 2 to 2:30 p.m.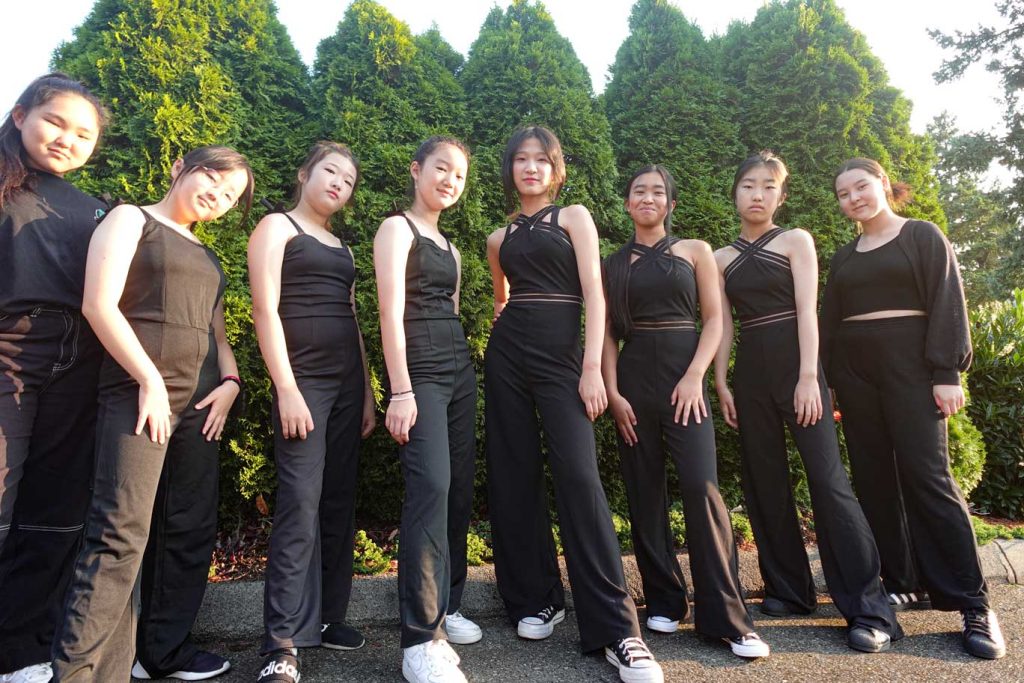 VDC is the Initial of the Victorious dance company, and has won awards in various dance competitions. VDC is a Seattle youth dance group that can show various and high skills of K-Pop stage. VDC plans to focus more on promoting all aspects of K-Culture to American society.
For more information email: elinaberko@gmail.com
Modern Dance by Applause Studio, 2:30 to 3 p.m., and singing from 3 to 3:30 p.m.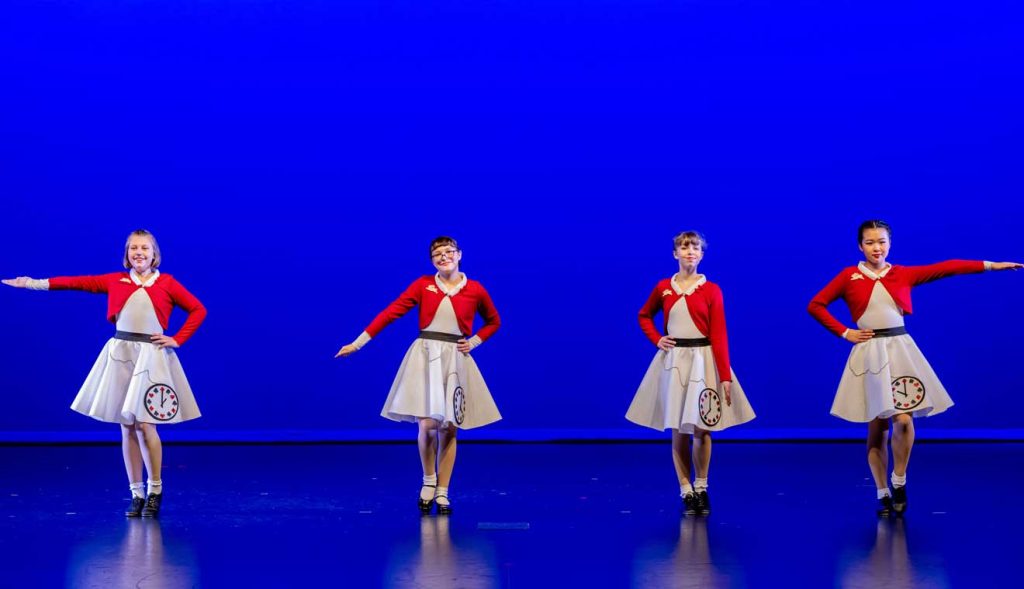 Applause Studio is located near Silver Lake in Everett. Its team performs at multiple events throughout the Puget Sound area (and sometimes beyond!). Applause Studio is the ideal place to learn dance, theatre, and music for students ages 3 through adult!
Website: Applause Studio – Performing Arts
Nate Jester Ace of Illusions, Magician, 3 to 4 p.m.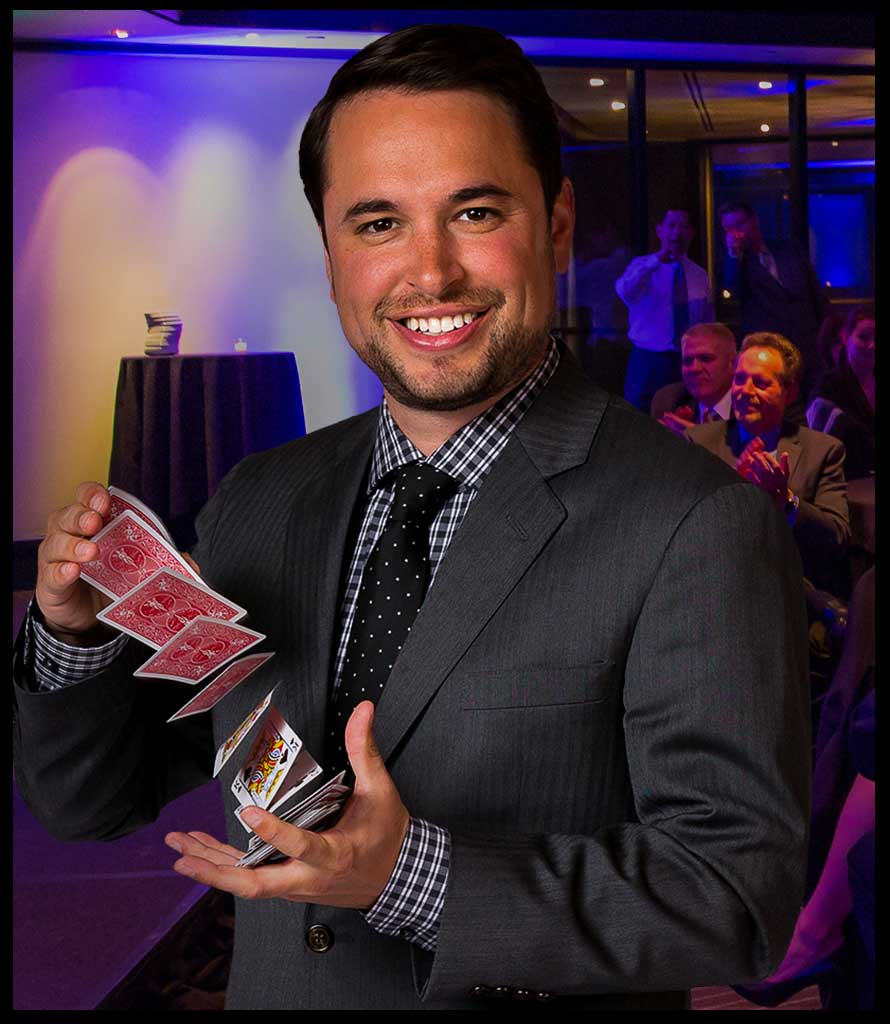 Nate Jester is a nationally known magician and mentalist who's performed illusions across the country. He's been featured on America's Got Talent and Netflix. He's also worked with Lionsgate Films Now You See Me 2 movie. Audiences of all ages will enjoy his magic, mind-reading, and clean comedy.
Website: Seattle Magician & Mentalist, Nate Jester – Ace of Illusions
Aztec Dance by Yolihuanzi Aztec Dancers, 4 to 4:30 p.m.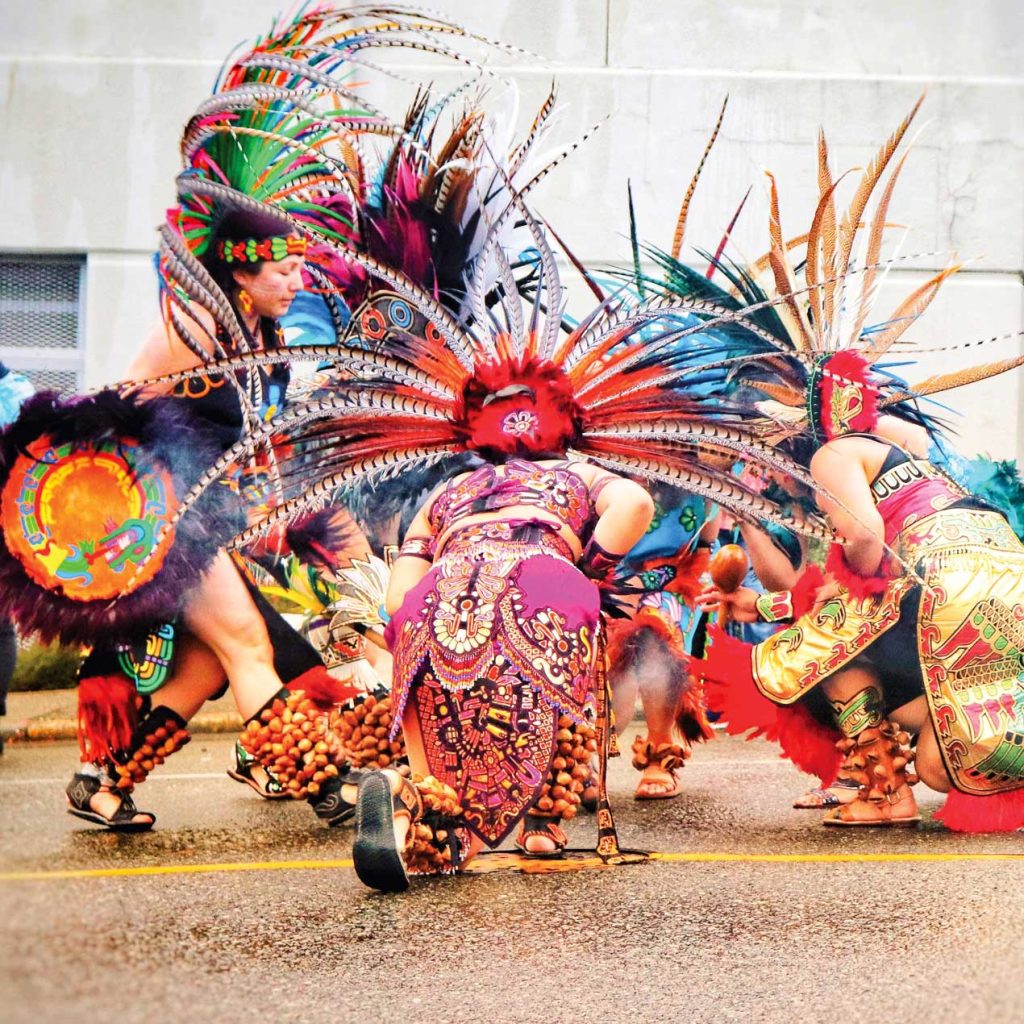 A cultural and education dance in the Aztec tradition.
Website: https://www.facebook.com/yolihuaniaztecdancers
---
Editor's Note: Emily Chu contributed to this article.