Court says FDA overstepped authority in anti-ivermectin COVID advisories
NEW ORLEANS, La., September 3, 2023—A three-judge panel of the United States Court of Appeals for the Fifth Circuit ruled Friday September 1, to revive a lawsuit against the Food and Drug Administration (FDA) and the Department of Health and Human Services (HHS) by doctors who each claim their individual ability to practice medicine was hindered because of the FDA's public information campaign against ivermectin for human use to treat COVID-19.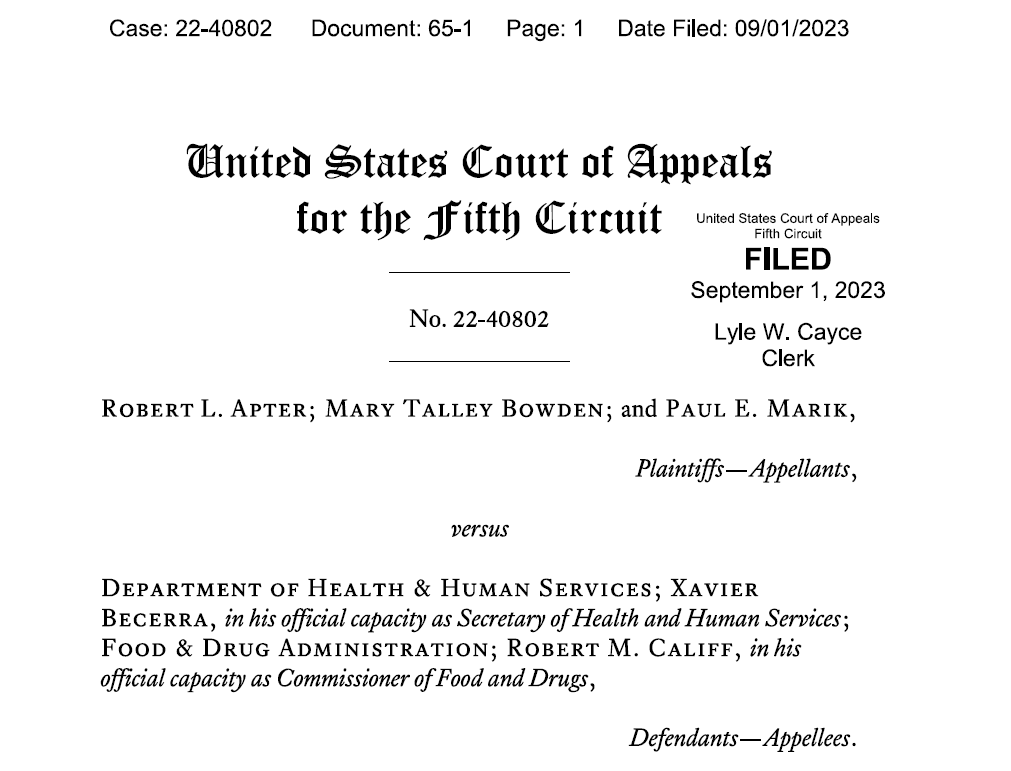 U.S. Circuit Judge Don Willett, in writing for the unanimous decision, began: "'You are not a horse'… The agency had discerned that some people were treating their symptoms using the animal version of a drug called ivermectin. FDA decided to target that practice via the 'horse' message-and others like it. The messaging traveled widely across legacy and online media. Left unmentioned in most of that messaging: ivermectin also comes in a human version (emphasis added). And while the human version of ivermectin is not FDA-approved to treat the coronavirus, some people were using it off-label for that purpose."
You are not a horse. You are not a cow. Seriously, y'all. Stop it. https://t.co/TWb75xYEY4

— U.S. FDA (@US_FDA) August 21, 2021
The three doctors who prescribed ivermectin off-label to treat more than 9,000 COVID-19 patients with more than a 99% survival rate—Drs. Robert Apter, Mary Talley Bowden, and Paul Marik—claimed in their lawsuit that the FDA exceeded its authority with its "horse" campaign and violated the Administrative Procedure Act by interfering with their individual "ability to exercise professional medical judgement in practicing medicine."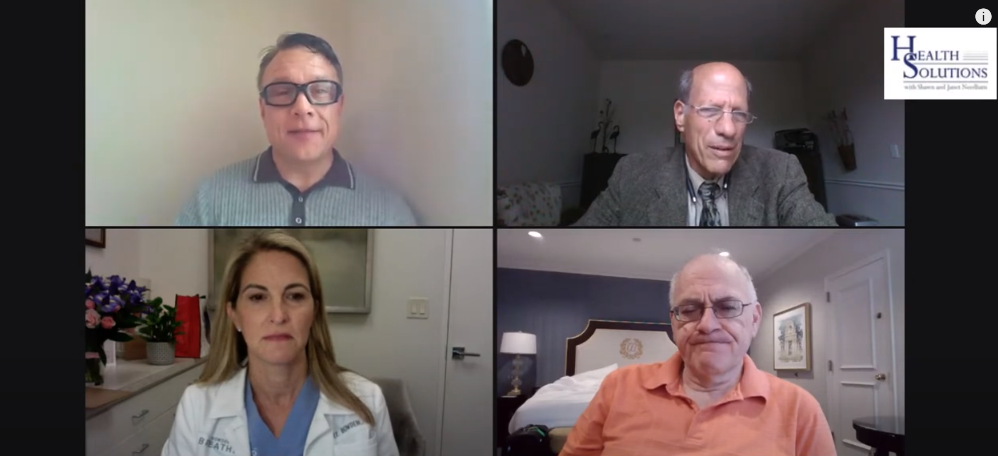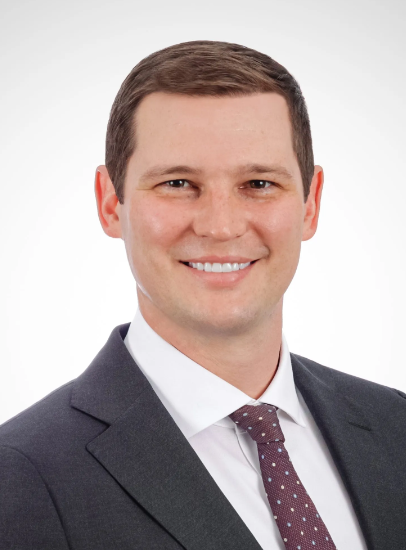 "After the FDA approves a human drug for sale, does it then have the authority to influence or interfere with how that drug is used within the doctor-patient relationship? The answer is no," attorney Jared Kelson of the Washington, D.C. firm Boyden Gray & Associates said in opening arguments to the Fifth Circuit appellate judges in August.
His argument in defense of off-label human use for an FDA approved drug was challenged by Justice Department attorney Ashley Honold who, according to Courthouse News Service, "characterized the agency's ivermectin warnings as informational statements, and stressed they are not regulations" hence having "no legal consequences, and they don't bar doctors from prescribing ivermectin to treat COVID or for any other purpose."
She further asserted that the FDA has to make public statements about the riskier uses of drugs.
The Fifth Circuit rejected the DOJ's assertion stating in its ruling, "FDA can inform, but it has identified no authority allowing it to recommend consumers 'stop' taking medicine. The Doctors can therefore use the APA to assert their ultra vires [exceeding one's authority] challenge to the Officials' actions, and to overcome the sovereign immunity that would otherwise protect the Agencies."
Judge Willett continued, "Nothing in the Act's [Administrative Procedure Act] plain text authorizes FDA to issue medical advice or recommendations. FDA's argument from the Act's purpose statement thus leads nowhere."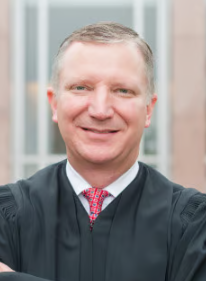 In the original dismissal of the lawsuit in December of 2022, U.S. District Judge Jeffrey Brown found that plaintiff's complaint could not overcome the government's sovereign immunity which "protects FDA and the other defendants." However, this was reversed under Friday's Fifth Circuit ruling.
According to court documents related to the first FDA "horse" post, FDA staffers noted that it was "the most popular post we've ever had on Twitter" and that they were "pleased with the response and the results." Staffers also described the Posts as part of a "new recommended approach" that comprised an "ambitio[us] effort to counter much of the vaccine [mis]information out there."
The Fifth Circuit in concluding its ruling, wrote: "FDA is not a physician. It has authority to inform, announce, and apprise—but not to endorse, denounce, or advise. The Doctors have plausibly alleged that FDA's Posts fell on the wrong side of the line between telling about and telling to…. Even tweet-sized doses of personalized medical advice are beyond FDA's statutory authority. We REVERSE the district court's judgment of dismissal, and we REMAND for further proceedings."
In April of 2020, Australian medical researchers published a study that showed that a single treatment of ivermectin was able to reduce the replication of the SARS-CoV-2 virus 5,000-fold (or 99.98% reduction in viral RNA) within a 48-hour period. The researchers state in their study that although, "Ivermectin is FDA-approved for parasitic infections" it "has a potential for repurposing." At the time of this study, ivermectin was widely available and was on the World Health Organization list of essential medicines, the article states.
According to a 2021 public advisory by the FDA, ivermectin is approved for human use to ingest to treat people with parasitic worms and used externally to treat head lice and skin conditions like rosacea. But it also claims, "has not authorized or approved ivermectin for the treatment or prevention of COVID-19 in people or animals" and that "ivermectin has not been shown to be safe or effective for these indications."
The FDA sent letters to the Federation of State Medical Boards and National Association of Boards of Pharmacy directing them to the aforementioned advisory warning against the use of ivermectin to treat COVID-19 after receiving reports of hospitalization of people taking over-the-counter ivermectin intended for livestock.
According to the doctors in their lawsuit against the two federal agencies and their officials, shared that their advocacy of ivermectin along with the FDA's campaign against the drug's use has caused them harm — Marik and Bowden were forced to resign, and Apter was referred to physician regulatory boards of Arizona and Washington for discipline.
The U.S. District Judge Jeffrey Brown, who presided over the original case in December of 2022 was appointed by the 45th President of the United States, Donald J. Trump. The Fifth Circuit judges who overturned Brown's dismissal were appointed by Presidents George H.W. Bush, George W. Bush, and Trump.