AG Bob Ferguson officially launches gubernatorial bid
SEATTLE, Wash., September 10, 2023—Attorney General Bob Ferguson officially launched his gubernatorial campaign on both sides of the Cascades, with events in Spokane, the Tri-Cities, and Seattle on Saturday. The announcement comes after a short exploratory campaign, during which Bob traveled to all 39 counties on a statewide listening tour. Bob also announced significant endorsements from Governor Jay Inslee and King County Executive Dow Constantine.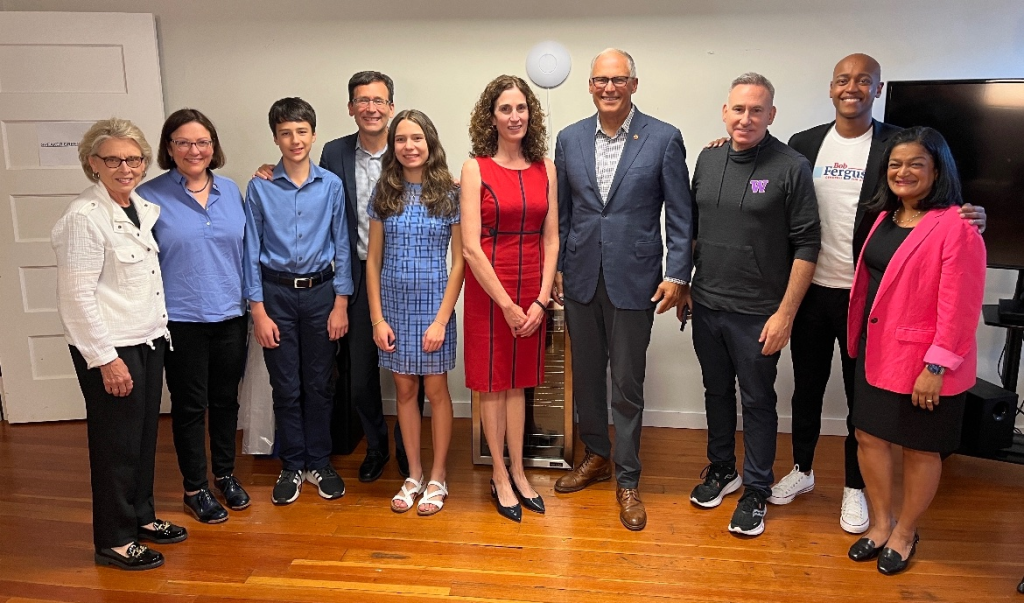 Starting in Spokane at the Teamsters Hall, Bob highlighted his commitment to working Washingtonians and fighting for an economy that works for all. Bob was introduced by Senate Majority Leader Andy Billig, who spoke to Bob's political courage, his commitment to the people of Spokane, and his track record of taking on special interests and winning. Teamsters representative Michael Gonzales highlighted Bob's consistent and principled advocacy for working families and veterans. Reproductive rights advocate Sarah Dixit spoke to Ferguson's unflagging advocacy for women's health care access.
Kickoff stop #2: the Tri-Cities. @UALocal598 told me they wanted to be my first endorsement, after the work we did to win protections for Hanford workers. It's an honor to have your support and to share this day with you. I'll take on any fight to protect workers. pic.twitter.com/817BHdqLok

— Bob Ferguson (@BobFergusonAG) September 9, 2023
In the Tri-Cities at the Plumbers and Steamfitters Local 598 Hall, Bob talked about how he won landmark protections for Hanford workers by challenging the federal government to improve worker protections at Hanford after workers were exposed to toxic fumes. He was introduced by UA 598 Representative Nick Bumpaous and former Benton County Prosecutor Andy Miller.
A packed rally in central Seattle concluded the day, featuring Washington political figures spanning the Democratic ideological spectrum and multiple generations of Democratic leadership in Washington. Notable attendees included Governor Jay Inslee and his wife, Trudi, who today announced their endorsement of the Ferguson campaign, former Governor Chris Gregoire, King County Executive Dow Constantine, U.S. Representatives Suzan DelBene and Pramila Jayapal, King County Councilmember Girmay Zahilay, and Bob's wife Colleen and their twins, Jack and Katie.
What a CROWD for our final kickoff in Seattle! Thanks @JayInslee, @kcexec, @GovGregoire, @PramilaJayapal, @SuzanDelBene, @GirmayZahilay for your leadership, your support, your commitment to making WA the BEST state to work, play & raise a family. pic.twitter.com/7wBh2C8obx

— Bob Ferguson (@BobFergusonAG) September 10, 2023
"I've worked closely with Bob Ferguson and watched him work to hold powerful interests accountable and defend the core freedoms, including reproductive freedom, of every Washingtonian," Governor Jay Inslee said. "He knows how to win and deliver for Washingtonians. I enthusiastically endorse Bob for Governor because he's a proven leader ready to take on our toughest challenges and put the people of Washington first every day."
"Bob Ferguson has been a fierce advocate for the people as Attorney General," former Governor Chris Gregoire said. "His record lawsuits against the opioid companies held them accountable for the damage and destruction they caused to families and communities across Washington, and he stopped President Trump's unlawful policies. I support Bob Ferguson for Governor because he will protect Washingtonians against any threat and lead our state forward."
"Bob and I sat side by side on the County Council shaping policies that continue to positively impact kids, veterans, and our natural environment," King County Executive Dow Constantine said. "In our current roles, Bob has been a partner and advocate for stronger gun laws and protecting reproductive rights. I am supporting Bob for Governor because I know he will continue fighting for what matters — affordable communities, behavioral health investments, and the climate leadership our kids and economy deserve."
"I'm grateful for the outstanding support we've earned during the exploratory phase of this campaign — including from Governors Inslee and Gregoire, as well as unions statewide, Planned Parenthood, Pro-Choice Washington, small businesses, local Democratic Party organizations, and thousands of individuals throughout the state," Ferguson said. "As Governor, I'll take on tough challenges with bold leadership and policies that center the people of Washington. I'm excited for the months ahead as we continue building our grassroots campaign." 
Since announcing his exploratory campaign for governor, Bob has raised $3.8M+ from 14,000+ grassroots donors from every county in Washington. He's been endorsed by over 250 current and former elected officials, Planned Parenthood Alliance Advocates and Pro-Choice Washington, 20 unions representing over 200,000 Washington workers, three tribes, seven local Democratic party organizations, and many more. 
---
SOURCE: BOB FERGUSON FOR GOVERNOR COMMITTEE (D)