Arrest made in drive-by shooting death of Kamiak teen
EVERETT, Wash., September 10, 2023—Members of the Everett Police Department Anti-Crime Team (ACT) and Violent Crime Unit (VCU) arrested an adult male Saturday night in connection to the shooting death of a fifteen-year-old Kamiak High School student on Friday morning who was waiting at a bus stop to go to school.
According to the Snohomish County Jail Roster, a Uriel A Hernandez Martinez was arrested Saturday and charged with on count of carrying a concealed pistol without a permit, one count of altering identifying marks on a firearm, and one count of Murder 1 [Non-Family – Gun], A Class A Felony. Martinez is facing life in prison if convicted. Bond was set at $5,000,000 on Monday, September 11.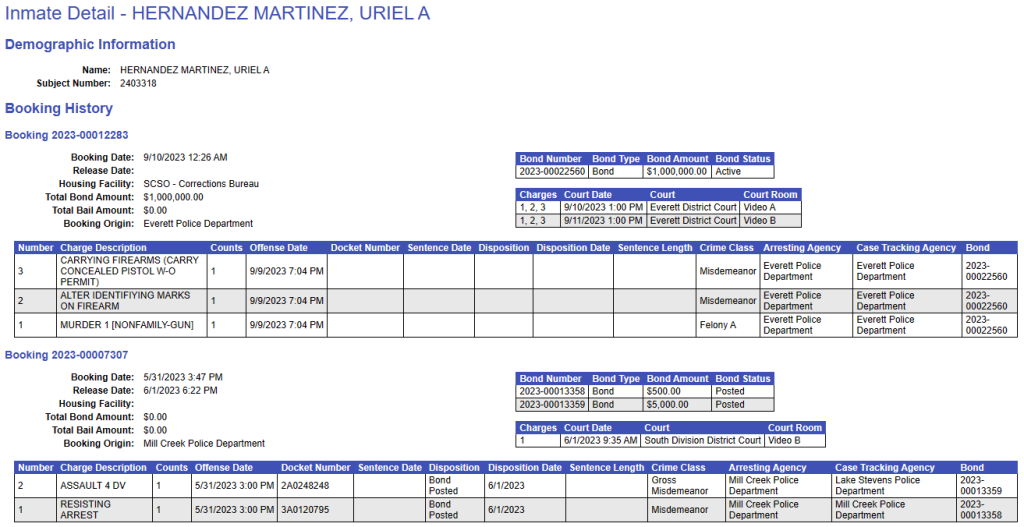 Since the shooting occurred, ACT, VCU and our Major Crimes Detectives have been working tirelessly to identify any involved parties in the shooting, according to EPD. The investigation is still on going and detectives continue to track down additional leads.
Anyone with information about this incident is asked to call the Everett Police Department TIP LINE at (425) 257-8450 or Crime Stoppers of Puget Sound at 1-800-222-TIPS.
---
EDITOR'S NOTE: Updated article at 8 p.m. September 10, 2023, to reflect bond amount. Updated article on September 11, 2023, at 9:11 p.m. to reflect the bond amount of $5,000,000 after Mr. Martinez saw the judge.