Never forget: The September 11 terrorist attack that changed America
On September 11, 2001, 19 hijackers associated with the Islamic extremist group al Qaeda took over four planes leading to the most prolific terrorist attack in the United States.
Watch how it happened on September 11 day 22 years ago (911)#September11 #NeverForget911 Molly Ringwald #911Memorial #911Anniversary pic.twitter.com/7pCQmtT10G

— CONTEXT AND NO CONTEXT VID AND PICS (@Context2X) September 11, 2023
Two planes were flown into the World Trade Center in New York City, and a third into the Pentagon. The fourth plane, United flight 93, crashed into a field in Shanksville, Pennsylvania. The courageous actions of 40 passenger and crew members on board, overpowered the hijackers, thwarting an attack on the Nation's Capital.
September 11, 2001, 9:45 am: The FAA closed U.S. airspace — the first unplanned closure of U.S. airspace in history. In just a matter of hours, all commercial air traffic was grounded. #September11 pic.twitter.com/P8xNj1TYW6

— National Air and Space Museum (@airandspace) September 11, 2023
A total of 2,996 total deaths, including the 19 hijackers, were recorded on that day. This figure includes 2,763 at the World Trade Center, 189 at the Pentagon, and 44 at Shanksville, Pennsylvania. As of 2021, the remains of 1,106 individuals killed that day in NYC have still yet to be identified, according to the New York City Office of Chief Medical Examiner.
An estimated cost of the World Trade Center damage is $60 billion and the cost to clean the debris at Ground Zero was $750 million.
On December 18, 2001, Congress approved naming September 11 "Patriot Day" to commemorate the anniversary of the 9/11 attacks. In 2009, Congress named September 11 a National Day of Service and Remembrance.
September 11 is a day not only to remember, but a day of renewal and resolve for every American — in our devotion to this country, to the principles it embodies, to our democracy.

That is what we owe one another.

And what we owe future generations of Americans to come. pic.twitter.com/EeCYvo7Q0Q

— President Biden (@POTUS) September 11, 2023
September 11 Ceremony in Marysville, WA
Marysville residents, city staff, and first responders gathered Monday to remember the September 11 terrorist attacks and the nearly 3,000 people who lost their lives that tragic day. Among those perished were 343 firefighters, 72 law enforcement officers, and Marysville Fire's own Lieutenant Jeff Thornton, who died after a valiantly fought battle with cancer that same day.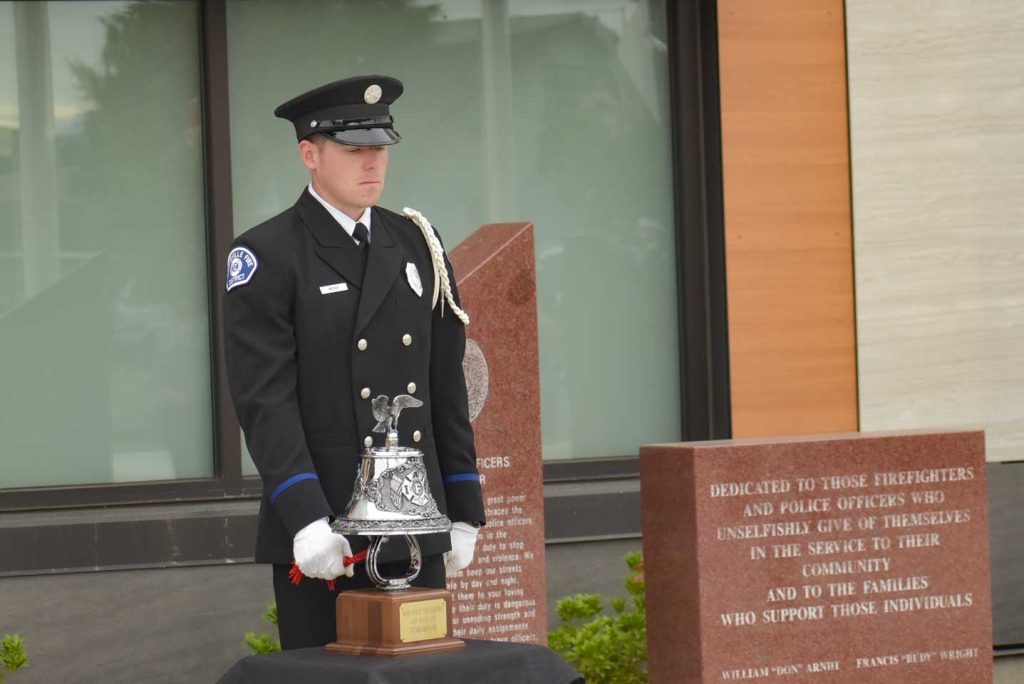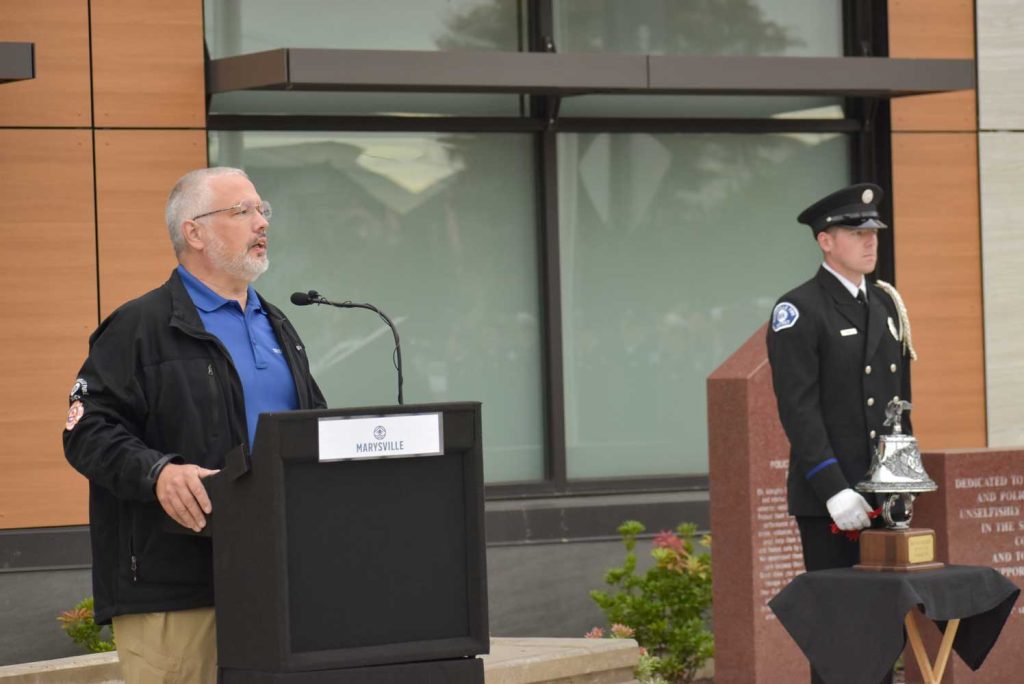 Dan Hazen, Marysville Crisis Support Chaplain with the Marysville Police Department, opened the ceremony with a message of unity.
"How on that day in 2001, an amazing sense of unity occurred after those disastrous events," Hazen said. "I recall being at church where I worked, and we opened the doors, and how people who have not set foot in a church for decades, in some cases, found their way in and reported simply just wanting to be somewhere with other people."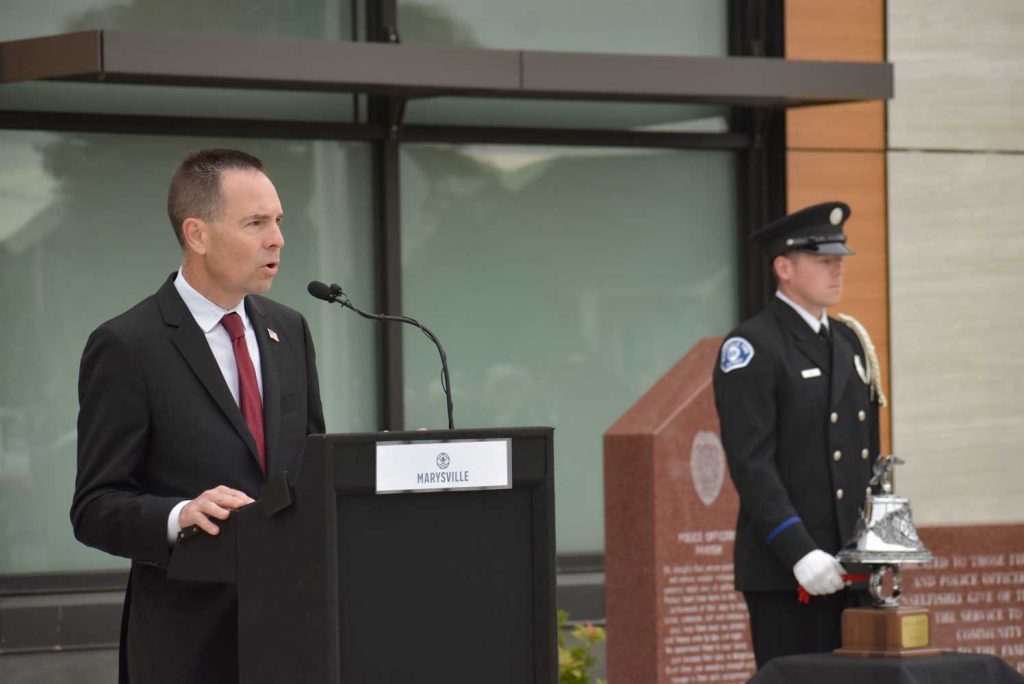 "As we gather as a community to remember one of the darkest days in our history, September 11, 2001, we start to realize that it has been over two decades now since that tragic day, but the pain and the lost are still very fresh in our memories," Mayor Jon Nehring said. "We remember the innocent lives that were taken far too soon, the heroes who rose on that day to the occasion, and the unity that emerged from the ashes of destruction."
September 11, 2001, also has a special meaning in the City of Marysville as it was the day Marysville Fire's own Lieutenant Jeff Thornton lost his battle with cancer. Thornton, known by many as "Fireman Jeff", was an 18-year veteran with Marysville Fire, a father, husband, and lifelong baseball player.
9/11 Remembrance in Edmonds
South County Fire performed a ceremony this morning at the 9/11 Memorial in Edmonds in remembrance of all who lost their lives 22 years ago in the September 11, 2001, terrorist attacks.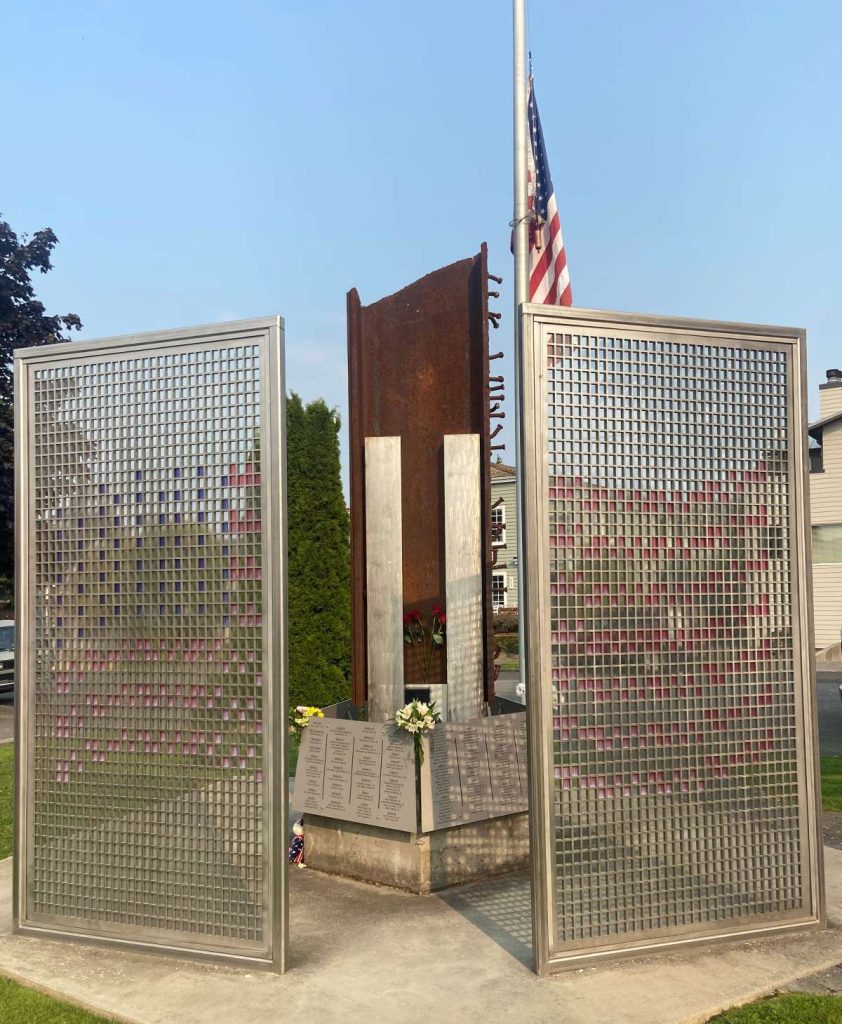 The centerpiece of the memorial is a 1-ton steel beam recovered from Ground Zero of the World Trade Center collapse. International Association of Fire Fighters Local 1828, representing South County Fire's professional firefighters, raised funds and helped build the memorial in 2015 to honor and remember all victims of the terrorist attacks.
The memorial's design incorporates symbolic elements representing the Twin Towers, the Pentagon and the grassy field of Shanksville. Four trees are planted in remembrance of the four planes, crews and passengers lost. Plaques along the base of the memorial honor each first responder and fire station company lost in the attacks. The monument's two walls are made up of nearly 3,000 small glass panels representing each person killed in the terrorist attacks, with red glass for firefighters and blue glass for police officers arranged to form a waving American flag.
Timeline of September 11 Terrorist Attacks
7:59 a.m. – Flight 11 takes off from Boston for Los Angeles. Eleven crew members, 76 passengers, and five hijackers are on board.
8:15 a.m. – Flight 175 takes off from Boston for Los Angeles. Nine crew members, 51 passengers, and five hijackers are on board.
8:19 a.m. – Flight 11 crew members alert ground personnel that a hijacking is underway.
8:20 a.m. – American Airlines Flight 77, en route to Los Angeles, takes off from Washington, D.C. Six crew members, 53 passengers, and five hijackers are on board.
8:24 a.m. – Attempting to communicate with passengers, a hijacker contacts air traffic control, unwittingly alerting controllers to the attacks.
8:37 a.m. – Boston air traffic control alerts the military. Air National Guard jets in Massachusetts are mobilized to follow Flight 11.
8:42 a.m. – San Francisco-bound United Airlines Flight 93 takes off at Newark following a delay. Seven crew members, 33 passengers, and four hijackers are on board.
8:46 a.m. – Flight 11 crashes into floors 93 through 99 of the North Tower of the World Trade Center.

8:50 a.m. – President George W. Bush is alerted.
8:55 a.m. – The South Tower off the World Trade Center is declared secure.
8:59 a.m. – Port Authority police order the evacuation of both towers. A minute later, the order is expanded to the entire World Trade Center complex.
9:00 a.m. – A flight attendant aboard Flight 175 alerts air traffic control that a hijacking is underway.
9:03 a.m. – Flight 175 crashes into floors 77 through 85 of the South Tower.
9:05 a.m. – President Bush learns that a second plane has crashed into the World Trade Center.
9:05 a.m. – Flight 77 passenger Barbara Olson calls her husband, U.S. Solicitor General Theodore Olson, who alerts other federal officials of the hijacking.
9:36 a.m. – Secret Service agents evacuate Vice President Dick Cheney to the Presidential Emergency Operations Center beneath the White House.
9:37 a.m. – American Airlines Flight 77 crashes into the Pentagon.
9:42 a.m. – The Federal Aviation Administration grounds all flights.
9:45 a.m. – The White House and U.S. Capitol Building are evacuated.
9:59 a.m. – The South Tower collapses.
10:03 a.m. – United Airlines Flight 93 crashes near Shanksville, Pennsylvania after passengers and crew storm the cockpit.
10:15 a.m. – The Pentagon's outer ring collapses.
10:28 a.m. – The North Tower collapses after burning for 102 minutes.
11:02 a.m. – New York City Mayor Rudy Giuliani orders the evacuation of Lower Manhattan.
12:30 p.m. – A group of 14 survivors emerge from a North Tower stairwell.
3:00 p.m. – A survivor, Pasquale Buzzelli, is rescued from the rubble of the North Tower.
5:20 p.m. – After burning for hours, 7 World Trade Center building collapses.
8:30 p.m. – President Bush addresses the nation from the White House, assuring Americans that a search is underway for "those who are behind these evil acts."
10:30 p.m. – Rescuers locate and extract two Port Authority police officers injured but alive in debris of the World Trade Center.