Public Facilities District welcomes investigation of Board and Executive Director
LYNNWOOD, Wash., September 12, 2023—After public comments, mostly surrounding the Lynnwood Public Facilities District, the City Council postponed ARPA funding allocations until its next Business Meeting, approved the mayor to submit a grant for the overlay of two tennis courts, and renewed its Interlocal Cooperation Agreement between Snohomish County and the Urban County Consortium during its September 11th meeting. Councilmen Patrick Decker and Joshua Binda were absent at Monday's meeting.
Prior to an emotional 30-minute public comment session from 17 people that left one resident tearing up at the podium who shared her story, witnessing firsthand, of Lynnwood Public Facilities District Executive Director Janet Pope allegedly attempting to "shove" Board member Vivian Dong out of the PFD booth at the Lynnwood Luau, the council presented the following three proclamations to community members and first responders:
Patriots Day by Council President Shannon Session
Hispanic Heritage Month by Council Vice President Julieta Altamirano-Crosby
Alfredo Arreguin Day by Council Vice President Julieta Altamirano-Crosby
The council heard from eight members of the community either advocating for the reappointment of Dong, criticizing the politicalization of the Lynnwood Public Facilities District by the Board, and/or requesting the resignation of PFD Board Chair Mike Miller.
"The chair's action including his aggressive demeanor were highly inappropriate," Yoo Kong Pi, a Lynnwood resident said referring to the interactions between PFD Board Chair Mike Miller and Dong at the Lynnwood Luau.
He then continued reading quotes by Miller from a video recording of the Lynnwood Luau incident.
"I am here to talk about attitude, aggressiveness, and belittling comments," said Pi. "I am here to bring forward manner, behavior, and words…'Do you ever run out of words' [said] by the chair of PFD. 'Do you ever say anything more than once' [said] by the chair of PFD. 'There is no one here that truly wants you truly here except for maybe this guy' [said] by the chair of PFD. We firmly demand an apology…"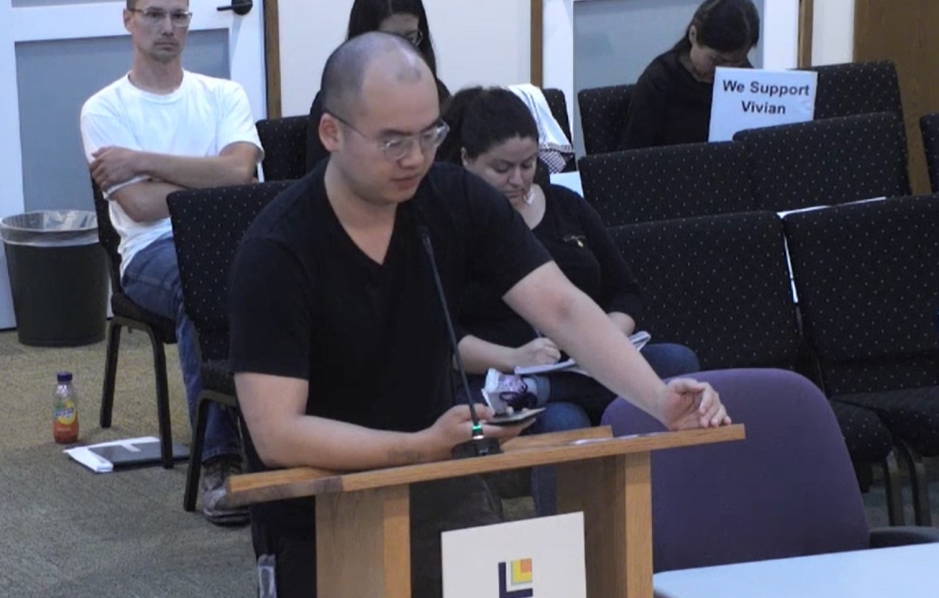 Dong took to the podium and shared that it took 51 days for her to receive the video incident of the PFD Board meeting on July 11 which the Board unanimously approved a vote of no confidence of Dong for her support of Olympus Spa — a PFD business currently entangled in a legal battle regarding a Human Rights Complaint.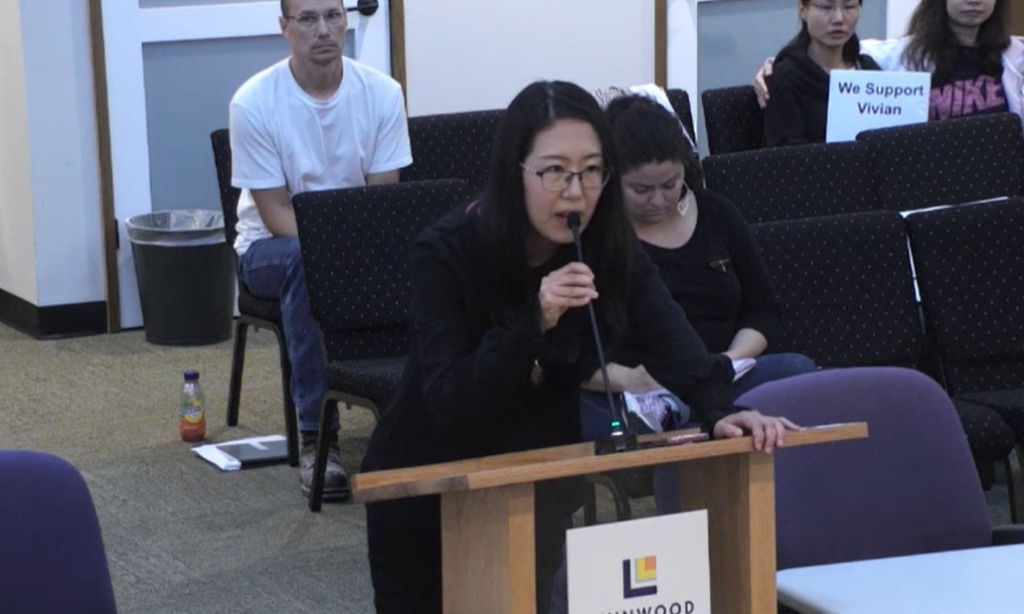 Pope cited Dong's "promotion" of a June rally in support of Olympus Spa on her social media as a cause of her no confidence vote — which the PFD Board alleges cost businesses approximately $35,000 in lost revenue and the PFD up to $12,500 in protest management. The PFD never reached out to Dong requesting that she remove her social media post and the PFD attorney in an email stated that she can attend the rally.
PFD Executive Director Janet Pope took to the podium to defend her character citing her twenty years of professional experience working in non-profit, corporate, and government sectors in leadership roles creating solutions for homelessness, affordable housing, disaster relief, healthcare, and expanding performance arts access.
"Recently I have been accused of racism, when in fact I have been advocating for marginalized communities to improve race, social and economic disparities for decades," Pope said. "I have even created a program called Dignity & Diversity and work closely with Snohomish County and the City of Everett on many award-winning programs to combat racism."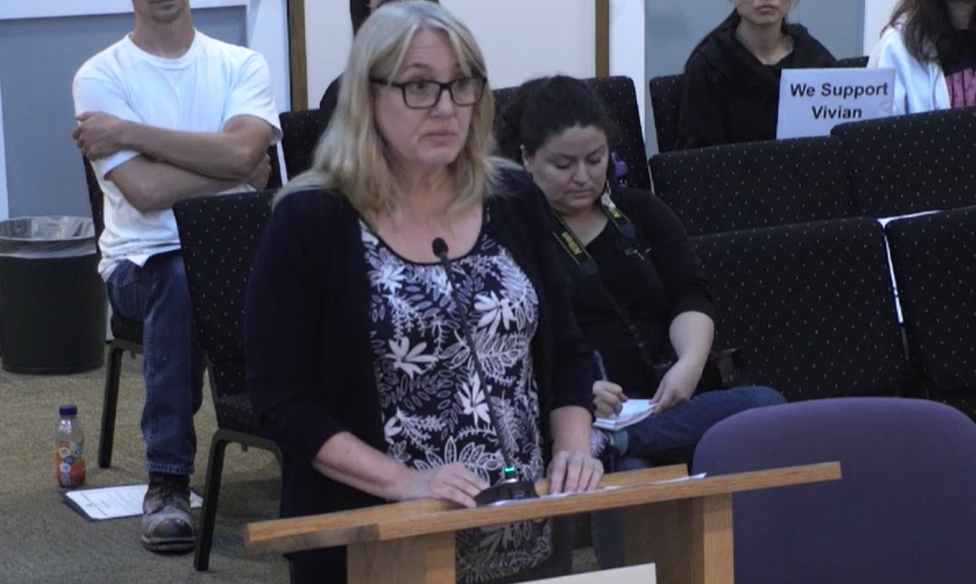 She denied wanting to remove Dong, who she referred to as Board member number two, because of the board member's stance on protecting safe spaces for women.
"I have led programs to create those same spaces including operating domestic violence shelters, safe houses for women who have been sexually trafficked, and with Snohomish County YMCA's launch of a program called Women to Women."
Pope shared in the meeting that the PFD Board's vote of no confidence against Dong on July 11 "had nothing to do with race, and everything to do with behavior." She concluded welcoming an investigation that was called for by Councilmen Jim Smith and Patrick Decker during the Work Session on September 5.
Councilman Smith announced in last Tuesday's Work Session that he is investigating the Board's attempt to remove Dong because the council has been provided, he alleges, "an awful lot of erroneous information."
"We need to make sure someone is not being lied about," Smith told councilmembers during last week's Work Session regarding the reappointment of both Dong and PFD Board Chair Mike Miller for October of this year. "All of the facts that I have been seeing there is way, way, too many things inaccurate."
After passing the three-page letter read by Chair Miller at the July 11th PFD Board meeting, Smith added, "Here is all of the things I have been seeing that's wrong and not appropriate and that's incorrect saying that Vivian Dong put on this protest. This absolutely was not the case… The particular meeting and why we need to get more information about all of this is because the meeting [July 11th PFD Board Meeting] was carried out quite candidly against some of our RCWs."
In a 2014 article titled, Seattle Musical Theater Starts New Season Liberated from Ugly Past, published in the Seattle Gay News and posted online by Miryam's Theater Musings which is now scrubbed from the internet, alleges a hostile work environment at the Seattle Musical Theater because of "Janet's behaviors" and actors threatening to never work for the company if she remained.
The article attributes Pope's dismay for a Jeff Church, her conduct in firing actress/singer/director Venessa Miller and the "shit storm" that followed, the "alienation" by actors under Pope's leadership, actors threatening to quit, the "nonchalant" attitude to firing actors, the public outcry and uproar criticizing Pope's "mistakes" by "theater lovers" led the Board of the SMT to part ways with her in 2013.
Pope studied directing at the Drama Studio of London and holds a master's degree in public administration from Seattle University, according to her LinkedIn account. Prior to her $176,000 a year job as the Executive Director of the Lynnwood Public Facilities District, she was the Chief Executive Officer at Compass Housing Alliance for six years.
Lynnwood Public Facilities District Executive Director Pope has yet to provide a statement, after multiple requests by the Lynnwood Times, to address the allegations of a hostile work environment under her leadership as Executive Director of the Seattle Musical Theater.
Directors of Seattle's Capitol Hill Pride and Founders of the Capitol Hill Pride Festival, Charlette LeFevre and Philip Lipson, advocated for Lynnwood to support transgender people and the LGBT community.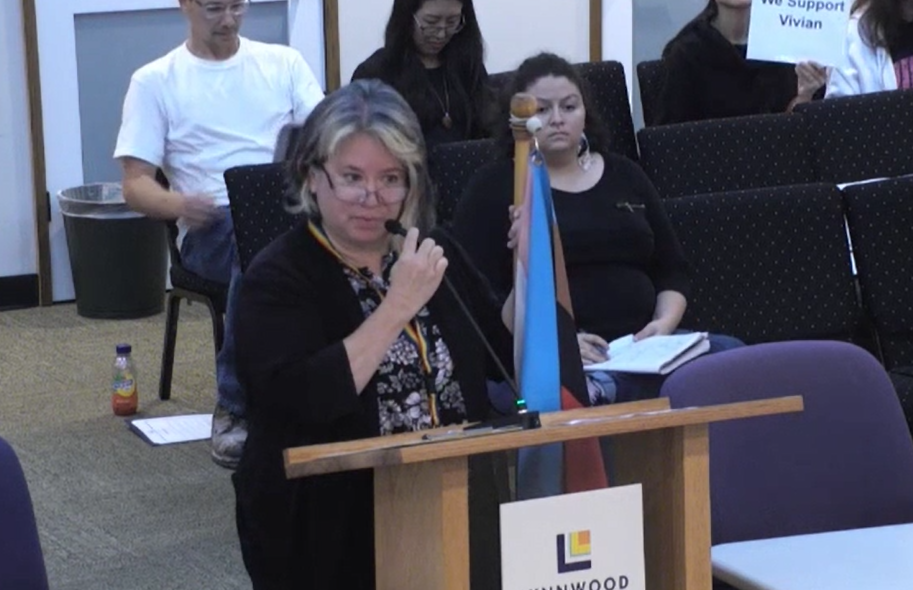 "I would like to recommend to each city council member and future candidate a higher visible show of support towards the diverse community of Lynnwood, that includes the LGBTQAI community, both verbally and in your actions," LeFevre said after advocating for the reappointment of Chair Miller. "It's not enough to sit silent. I would like to see the Pride Flag flown permanently at City Hall here and eventually at the [Lynnwood] Event Center."
During the approval of the Consent Agenda, Council President Shannon Session motioned to include rental assistance as an eligible use of ARPA funds for the Washington Kids in Transition contract agreement. The council originally passed the motion to approve the request of $150,000 on April 10, 2023, but mistakenly excluded rental assistance from the list of eligible uses for APRA funds. Councilman Gorge Hurst seconded Sessions' motion and it passed 5-0.
The council also unanimously passed during its consent agenda a motion to allow Mayor Christine Frizzell into an agreement with the Edmonds School District for paving the gravel section of 204th St SW. The motion was introduced by Council Vice President Altamirano-Crosby and seconded by Councilman Smith.
Other Business Items