WSNIA presents Senator of the Year Award to Mark Mullet
Board members from the Washington State Narcotics Investigators Association (WSNIA) presented State Senator Mark Mullet  (D-Issaquah) with the Senator of the Year award during his visit to Everett. The event took place at Lombardi's Italian Restaurant & Wine Bar,
"Senator Mark Mullet is a voice of reason in the legislature," said Dave Hayes, who works in law enforcement locally, volunteers as WSNIA's legislative liaison and is a former state representative from Washington's 10th legislative district. "We recognize that behind the scenes is where things really get fixed, and we are grateful for Senator Mullet's crucial role in keeping our communities safe by negotiating improvements to state drug law".
In attendance were elected officials from several of the Snohomish County jurisdictions that petitioned the state legislature to implement policy to address the unintended consequences of lackluster drug legislation in the aftermath of the State v. Blake court decision.
"It is easy to see why Senator Mullet would be awarded Senator of the Year.  It is refreshing to have a conversation with a senator in which they really listen, are open to other viewpoints and ask questions to get to the bottom of issues we are facing," said Yvonne Gallardo-Van Ornam of Arlington City Council.
Jurisdictional leaders present shared suggestions and insights regarding ways to address inadequacies in current drug policy including related financial burdens and criminal activity.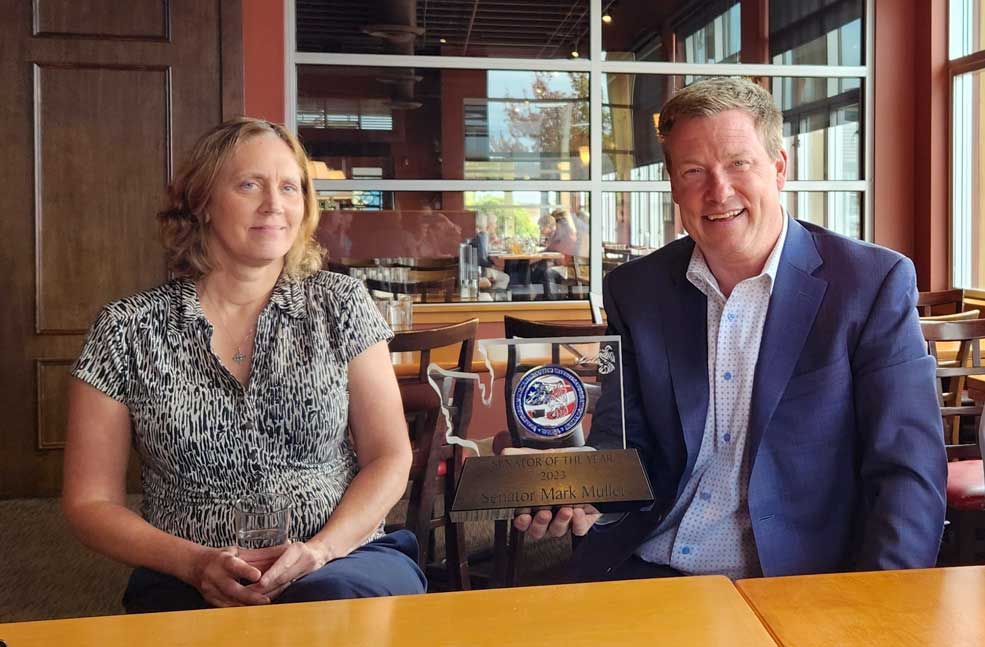 Senator Mullet acknowledged that the state can be a better financial partner to cities and counties, pointing out that while voters were promised that legalization of marijuana would aid in funding public safety, of the approximately $500M collected in the last fiscal year, cities and counties were provided with just a small fraction to split between them to cover expenses including those related to public safety.
"The people in our communities want an approach of compassionate accountability for those using drugs", said Everett Mayor Cassie Franklin.  "We need the State to make good on their promise to provide required resources to get people into treatment".
Buddy Anderson, Secretary of WSNIA agreed, "We need a balanced approach that includes education, enforcement and treatment to successfully combat this epidemic".
Lake Stevens Mayor Brett Gailey expressed concerns about a drug-adjacent issue, violent crimes committed as a result of failure to prosecute for unlawful possession of a firearm (UPF). Because UPF is considered a property crime, it is not a high enough priority for it to regularly be prosecuted. Gailey suggests that if it were to be reclassified as a violent crime, we could keep our communities safer, combatting illegal weapons trafficking and saving lives throughout our communities.
Snohomish County Councilman Sam Low advocated for allowing involuntary commitment in more circumstances, citing instances in which NARCAN was used on the same individual multiple times in one day. Low pointed out that this suggests an inability to make medical decisions on one's own behalf and believes that once the state makes good on their obligation to fund treatment beds, this will help save lives and get individuals suffering from substance use disorder back on track.
With membership throughout the State, WSNIA works to train and support individuals who are professionally involved in drug interdiction.  For the past three years WSNIA has been advocating for the state legislature to enact reasonable drug policy to ensure the safety of individuals and communities. 
Senator Mullet was the first to drop a bill to address the effective legalization of drugs that was a result of the Blake decision and has been a crucial voice in drug policy debate, advocating for common sense solutions that effectively balance compassion and accountability. 
---
SOURCE: Washington State Narcotics Investigators Association