Andy Illyn sworn in as Mukilteo new Police Chief
MUKILTEO, Wash., October 2, 2023—The Mukilteo City Council unanimously confirmed Mayor Joe Marine's appointment of Andy Illyn as the city's new Chief of Police at its Business Meeting on Monday, October 2, 2023.
"I am very fortunate," said newly confirmed Police Chief Illyn. "Some chiefs come into this job having to fix a problem or having to fix a culture, I do not have that issue. I am here with an amazing department, amazing officers and support staff. I get to go forward from day one with a high performing team that I can continue to improve on."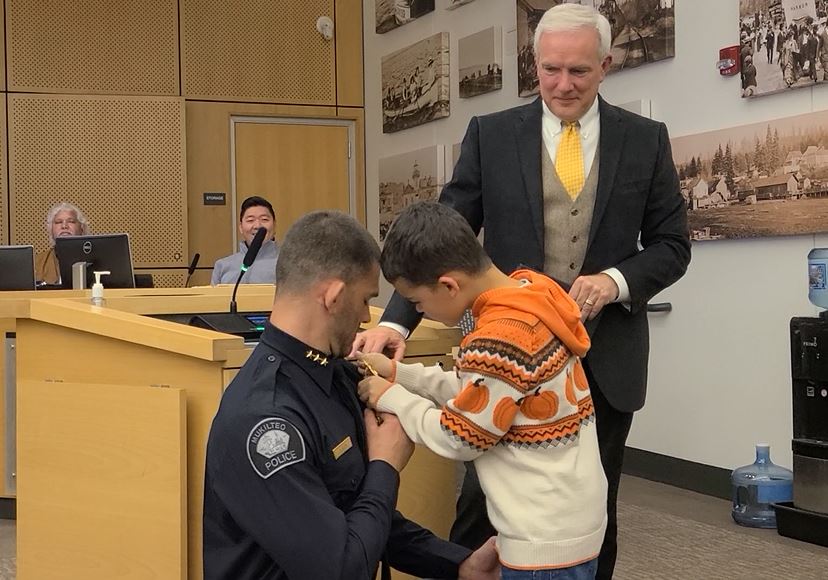 After 20 years on the force, Mukilteo Police Chief Cheol Kang resigned earlier this year to pursue the next chapter of his career as King County Sheriff Office's Chief of Community Programs and Services starting June 2.
Both Kang and former Mukilteo Police Chief Rex Caldwell attended Monday's swearing in ceremony.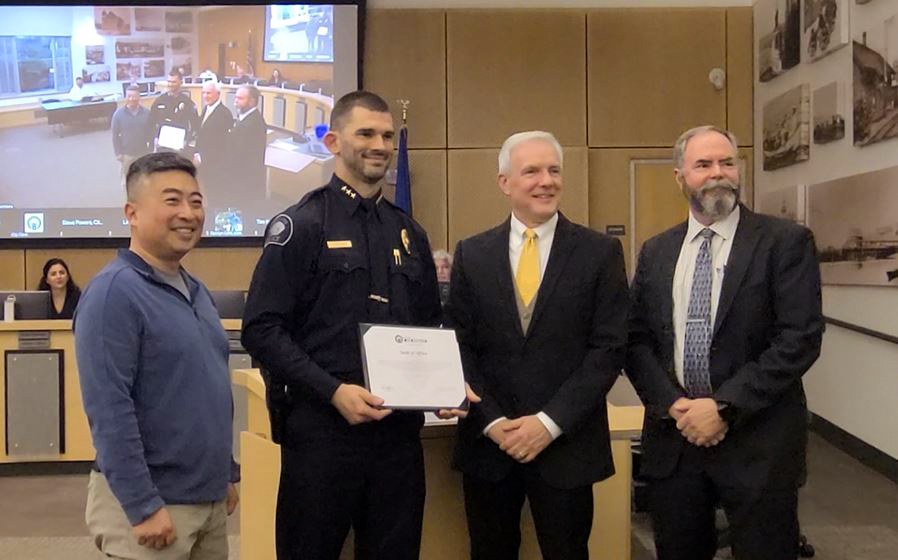 Police Chief Illyn has been with the Mukilteo Police Department since May of 2013, serving first as an officer, then promoted to Investigations Sergeant in 2017, and to Assistant Chief in February 2022. He holds a Bachelor of Arts degree in Homeland Security from American Military University and has extensive leadership training.
In his role as Investigations Sergeant, he emphasized special operations to address topics such as residential burglaries and drug operations, as well as working to improve training for officers. As the Assistant Chief, he has worked to bring efficiencies to all aspects of the hiring process and built a strong leadership program.
During his service as Interim Police Chief, Illyn has provided stability in leadership, maintained vital programs, and advanced legal and procedural changes facing the Police Department.
According to the Marine Administration, Illyn was chosen for his knowledge of departmental operations, training and his natural abilities as a leader.
Illyn will receive a monthly salary of $13,253.14 with typical medical and dental benefits, a take home vehicle, and reasonable payments and/or reimbursement of costs for memberships, subscriptions, associations, and professional development related to his duty as Mukilteo Police Chief.