Lynnwood Times candidate interviews for Mukilteo City Council
MUKILTEO, Wash., October 5, 2023—Four seats on the Mukilteo City Council are up for election this year, with seven candidates in the mix. The Lynnwood Times's Kienan Briscoe sat down with each of the candidates to learn more about them and help inform your decision for the upcoming general elections on November 7. 
The Lynnwood Times conducted one-on-one interviews with each of the seven candidates on September 24 to share their stance on community engagement, economic development, housing and growth, fiscal responsibility, public safety, and the environment. Each candidate was asked the same set of questions besides two — one from their opponent and one tailored to their history or experience. They also provided a bio, which is included further down — along with videos of the interviews.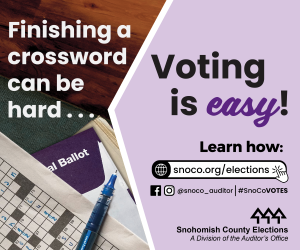 The responses below have been summarized by the Lynnwood Times, so check out the videos below to hear the candidates respond in their own words as well as their responses to their two unique questions. The interviews were conducted at the beautiful Rosehill Community Center.
What are your top three priorities?
Richard Emery (Position 4): Long-range financial planning for the city, waterfront development, and supporting public safety.
Ashvin Sanghvi (Position 4): Housing, as outside influence from the state and county would destroy the identity of Mukilteo; crime and public safety; and waterfront development.
Riaz Khan (Position 5): Public safety — including the fire department, the waterfront redevelopment, and moving forward with the senior center.
Mike Dixon (Position 5): Housing affordability, public safety, and the environment, but more specifically, maintaining the picturesque seaside community.
Donna Vago (Position 6): The waterfront project, protecting single-family zoned areas, and business growth in the community.
Carolyn "Dode" Carlson (Position 6): The senior center, the waterfront and the port, and to keep council agenda moving and not tabling them.
Jason Moon (Position 7): It revolves around his family, so Moon considers his top priorities public safety, public works, and community engagement in that order.
If given a $500,000 grant to use in Mukilteo, how would you allocate it in the best interest of residents?
Richard Emery (Position 4): Some funds toward the waterfront development, but in general, to something "durable and permanent" and not for operating expenses.
Ashvin Sanghvi (Position 4): Hire a consultant to evaluate how close the city is to meeting the housing numbers, but the majority would go to parks.
Riaz Khan (Position 5): The fire department needs a new ambulance and staff, so with the levy failing, they are in need of money.
Mike Dixon (Position 5): Look for one-time projects like revitalizing the lighthouse, rather than for operational projects, or put it in a reserve fund.
Donna Vago (Position 6): Start a small business administration to foster new businesses in the city.
Carolyn "Dode" Carlson (Position 6): Put it toward the senior center, various non-profits in the city, and/or the community gardens.
Jason Moon (Position 7): Supplement current capital projects if grants aren't received, partner with the school district or county for youth impact engagements, or a food fair/food truck festival on the waterfront in the fall.
Excluding changing housing and zoning codes, what would you propose to make Mukilteo better for seniors and those with disabilities?
Richard Emery (Position 4): First step would be the senior center, but improving transportation options and filling in and leveling sidewalks to improve accessibility.
Ashvin Sanghvi (Position 4): Demographics are skewed older and residents don't want to leave despite having larger houses than they need, so an assisted-living and/or senior center is needed.
Riaz Khan (Position 5): Mukilteo is an affordable city, so the council needs to listen to the public to determine what to do.
Mike Dixon (Position 5): Build consensus for a senior center and the funding for it.
Donna Vago (Position 6): Promote community and youth engagement with seniors, which would benefit all groups involved.
Carolyn "Dode" Carlson (Position 6): Ideally lower land prices, but there is no good way to do that, as Mukilteo has very little buildable land, so finish the senior center.
Jason Moon (Position 7): Partner with senior groups to actively listen to the needs of seniors to plan future development and changes.
What do you think the city can do to increase engagement by people of color or underrepresented communities in the city's economic development?
Richard Emery (Position 4): The Diversity, Equity, and Inclusion Commission is a good starting place, but expanding on translation services as well as improving equity in the permitting and fees to encourage a diverse range of businesses.
Ashvin Sanghvi (Position 4): Decreasing regulations to foster small businesses, restaurants, and food trucks, which naturally promote diversity.
Riaz Khan (Position 5): Khan supported the creation of the Diversity, Equity, and Inclusion Commission for this very reason, so continuing to support the commission is important.
Mike Dixon (Position 5): Market Mukilteo as a welcoming community with opportunities to speak up and continue outreach through the Diversity, Equity, and Inclusion Commission.
Donna Vago (Position 6): Promoting small businesses and restaurants, as owners are able to "express their culture" via their business.
Carolyn "Dode" Carlson (Position 6): Visible representation is important, so help encourage or promote underrepresented individuals to get their respective communities involved.
Jason Moon (Position 7): Get engaged with students, perhaps a youth leadership event, which will in turn get their parents involved.
How do you plan to involve residents in the decision-making process of the city?
Richard Emery (Position 4): Zoom has been a great tool recently to get people involved and traditionally doorbelling has been effective, but getting people involved has always been difficult.
Ashvin Sanghvi (Position 4): Objective data collection, perhaps a digital login for Mukilteo residents only to engage in an online portal with surveys, questionnaires, etc.
Riaz Khan (Position 5): Giving advance notification to residents so they are able to get involved and making the city more accessible to feedback from citizens.
Mike Dixon (Position 5): Make himself available via webinars, but encourage people to stop him in public or attend city council meetings.
Donna Vago (Position 6): Create spaces online through the city website and Facebook pages to foster small businesses and community engagement and involvement.
Carolyn "Dode" Carlson (Position 6): Promote neighborhood-based groups similar to Everett and have council members get involved with said groups.
Jason Moon (Position 7): By actively engaging with and reaching out to people to learn more, especially if they don't agree with actions being taken by the city.
What do you feel are the top concerns facing small business owners in Mukilteo and what do you propose to address those concerns?
Richard Emery (Position 4): Currently has the lowest business fees in south Snohomish, but the city needs to market better to shoppers and businesses.
Ashvin Sanghvi (Position 4): Reduce regulations limiting businesses and improve the way of life to attract new businesses and startups.
Riaz Khan (Position 5): Utilizing the lodging tax to help bring in new businesses.
Mike Dixon (Position 5): Develop the waterfront and to market Mukilteo as a place small businesses can thrive..
Donna Vago (Position 6): Provide services to assist with permitting, zoning, and obtaining financing for small businesses.
Carolyn "Dode" Carlson (Position 6): Lack of parking, but also parking passes for workers, similar to resident passes.
Jason Moon (Position 7): Working with current businesses to see what they need and want in a city to then attract more restaurants and businesses.
How would you propose increasing revenue for the City of Mukilteo?
Richard Emery (Position 4): Sales tax is one of the larger revenue sources, so encouraging shopping and dining in Mukilteo could increase revenue.
Ashvin Sanghvi (Position 4): Expand on services at Rosehill, particularly on weekdays, and attract more businesses.
Riaz Khan (Position 5): Mukilteo currently has a surplus, so Khan is opposed to any increase in taxes.
Mike Dixon (Position 5): Leverage advantages Mukilteo has to attract new residents and businesses.
Donna Vago (Position 6): Attract mid-size businesses through thriving small business and cultural communities.
Carolyn "Dode" Carlson (Position 6): Getting people to visit or move to Mukilteo.
Jason Moon (Position 7): Re-evaluate current assets, like Rosehill Community Center, to expand on what can be done with them, but also look at areas like the waterfront to help promote tourism.
What do you think is the most important infrastructure project needed in Mukilteo right now?
Richard Emery (Position 4): Replacing the 525 Speedway Bridge over the railroad tracks and increasing and improving sidewalks and bike lanes.
Ashvin Sanghvi (Position 4): The waterfront development, but also look at current and proposed laws on housing and zoning.
Riaz Khan (Position 5): The current annexation project.
Mike Dixon (Position 5): Transportation and congestion need to be addressed as increasing business and residents require it to function properly.
Donna Vago (Position 6): No particular answer in mind, but roads and the waterfront could use work.
Carolyn "Dode" Carlson (Position 6): The senior center, changes made to areas like the beach to promote tourism, or a tribal museum.
Jason Moon (Position 7): Housing, but in a manner that maintains the current culture of Mukilteo — as Moon disagrees with the county's assessment of a 20% housing increase.
If there's ever a budget shortfall or a recession, what recommendations would you present on how to mitigate the shortfall?
Richard Emery (Position 4): Find areas that can be cut, but take caution as deferring could result in extreme catchup costs and retaining as much staff as possible.
Ashvin Sanghvi (Position 4): Being prepared is key, so analyzing the budget quarterly and designating projects that can be cut or delayed in the event of a shortfall or recession.
Riaz Khan (Position 5): Look at current projects that are lower priority and cut or delay them.
Mike Dixon (Position 5): Cut non-critical "fluff" and avoid cutting essential services and shortsightedly delaying projects.
Donna Vago (Position 6): Find additional income sources or cut costs: first in administration, followed by departments, and lastly services.
Carolyn "Dode" Carlson (Position 6): Stop travel and ask for temporary pay cuts for the mayor and councilor, sadly cut back on parks, but no cuts to essential services.
Jason Moon (Position 7): Long-term planning to have money the city can dip into during a recession or shortfall and avoid using one-time money for recurring costs.
Regarding public safety, what do you think the city is doing right and where might there be opportunity for improvement?
Richard Emery (Position 4): Leadership in both the police and fire departments have been impressive and the police in particular focus on community policing and de-escalation, so adjusting pay to retain staff is an area to improve upon.
Ashvin Sanghvi (Position 4): Mukilteo's crime is lower than the surrounding area, so allowing police to respond to situations on a case-by-case basis is important and so is resisting any efforts to combine agencies in the county.
Riaz Khan (Position 5): Police are doing well, though hiring could be increased, but the primary focus is on allocating money for the fire department.
Mike Dixon (Position 5): Likes that police work directly with business owners to address issues and wants to continue dispatching social workers on calls with police, but believes the city failed to explain the fire and EMS levy well, which caused it to be rejected by voters.
Donna Vago (Position 6): Both the fire and police department are doing well and only mentioned new police vehicles as a potential improvement.
Carolyn "Dode" Carlson (Position 6): No cuts made to police or emergency services, expressed interest in an additional EMT and truck for the fire department.
Jason Moon (Position 7): Believes current leadership is promoting a positive culture within the department, but wants to examine compensation, as it is a commonly cited reason for turnover within the police department and city-wide.
Mukilteo is home many parks and trails. What would you propose to improve the city's green spaces?
Richard Emery (Position 4): Mukilteo has great parks and trails, so maintaining them is key, but connecting these spaces is something Emery envisions.
Ashvin Sanghvi (Position 4): "Beef up" the tree ordinance and adding more green space in the southern areas of Mukilteo.
Riaz Khan (Position 5): Improve sustainability within the city and encourage or incentivize residents to plant more trees.
Mike Dixon (Position 5): Ensuring green space in the waterfront development while improving accessibility to and maintenance of current spaces.
Donna Vago (Position 6): Organize a volunteer cleanup of Japanese Gulch, as most of the other trails and parks are well maintained.
Carolyn "Dode" Carlson (Position 6): Believes the current parks department is doing well, but would like to see Port of Everett contribute more to the waterfront.
Jason Moon (Position 7): Be good stewards of current parks and trails and create or promote events in these spaces to promote their existence.
Where are your favorite places to spend time in Mukilteo and why?
Richard Emery (Position 4): Japanese Gulch — the community rallied behind acquiring the remainder of it and keeping it as a natural, walkable trail.
Ashvin Sanghvi (Position 4): The waterfront and enjoying the beach with homemade chai, but also places like Cabernets & IPA's and Red Cup Cafe.
Riaz Khan (Position 5): Mukilteo as a whole is Khan's favorite, but the people are the best part of it.
Mike Dixon (Position 5): Loves the water, even just being able to see it, so the beach park.
Donna Vago (Position 6): Rosehill, for its beauty.
Carolyn "Dode" Carlson (Position 6): Restaurants like The Sound Pizza & Pub, Tapped, and Ivar's not only for the food, but for the people and community.
Jason Moon (Position 7): Two spots: Edgewater Beach Park for crabbing or scuba diving and taking his children to Lighthouse Park.
Mukilteo City Council Position 4 Candidates
Richard Emery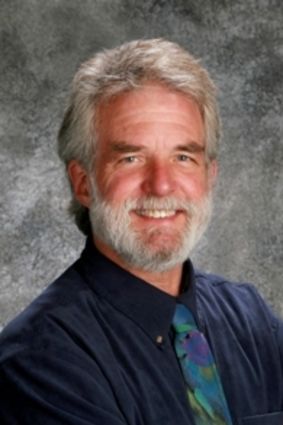 Website: https://www.emeryformukilteo.com
Richard was born in Upstate New York and grew up in South Bend, Indiana. He graduated from Albion College in Michigan and worked as a crisis counselor with runaway youth and families as an early career in Connecticut and Ohio.
He is the former director of the Shelter Runaway Center in Seattle, a former deputy director of a multi-service housing and employment training program in Seattle, and former director of property management at Plymouth Housing Group.
He spent three years living "off the grid" on 70 acres in Northeast Washington, was the owner of a home repair and renovation business for 35 years before retiring. Now he is a landlord who oversees 12 units.
Richard has also served as construction chair for Habitat for Humanity, and was the former president of Habitat for Humanity Snohomish County.
Richard is married with five marvelous boys. He was appointed to the Mukilteo City Council in 2008, served three years as president, and served on the Snohomish County 911 Board.
In his free time he enjoys the outdoors: hiking, kayaking, biking, sailing, and camping the beautiful area in which we live.
Ashvin Sanghvi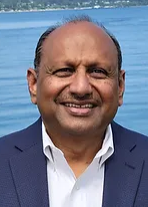 Website: https://www.ashvinforcouncil.com
Ashvin is a computer engineer and a business executive recently retired from Microsoft. He lives with his wife Gauri and one of their daughters, Robin, in Mukilteo and all three are very active in the service of the city. Ashvin has experienced the consequences of good and bad government in Africa, India, and the US, and wants to bring his creative problem solving and partnering skills to city government.
Ashvin initiates and innovates, including his first startup at age 25, five v1 products at Microsoft and holds over 60 patents. He also has the persistence to power through ups and downs until success is achieved — as illustrated by partnerships and products reaching over a billion in revenue. He attributes his career success to a single-minded focus on the customer and wants to bring that same focus to Mukilteo residents.
As a current planning commissioner for the city, he has developed a deep appreciation for the upcoming challenges for Mukilteo, prompting this run for office.
Mukilteo City Council Position 5 Candidates
Riaz Khan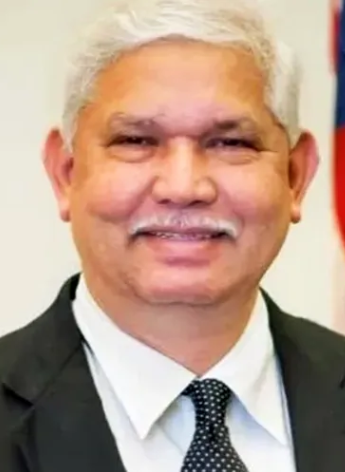 Website: Elect Riaz Khan
Councilmember Riaz Khan is a manufacturing engineer at the Boeing Company and well-known Mukilteo activist. He has more than 25 years of experience in aviation and leadership. He also manages a successful company as a managing director. He's also a delegate for the Snohomish County Labor Council and Washington State Labor Council. He's a Boeing-SPEEA council representative where he manages labor relations negotiations with employee contracts.
He believes we should all give back to our community. Khan volunteers on the Key Communicator advisory board, city of Mukilteo; and teaches STEM classes in elementary and middle schools.
Khan was elected to his first term on the Mukilteo City Council in November 2019 and is the first Muslim to be elected for a city council position in Snohomish County.
As a community leader and lobbyist, Khan serves as the president and lead fundraiser for the Islamic Center of Mukilteo (ICOM).
Khan also cares extremely about the well-being of the community and forwarding its growth. He appreciates the assistance and support of the community so much. It's beautiful to see people of different faiths, cultures, and beliefs working together. Now he wants to help ensure the future is protected for all our residents.
Khan grew up in San Antonio, Texas. He is a certified public manager, and received his Master's degree in Business Administration from Webster University, Saint Louis, Missouri. Khan is married to Ayesha Khan, their one daughter is in college pursuing an aeronautical business degree, and their two boys are studying in the Mukilteo School District.
Mike Dixon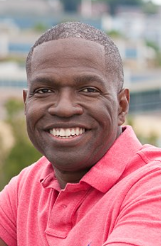 Website: https://www.electmikedixon.com
Mike Dixon is a 16-year resident of Mukilteo and a parent with children in the school system. He owns the Farmers insurance agency here in Old Town and has served in several elected and volunteer capacities.
He is currently the president of the board of commissioners of the Mukilteo Water & Wastewater District and is the chairman of the Mukilteo Diversity, Equity, and Inclusion (DEI) Commission.
He is running for office to represent ALL Mukilteans by helping to protect, nurture and expand the quality of life that led to our being nationally ranked by Money Magazine as a top 10 small town to live in.  He would love to earn your support and will always be open to hear your thoughts and ideas.
Mukilteo City Council Position 6 Candidates
Donna Vago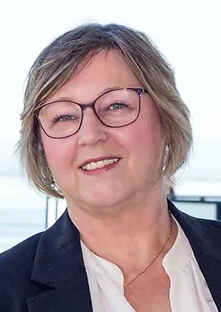 Website: https://www.votevagoformukilteo.com
Donna and her family moved to Mukilteo in 1997. She has been married for 40 years and has two children who graduated from Kamiak High School. She retired early from the insurance industry to pursue her hobbies in art and gardening and to volunteer in the community.
In 2020, Donna served on the Stakeholder's Advisory Group for the Housing Action Plan, which she opposed. She has regularly attended city council meetings for the past three years and is currently pursuing a position on the council.
Carolyn "Dode" Carlson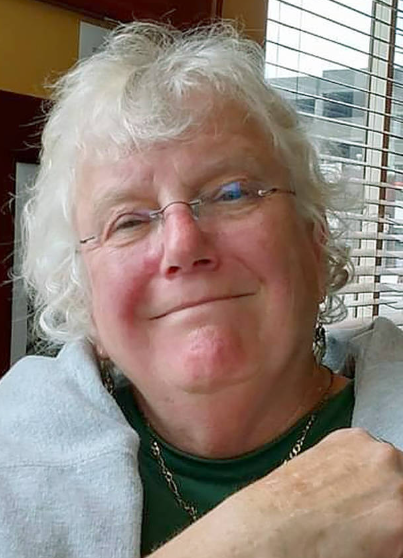 Website: No website
Carolyn "Dode" Carlson is a contender for Mukilteo City Council Position 6, bringing a robust community background, an enthusiasm for Mukilteo's growth, and substantial experience to capably represent the city's concerns.
Dode's extensive community engagement includes leadership in roles like Vice President of the Mukilteo Lighthouse Festival, President of the Mukilteo Seniors Association, Board Member of Snohomish County Parks, Chair of the Historic Commission, and more.
Dode envisions a Mukilteo that harmonizes fiscal responsibility and enhances quality of life. She advocates for sustainable waterfront development and a long-awaited Mukilteo Senior Center, and more.
Supported by figures like Megan Dunn, Brian Sullivan, Richard Emery, Tom Stiger, Randy Lord, and the 21st Legislative District Democrats, Dode invites you to shape Mukilteo's future through dedicated service and focused representation as a Mukilteo member, committed to a meaningful impact aligned with your interests.
Mukilteo City Council Position 7 Candidate
Jason Moon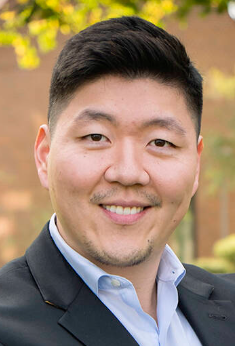 Website: https://www.facebook.com/jasonmoon.wa.gov
Jason is a longtime resident of South Snohomish County, proudly calling Mukilteo home since 2016. He attended Kamiak and King's Schools (class of 2000), University of Washington (BA/MBA class of 2024), serves on the Association of Washington Cities (AWC) diversity, equity, inclusion, and belonging (DEIB) cabinet and currently works at Microsoft. His commitment to non-partisanship enables him to maintain an unwavering focus on our city's needs, free from the influence of any specific organization, corporation, or external interests.
In Moon's view, the paramount quality of a councilmember or elected official is their dedication to public service. Being a true public servant means actively listening to diverse perspectives beyond one's immediate network and having the courage to challenge external influences or prevailing opinions.
Jason's faith, family, and friends provide a rock-solid foundation for his commitment to serving our city and our community. His ultimate goal is to ensure that the needs and aspirations of our residents remain at the forefront of his work as your representative.