Spokane named official US hub of aerospace materials manufacturing
WASHINGTON, D.C., November 6, 2023—United States Senators Maria Cantwell (D-WA), chair of the Senate Committee on Commerce, Science, and Transportation, and Patty Murray (D-WA), chair of the Senate Appropriations Committee, announced that Spokane-based American Aerospace Materials Manufacturing Center has been designated as the U.S. tech hub for aerospace materials manufacturing.
The designation was made by the Department of Commerce's Economic Development Administration (EDA). The EDA received almost 200 applications; Spokane's consortium, the American Aerospace Materials Manufacturing Center, was one of 31 selected. The tech hub program was established by the CHIPS & Science Act— legislation spearheaded by Sen. Cantwell, and which Sen. Murray helped pass as Assistant Majority Leader—which was signed into law in August 2022.
"Today, the Department of Commerce recognized the Spokane region as the nation's future aerospace advanced materials Technology Hub. Winning this designation to be one of the first CHIPS & Science tech hubs raises a banner over the region saying that the U.S. is all-in on Spokane's potential to generate new discoveries and new jobs," Sen. Cantwell said. "There are already 54 aerospace suppliers within 20 miles of Spokane, and the planned American Aerospace Materials Manufacturing Center is a prime example of the breadth of that ecosystem – the hub brings together educational institutions like Gonzaga, UW and WSU; companies like Boeing and Advanced Thermoplastics Composites; labor groups like the Spokane Workforce Council and the Machinists Institute; Tribes, local government organizations, and more. With today's designation, Spokane stands poised to compete for new federal investment and prove that while innovation can happen anywhere, the Pacific Northwest leads the way."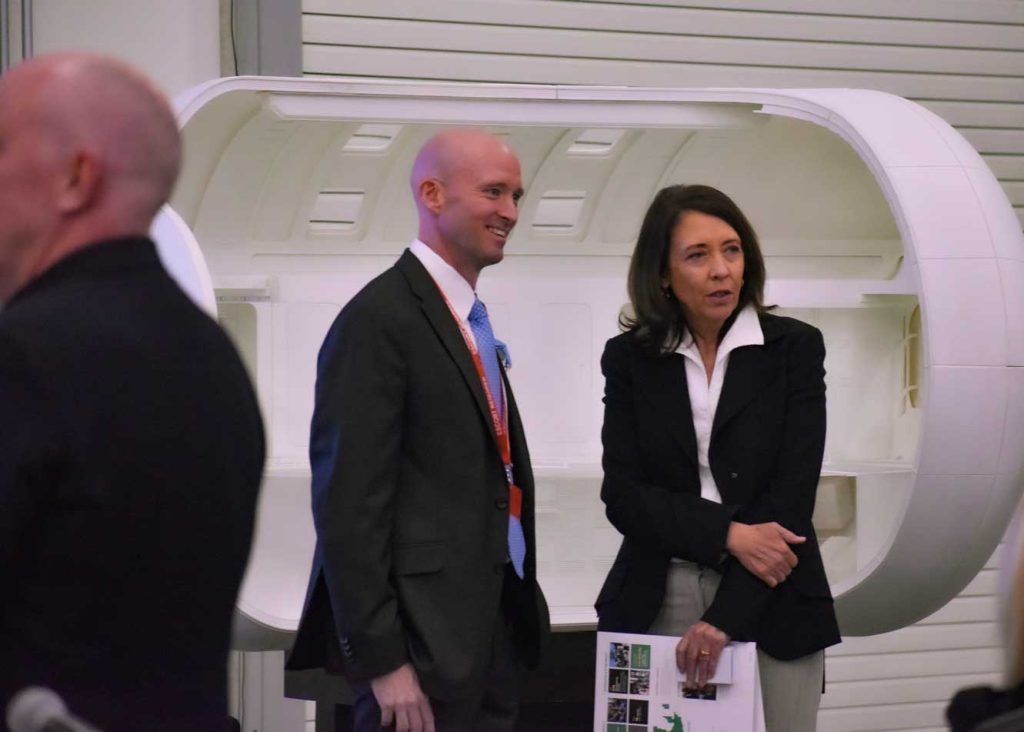 "Washington state has a proud history of being a global leader in aerospace technology—and this Tech Hub designation will give a major boost to aviation innovation and workforce development in Spokane and across our state," said Sen. Murray. "I was glad to support Gonzaga and its partners in their application for Tech Hub status and am thrilled that resources I secured to get this new CHIPS and Science Act program off the ground are going to spur innovation, improve our national security, and create jobs in Washington state. I look forward to seeing the American Aerospace Materials Manufacturing Center become a manufacturing and research powerhouse for next-generation aviation materials, while supporting critical supply chains and manufacturing jobs in our state."
Nearly 50 Spokane-area organizations—including Spokane-based Advanced Thermoplastics Composites (ATC), Gonzaga University, and the International Association of Machinists District 751—collaborated on the proposal to establish the American Aerospace Materials Manufacturing Center in Spokane.
The designation centers the Inland Northwest as a hub for aerospace suppliers, private investment, new products, and companies in the U.S. aerospace supply chain. According to the consortium, there are 54 aerospace suppliers within 20 miles of Spokane. The hub will focus on research and development of large thermoplastic composite aviation materials, which can make aircraft and spacecraft more fuel-efficient. The global aviation industry is looking to composite materials and advanced manufacturing as a solution to reduce carbon emissions and lower operating costs.
Today's announcement makes the Spokane consortium eligible to apply for substantial funding to be announced next year. At least five of today's announced hubs will be awarded $50-$75 million each under funding authorized by the CHIPS & Science Act. Becoming a tech hub is a permanent designation and confirmation of Spokane and Washington state's ability to be the country's preeminent center for the development, commercialization, and manufacturing of advanced aerospace composite materials.
Sen. Cantwell was the main architect and key negotiator of the CHIPS & Science Act, which created the tech hubs program. In her position as Commerce chair, she was instrumental in securing the science R&D funding authorizations in the 11th hour of negotiations. In April, Sen. Cantwell invited NSF director Sethuraman Panchanathan to Spokane, where he saw firsthand how Spokane organizations have collaborated to drive the region's current and future potential as a leader in technology innovation. In July, Sen. Cantwell hosted the Washington State Space Summit, bringing together 20 space companies, industry groups, and educators from across the State of Washington for a trade show and panel discussion. Video footage of Sen. Cantwell championing the tech hub program in a speech ahead of the CHIPS & Science Act passing the Senate on July 27, 2022 is available HERE (5:40 – 8:21).
As Assistant Majority leader in the 117th Congress, Senator Murray played a key role in securing passage of the CHIPS & Science Act and has held events across Washington state highlighting the many ways Washington state is benefitting from the new law. As a senior appropriator and now Chair of the Senate Appropriations Committee, Senator Murray secured $500 million to implement the Tech Hubs program in last year's government funding bill. This year's draft Commerce-Justice-Science appropriations bill, which Senator Murray wrote, would deliver $11 billion to implement the CHIPS & Science Act and $466 million for EDA, including $41 million specifically for the Tech Hubs program.
---
SOURCE: Office of Senator Maria Cantwell