Providence nurses to strike November 14 demanding more staffing
EVERETT, Wash., November 6, 2023—Over 1,300 Providence Regional Center nurses, their families, and community members alike are headed to the picket line Tuesday, November 14 through November 19, on an unfair labor practice strike against, what they call, "chronic understaffing" at the hospital which "threatens the safety and wellbeing of the community."
"This [Providence St. Joseph Health] is a nonprofit entity with billions in cash reserves and its own venture capital firm in front of jersey sponsorship of the Seattle Sounders. They've received hundreds of millions of dollars in federal COVID relief funds. They have the resources to invest in this community and they certainly have the responsibility to do so," said Faye Guenther, President of UFCW3000.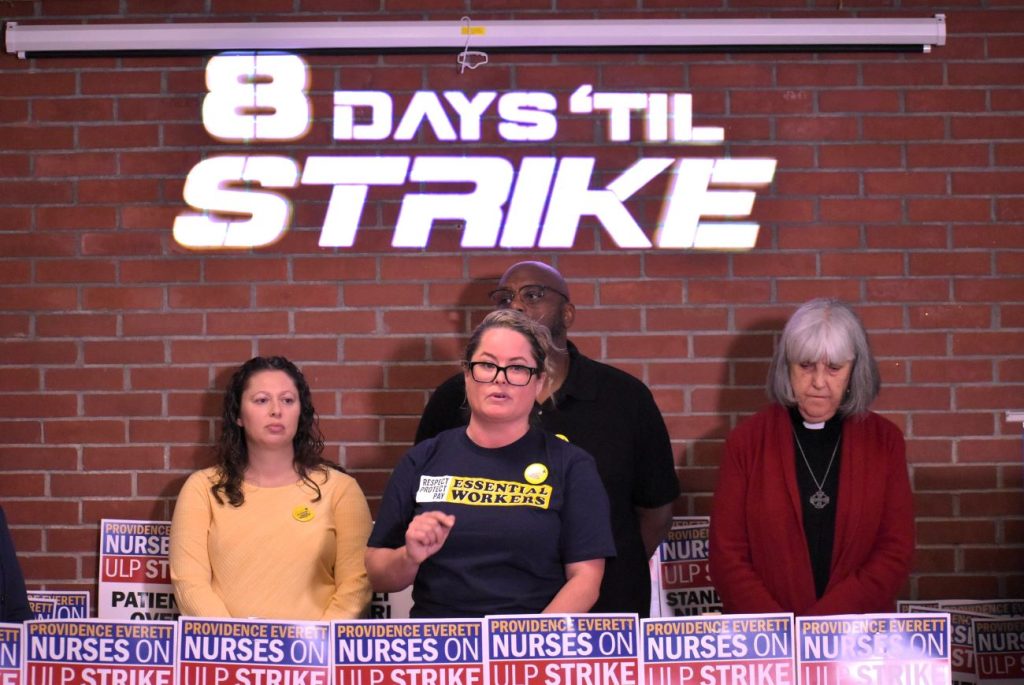 The UFCW 3000 union, of which select Providence nurses are members, and Providence management finished a final bargaining session last Friday, November 3, without reaching a deal to address nurses' issues that inadequate staffing is adversely affection patient care. UFCW 3000 represents over 50,000 frontline essential workers across Washington, Oregon, and Idaho. It is a chartered member of UFCW international with over 1.4 million workers in North America.
"I am here to let the community know that the nurses at Providence are going on an unfair labor practice strike starting on Tuesday, November 14 after going through a pandemic and years of sounding the alarm on how low staffing levels at our hospital are seriously impacting the care of the patients in this community," said Juan Stout, 15-year Providence Emergency Room Nurse and Executive Member of UFCW3000 who was a member of the bargaining team negotiating with Providence since last April. "When there are not enough nurses to care for this community that's a dangerous situation."
Stout noted that he has witnessed many qualified nurses over the years leave for higher paying jobs with less stress. Providence said they offered a 13% wage increase to nurses, but nurses wanted to ensure their wage remained competitive for a number of years.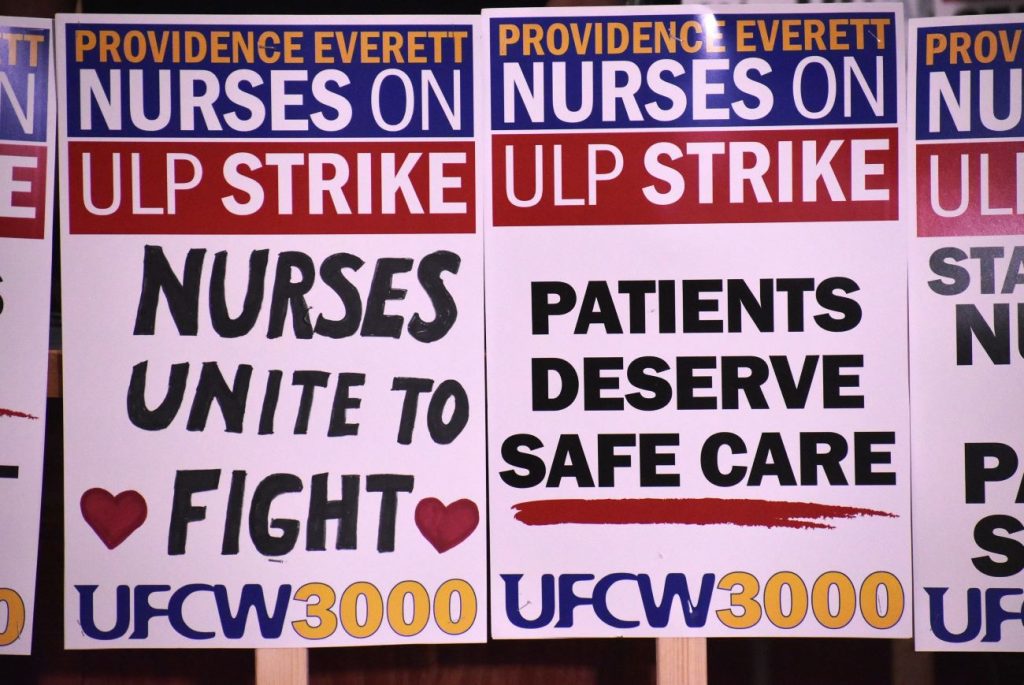 After many months of bargaining over a new union contract, the union says Providence management has refused to address staffing issues. as hundreds of nurses in recent years have left. Those that remain are demanding accountability from hospital management to create a safer environment for nurses and their patients.
On October 19, nurses working at Providence voted to authorize an unfair labor practice strike (ULP) with 97% approval. 83% of all nurses working at Providence voted, which the union said is much more than normal.
Their primary demand is that hospital management engage in good faith bargaining and come to mutual agreement on a contract that includes provisions to ensure safer staffing levels as well as transparency and accountability measures meant to renew community trust in the local hospital.
Nurses held striking as a last resort but are saying they are left with no choice. Providence Everett nurses have been raising understaffing and safety concerns for years and even played a role in advocating for new statewide hospital staffing standards that were passed by the legislature this year.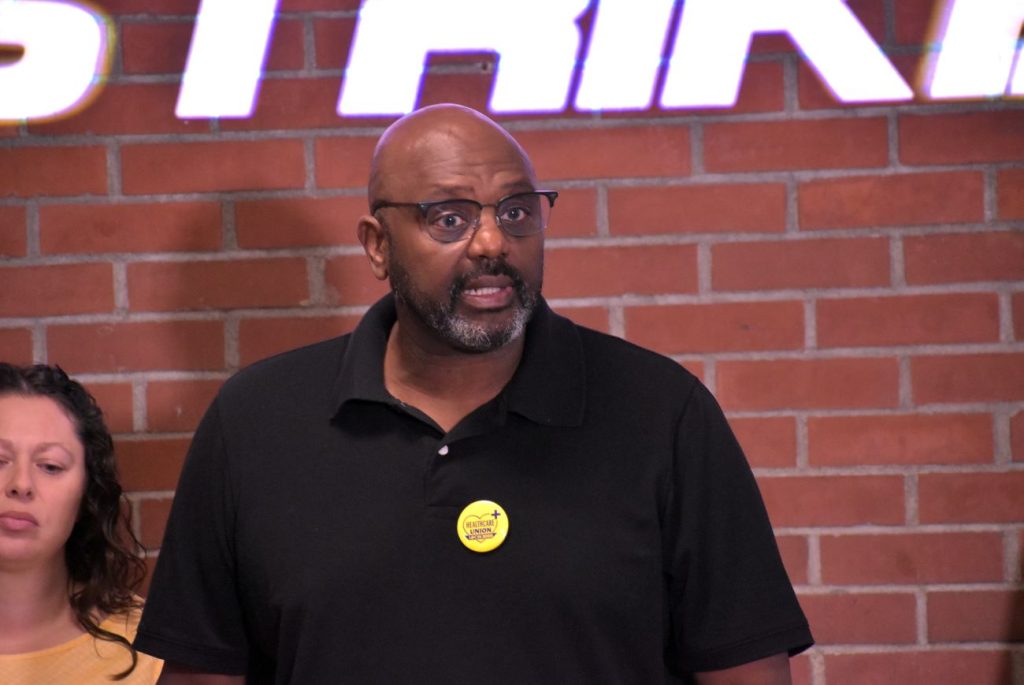 On Monday, November 6, a press conference was held at UFCW 3000's Everett headquarters detailing the dates and conditions of the strike featuring union members, nurses, and community members speaking in support of the cause.
"I support the nurses with the strike on their contract," Everett City Council member Liza Vogeli, told the Lynnwood Times. "We support you, I support you. The people that need you support you. Keep it up, you're doing what is necessary."
After a quick introduction by Sarah Cherin, Chief of Staff at UFCW3000, Don Huffman, Everett Fire Fighter and Paramedic, spoke on how chronic understaffing at Providence has affected not only nurses' ability to provide proper care but the community at large.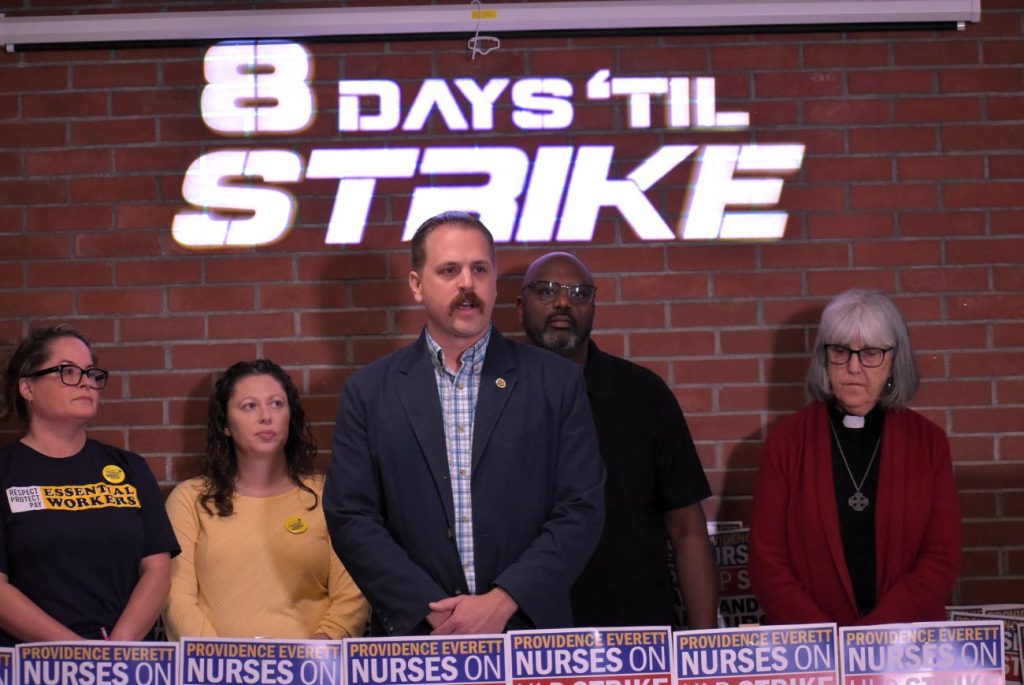 "The staffing crisis at Providence hospital has become so severe the long wait times at the emergency department tie up your firefighters for hours at a time, keeping us from being able to put out fires and other emergencies," said Huffman Monday. "When Everett firefighters are tied up at the hospital, fire engines and paramedic units are pulled into the city from surrounding areas to respond to calls leaving the communities they serve with reduced fire protection. The staffing emergency at Providence hospital is an emergency to all of us."
It is common for a patient transported to Providence by Everett Fire to wait one to two hours for a room for medical services, Huffman continued.
Since 2021, approximately 600 nurses have left or retired from Providence Regional Medical Center. The hospital's chief nursing officer said the hospital would need to hire at least 400 more nurses to be at what they consider "fully staffed." At Providence, the union alleges that it is customary to have one nurse per patient but lately it's been closer to one nurse per seven or eight patients.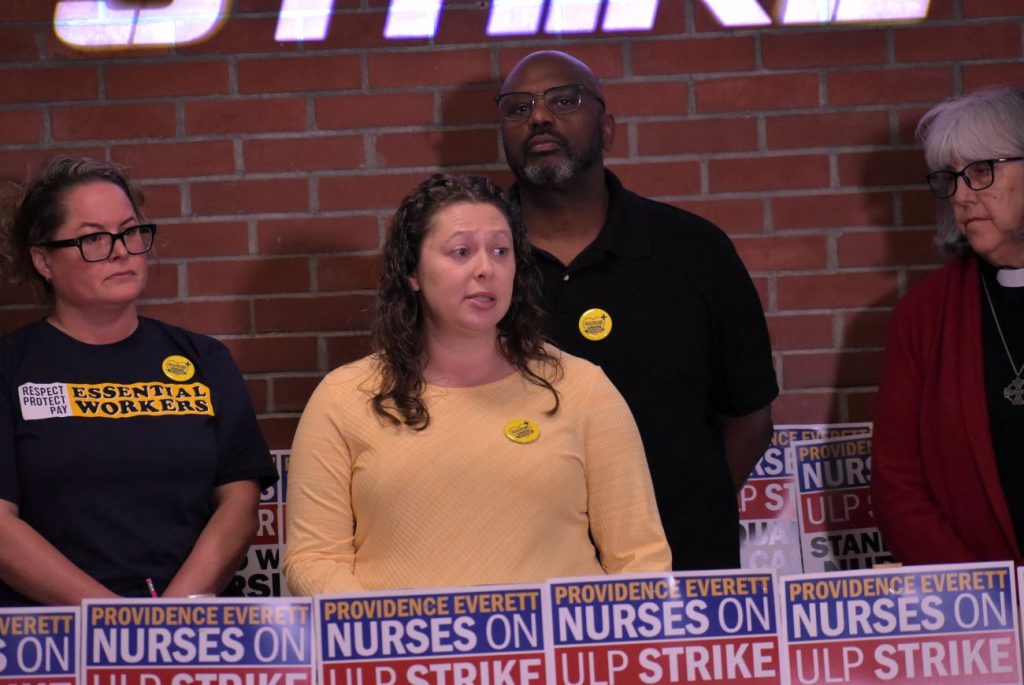 "If we do not have enough nurses on shift, we are running from room to room providing sub care that we can barely get done," said Kristin, a registered nurse working at Providence. "We've been calling attention to this crisis during our contract negotiation, about staffing issues getting worse and worse over time, yet Providence has not considered our proposals in good faith. They've rejected proposals we've previously agreed upon and they've obstructed and undermined our bargaining process, stopping us for finding a resolution for our nurses and our community."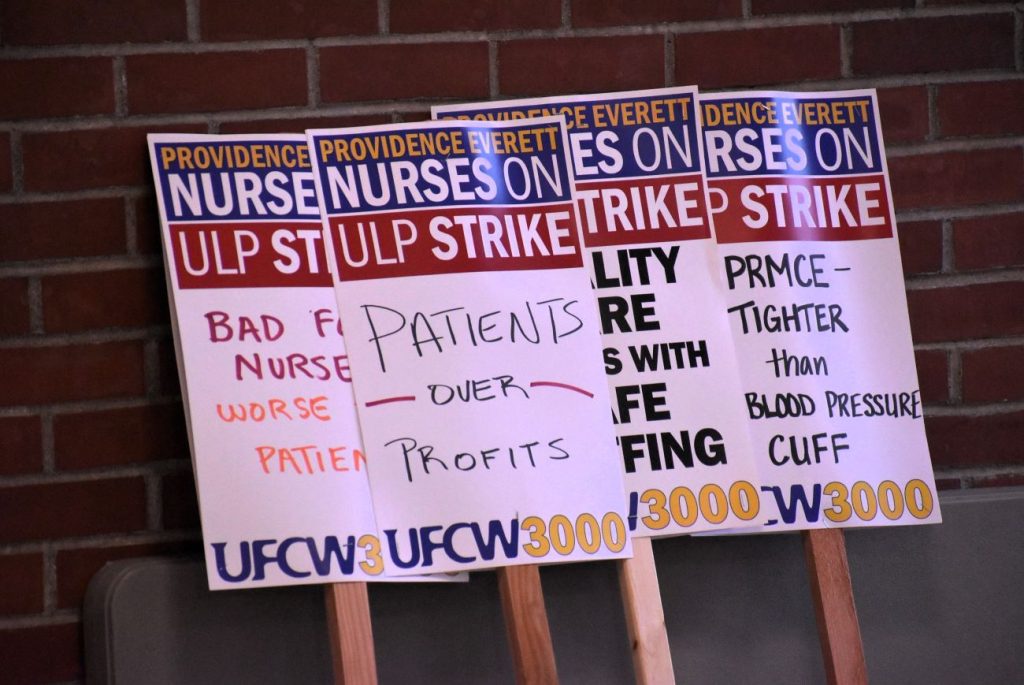 Nurses at Providence are required to give a 10-day notice before striking so patients in critical care can be moved to an appropriate place. The union considers stepping away from these patients to strike a necessary sacrifice for the long-term and says it's the hospital's responsibility to ensure its patients are properly cared for. Community members can show their support for the strike by providing striking nurses with coffee and donuts at the picket lines, the union said.
Guenther shared with the Lynnwood Times some words of encouragement to those on the strike lines reminding them that workers are going out on the strike lines and winning so the process works. She adds "we're stronger together."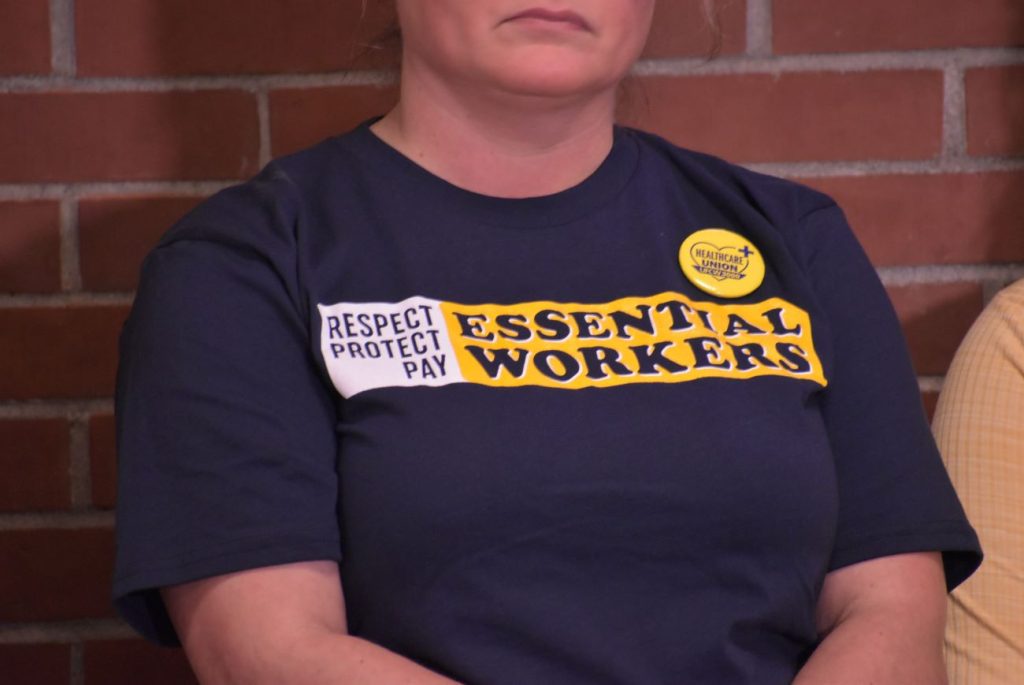 Legally, those participating in the strike are protected by their right to strike and if any repercussions come from their participation the union will retaliate with filing more charges, she said. The union could consider extending their strike pass the November 19 date if a fair contract cannot be agreed upon but the decision would come at that time, Guenther told reporters.
Providence Regional Medical Center is Snohomish County's largest hospital and the largest faith-based healthcare system in the Northwestern United States with 3,000 employees and approximately 1,000 physicians on staff. It is currently licensed for 571 beds, with 448 at the Colby Campus and 123 at the Pacific Campus.
🚨#Breakingnews: UFCW 3000, Nurses at Providence Everett, and union leaders announcing strike at Everett Labor Temple to take effect on November 14, 2023.#ufcw3000 @ufcw3000 @ProvSouthwestWA @ProvidenceNW @providence_phc @snocounty @EverettCity @SnoHD @WADeptHealth pic.twitter.com/YXCXVRf6l9

— Lynnwood Times (@LynnwoodTimes) November 6, 2023