Ferguson, Robinson join Providence nurses strike, speak at candlelight vigil
EVERETT, Wash., November 17, 2023—Providence Regional Medical Center nurses, patients, and community allies gathered together for a candlelight vigil at Everett's Drew Nielson Park, Thursday, November 16, to show their solidarity for patient safety in wake of strike.
It's been 60 hours since over 1,300 nurses entered the picket lines, on November 14, to strike against unfair labor practices and, what they call, "chronic understaffing" at the hospital which "threatens the safety and wellbeing of the community."
"It's been an ever-increasing challenge. Progressively, over time, we have more and more shifts in which we are physically unable to provide the care that patients need just because of our numbers. Over time that wears on you like crazy because there's a certain amount of care for safety, for dignity, for compassion but when you have too many patients, no matter how hard you work, you just can't do it," Dana Robinson, RN in Labor and Delivery at Providence, told the Lynnwood Times. "Ending your day feeling like you're failing even though you're giving it 200% of what you have is a really hard thing to keep doing."
@ProvidenceNW nurses, patients, and community allies gathered together for a candlelight vigil on November 16 to show their solidarity for patient safety.@BobFergusonAG @BernieSanders @washdems @WAGOP @UFCW @ufcw3000 @UFCW_3000 #providencestrike pic.twitter.com/KlnkrNiRHP

— Lynnwood Times (@LynnwoodTimes) November 18, 2023
The UFCW 3000 union, of which select Providence nurses are members, and Providence management finished a final bargaining session on Friday, November 3, without reaching a deal to address nurses' issues that inadequate staffing is adversely affection patient care. UFCW 3000 represents over 50,000 frontline essential workers across Washington, Oregon, and Idaho. It is a chartered member of UFCW international with over 1.4 million workers in North America.
After many months of bargaining over a new union contract, the union says Providence management has refused to address staffing issues as hundreds of nurses in recent years have left. Those that remain are demanding accountability from hospital management to create a safer environment for nurses and their patients.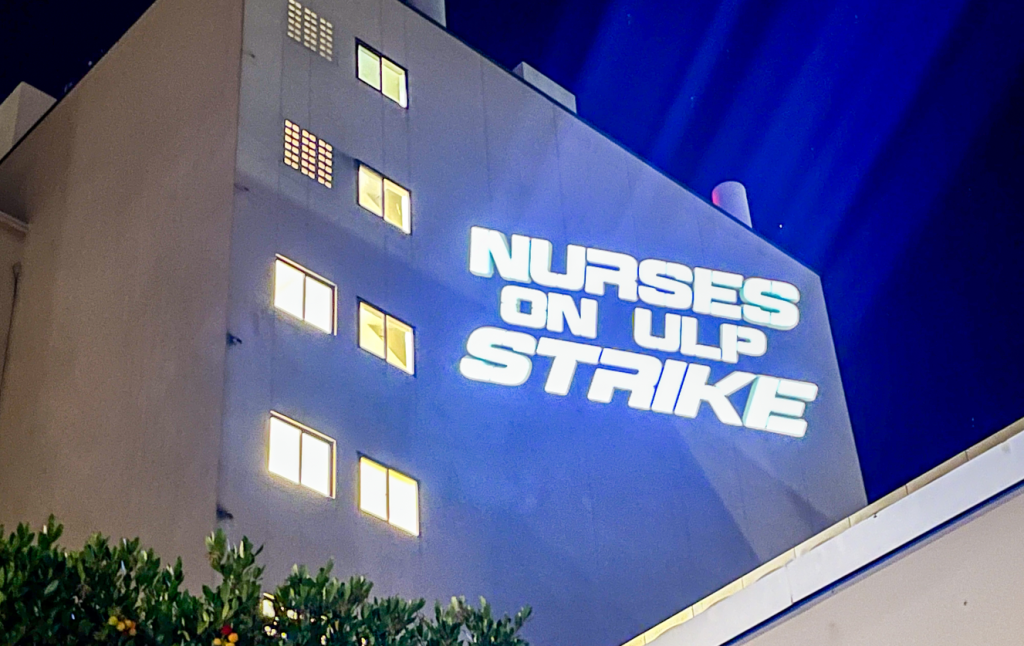 "We're chronically understaffed. It's really disheartening. You come into work, you finished your shift and you're wondering what just happened. It's the type of stuff where if you're giving pain medication you need to be checking in with that patient within the hour and you can't quit there. A pain medication, like a narcotic, is not the kind of thing you want to give and just walk away because you have six other patients you need to take care of, it's a really dangerous, hazardous, situation," Trevor Gjendem, Nurse at Providence, shared with the Lynnwood Times.
On October 19, nurses working at Providence voted to authorize an unfair labor practice strike (ULP) with 97% approval. 83% of all nurses working at Providence voted, which the union said is much more than normal. Their primary demand is that hospital management engage in good faith bargaining and come to mutual agreement on a contract that includes provisions to ensure safer staffing levels as well as transparency and accountability measures meant to renew community trust in the local hospital.
Nurses held striking as a last resort but said they were left with no choice. Providence Everett nurses have been raising understaffing and safety concerns for years and even played a role in advocating for new statewide hospital staffing standards that were passed by the legislature this year.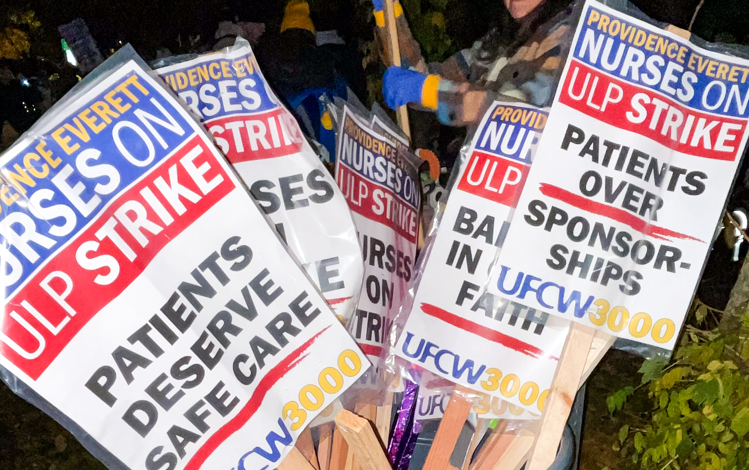 Since Providence nurses began striking on Tuesday, traveling nurses have stepped in to fill the gaps receiving $120 an hour as pay, according to a UCFW3000 spokesperson while the average hourly rate of a Providence nurse in Everett is currently $43 and hour, based on data collected by Indeed.
At Thursday evening's event, speakers including Attorney General Bob Furguson, Senator June Robinson, Reverend Carol Jensen of Trinity Lutheran Church, former President of the Washington State Labor Council Jeff Johnson, nurses and members of the UFCW3000 union bargaining team, took to a podium at the front of the park's gazebo to show their support for the strike and share how Providence's lack of staffing and underpaid nurses has affected the community's healthcare practices as a whole.
"I am thinking and reflecting on the cheers I've heard on Tuesday at 6 a.m. when some of the bravest nurses I have ever seen to the cheering crowd of supported nurses outside," said Sarah Cherin, Chief of Staff at UFCW3000. "Or what about the patient, Mr. Phelps, who walked out of the hospital after 36 days, straight to the strike lines, with an oxygen tank in one hand and a strike sign in the other, resolute to his commitment to our cause – that was inspiring."
Attorney General Bob Ferguson shared with the crowd that he grew up in a house on 1202 Colby, just a block away from the strike line where his mother lived until the end of her life when she passed away recently.
"She was able to pass away with dignity in her home, with her family with her, because of course she had people like you with her during those final years when her health was not that good," said Ferguson. "When she got COVID, in her 90's, I thought this might be it. But thanks to the healthcare she had, and the nurses that took care of her, she was able to come back home and have those final two to three years with dignity, with her family, and die a peaceful death. Thanks for all that you do and your courage in standing up for your rights. We're with you and we're going to fight for you in every step of the way."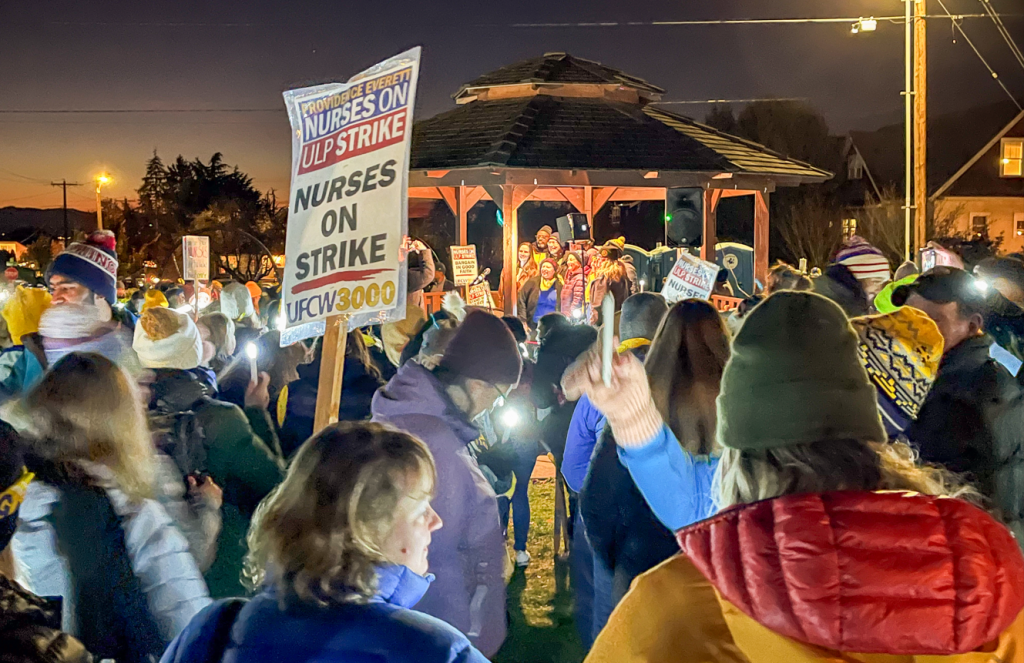 Reverend Carol Jensen, Lutheran Pastor and Board Chair of the Faith Action Network, followed Ferguson to share that Providence posted an ad in the newspaper recently in which they referred to themselves as a "ministry," showcasing that the management of Providence still portrays their enterprise as "faith-inspired service to the community."
"If they mean that then they need to listen to the nurses of Providence who are carrying out this ministry – the one's on the front lines who are caring for the sick, the injured, and the most vulnerable," said Jensen. "It's imperative that the wider community support these nurses as they seek more accountability for their employer and staffing conditions to support the life-saving work that they do."
Juan Stout, Providence nurse and one of the leaders of the UFCW3000 bargaining team, approached the podium after Reverend Jensen, unscripted, passionate, and emotional to inform the crowd that "this is not the hospital [he] came to" 15 years ago.
"It is terrible that we have gotten to this point. This community deserves better. 15 years ago when I came here this was the place to be, nurses who came out of Everett, who came out of Shoreline, who came out of UW clamored to get into the doors of Providence Hospital because they knew they were going to be challenged, they knew they were going to work hard, they knew they were going to have sick patients but they knew they were going to make a difference to those patients. Providence has changed the game," said Stout.
Senator Robinson took the stand after Stout to explain it was the nurses working at Providence who motivated her to work with colleagues in Olympia to pass hospital staffing legislation earlier this year during the 2023 legislative session.
Senator Robinson was referring to Engrossed Second Substitute Senate Bill 5236, of which she was a primary sponsor and passed by the Senate on March 6, 2023, with 96 yeas and 13 nays. The bill, once it goes into effect, will hold hospitals like Providence, and all across the state, accountable for holding efficient staffing levels.
"I am proud to stand with you tonight, I'm proud to stand with you in Olympia, and thank you so much for serving this community," said Senator Robinson.
Jeff Johnson, Co-President of Puget Sound Advocates for Retirement Action (PSARA) and former President of the Washington State Labor Council (WSLC), was next to speak mentioning that healthcare workers are the "heart and soul of the healthcare system," sharing that when his wife was diagnosed with Leukemia that it was nurses who bolstered her spirit and kept her going.
Before Johnson left the stand, he conducted a back-and-forth chant with the crowd shouting: We are union, we are community, we are one.
Closing out the speaking portion of the evening, Faye Guenther, UFCW3000 Union President, took to the stand to explain the meaning of a vigil is "to stay awake," to "keep watch", which she said the nurses of Providence are doing every day – keeping watch over their patients, over the wellbeing of the community, and over each other.
"While we have made common sense proposals to solve the ongoing staffing problems here, Providence has turned its back on the community, these nurses and the patients that they serve, all the while breaking federal labor law dozens of times in an attempt to ignore and frustrate the bargaining process," said Guenther. "Providence has lost its way. Their bad behavior affects us locally right here, exemplified by them not bargaining with us to avoid the strike even as we gave them a 10-day notice and say ready to come to a reasonable agreement. Instead of being out here we should all be in there."
After the candlelight vigil ended, hundreds of attendees in the crowd picked up strike signs and marched across the street to Providence's Everett campus chanting: "What do we want? Safe staffing. When do we want it? Now!"
Passing cars on Colby Avenue honked their horns in support and even patients in the hospital rooms above could be seen waving their hands, siding with the nurse's cause and demands for safer staffing.