Macy's workers to strike on Black Friday throughout Washington
SEATTLE, Wash., November 19, 2023—Over 400 of Macy's workers will strike starting on Black Friday, November 24, to an Unfair Labor Practices ("ULP") at the busiest stores within Washington state, including Alderwood Mall in Lynnwood. Other stores include Bellis Fair Mall in Bellingham and Southcenter Mall in Tukwila.
"Macy's is not the first or last strike in Washington," said Joe Mizrahi, Secretary-Treasurer of UFCW 3000, who spoke on behalf of the union members. "Providence nurses and hospital staff and now Macy's employees are demanding CEOs share the wealth made off of their hard work. This unfair labor practice strike is unusual because when was the last time major department stores in Washington were effectively shut down by sales associates? Jeff Gennett, Macy's CEO, makes $11 million a year. Macy's makes more than 1 billion in profits per year. They have enough money to open new stores, like Bloomies in University Village. Yet Macy's refuses to pay people enough to support their families. They are offering what is essentially a pay cut in the face of inflation."
On November 17, hundreds of workers made the announcement at Southcenter Mall in Tukwila. Macy's workers voted nearly unanimously 96% on October 6 to authorize an Unfair Labor Practice strike if the billion-dollar retail juggernaut does not offer substantial improvements during contract negotiations. Macy's reported revenue of $25 billion in 2022 with a net income of $1.177 billion after all expenditures. For 2022, the company reported similar figures. It is projecting net sales for 2023 between $22.9 to $23.2 billion.
Between November 6 through 15, Macy's workers, and their union UFCW 3000, returned to the bargaining table with Macy's to try to reach an agreement but were unable to reach agreement. On November 17, the 7-day countdown to picket was announced.
UFCW 3000 workers at Macy's say the corporation is not doing enough to address shoplifting, violent shoppers, and other safety threats to workers and customers.
When Liisa Luick, a Macy's Alderwood sales associate in the Macy's Men's Department, witnessed someone shoplifting she called Macy's managers and then mall security. But they refused to help. So, she called 911, to protect Macy's, her customers, and herself. Macy's immediately disciplined Luick for calling 911, putting her on unpaid leave for more than 2 weeks. While Macy's eventually provided back pay, at these low wages, two weeks without pay is a major hardship.
UFCW Local 3000 has filed an unfair labor practice charge against Macy's for disciplining Luick because their actions were in relation to her involvement in union activities.
"Now we are afraid to call 911 when safety issues come up because we worry we will get in trouble, or even lose our jobs," Luick said. "Workers don't feel safe in our store, and now they are scared of retaliation, so they've stopped calling for help when they see a threat. Macy's needs to step up and make our stores safer for workers and customers. I'm asking our customers to shop elsewhere this holiday while we are on strike."
When Liisa Luick, a Macy's Alderwood sales associate in the Macy's Men's Department, witnessed someone shoplifting, she called Macy's managers and then mall security. But they refused to help. pic.twitter.com/Ge8LvYoUSA

— UFCW 3000 (@UFCW_3000) November 17, 2023
Workers also claim that pay isn't keeping up with the cost of living. According to United States Bureau of Labor Statistics, since October 2021, consumer inflation for all items are up 10.9 percent throughout the country; however, consumer inflation for the Puget Sound Region is up 13.7% for that same period, outpacing the national average.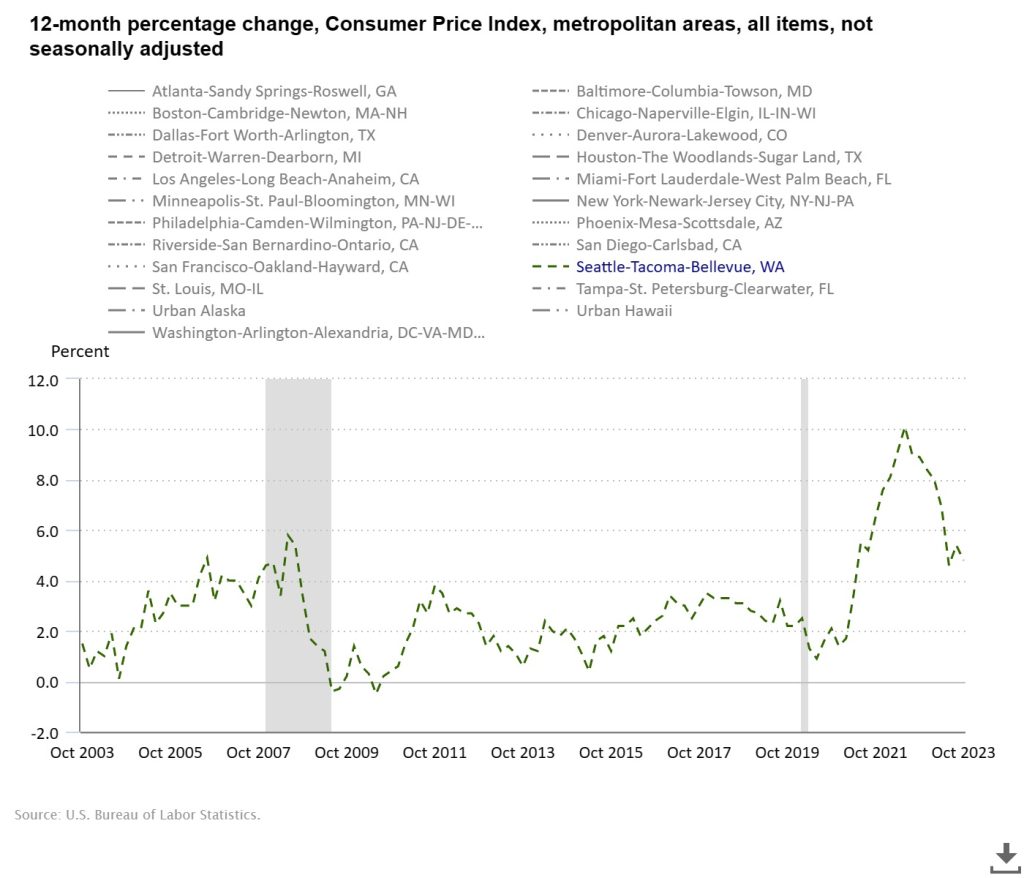 Azia Domingo, a Start Team member who has worked for Macy's for 21 years, explained why she and co-workers are ready to strike.
"I love my job, and creating amazing displays for our customers," said Domingo. "Macy's is making billions of dollars and paying their CEO $11 million a year, but most of us workers are struggling to make ends meet. Pay isn't keeping up with inflation. We shouldn't have to question whether we can afford to have health insurance and go to the doctor. Until Macy's shows that they respect and value us with better security and better pay, they will lose more workers. I hope our customers will stand with us in this fight and not shop at Macy's while we are striking."
Azia Domingo has worked for @Macys for over 21 years, but she and hundreds more workers will join together to fight for safety and livable wages on Black Friday (11/24). Looks like the CEO can certainly afford it! Hope to see you there with #MacysWorkersUnited pic.twitter.com/oLmlIXf3qq

— UFCW 3000 (@UFCW_3000) November 18, 2023
UFCW Local 3000 is also filing charges against Macy's for allegedly violating union members' contractual rights to speak to other members on the sales floor, surveillance of union members, and engaging in bad faith bargaining – key drivers of the ULP strike.
More than 14,700 shoppers have already signed the pledge to respect striking Macy's workers. Community member Clementine Morfoot spoke on behalf of those Washingtonians who have already signed a pledge to shop elsewhere while Macy's workers are on strike.
"As a customer, I value the expertise and help Macy's staff provide me," said Morfoot.  But knowing that store management isn't adequately protecting workers and shoppers or paying workers a living wage, I won't shop at Macy's until they step up and improve safety and pay for these essential workers. I hope other shoppers will join the 14,000 customers who've already signed the pledge to shop elsewhere."
UFCW 3000 members at Macy's are sponsoring MacysUnited.com to educate shoppers about a potential Unfair Labor Practices strike at select Macy's stores in Washington. 
---
SOURCE: UFCW 3000 press release with additions by the Lynnwood Times. Photo courtesy of Kelsey Hamlin.