Lynnwood to hold Public Hearing on 2024 property tax levy increase of 22%
LYNNWOOD, Wash., November 14, 2023—The Lynnwood City Council will hold a Special Business Meeting on Monday, November 20, 2023, for the purpose of holding a Public Hearing on the 2024 Property Tax Levy. The meeting will be held at 6:00 pm in Council Chambers and remotely on Zoom at https://lynnwoodwa.zoom.us/j/81292681086. The regularly scheduled Work Session will begin immediately following adjournment of the Special Business Meeting.
The Lynnwood City Council passed its 2023-2024 biennium budget during its December 12, 2022, Business Meeting.  For the fiscal year beginning January 1, 2023, the City of Lynnwood assessed a regular property tax levy of $4,500,000 (or $0.43 per $1,000 or assessed value). However, the adopted budget has for fiscal year 2024, a property tax dollar amount increase over the 2023 levy amount equating to $1,000,000 or 22.23 percent (22.23%) from the previous year. The proposed 2024 property tax levy amount is $0.53 per $1,000 of assessed value.
The total valuation of all real property in the City of Lynnwood is $10.4 billion for 2023 according to the Finance Director Michelle Meyer. The preliminary 2024 assessed valuation is $10.5 billion. The median assessed value of a home in Lynnwood is $462,200. Therefore, the proposed $0.53 per $1,000 of assessed value would equate to a $244.97, or an increase of $44.55 when compared to the 2023 rate. To view related documents, click here.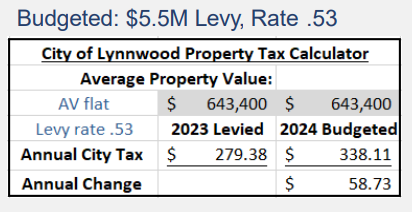 Washington state law requires cities that impose a property tax to certify their levy for the subsequent year by November 30. A public hearing is scheduled for November 20, 2023, for public feedback on the proposed property tax levy increase. The council is scheduled to vote on the 2024 property tax levy rate on Monday, November 27, 2023.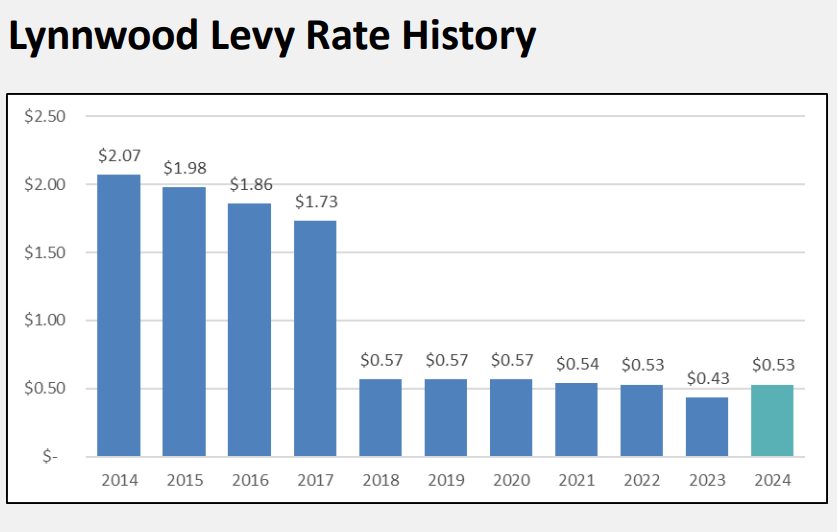 The approved property tax rate by the council will take effect on January 1, 2024.