City council approves construction of Home Depot and apartments
by LUKE PUTVIN
luke.putvin@lynnwoodtimes.com
On May 13, the Lynnwood City Council passed the development agreement for the Lynnwood Place Phase 2 Project located in the southern portion of the former Lynnwood High School at 184th St. north of Alderwood Mall.
This project will bring a 137,374 sqaure foot Home Depot with rooftop parking for 441 vehicles and four five-story multi-family residential buildings over ground floor retail and surface parking. There will be a total of 500 residential units, over 10,000 square feet of office, over 12,000 square feet of retail and a total of 876 parking spaces.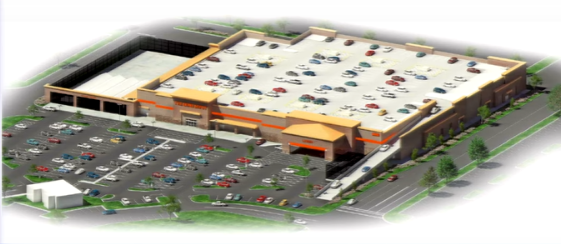 The Project Design Review has been completed for both developments and the Conditional Use Permit was approved by the Hearing Examiner in order for Home Depot to more forward in a commerical-residental zone.
Former plans for the area included a shopping space that was similar to Mill Creek Town Center with a collection of small shops, cafes and restaurants.
"As we scoured the market… Amazon came along which kind of obliterated a lot of the tenants we were talking to. Small shop tenants were having a really hard time with this," said Steven Malsam, Owner and lead developer at Wakefield Properties.
Wakefield Properties developed Mill Creek Town Center, Snohomish Station and The Lodge Apartments in Marysville.
Malsam stated that a Home Depot at this location, for a long-term financial standpoint, was the smart option for them. "I couldn't say enough about working with Home Depot and their willingness to do whatever it took to be in the Lynnwood community," he said.
Malsam also mentioned wanting to build a restaurant with an outdoor amphitheater and eating space. "I don't have a lack of good opportunities," he added.
Scott Mommer, site development coordinator for Home Depot, gave a presentation at the meeting. In addition to specific design information, he offered some information in relation to how Home Depot gives back to the community.
"Home Depot is committed to creating diversity to support the local community by engaging and developing associates, building partnerships and supporting local organizations," Mommer said.
In addition to diversity, Home Depot has specific focus areas of giving back to the community; these are veterans housing, disaster responses and training. In 2017, Home Depot granted $63 million to support communities. Each Store Manager is given funds each year to use for the local community.
Councilmember Ian Cotton mentioned being present at the original Lynnwood Place Phase 2 presentation when it was more similar to Mill Creek Town Center. He said he was excited at that prospect, "but also knows that times have changed and with that the landscape of what is economically viable."
"What we had as a vision before is not something that will work now. What is being proposed now will work really well," said council President Benjamin Goodwin.
Councilmember George Hurst said, "We as a council need to figure out what our vision is and put it into policy, and we really need to look into housing. But I think this project fits into its area."
"I really wish we could have done something different here, and just out of principle, with all due respect, I'm going to have to vote no," said Councilmember Shannon Sessions.
The Lynnwood Place Phase 2 plan passed 6-1 with all members voting to approve construction. Councilmember Sessions voted no.
The city council passed amendments to the City Center Design Guidelines and Development Code unanimously. The purpose of these amendments is to give more freedom to developers who want to build in Lynnwood's City Center. The code was previously restrictive.
"I'm of the mind that having some flexibility allows us to react to new technologies. Allowing leeway and trusting the department director to make the correct call for the community is appropriate," said councilmember Cotton.
There were also three proclamations from the council. Ian Cotton gave the proclamation for Bike Everywhere Month, George Hurst gave the proclamation for Historic Preservation Month and Ruth Ross gave the proclamation for Arts Education Month.