Community gathers at Cops and Kids event
By LUKE PUTVIN
luke.putvin@lynnwoodtimes.com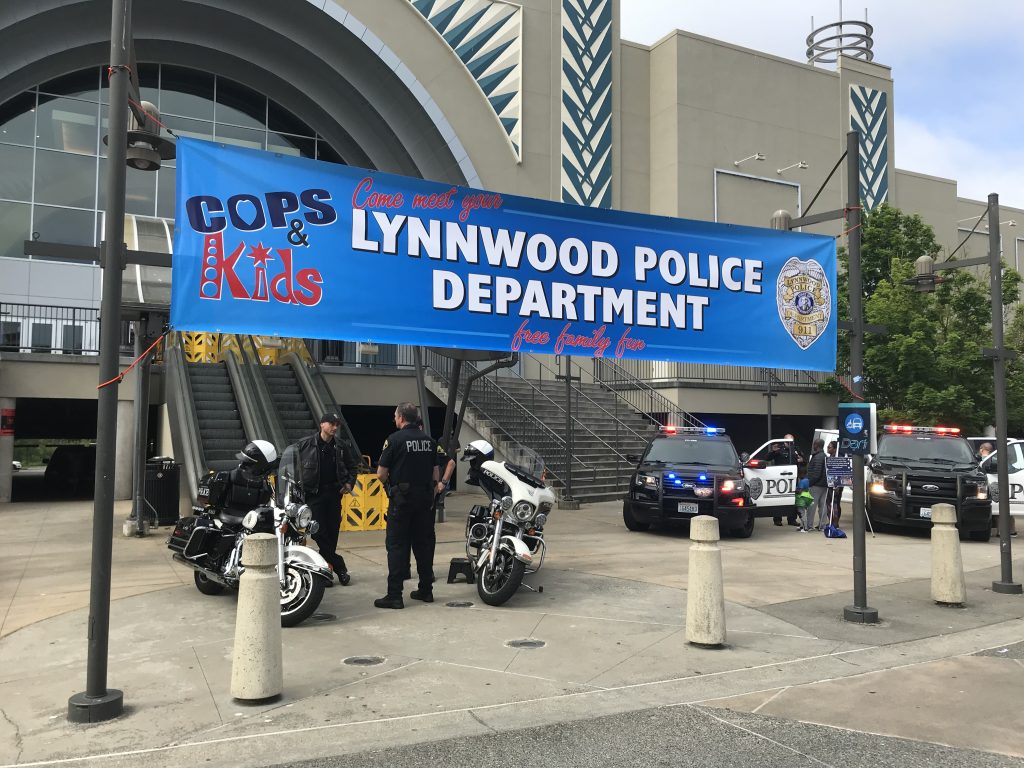 On June 1, about 1000 people came to the Terraces outside Alderwood Mall between 10 a.m. and 1 p.m. for Lynnwood's sixth Annual Cops and Kids event.
"We created this event as a meaningful way to have direct access in a positive environment to the people in the community, especially kids," said Commander Wes Deppa of the Lynnwood Police Department (LPD), who started the event back in 2014. Cops and Kids has been occurring on the first Saturday of June. "The event puts smiles on the kids' faces and there's nothing better than that," he said.
Deppa said that there is a bit of mystery behind the police and what they do. He cited movies, video games and other forms of media as serving as misinformation of what police-work is really like. "We're just normal people doing a very difficult job," Deppa said. "Having the community get to know us 'behind the badge' helps foster trust."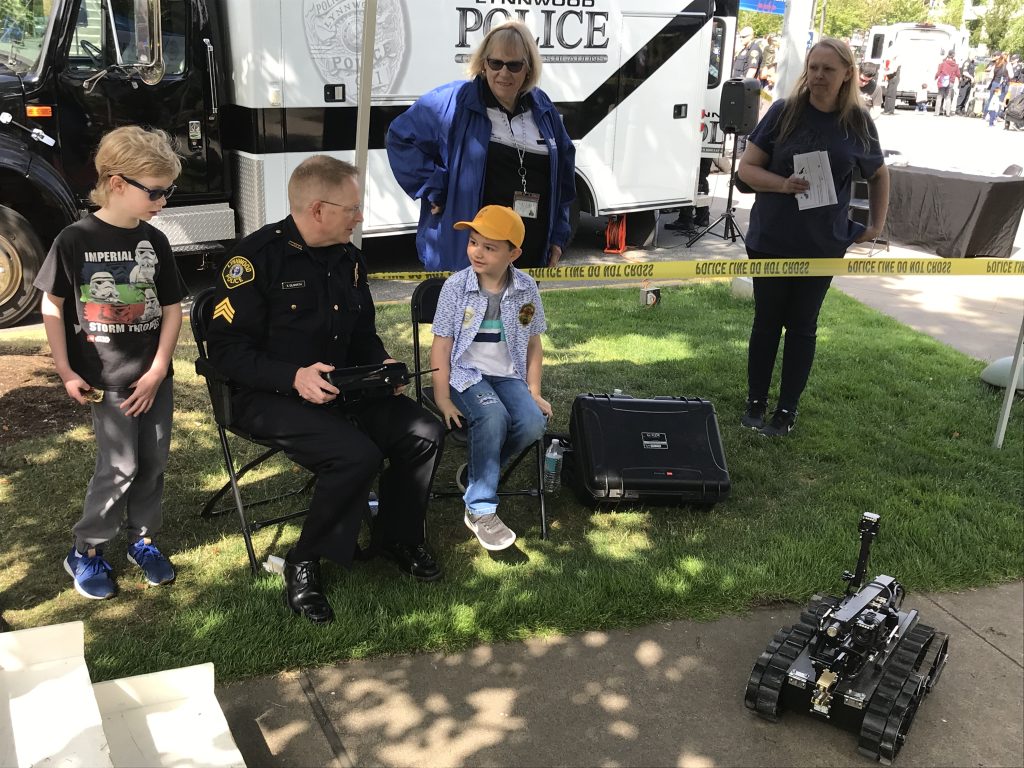 The event began as a result of the 2009-2010 budget cuts to the Lynnwood Police Department. At that time, the department lost its D.A.R.E. program and its School Resource Officer position which were key outreach opportunities. These lost connections led Deppa to start the community building Cops and Kids event.
Deppa also emphasized the presence and importance of volunteers. "The LPD has more active volunteers than officers," he said. These volunteers include members of the Citizens Patrol, Volunteer in Public Safety (VIPS) and Police Explorers. Volunteers provide services such as free lockout assistance for people who have locked keys in their car, free house checks for when people are out of town, directing traffic at collision scenes and more.
The event had Police K-9 demonstrations, free prizes/raffles and many different members of the LPD available to talk and answer questions. LPD brought squad cars, motorcycles and even a SWAT car to show members of the community.
S.W.A.T. vehicle at the sixth annual Cops and Kids event on June 1.

Sixth annual Cops and Kids event on June 1.

Sixth annual Cops and Kids event on June 1.
It was Officer Tyler Mellema's first time at the event. Mellema explained how the LPD uses drones and mentioned LPD's drone program began only this year.
"We use the drones on patrols, and they help the K-9s," Mellema said. "They're also cheaper air surveillance than helicopters. We're not using them like some people think; we're not 'Big Brother,'" he said.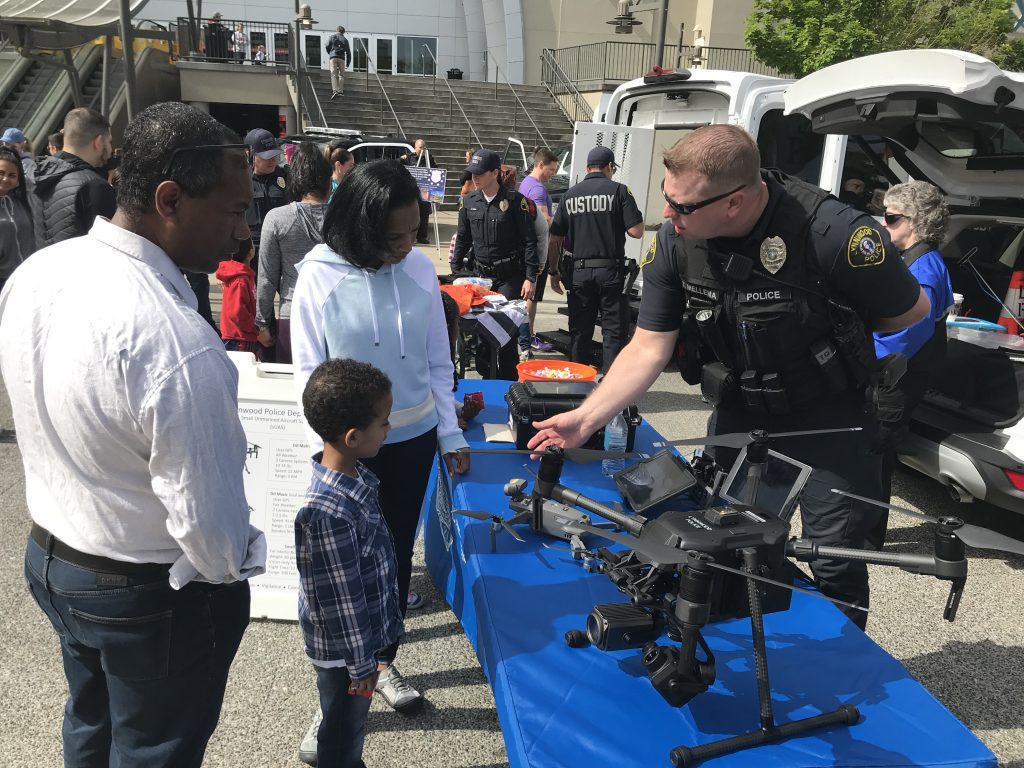 When asked why you attended the Cops and Kids event, Lynnwood resident Dawit said, "We saw the big poster on 196th…and wanted to come because we like police officers. They're lifesavers."
Dawit's wife Haymonot added, "This is great for the community," We call the police for emergencies, but this is a good chance to get to know them. We want our kids to appreciate officers. They're people to be proud of. They give their lives and we want to show we appreciate them."
For more information on the LPD, including how to become a volunteer, visit LynnwoodWa.gov and click "Police Department" under the "City Services" dropdown menu.