By Luke Putvin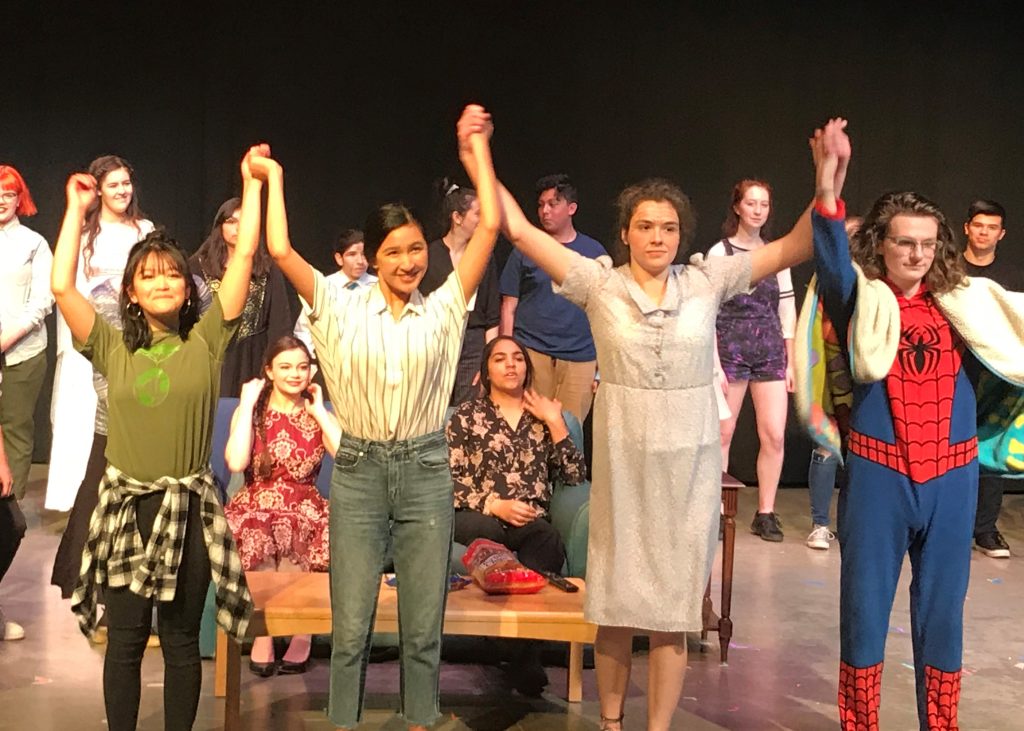 About 150 people gathered in the Meadowdale High School Black-Box Theatre to attend Drama Fest June 8. Katie Powell Mitchell, drama teacher at Meadowdale High, said the students had been working on the show for only three weeks. It is her fifth year teaching at Meadowdale, and she especially loves Drama Fest because it is student-run. All the plays are student-teched, student-directed and student-written.
There were 11 short plays with a brief intermission after the sixth. Mitchell said there were about 17 play submissions. Additionally, over 80 students auditioned, and she was really happy at how many underclassmen there were in the productions. She wanted the people attending the event to just see the talent of the students and how they took on all the leadership roles.
The short plays spanned a wide variety of topics. The first was a comedic museum heist with an inept security guard, and the second shifted to a fantasy setting in which Jocelyn and Erin, played by Cora Marchewitz and Victoria Forguson, had lost track of the princess they were supposed to be guarding. It turned out, however, that the princess was just on a date with a sorceress, and though the two guards had a brief squabble, they made up and were the best of friends at the conclusion.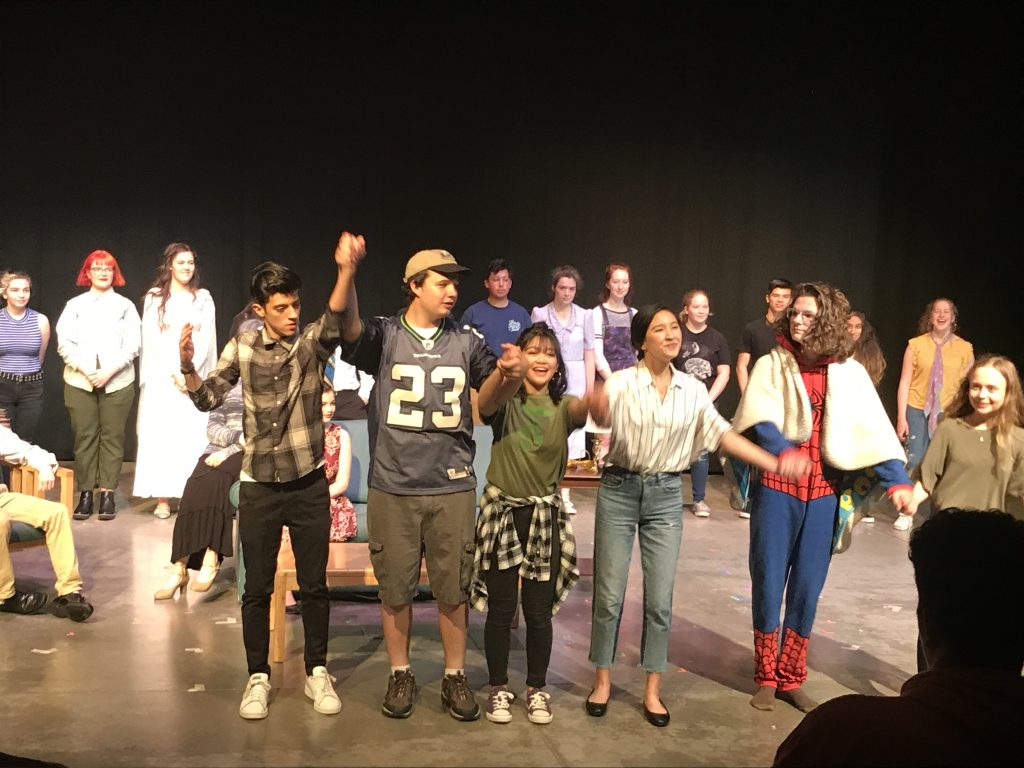 The next was a comedic misunderstanding; Nathan practiced professing his love of Alison to his friend Rick, but Alison walked in and thought the two friends were actually in love. The misunderstanding was resolved, and Nathan and Alison planned to go on a date. The romance theme continued with "Dungeons and Dream Dates," written by Winter Ray and directed by Taylor Diaz. In this play, a character had a crush on the Dungeon-Master of their Dungeons and Dragons game.
The next play took a bit sadder approach. "The Living Room," written by Emma Spengler, showed several people coming to Brian's house. Brian thought they were coming over as friends, but they really just want to see his sister because "she's hot," as one of them said. The play ended with Brian and his sister going to get consolation ice-cream.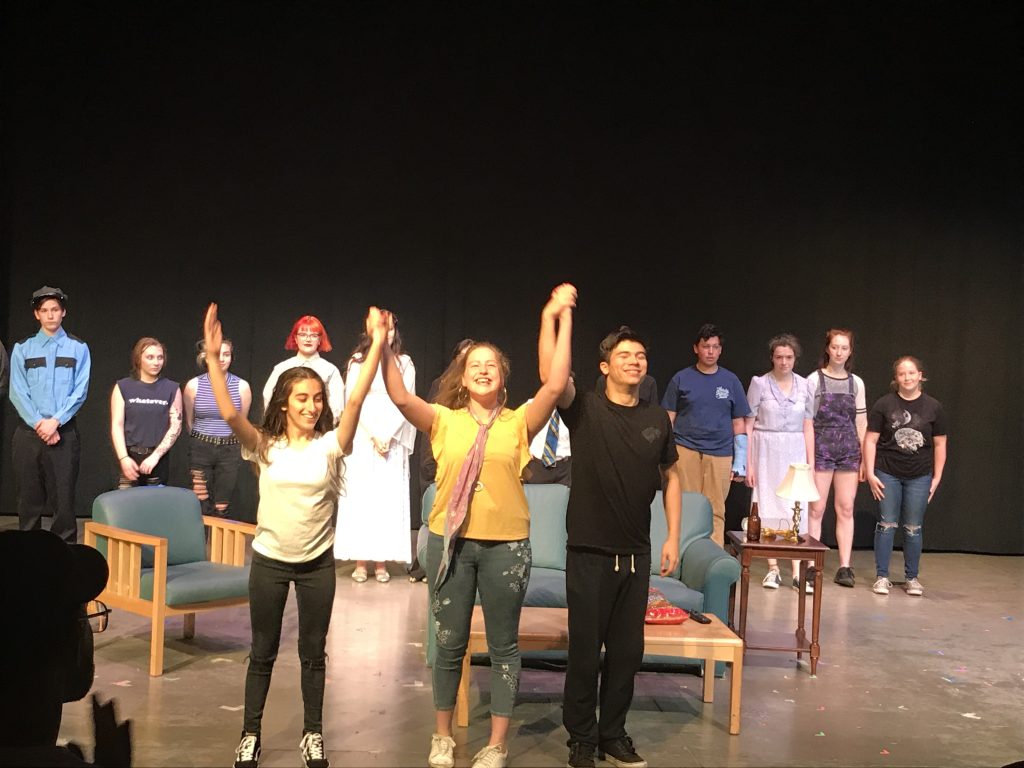 Before intermission, the bombastic "A Ketchup to Expectations," written by Caleb Walker and directed by Audrey Davies, featured characters speaking in exaggerated Bronx accents. Bobby, a Cheetos-eating slob played by senior Ethan Walker, was told to find a job by Tony. After many shenanigans, Tony and her wife, Karen, discover Bobby is great at trivia, and they decide to sign him up for Jeopardy.
Post-intermission there was "Trivial Age," a play about a trivia show with elderly contestants. The contestants, however, were not all they were cracked up to be. Louise was violent, using her cane as a weapon, and Reginald was revealed to have run over a high-school football star. He cut off his ankle bracelet to be there, but the authorities finally came to catch him. Ethel was the only kind contestant; she had a ball of yarn for knitting in front of her.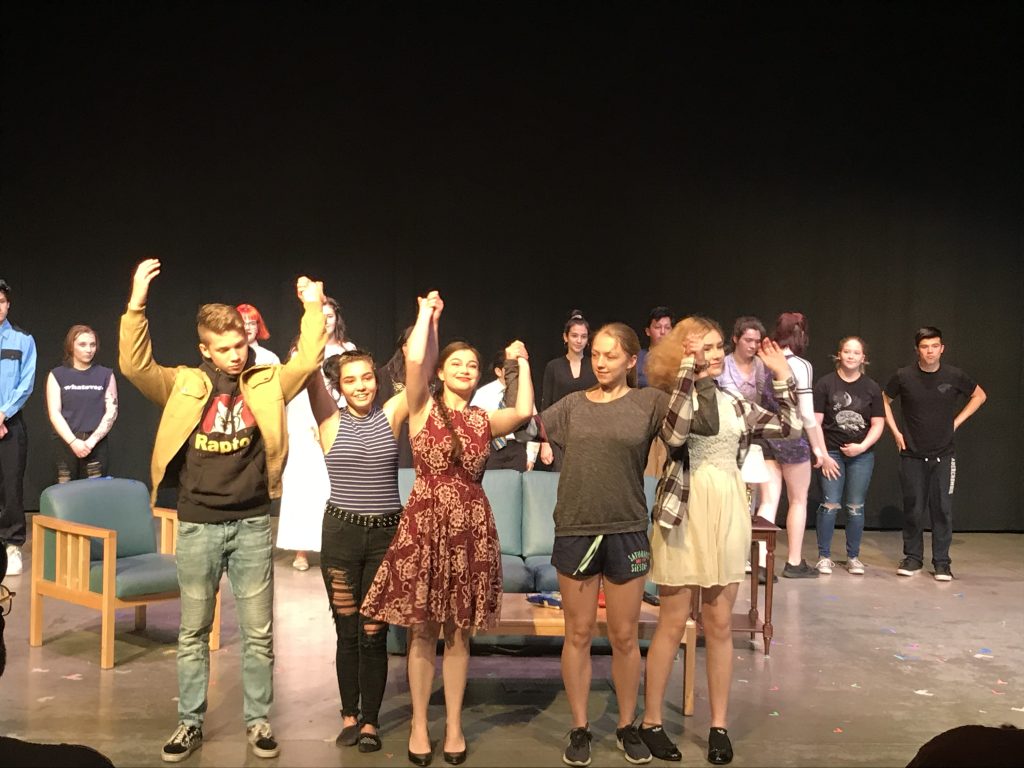 The next play, "PB + J," written by Bella Horvath, balanced darker themes of divorce with the age-old question of the "correct" way to make a peanut-butter and jelly sandwich. One character put jelly on a piece of bread without putting peanut-butter down first, and this sparked the argument of the bread getting soggy. Madelyn and Steve, aunt and uncle to Marcy whose parents are separating, worked through their differences at the end.
Next was a much more dramatic "Two Shots From the Line," about an up-and-coming basketball star who became paralyzed from the waist down after an accident. After that, there was a philosophically charged play about the death of a man faced with God and Satan; this play, "After," contained a pseudo-courtroom environment as his "attorneys" help him get into heaven.
The evening closed with "Family Dispute," written by Taylor Diaz, about a mother's anger over who ate all the Oreos she was going to use to make a cheesecake.
"I loved the creativity and the diversity in the scripts. There were some powerful social aspects to these plays, and they were all so much fun," said Duygu Monson, a member of the Theatre and Film department at Shoreline Community College. She was one of the adjudicators at the event.
Luke Putvin can be reached at Luke.putvin@lynnwoodtimes.com