Meadowdale High School welcomes incoming freshman students
By LUKE PUTVIN
On August 29, Meadowdale High School staff and upperclassmen (Sophomores and above) welcomed incoming freshman.
Andrew Matty and Megan Rainey are the teachers in charge of the Link Crew that welcomes freshman. They both teach freshman classes.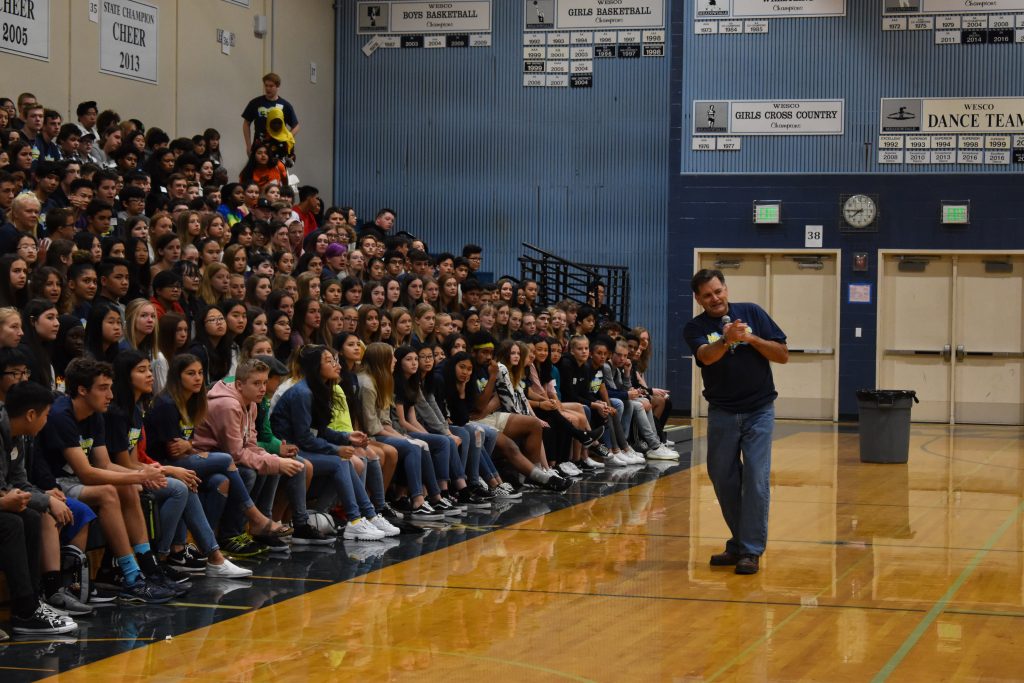 "Megan and I are both a bit awkward," Matty said, "so we kind of understand the freshman thing. It's really all about seeing them come in, grow and being a part of that. I came into Meadowdale as a place that really welcomed me, and we're a student-centered building. This program is just another way to continue that culture."
The program began at Meadowdale about 14 years ago and was started by Beth Marriott, activities coordinator and athletic director, and Dan Taylor, who now works at King's Schools. Matty has been at MHS for 13 years and has been involved with the Link program for 12 years.
"We didn't build this," Matty said, "we just keep it going the best we can."
He talked about how rewarding it is to see the Link Leaders having to do "down and dirty leadership."
"This is boots-on-the-ground, involved leadership," Matty said. He gave his special thanks to Principal Dave Shockley and the admin team at MHS as well as Marriott and Taylor.
Jamie Christiansen, Patrick May and Paullette Bussard are three Link Leaders, and they are all graduating this year.
"Link Crew is essentially freshman orientation," May said. "It's where upperclassmen have freshmen come into Meadowdale to get to know the school and their classmates."
Each Link Leader has a partner, and they get a group of about ten freshmen. They spend time getting to know each other, and then the freshmen know that they're there to help throughout the entire year.
"I have wanted to keep doing this because of the strong bonds I make," Christiansen said. "It's really special. For those thinking about joining, I tell them that there's many different types of leaders; maybe you're not the loudest or most outgoing, but the point is drawing yourself out so you can draw others out."
"It's a really great place to get out of your comfort zone and get leadership experience," May said.
The process to become a Link Leader is not a simple one. "You need to fill out an application, write an essay saying why you should be a link leader and you need to be nominated by a teacher," Bussard said.
Each year, they get about 450 nominees, about 175 apply and of those, they select about 85.
"You need to show that you're a good role model," May said. "Show now why you deserve to be a Link Leader, but why you're deserving of being one."
The program also requires attendance of a three-day training camp and many meetings. Throughout the year, the Link Crew volunteers at parent nights as well as events like Cocoa and Cram and Kool-Aid and Cram for winter and spring finals.
"Meadowdale is just one of hundreds of schools that runs the Link program," Matty said. "However, the demands we place on our leaders are larger than other places."
Though this was just one day to start the school year, the Link Crew will continue their leadership throughout the rest of the school year, and many who aren't seniors will return to the program in later years.
For more information about Link Crew and how it began nationwide, visit www.boomerangproject.com.