City of Lynnwood adopts U.S. Naval Ship USS Sampson
By Amy Donovan | Last Updated: September 19, 2019.
Mayor Nicola Smith and the Lynnwood City Council passed on Monday, September 9, 2019 resolution 2019-06 formally supporting the United States Navy's Adopt-a-Ship Program with the adoption of the USS Sampson, based at Naval Station Everett. The aim of the program is to encourage positive relations between military personnel and their home base communities.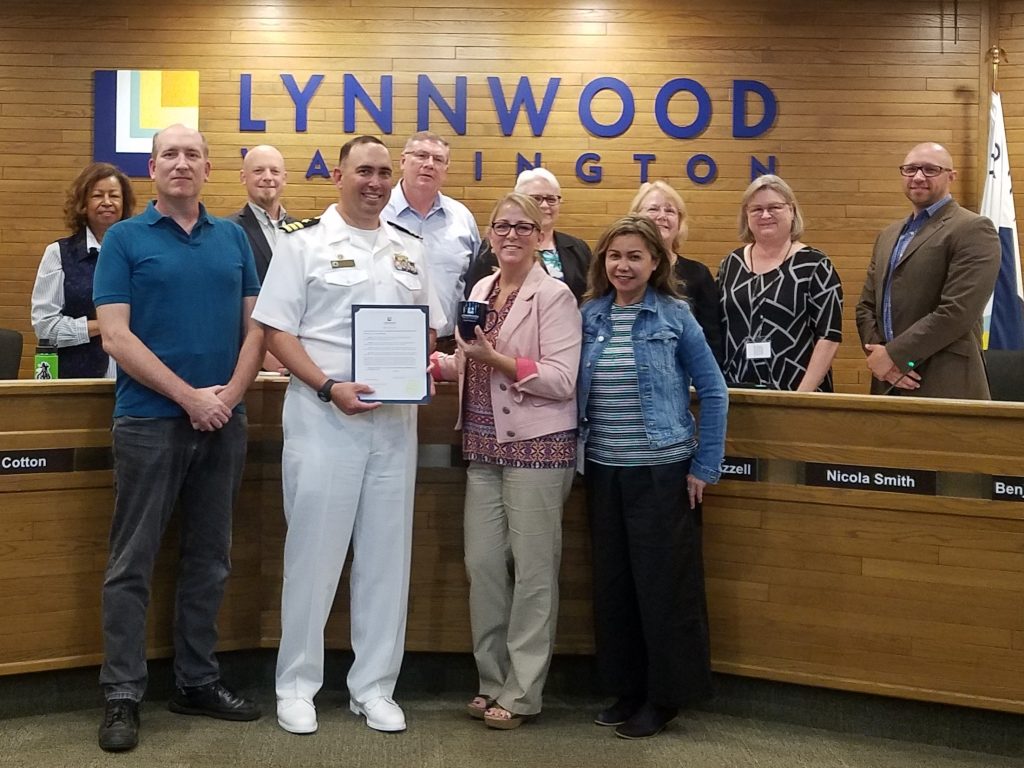 Regarding the Adopt-a-Ship Program, councilmember Shannon Sessions remarked, "As a veteran myself, I remember benefiting from programs like this when I was away from home for military training. It was a special way to connect to a home away from home."
The USS Sampson is an Arleigh Burke-class destroyer in the United States Navy. She is the fourth U.S. naval ship named to honor Rear Admiral William T. Sampson, known for his victory during the Spanish-American War in 1898.
On September 6, Mayor Nicola Smith, Council President Benjamin Goodwin, and Council Vice President Christine Frizzell attended a change-of-command ceremony welcoming the new Commander of the USS Sampson, Cmdr. Henry Vasquez.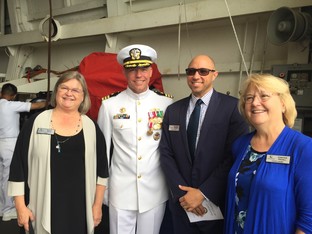 "The honor of being at the Change of Command Ceremony gave me pause to reflect on the commitment of the men and women of our country who give so much of themselves to protect us," said Lynnwood City Council Vice President Christine Frizzell. "I am very proud that Lynnwood has the opportunity to adopt the USS Sampson."
As part of the Adopt-a-Ship program, Lynnwood will be inviting sailors to local community events and gatherings as well as asking community members to volunteer to host sailors for holiday meals and special events while they are away from home. Lynnwood has a long-standing commitment to being supportive of veterans and this is an opportunity for our community to honor and support our local military service members. For more information on the USS Sampson or with the Adopt-a-Ship program, contact Gina Israel at (425) 670-5504 or gisrael@LynnwoodWA.gov.