Painting to help local animal shelters
by Luke Putvin
On a brisk, sunny afternoon, residents of Pacifica made their way to the main office and recreation space. It was there that Alix Frazier, founder of Paws with Cause, and some of her volunteers brought pictures of local shelter animals and canvases. Each shelter animal had their outlines painted, much like a coloring book. The residents were there to paint the rest and give the animal color.
Frazier does these paints all around the area, and she does it at Pacifica every few weeks. "The residents love it and look forward to it," said Bonnie McMahon, Executive Director at Pacifica. "I love [the residents] to have the experience of painting; it's relaxing and social. They feel good about what they're doing, since they sell the paintings for the cause… Anytime you can give people a purpose, they're going to enjoy it more."
Frazier founded Paws with Cause about three years ago, but it took her some time to get it up and running. She said that her organization became more noticed when Everett Mall provided a space for them.
Paws with Cause helps the community in a multifaceted way. First, Frazier stressed the importance of engaging the senior population at places like Pacifica. "My point is to be here with these really wonderful people who sometimes suffer from depression," she said.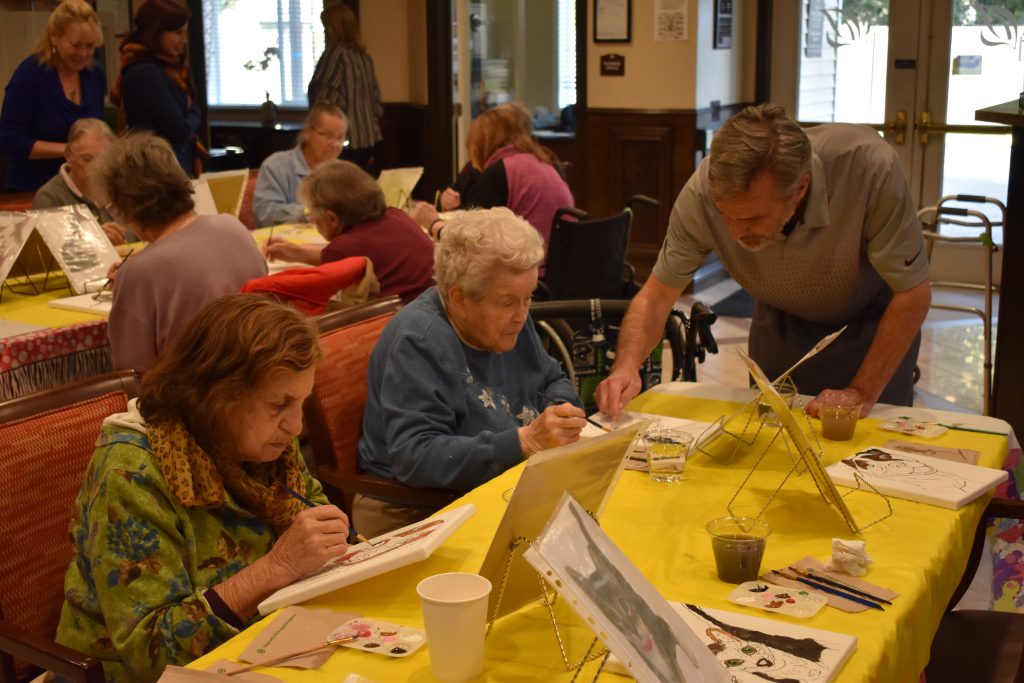 According to the Center for Disease Control, 80% of older adults have at least one chronic health condition, and depression becomes more common in people that have these health conditions or when their function becomes limited. Though the CDC estimates only about 1-5% of older adults suffer from major depression, that number increases when one requires care, as high as 13.5% for those who need home healthcare.
This activity of bringing people together to create art is just one way that Frazier's organization is helping. For those that don't want to keep their painting, Paws with Cause hangs them in public areas around the community. Frazier estimated these paintings being shown at approximately 30 public places currently. She hopes that people will see these paintings and inspire individuals to adopt.
"Right now, we are probably responsible for about 200 adoptions, which is a drop in the bucket compared to what I want to do, but 200 is still really good," Frazier said.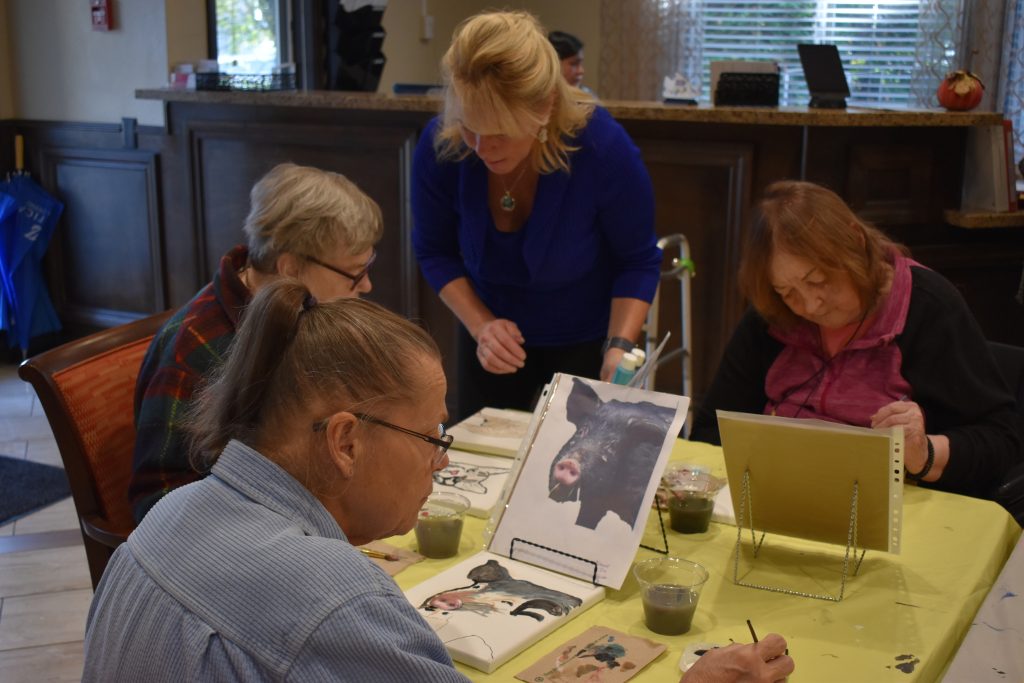 Lastly, if someone chooses to buy any of the paintings, the proceeds go to local shelters.
Before founding Paws with Cause, Frazier worked in the tech industry developing online schools for different companies as well as working on artificial intelligence. However, she decided she was done with tech and the commute; she wanted to do something more meaningful.
It was around that time that Frazier's mother had Alzheimers, and it was important to spend time with her and make memories together. Around three and a half years ago, she wanted to donate some money towards Alzheimers research after her mother passed, but she also wanted to donate to the shelter where she had gotten her pets.
"I just felt like what I was about to give wasn't enough," she said. She saw a crowdfunding for pets that needed surgery and decided to paint a piece for the shelter to sell and put the proceeds toward the surgery. The shelter was appreciative, and Frazier decided to keep doing this.
"I'm not a painter, but I like to help and see the joy," said volunteer Wylene Zophi. She has been volunteering for four months and came into this after buying one of the paintings. She liked it so much that when she bought a second one, she contacted Frazier to ask how she could get involved. "[The residents] all look so enamored by this."
One of the residents at Pacifica, Sandy, was painting a pig. This was her first time at the event, but she had a bit of an "unfair advantage" to painting. "I went to art school," she said, "so it's kind of a cheat… I'm having a great bit of fun on top of it all."
Sandy picked the pig to paint because it reminded her of a pig she used to have when she was younger and used to have a farm. "I try to paint regularly, but the further I get in old age, it gets a little rougher… But I haven't painted a pig in a very long time," she said with a smile.
For more information including how to donate and which local shelters are affiliated, visit www.pawswithcause.org.