Sound Transit Board calls on State Legislature to act on I-976
Sound Transit Board calls on State Legislature to act on I-976
By LUKE PUTVIN | Last Updated 11.26.2019
I-976, the 30-dollar car tab initiative sponsored by Tim Eyman, passed this election 52.97% statewide and 58.21% in Snohomish County. Its passing has sparked a large amount of discussion at the city and state level; on October 14, the Lynnwood City Council approved a resolution formally opposing the initiative.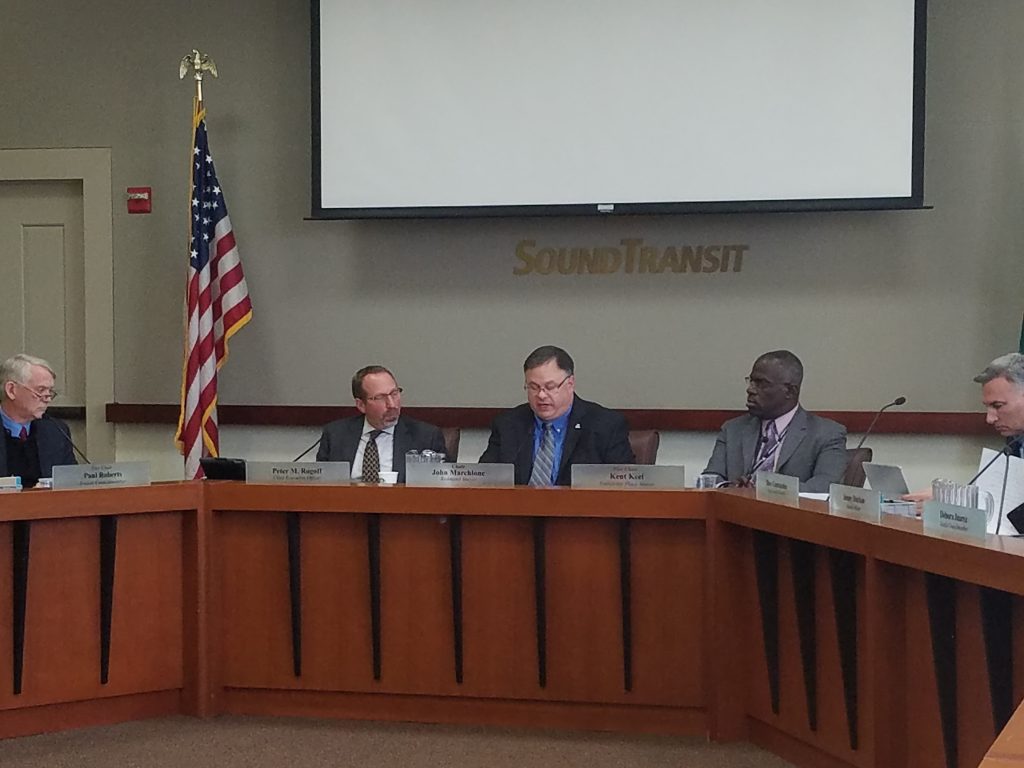 Sound Transit Board Chair, Redmond Mayor John Marchione, issued the following statement during its November 21 Sound Transit Board meeting:
"While I-976 passed statewide it failed within the Sound Transit District. The current estimate of 53 percent opposition is almost identical to the 54 percent who adopted the Sound Transit 3 program in 2016. For the second time in just three years, the district voters who actually pay Sound Transit's motor vehicle excise tax have endorsed its continuation to finance the transit expansions our region so desperately needs.
The initiative and the Attorney General's voter pamphlet summary both make clear that state law requires the MVET to be collected until Sound Transit's bonds are repaid. We intend to continue fulfilling our obligation to advance critical voter-approved projects and services while we monitor litigation and closely review legal issues surrounding this initiative. No action by the Board is needed or prudent at this time.
Significantly reducing revenues would leave no alternative to cutting and delaying critical projects and services that provide our citizens with a path out of ever-worsening congestion. This would harm our commuters, our economy and our environment at the same time our population growth, gridlock and climate challenges intensify. The greatest threats would fall upon completing light rail extensions to places like Tacoma, Everett, West Seattle, Ballard, South Kirkland and Issaquah, and to expanding Sounder commuter rail service within Pierce County and South King County in response to rising demand."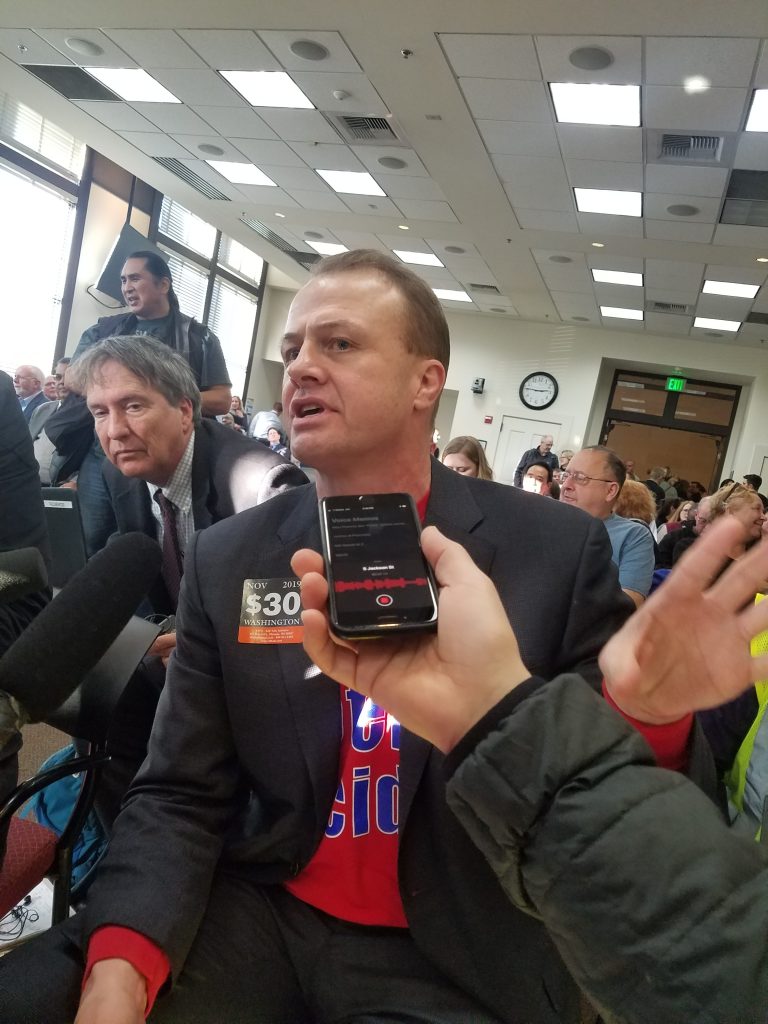 At the November 21 meeting, sponsor of Initiative 976, Eyman, said, "The reason [the vote] isn't being respected is because Seattle voted no; Seattle decides everything. People outside of Seattle have no voice anymore."
David Norman was one of the members of the public that spoke in support of I-976 at the board meeting. He lives in Snohomish County on the Tulalip Reservation and commutes daily to Seattle.
"Theoretically, I have a lot to gain from expanded transit services . . . however, I believe that you have been dishonest with the evaluation of vehicle depreciation in the past, causing exorbitant taxes to be collected on vehicles. And I don't believe you've been good stewards of the money you've already acquired through increased taxation in the last few years."
The Lynnwood Times reached out to local representatives to provide comments on the passing of I-976 and received responses from Senator Jesse Salomon and Representative Lilian Ortiz-Self.
Senator Solomon shared concern to the impact to infrastructure projects for local governments.
"The loss of the transportation dollars will be felt across the state, but local governments may feel the pain even more than the state. I think officials at every level of government are trying to determine what exactly these significant revenue losses mean for their communities. What it means for new roads, road maintenance, sidewalks and school zone safety improvements.
It also will result in the loss of critical dollars for bus service in King County and transit across Sound Transit. We are committed to working with DOT leadership, local governments, and stakeholders on how best to respond to the impacts of this initiative. We'll be looking at all options on the table to maintain and improve our transportation system so people can get to work and school."
Representative Ortiz-Self shared a similar sentiment adding possible impacts to both public safety and vulnerable communities who rely on public transportation.
"According to the state budget office, the initiative will eliminate more than $4 billion in revenue by 2025. Critical transportation projects in every corner of the state and public transit services are in serious jeopardy. We're looking at possible cuts not only to highway and bridge maintenance and safety projects, but also freight mobility, rail and ferry service, transit services for seniors, veterans and people with disabilities.
Public safety will also be affected because there'll be cuts to the Washington State Patrol. I won't sugar-coat the situation we are facing. Cutting this much money from state and local transportation will affect people. There will be more congestion and pollution, there'll be a heightened risk for commuters, and businesses' ability to move goods will be hindered, among many other consequences that will impact entire communities. And there is no obvious, easy solution to replacing so much in transportation revenue."
The City of Seattle, King County, Port of Seattle, Washington State Transit Association, Amalgamated Transit Union Legislative Council of Washington, Garfield County Transportation Authority, Intercity Transit and Association of Cities have filed a coalition lawsuit against I-976, initially arguing that the initiative is unconstitutional. Sound Transit, however, did not join this coalition.
In Sound Transit's presentation, it said that the financial impact if bonds are defeated include a 7.2-billion-dollar revenue loss through 2041, 521 million dollars in direct cost, 2.6 billion dollars in new debt and running out of financial capacity as early as 2029. The board options to help these problems included cancelling projects, delaying projects and/or reducing services.
Bruce Dammeier, Sound Transit board member and Pierce County Executive was very critical of the board as a whole for not being representative of the region.
"Regardless of the outcome in court, this vote by the people I think sends a very strong message… From my perspective in Pierce County, the frustration has been palpable; I have been trying to reflect that to this board. I think this board should be very concerned at the disparity of the vote and the differences between King County… Snohomish County… and Pierce County… If we pretend to be a regional board, we should be paying attention to the voice of the people throughout the region," he said.
Kent Keel, Sound Transit Board Vice Chair and University Place Mayor emphasized that the change that needs to occur will not happen with the board but at the state legislature.
"The majority of the legislature has punted the issue; I am of the opinion that it is totally within their purview to solve it today… I''s quite frustrating to me as a board member on this body trying to figure out the solution when we got both ends of the scale… arguing amongst ourselves… when the people that have the power to solve it aren't doing it; they aren't even in this room… they need to fix it… Focus the issue where the problem is, which is at the state legislature," he said.
The Lynnwood Times will continue to report on I-976, including potential impacts to Lynnwood, as more develops.