Individuals work together to serve their community on Dr. Martin Luther King Jr. Day
Individuals work together to serve their community on Dr. Martin Luther King Jr. Day- by Luke Putvin
Celebrated the third Monday of each January, Martin Luther King Jr. Day was created in 1983 and signed into law under Ronald Reagan. Though it was first celebrated as a federal holiday in 1986, many Southern states grouped the day with Confederate leader Robert E. Lee, since his birthday was on January 19. It was not until 2000, 32 years after his assassination, that Martin Luther King Jr. Day was observed by every state in the Union.
Naz Lashgari, Chair of the Diversity, Equity and Inclusion Committee of Lynnwood, provided this statement on behalf of the entire commission:
"Today as we celebrate and remember the life of the Rev. Dr. Martin Luther King Jr. the father of the Civil Rights movement, I am sad to say we are nowhere near the completion of his work, and his dream.
Today, on January 20th, 2020 as we celebrate his legacy, we are still struggling with racial injustice, inequality and racism. Though, we have come a long way, we are witnessing the segregation of our communities throughout America.
Today, his famous 1963 speech resonates more than ever before, his words are as relevant today as they were then. In the context of our time and what our country is going through today, now is the time to lift our nation with his words: 'I have a dream that this nation will rise up and live out the true meaning of its creed: we hold these truths to be self-evident, that all men are created equal.'
As he so eloquently said: 'Now is the time to make real the promises of democracy. Now is the time to rise from the dark and desolate valley of segregation to the sunlit path of racial justice, now is the time to lift our nation from the quick sands of racial injustice to the solid rock of brotherhood. Now is the time to make justice a reality for all of God's children. It would be fatal for the nation to overlook the urgency of the moment.'"
DarNesha Weary, Director of Black Lives Matter Shoreline, provided this statement:
"Black Lives Matter is a force for good in our community with many examples that encourage and defend equality, justice, and equity. The reality is that I'm often disappointed with the status of equality, justice, and equity in our country. I share the hopes and dreams that Dr. King eloquently stated. Those hopes and dreams have not been realized in enough communities or by enough of our fellow citizens. I'm proud to be leading an organization that relentlessly works towards the dream of MLK. Let's continue doing this work with pride, our community and the world will be better for it.
MLK Day is an opportunity to provide service to the community. I encourage you to participate in one of the many programs, community service projects, or city-wide marches or rallies being held on Monday."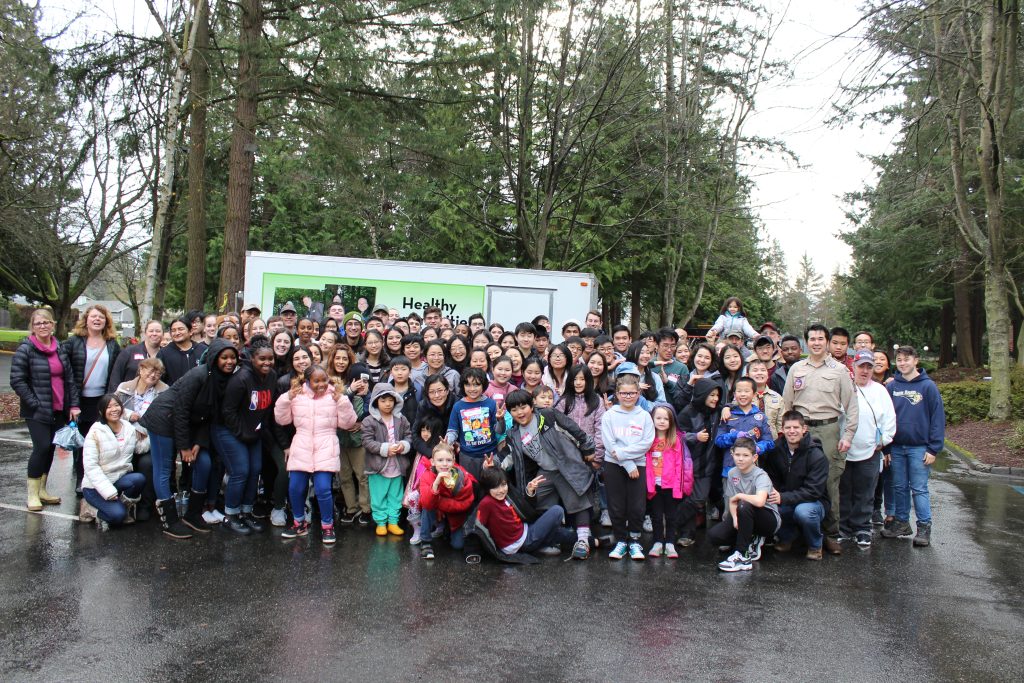 One of the many community service projects that Weary mentioned took place in Lynnwood behind the Senior Center.
The Global Peace Foundation partnered with the City of Lynnwood to undertake a volunteer project to help restore the Mesika Trail.
The project included the planting of 20 trees (an assortment of Douglas Firs and Cedars) and removing invasive plants on the trail. Additionally, other groups were cleaning and detailing Senior Center buses.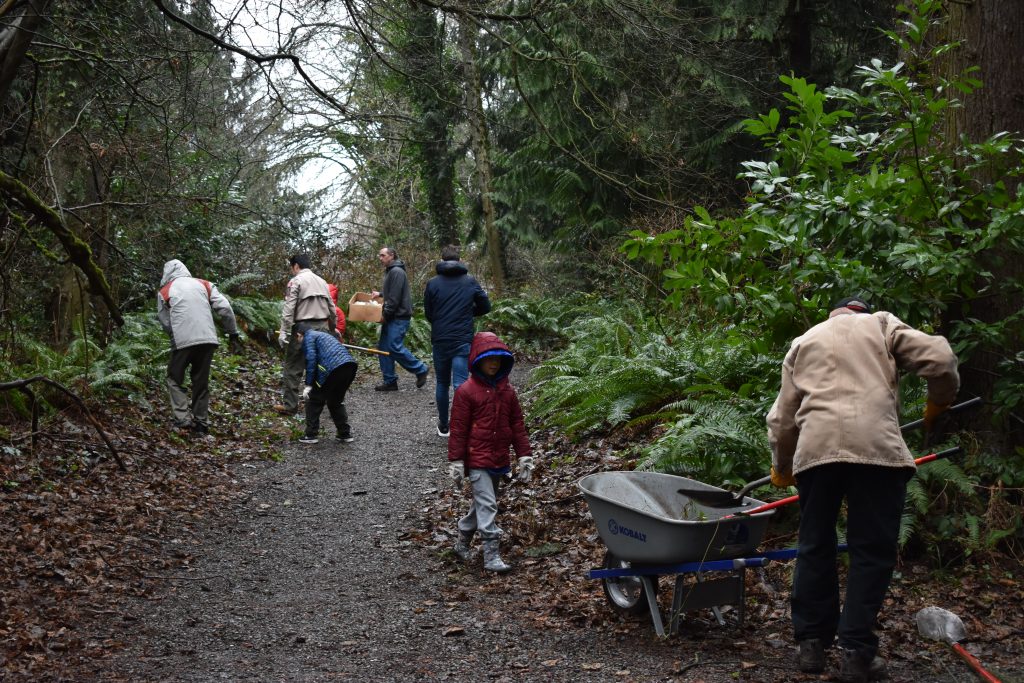 Over the last ten years, the parks department has identified the Mesika Trail as having a lot of invasive plants that were having a negative impact on the trail, such as ivy and holly. This project is a continuation of work that has already occurred.
"It's really evident to see some of the positive impact of what they've done already," said Eric Peterson, Park Superintendent. "The reason why I think the work we're doing is important is because I think it's an investment in our future. We're doing the work today to have future impacts on the forest and the woodland back there. On the Senior Service programs with the bus cleaning, they're going to use the buses to take the seniors out during the summer on a bunch of group trips."
Yoshi Goto, a volunteer with the Global Peace Foundation, was the Project Coordinator. Though they only planned for about 65 people to attend the event, approximately 110 people showed up. He thanked everyone for attending and praised the high turnout.
"We are really diverse here," Goto said. "If you look around, you can see there are a lot of people of all different ages, of all different backgrounds and all different nationalities. But we are all here for the same thing, which is helping out the city."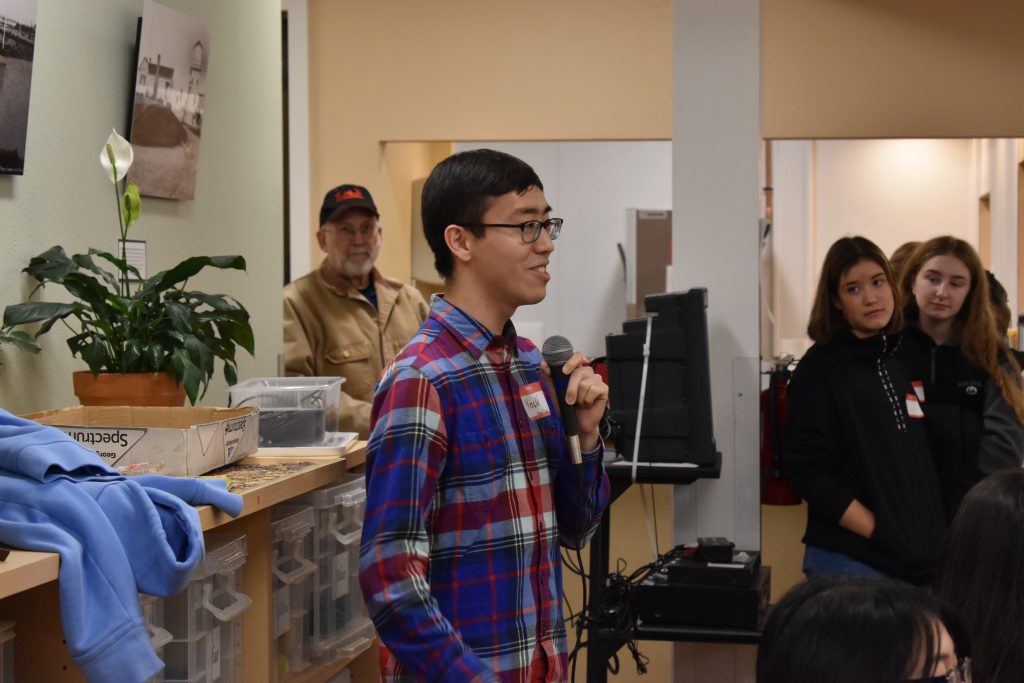 "The work that you do is really critical to the City of Lynnwood," said Marielle Harrington, Healthy Communities Coordinator with the City of Lynnwood. "We certainly can't do all the work that's required in our parks alone; we count on volunteers like each and every one of you to help us out."
In honor of his legacy, below is a fragment of Dr. King's famous "I Have A Dream" speech he gave in 1963.
"I say to you today, my friends, though, even though we face the difficulties of today and tomorrow, I still have a dream. It is a dream deeply rooted in the American dream. I have a dream that one day this nation will rise up, live out the true meaning of its creed: 'We hold these truths to be self-evident, that all men are created equal.'
"I have a dream that one day on the red hills of Georgia, sons of former slaves and the sons of former slave-owners will be able to sit down together at the table of brotherhood. I have a dream that one day even the state of Mississippi, a state sweltering with the heat of injustice, sweltering with the heat of oppression, will be transformed into an oasis of freedom and justice.
"I have a dream that my four little children will one day live in a nation where they will not be judged by the color of their skin but by the content of their character. I have a dream… I have a dream that one day in Alabama, with its vicious racists, with its governor having his lips dripping with the words of interposition and nullification, one day right there in Alabama little black boys and black girls will be able to join hands with little white boys and white girls as sisters and brothers."
*The Lynnwood Times will represent the character of our diverse and growing city. We are not just a newspaper; we are connecting neighborhoods. With both Lynnwood's City Center project kicking off this year and Sound Transit's transfer station now in development; the launching of the city's free community newspaper will only help bring neighborhoods together. Click Here To Learn More About Us.