Lunar New Year at Rosehill Community Center
by Luke Putvin
In celebration of the Lunar New Year, over 200 people were at Rosehill Center in Mukilteo on January 25. This was a Vietnamese celebration of the Lunar New Year put on by a group of volunteers and coordinated by Jackie Ngo.
Ngo moved to the United States from Vietnam about 12 years ago and has since had two children here. She has been coordinating this celebration event for five years now. This year, and in the past, Ngo says they usually get 220 people in attendance.
"We wish we could have more because we always have to say no to people, but the maximum amount we can put in the room is all we can do," she said.
The theme for this year's celebration was "Homeland Lunar New Year." "Whether that's your homeland, my homeland or anyone's homeland," Ngo said. "It's the beloved country that you belong to."
Ngo explained the two different groups of people who moved here from Vietnam at the event: those who moved to the U.S. before 1975 (pre-Vietnam War) such as refugees and those post-war. She said some people here were only born in 1980 or 1990, and they don't remember the war. They came here to work, and they have a tight bond to their country. Missing that tie to their country, they celebrate the new year at an event like this.
"I think it's a good thing that we keep this going on so they can have some memory about their childhoods," Ngo said.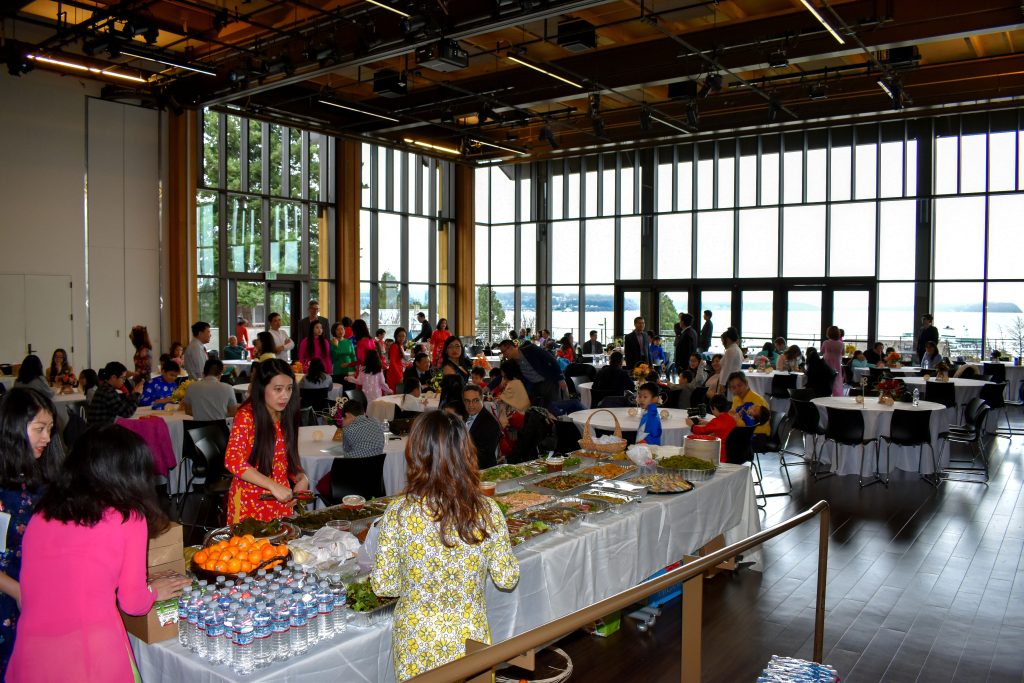 "Everybody says 'Happy Chinese New Year!'" Ngo said. "But not only the Chinese celebrate the new year; we have our own event as well. China is a big part of Asia, but it's not only them that celebrate the Lunar New Year."
She said that the Chinese Lunar New Year and the Vietnamese Lunar New Year are celebrated on the same day, but most of the similarities stop there. Many things are different such as the traditions, games and other celebrations that come with being different cultures.
One of the big reasons Ngo enjoys putting on the event and continues to do so is to maintain ties to heritage for the younger generation, those that are born in the U.S. like her own children.
"There is a new generation that barely knows about where they're from and their roots. For me, the old way is important. Being a proud American is good because we're always proud to be American, but then if you can make yourself something more than that," Ngo said. "We are united; we come from all over the world. If you can know that you're are part of the Vietnamese community and you are American, that makes you feel like you belong to both. For me, it's more meaningful. I am proudly Vietnamese; I am contributing here, and I am being a good citizen. But part of me still belongs to my motherland."