Tennis with the pros at Fed Cup Kid's Day
Luke Putvin | February 5, 2020
On February 4, Team USA of the United States Tennis Association came to Columbia Athletic Club in Everett for Fed Cup Kids Day. The event is leading up to the Fed Cup which will be held in Everett at Angel of the Winds Arena on Friday, February 7 and Saturday, February 8.
The Fed Cup is women's tennis' largest competition. Team USA will face Team Latvia in a qualifying round, and the winner will advance to the Fed Cup Finals. Team USA is ranked number three overall.
Team USA will have five players on its roster for the Fed Cup: Alison Riske, Coco Gauff, Bethanie Mattek-Sands, Sofia "Sonya" Kenin and Serena Williams.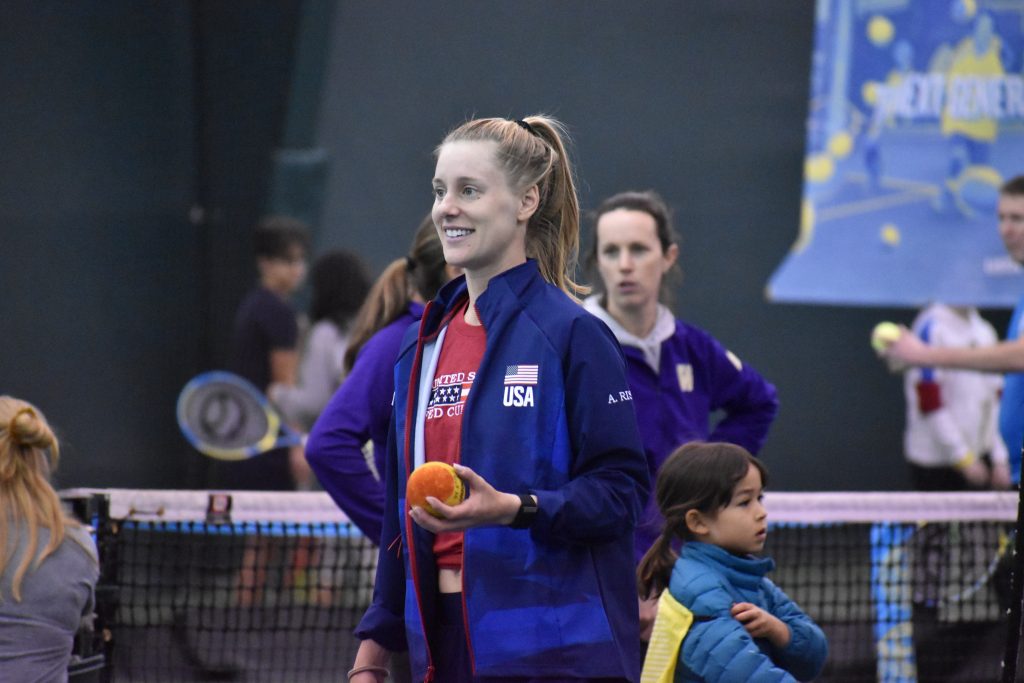 Riske, Gauff and the Team USA captain Kathy Rinaldi were all present at the Fed Cup Kids' Day.
"It's amazing," said Rinaldi. "This is how we all group up, starting with the youth, and worked our way up. To be able to give back and come here and see the excitement and see all these wonderful young kids and all the ones dressed up in red white and blue, it's been a lot of fun. It means a lot to all of us."
Riske, ranked number 18 in singles and 74 in doubles, mentioned how much of an honor it is to get to play in the Fed Cup. "It's a really special experience; you can't really compare it to individual tournaments because you know you're playing for something far greater than that. It's a different experience, and it's definitely a special cup."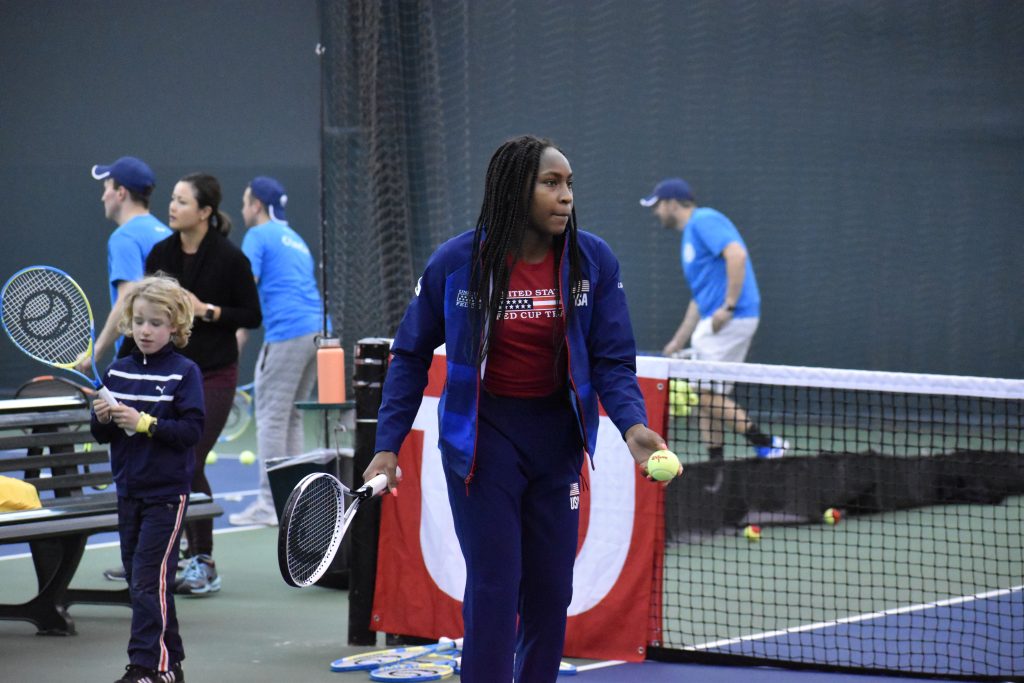 Gauff, who is 15 years old, joked about her own age and coming to the event. "Some of them are older than my brothers, and some of them are older than me, so I can't even say it's kids' day.
"It's a little bit crazy," Gauff continued. "Some of the reactions when they saw me walking in was weird. Like I said, I'm not used to being recognized. I mean, it's amazing how far I've come in a year. Last year this time, I don't know how many followers on Instagram, but it wasn't a lot. And now, here I am."
Gauff is ranked number 51 in singles and 42 in doubles.
Rinaldi commented on the current state of women's tennis in the USA.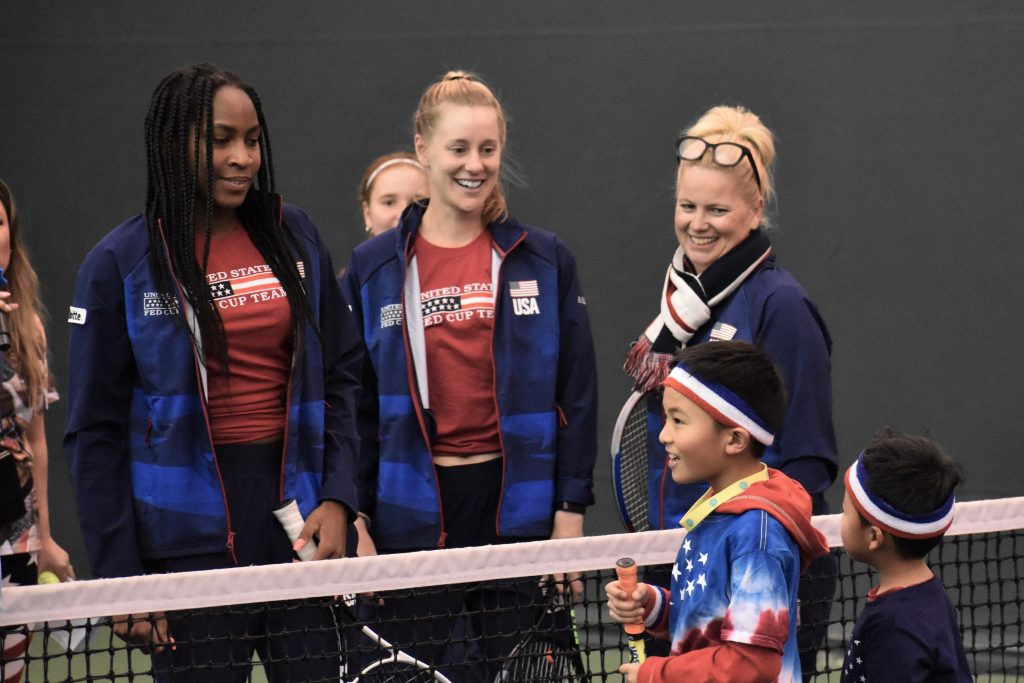 "It's been pretty exciting," she said. "We've had some really good years of American women's tennis, but this is definitely one of the best in many, many, many years. We had 22 in the top 100, and now we have two in the top ten. The girls are all pushing each other; it's a healthy competition. They're inspiring one another. Thanks to Serena and Venus for leading to pathway and doing so much for the game, and to have Serena on the team… I'm super honored."
The children rotated between courts once Team USA arrived in order for everyone to get achance to play with the professionals. It was evident that the players themselves were having a really fun time; Gauff, for example, could be seen doing some under-the-leg trick shots.
Before and after Team USA arrived, the children were playing with the University of Washington women's tennis team; their head coach Robin Stephenson was there with them.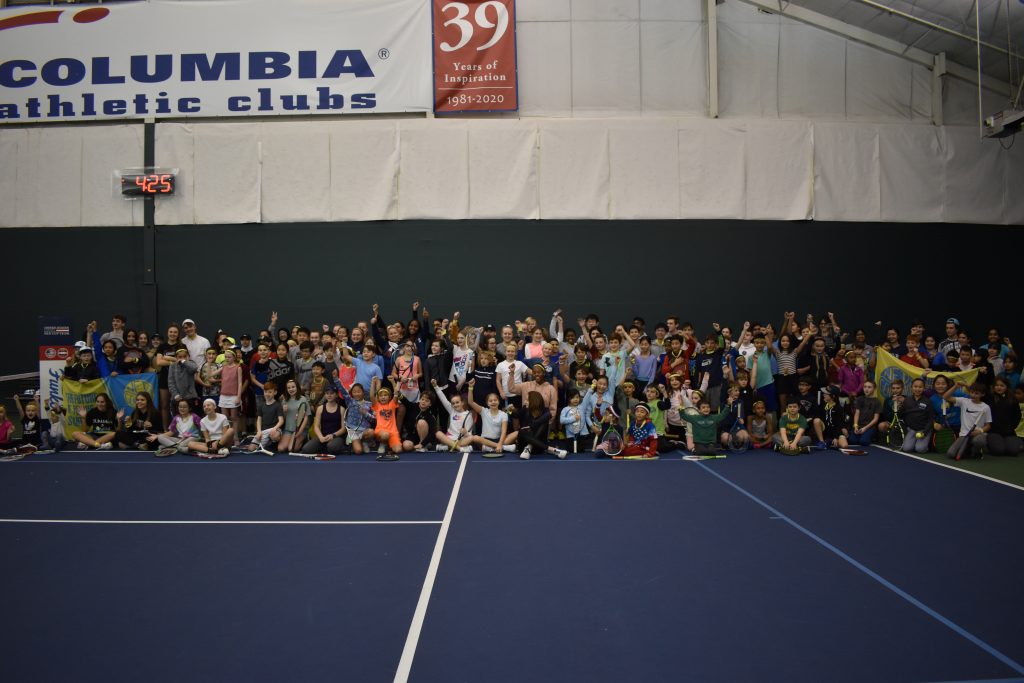 Overall, Rinaldi hoped that the children walked away inspired. "I hope they see that they see dreams do come true. Dream big as a youngster. Follow your passion, whether it's tennis or anything. You hear Sonya Kenin say that all the time. It was her dream since she was a little girl. It doesn't matter what anyone else thinks; she believed in herself, and her family believed in her. So dreams really do come true."